A Hike in Kentucky's Daniel Boone National Forest
---
The musical theme from the 1960s Daniel Boone television show ran through my head when, as we drove across southern Kentucky, I saw signs indicating we were entering Daniel Boone National Forest (DBNF). The historical Boone was not actually a big man in physical stature, but his legend, and the actual accomplishments of the Kentucky frontiersman, were sizable.
Daniel Boone was a man,
Yes, a big man!
With an eye like an eagle
And as tall as a mountain was he!
In 1775, Boone blazed his Wilderness Road through the Cumberland Gap and founded Boonesborough, one of the first American settlements west of the Appalachians. By 1810 more than 300,000 pioneers had used the route marked by Boone to migrate to Kentucky. When an account of Boone's adventures was published in 1784, he became a legend in his own lifetime. Appropriately, the forest named for Boone is vast, with more than 700,000 acres of federally owned land within an outer boundary of 2.1 million acres. If you are driving east to west (or vice versa) across Kentucky, it would be hard to miss.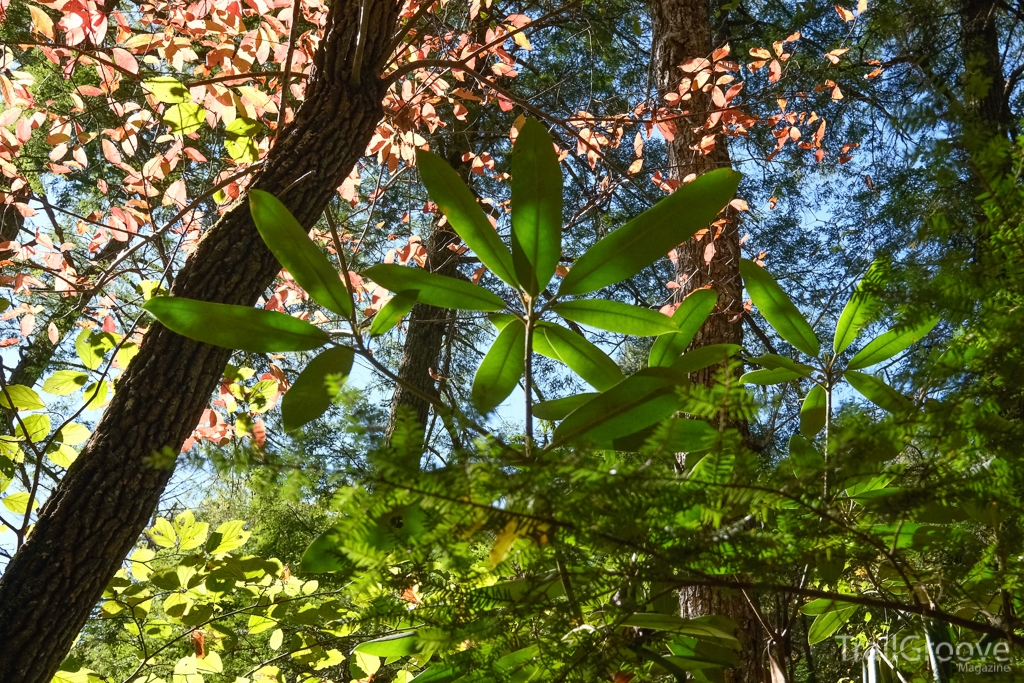 Trying to spare ourselves the monotony of Interstate 40, my husband Bill and I were traveling to Virginia from our home in Oklahoma, taking a scenic route through Kentucky, when we encountered the Daniel Boone National Forest. Our schedule didn't afford us the time to stop on the outbound leg of the trip but, having a more relaxed itinerary as we returned home, we decided to break up the long drive with a hike in the DBNF. Searching the Forest Service web site, I learned there are more than 600 miles of trails in this huge tract of land, which stretches north to south across eastern Kentucky. A relatively short and accessible trail with a waterfall near Corbin, Kentucky fit both our route and our schedule. Its name was also notable, and somewhat macabre: Dog Slaughter Falls Trail.
In spite of its gory name, this trail turned out to be magical. It has two trailheads just off Kentucky Highway 90. The Forest Service's information was a bit unclear and I thought at first the hike would be a four-mile round trip. When we reached the first trailhead at mid-afternoon on a sunny day, however, its sign indicated a four-mile one-way distance to Dog Slaughter Falls, the terminus. Since we didn't have time for an eight-mile round trip, we drove to the second trailhead, 2.75 miles farther up the county road. The trailhead was not obvious from the road, but we spied a few cars parked in small roadside pull-offs and nearby a path leading into the forest. A short walk from the road and over a bridge there appeared the second trailhead, its sign indicating the falls were only one mile distant. I felt a bit like Goldilocks. Four miles was too long, but one mile seemed too short. In the end, it turned out to be just right.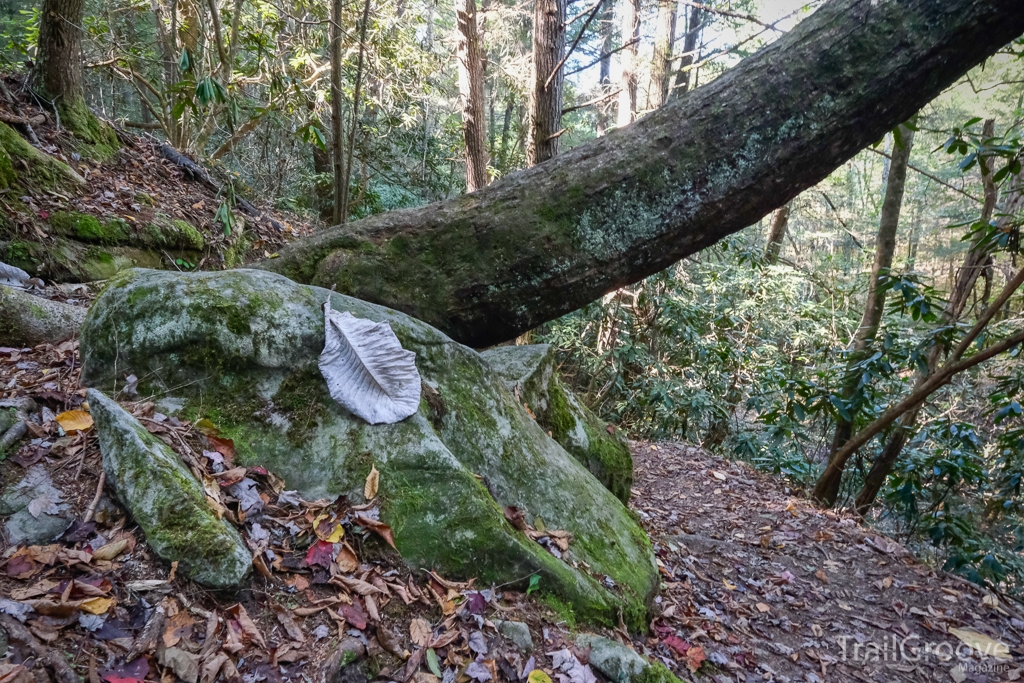 Once setting foot on the trail, we were enchanted. A narrow, rooted and rocky path took us through a dense forest of hemlock and rhododendron, along a beautiful clear stream. We noticed littering the forest floor what appeared at first to be used paper towels but were actually platter-sized leaves, some more than 18 inches long, and colored a silvery white. It turned out they had fallen from big leaf magnolia trees, a rare plant that grows as a small understory tree in the southeastern United States. I had seen them only once before, in a beech grove on the border of Oklahoma and Arkansas in the Ouachita National Forest.
The trail took us beneath huge bluffs farther into the cool, deep hollow. Soon we could hear the distinctive sound of a cascade and finally reached an overlook above a grotto containing a 15-foot waterfall surrounded by huge boulders. Three other people were below, enjoying the peaceful spot. We descended the trail into the grotto and scrambled around on the boulders, enjoying the beauty and relative isolation before turning back toward the car and the long journey ahead. As we walked, I noticed the afternoon light had turned golden, creating mesmerizing reflections on the water as we passed by.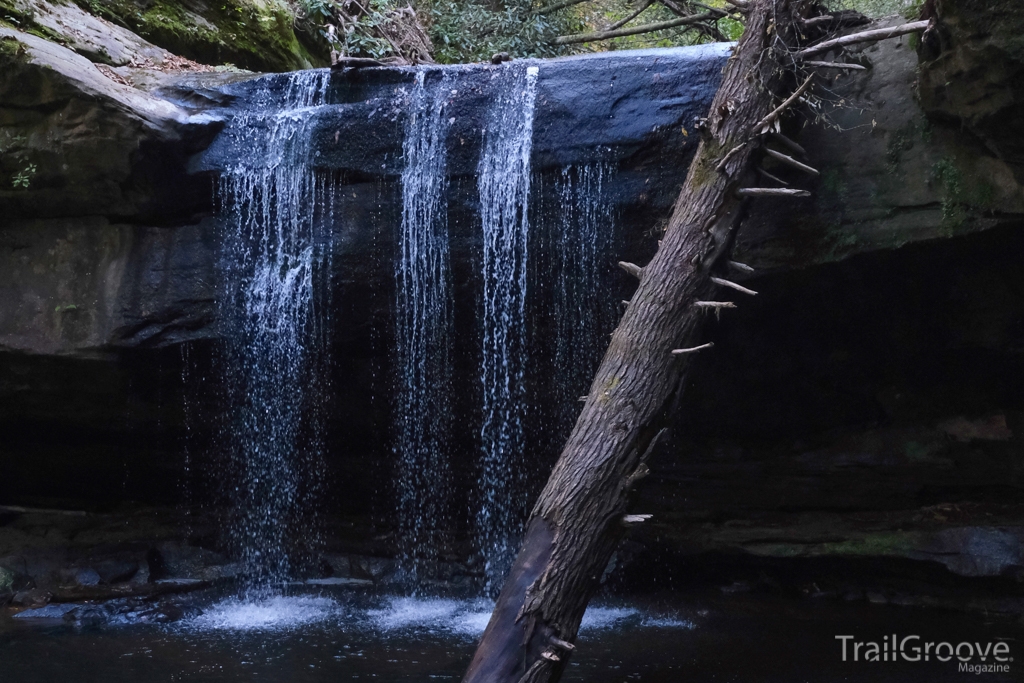 Had we continued beyond the falls, we would have intersected the Cumberland River and the Sheltowee National Recreation Trail, considered the "backbone" of the DBNF trail system, with links to a wealth of other footpaths. The Sheltowee Trail begins in northern Kentucky and extends south almost 290 miles to Tennessee's Pickett State Park. Only a short distance from where we turned around, the Sheltowee Trail comes to the Cumberland River and the well-known Cumberland Falls, sometimes known as the "Niagara of the South." This 68-foot high, 125-foot wide cascade is best known for its "moonbow," a rainbow visible during the full moon, something seen consistently in only a handful of places on earth.
As we drove west toward home, I pondered the wealth of natural resources available to modern outdoors aficionados in the U.S. Perhaps we've no trails left to blaze in the Daniel Boone sense, but each of us can blaze our own new trails on a personal level by enjoying, respecting and protecting the great blessing of our abundance of public lands.

Information: The Daniel Boone National Forest includes 708,000 acres of federally owned land in eastern Kentucky with an outer boundary of 2.1 million acres. Its name was originally the Cumberland National Forest and was changed in 1966 in honor of the explorer Daniel Boone. Rugged terrain and a wealth of water features characterize the area.
Best Time to Go: As with most of the southeastern deciduous forest, spring and fall are generally the best times to go, avoiding humid summers and often snowy winters in the mountains.
Getting There: DBNF is located in eastern Kentucky. The closest major cities are Lexington, Kentucky and Knoxville, Tennessee. The Dog Slaughter Falls Trail is located off Forest Road 195, 0.8 miles (the first trailhead) from its junction with Kentucky Highway 90, 14 miles southwest of Corbin, Kentucky.
Maps and Books: A map for the Dog Slaughter Falls trail is located here. Several guidebooks are available on Amazon, including a Falcon Guide to Hiking Kentucky, and a book on Day Hiking the Daniel Boone National Forest by Johnny Molloy.
2