Backpacking the Lost Coast Trail: An Oceanside Wilderness
---
The Lost Coast Trail (LCT) in northern California may very well be the best beach hike in the United States. The name derives from the fact that it is the only part of the California coast that is not paralleled by a highway. I'm sure the romantic ring of that name only adds to its considerable popularity. It sounds like something from a teenage adventure novel. "The Hardy Boys and the Pirates of the Lost Coast"
There is a northern section and a southern section. The southern stretch is much less popular because the trail often leaves the beach and climbs up into the mountains of the King Range. Most people hike the northern section north to south. This is the direction of the prevailing winds, which can be fierce. I have hiked the trail three times with my son, Dan, and his dog, Moe. The first two trips were out and back hikes to about the middle, first from the north and then from south. In 2019, we shuttled a vehicle and hiked the whole trail from north to south.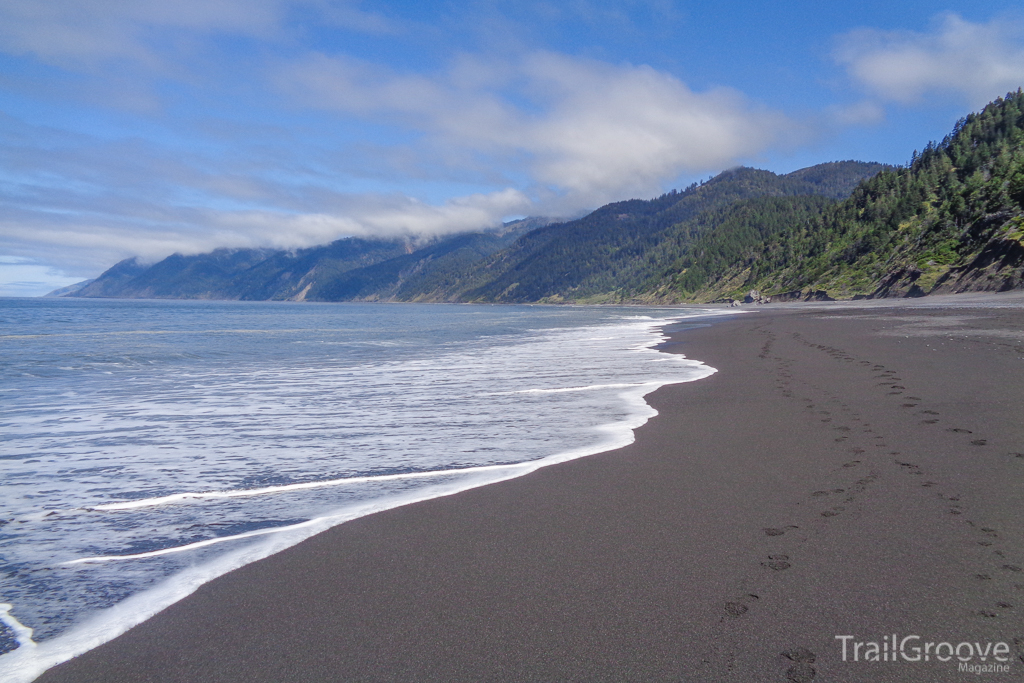 The north stretch of the LCT is only about 25 miles, but most people take three to four days to complete it. The pace is slow because well over half of the time you are either plodding through sand or picking your way across rocks. If it weren't for the dramatic scenery, you would hate it. The beach hiking contrasts sharply with the strolls through the prairie flowers and grasses that cover the flat bench lands where the trail climbs above the shoreline.
On our most recent Lost Coast hike, Dan and I met in the town of Shelter Cove, which sits on a bluff just above the southern end of the northern section. We left his truck there and drove my Chevy sedan to the northern trailhead at the mouth of the Mattole River. For hours, we bounced along bad roads, poorly paved and unpaved. Most of the area is dominated by agriculture in one way or another – a complete description of the herbal subculture of northern California would be book-length. The shuttling operation consumed a full day, but we didn't care because there is a good car camping site right beside the northern trailhead.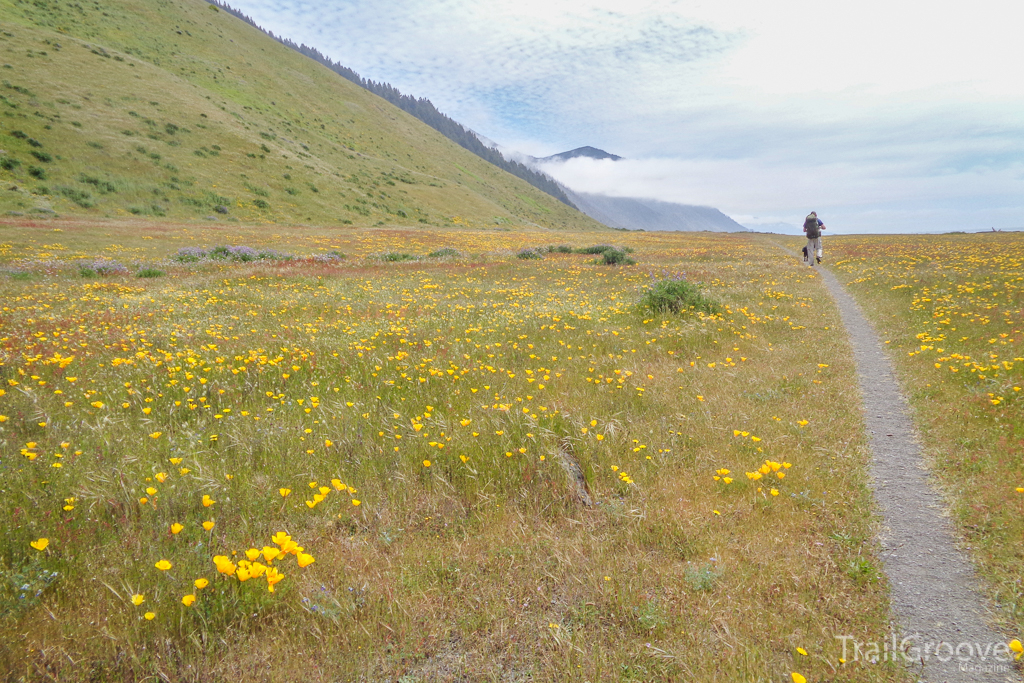 We took off the next morning and began day 1 with a spring in our step, which was soon unsprung by the sand dunes we traversed during the first two miles of trail. Eventually, the trail dumped us onto the beach. This was even slower, but we were entertained by the many seals and sea lions sprawled on the beach and draped over offshore rocks. Moe wasn't sure about their barking.
We rounded Punta Gorda, which is the first place hikers can be delayed by high tide. Tides are one more parameter that must be added to logistical calculations as you plan your LCT trip. Farther south are two four-mile stretches that are only passable at low tide. Plan ahead!
After the trail left the beach, we climbed onto a firm dirt path, and soon the Punta Gorda lighthouse was in sight. This lighthouse was built in 1910 at great expense and with much difficulty to protect ships sailing along this hazardous coast. Building materials were brought ashore on a sort of zip line from ships anchored offshore and then dragged by a horse to the construction site. Lighthouse keepers lived a frontier life here completely isolated and off the grid. This guiding light eventually became obsolete and was doused 1951.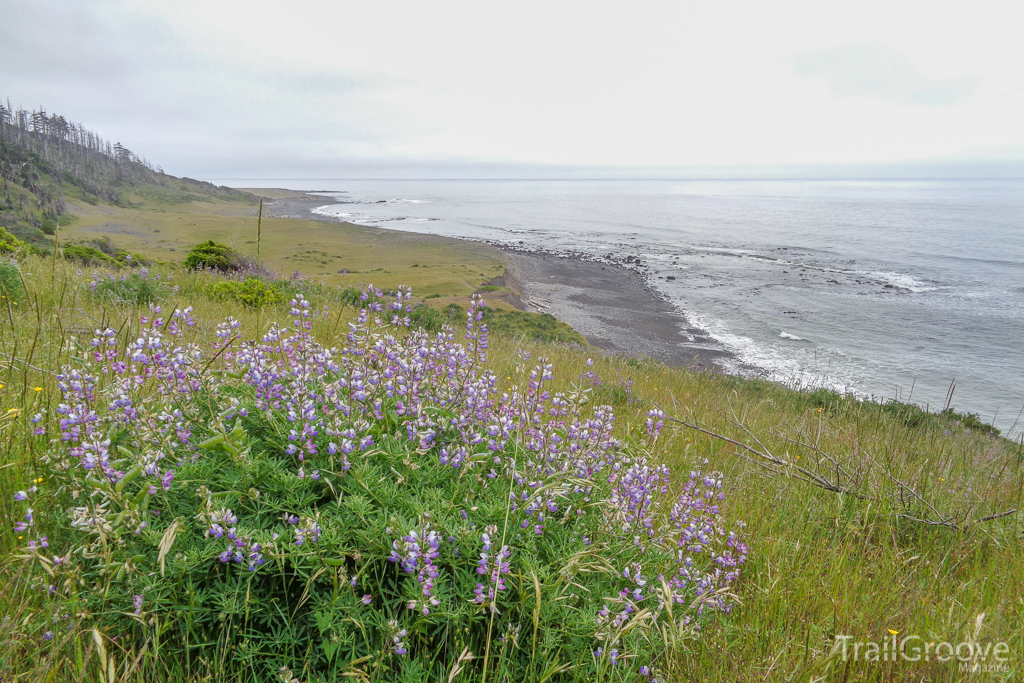 Soon after the lighthouse, we passed close to a large colony of elephant seals. The bulls are much larger than the cows and look something like a 2.5 ton slug. They completely ignored us. The variety of wildlife makes the trail seem like a walk-through zoo. In addition to those species mentioned, we also saw otters, a fox, eagles, cormorants, elk, jackrabbits, and deer. I'll save the best one for later.
Soon we were back on the beach and approaching a four-mile section with tide problems. Dan had done the homework, and we were perfectly positioned to pass through at low tide. More rocks and sand, and then we crossed Randall Creek and climbed up onto a solid trail on a grassy bluff. On the bluff was an abandoned cabin; and outside the cabin was a bathtub, from which the bather would have had a spectacular view.
The LCT also passes several cabins that are not abandoned. They are all off the grid, but can be reached by off-road vehicles or on horseback. They do not look out of place because years of weathering have helped them blend in with surrounding wilderness. The nicest looking cabin had a dirt airstrip with a windsock, but I never saw a plane there. Speaking of horseback, we did see a surfer who had rode in on a horse. A surfing cowboy, you could say.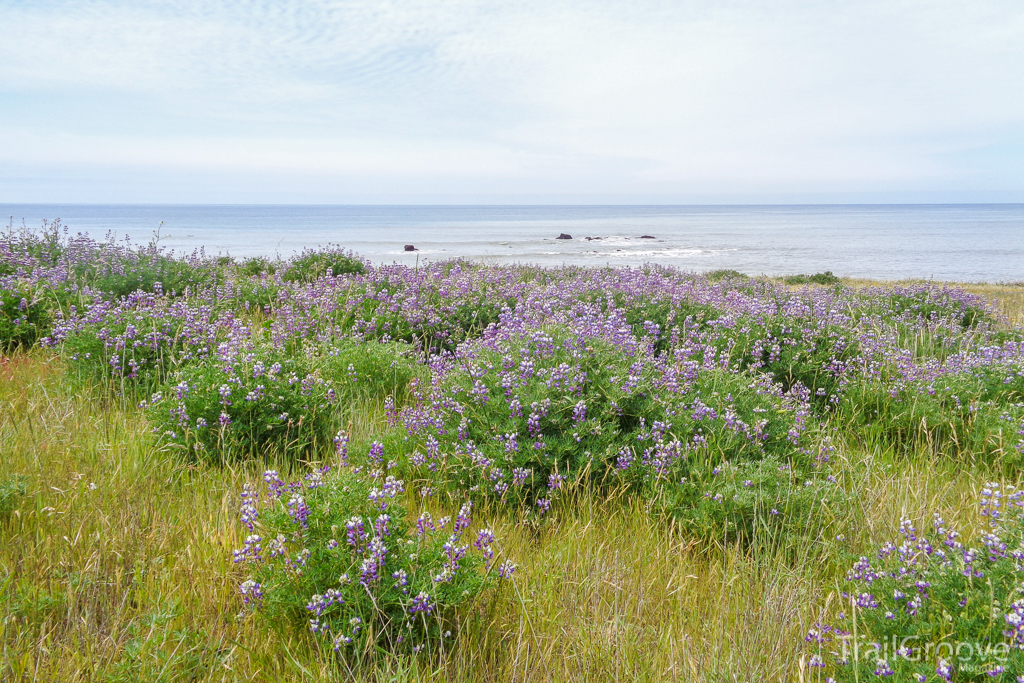 We walked happily across the broad bench land of Spanish Flat to Spanish Creek. This flat was splashed everywhere with flowers. The yellow-orange poppies complimented Moe's black coat nicely. There are a number of beach campsites with windbreaks, but we didn't use them. If the wind did come up we would still be miserable – if you've ever camped on a beach and especially a windy one, you know the sand gets everywhere. Instead, we followed a faint trail into the canyon that Spanish Creek flows out of. There we found a nice, sheltered site by the creek with two good tent sites. That evening we went to the beach and strolled up and down, which was very pleasant without the backpacks.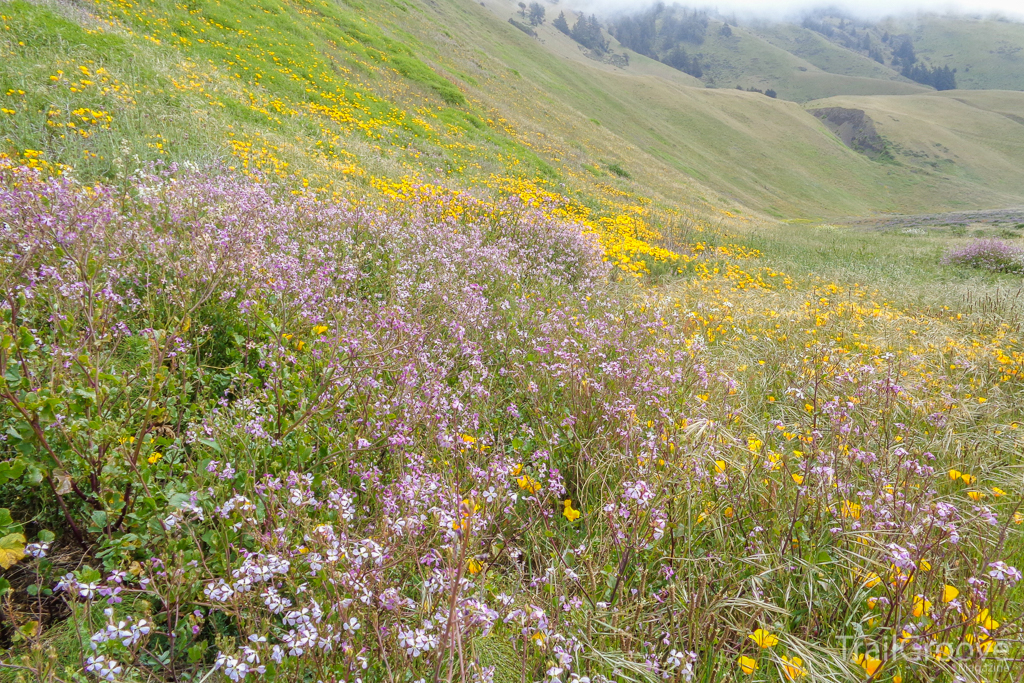 The second day of hiking was much like the first. After a couple miles of good trail, we returned to the beach and then up into the hills and through a bit of forest. Emerging from the trees, we had a great view out over Big Flat. A mile or so of walking through more flowers brought us to Big Flat Creek. After a dicey stream crossing we entered an open forest carpeted with tall bright green grass and wild iris. Good, sheltered campsites were everywhere.
I should mention that not all the gorgeous flora was on the grassy flats. In many places the black, jagged cliffs were covered with strange and beautiful succulents I had never seen before. Some species are so prized by gardeners that succulent poaching has become a problem.
Heading south on the third day, the name of the bench land changed to Miller Flat. We soon came to the last watch-out-for-high-tide section. Sand, rocks, and slow progress again. One more time the tide table smiled on our endeavor; and, after 4.5 miles, we emerged at the other end high and dry. If hikers do get trapped by the tide on this section, there are places of refuge at Shipman Creek and at Buck Creek. Dan and I did get stuck at Buck Creek on an earlier trip. We explored every corner of our small notch in the cliff, and finally became bored as we waited for the tide to go out. At last we resorted to watching "Casablanca" on my tablet. "We'll always have Shelter Cove," Rick consoled Ilsa.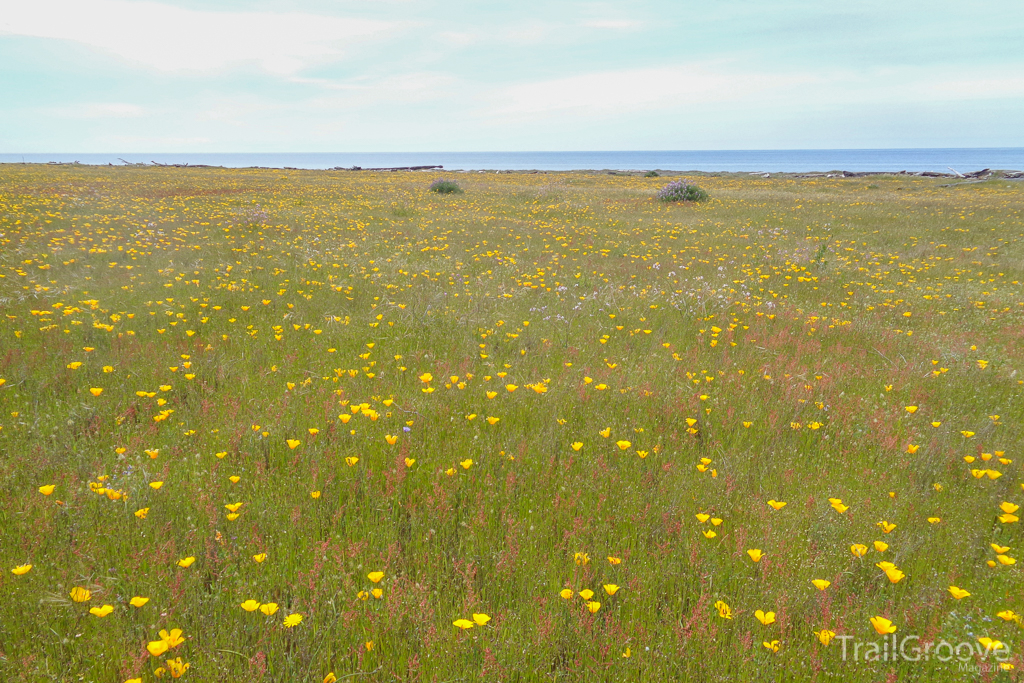 Finally the beach widened, and there were no threats to life between us and Shelter Cove. And then, "Thar she blows!" Huge gray whales were spouting and breaching just off shore. They were so close we could see the barnacles on their skin. We stood and watched until they moved on to the north.
The last miles were over smooth, black sand covering a wide beach. Black Sand Beach is unlike any of the Lost Coast to the north and makes a relaxing end to a challenging trek. At the end of this beach, it was just a short climb up to Shelter Cove, pizza, and our real lives.
Information: Dogs and fires are allowed. Bear canisters are required. You can camp anywhere, but are encouraged to use existing sites. King Range Wilderness Permits are available here.
Getting There: Shelter Cove trailhead: Take the Redway exit off of US 101 near Garberville. Drive from Redway to Briceland on Briceland Thorn Road. Go through Briceland to Thorn Junction, and take Shelter Cove Road to Shelter Cove. Mattole trailhead: Take the Ferndale exit off of US 101. Take Mattole Road out of Ferndale, turn onto Lighthouse Road at Petrolia, and follow it to the end. Shelter Cove to Mattole: Take King Peak Road to Wilder Ridge Road and turn onto to Mattole Road at Honeydew. At Petrolia turn onto Lighthouse Road and follow it to the end.
Best Time to Go: May – Oct, but May and June are best.
Maps: Wilderness Press publishes a Lost Coast Recreation Map. You can coordinate your trip with the tides here. Shuttles can be reserved at Bill's Lost Coast Shuttle and Lost Coast Adventure Tours.
1