A Day Hiking Weekend in Cuyahoga Valley National Park
---
My childhood best friend moved to Akron, Ohio right after she graduated high school to attend the University of Akron. Being from Virginia and having lived there all my life, I had never really heard of the city aside from its connection to Lebron James (but even about this my knowledge was severely limited due to my lack of interest in basketball). That was seven years ago, and I realized recently that I still had yet to visit despite her open invitation. Feeling guilty and quite aware of how long 7 years is, I reached out and we worked it out so I would stay with her over Labor Day weekend. Now was the time to figure out what there was to do in Akron!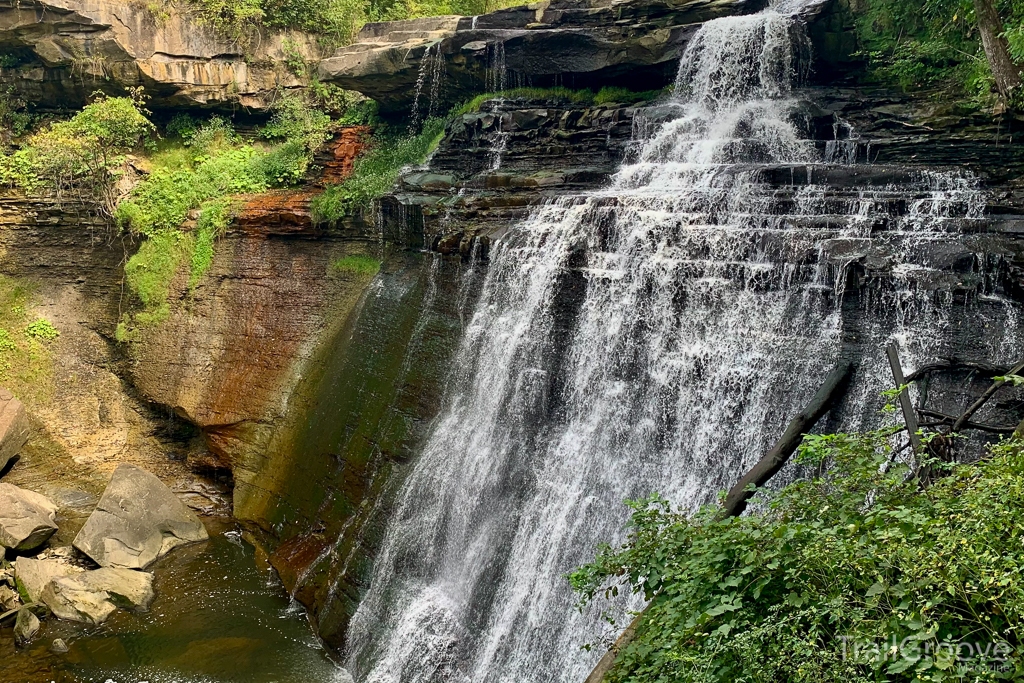 As I said before, 7 years is a long time. Long enough for me to also graduate high school, and college, and develop a love for hiking and the outdoors that would take me on road trips all over the country. From Zion to Acadia, from Shenandoah to Bryce Canyon, I loved seeing all sorts of landscapes, beautiful views, and making a dent in my National Parks bucket list. And as luck would have it, as I glanced over the list of parks I had yet to see, I noticed – Ohio! After a quick search, I dove into researching the new-to-me world of Cuyahoga Valley National Park (CVNP), which – as luck would have it – is located right in Akron's backyard. Why hadn't I heard of this park before? Perhaps because Ohio isn't the first state that comes to mind when you think of National Parks or wilderness hiking destinations. Maybe because there's no colossal red rock arches, or canyons that are a mile deep, or bison roaming on grass plains. Undeterred, I was excited to find the beauty in this park and immerse myself in a new space full of its own natural wonder.
Our first hike was the Ledges Trail. This 1.8 mile loop trail winds through sandstone cliffs and features one of the most scenic overlooks in the park. Not too difficult, it was a great first foray in this new place, with lots of little crevices and slot canyon-esque areas to squeeze into and poke around in. A few ups and downs along the way, but mostly a flat journey that was filled with massive slabs of rock and lush greenery. Perhaps most impressive was the complete immersion in nature I experienced. No sounds of highways or motorists, I felt like I had been transported to a completely new place. It certainly was not the image I picture when I think of Ohio. Be sure to bring bug spray though if you're thinking of visiting from late spring to early fall –mosquitoes abound.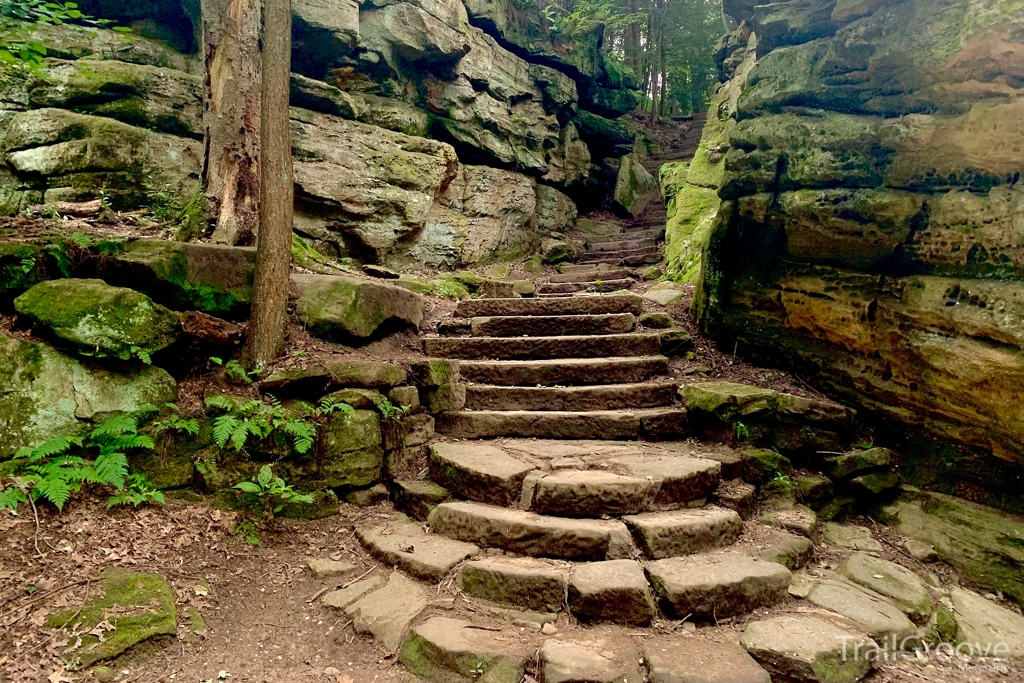 The next morning we enjoyed a stroll on the Ohio & Erie Canal Towpath Trail. Almost entirely flat, the trail was packed with runners, bikers, and walkers by 10 AM when we set out. Passing through Beaver Marsh and seeing all sorts of wildlife like great blue herons, snakes, and other little creatures was a delight. The locks which would raise and lower boats were an incredible piece of history that sparked daydreams of the early travelers of the canal. But the best part? The signature midwestern kindness. Every person greeted us with a chipper "good morning!" and a smile.
That afternoon, I ventured solo to the Boston Mill Visitor Center to pick up a map and talk with the rangers. When I arrived, the parking lot was full to the brim. After hearing horror stories of closures and hours-long waits for trails in parks out west, I realized that the problem seemed to be ubiquitous across most National Parks, even the ones I hadn't heard of until recently. I was finally able to snag a parking spot and talk to a ranger. He informed me that while the holiday weekend likely exacerbated the problem, this crowd level had been the norm for them in recent months. He estimated that their visitor numbers quadruple from the weekdays to the weekend. I believed him – as I sat in a line of cars later waiting to park at the Brandywine Falls trailhead, I couldn't believe the crowds. I later found out from another park ranger that CVNP was the 7th most visited National Park in 2020, beating out big names like Acadia and Joshua Tree. I credit these numbers to the weekend (and weekday!) local visitors. The proximity of the park to major cities like Akron and Cleveland, even Pittsburgh, make it an easy weekend getaway to a totally green space.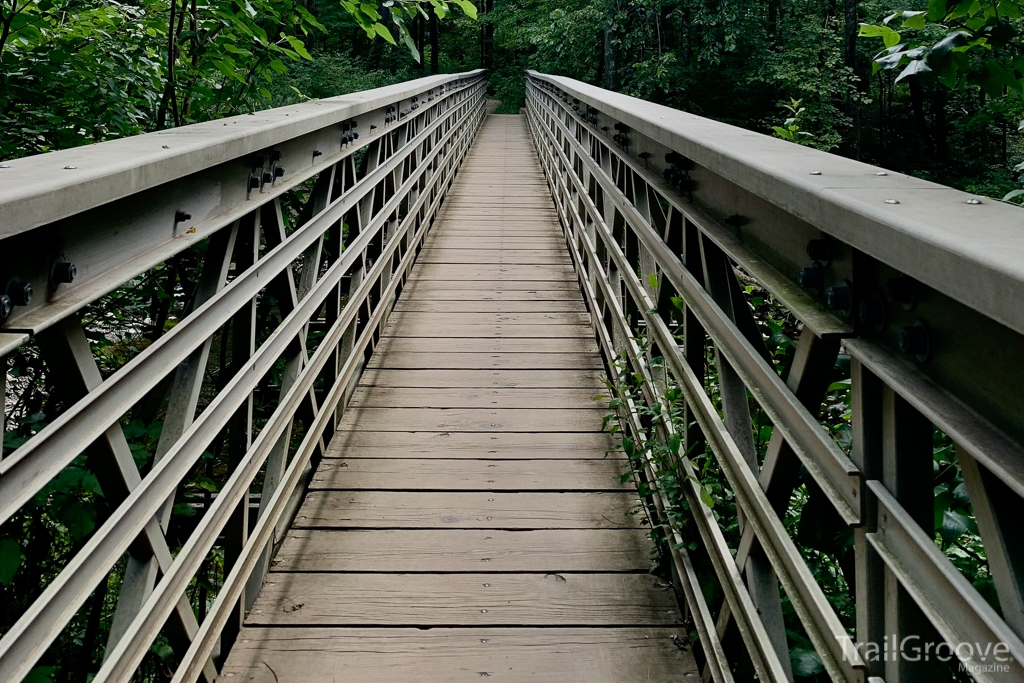 Brandywine Falls seemed to be one of the park's crown jewels. With a packed viewing balcony just a quick staircase from the parking lot, visitors eagerly shot photos of the gushing water and the mossy sandstone backdrop. I diverted away from the crowd, preferring to take the less populated Brandywine Gorge Trail. Following the edge of the gorge and passing by an adorably quaint bed and breakfast, the 1.5 mile loop trail descends to the creek and provides more intimate views of the many layers of rock that formed the gorge. You'll lose and gain a bit of elevation around the loop, but the trail provides plenty of stunning vantage points to stop and catch your breath while you take in the surroundings. The flourishing vegetation of the late summer was fun and enveloping, but I would be eager to visit again in the fall to see this same place with the leaves changing colors.
After hiking a few more trails and seeing some landmarks (including a visit to the house from A Christmas Story in a suburb just outside Cleveland!) I hit the road and headed back home to Washington, D.C., finding myself dumbstruck by the fact that I was a bit sad to be leaving Ohio. The park I'd never heard of! I couldn't believe it. But the winding, easy trails surrounded by history, the cooler temperatures of late summer in Ohio, the ability to so quickly escape from the city and immerse oneself in a forest – it was magical.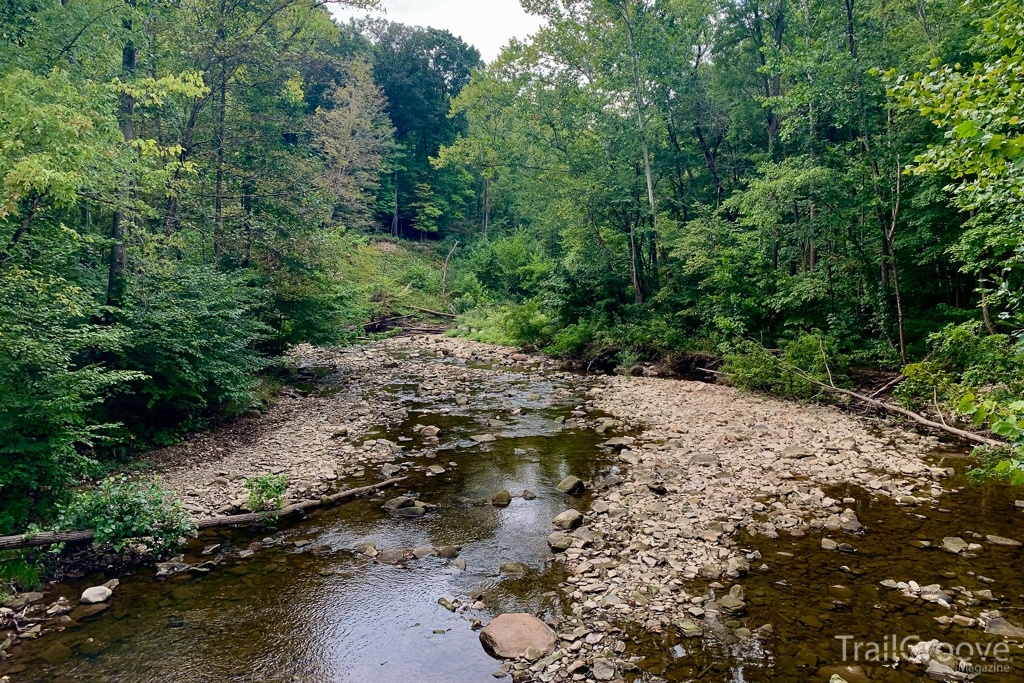 Maybe it doesn't make your bucket list when stacked up against some of the marvels out west, but Cuyahoga Valley National Park should not be counted out. This park brings people to the outdoors, regardless of their physical ability. It immerses them in history, in greenery, and in a space that they can call their own. It may not be the subject of oil paintings or John Muir quotes, but in its own beautiful way, it is a place of quiet, unassuming inspiration. I certainly hope I find my way back.
Information: Entrance to Cuyahoga Valley National Park is free! You can support the park by donating to the park's friends group, the Conservancy for Cuyahoga Valley National Park. CVNP no longer allows camping within the park, but there are state parks and campgrounds within driving distance. Learn more here at the NPS website. Portions of the Buckeye Trail also pass through the park.
Getting There: Cuyahoga Valley National Park is a thirty-minute drive from both Cleveland and Akron, OH. CVNP is also easily reached by car from Cleveland, OH and Pittsburgh, PA in about two hours driving time. If flying, arrive at either Cleveland Hopkins International Airport or Akron-Canton Regional Airport, both of which offer car rentals.
Best Time to Go: Summer is a great time to visit for hiking, as the trails are shaded by trees and the scenic railroad is operating. If you're looking for fall colors, visit in September and October while the leaves are changing. Winters in Ohio can be biting due to lake-effect snow from Lake Erie, but opportunities for skiing and snow tubing can make it worth the freezing temps!
Maps and Books: The National Park Service offers detailed information and maps about the park and its trails at their website. The Conservancy for Cuyahoga National Park sells numerous books and maps as well, including a Cuyahoga Valley National Park Handbook. The Trail Guide to Cuyahoga Valley National Park offers easy-to-use maps and trail descriptions written by park volunteers.
1