10 Ways to Sleep Warmer on Your Next Backpacking Trip
---
It's always hard to enjoy a backpacking trip when you don't sleep well, and sleeplessly shivering throughout the night is one way to guarantee a rough next day. Here's a list of 10 tips, ideas, and considerations that should help the next time your backcountry trip coincides with those colder nights.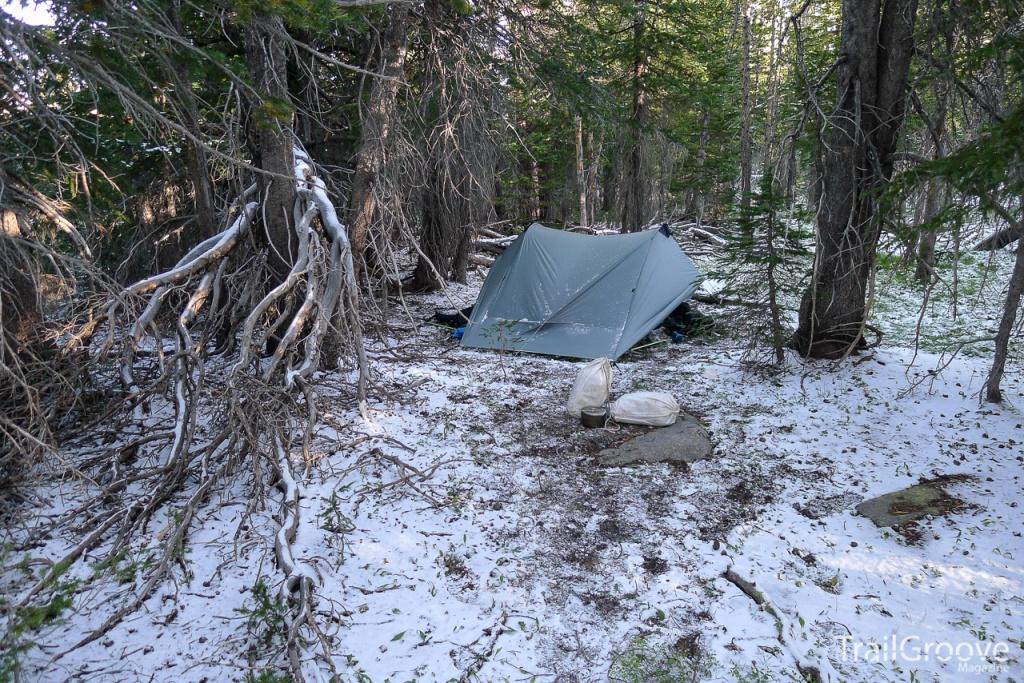 A Nalgene Bottle. Trapping your heat utilizing your sleeping bag and insulating yourself from cold ground using a warm enough sleeping pad is highly efficient, but sometimes nothing beats the comfort of a heat source other than your own. Though heavier than disposable water bottles, the venerable multi-use Nalgene weighs just 3.8 ounces in the HDPE Ultralight version and withstands temperatures up to 248°F with your standard Tritan version withstanding 212°F, while hitting the scales a couple ounces heavier. Either way, you're all clear when it comes to heating up some water before hitting the sack. An Ultralight HDPE Nalgene will stay hot for several hours with your standard Tritan retaining heat even longer – insulate either with something like a spare wool sock or an item of clothing that can take the heat, then tuck inside your sleeping bag. (Make sure the lid is securely closed!) Just remember to bring enough stove fuel or you might be in for a cold breakfast the next morning. Disposable hand warmers can work too, but for me…Nothing beats the versatility of a Nalgene – I can reheat the water for coffee in the morning and of course it works pretty well for carrying water on the trail, as well.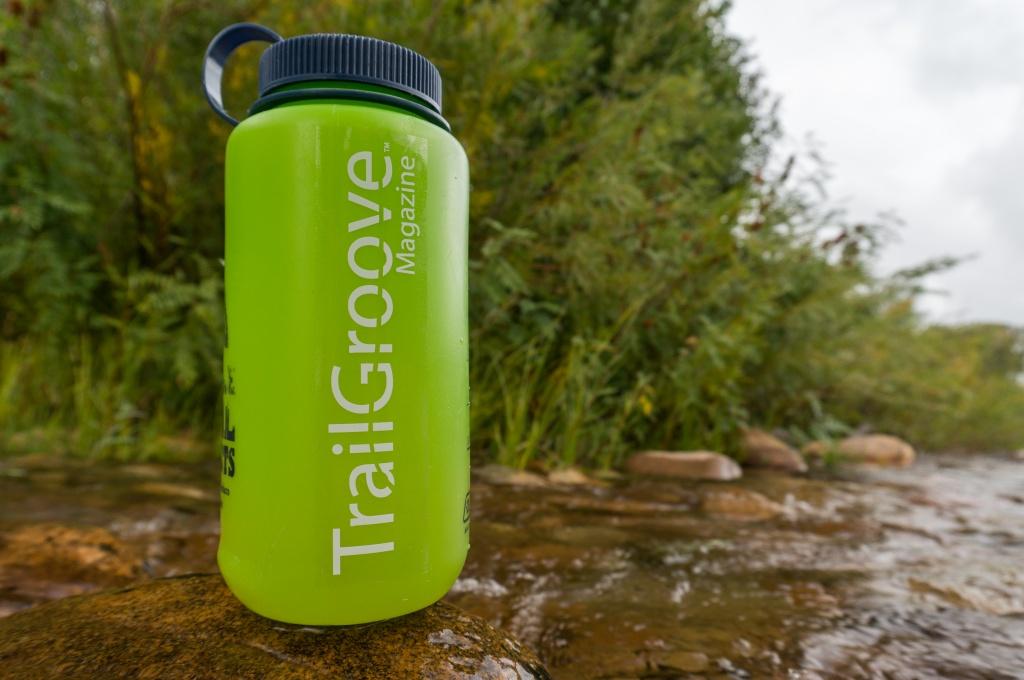 Down Booties. For cold feet, down booties beat socks and are a great set-and-forget item to just throw inside your sleeping bag before a trip. Available in various levels of complexity, I've found the sock-like variety (no sole) to be the best choice – you'll just still have to rely on your shoes to walk around camp at night. But they do one thing and do it well – keep your feet warm. At less than 3 ounces a pair, Goosefeet Gear socks are hard to beat, (overboots optional) but if you'd like some type of integrated sole check out Western Mountaineering's Flash Booties as well as options from Feathered Friends.
Eat Up and Stay Hydrated. On a past Utah bikepacking trip, little water was to be found – In fact not until 70 miles into the trip. As such, I'd packed a ridiculous amount of water, enough to last until the end of day 2. But that doesn't help much when you lose 3 liters to a leaky connection the first night. Camp for night 2 was near water, but I still found myself crawling into the tent without adequately rehydrating and without the appetite to take in enough calories. Temps dropped to the 20's, and I shivered throughout the night in a sleep system that normally keeps me warm into the teens. So stay hydrated and eat well, but avoid drinking alcohol – the effect of alcohol is only psychological when in fact it hurts your chances at staying warm throughout the night. It's probably a good idea to hold back on the caffeine as well, and it could even keep you from falling asleep in the first place. A hot meal, warm drink, and a slow to digest snack before turning in for the night will all go a long way here.
Campsite Selection. It's all about the elevation. Cold air sinks, but it also gets colder by about 3.5 degrees for every 1000 feet you gain, and often windier as you ascend in elevation as well. So camp lower, but not next to the river. By simply camping on a small rise you can easily raise your nightly low temperature by a few degrees. Select a safe location with natural wind blocks like trees or terrain. Just don't climb so high that you're exposed to significant wind or find yourself rising into a different temperature zone entirely. Additionally, we all know how hard it is to get out of your sleeping bag when you have warmed up but it's still freezing cold the next morning. Selecting a campsite that will receive direct morning sunlight can make a huge difference – So all else being equal going for the west side of that meadow surrounded by tall trees, or an east-facing slope can help. Look to the trees as well – A forested camp can help to cut the wind and is often also warmer. This can especially help with a single wall shelter by reducing condensation compared to a grassy meadow.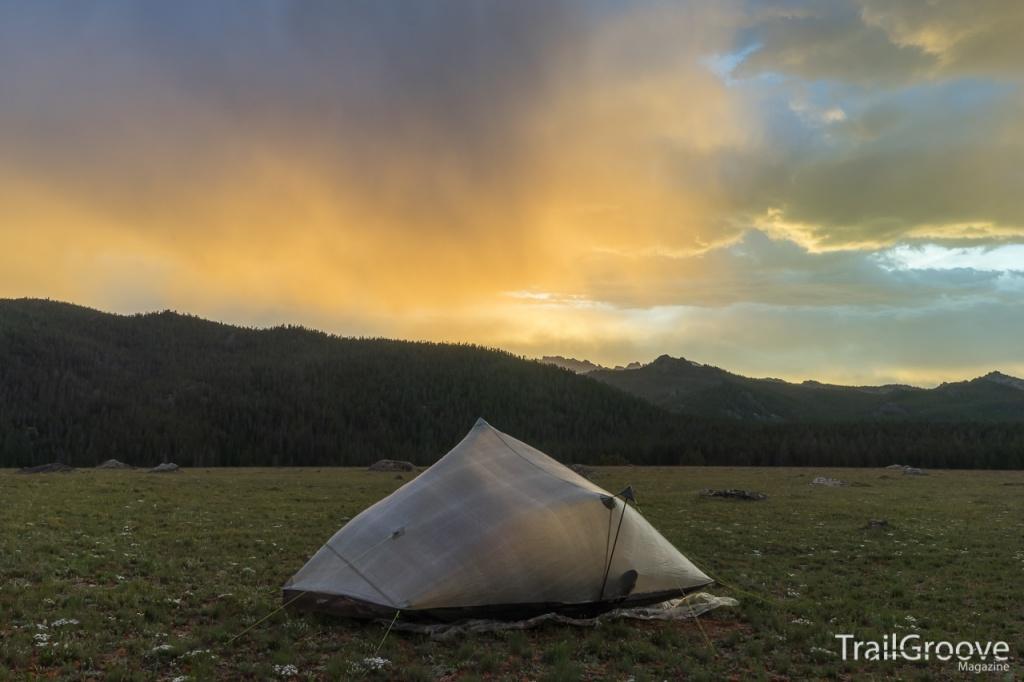 Wear it! If you have it, wear it! Too many times cold sleepers leave their layers in their pack. So wear everything you have…a jacket will make a huge and instant difference, but don't forget extra socks, dry rain gear, gloves, extra....anything. A sleeping bag with just a little room to layer in this manner will help.
Stay Dry. Hiking in rain or snow all day, sweating in your rain gear, a sleeping pad soaking up some of that rain that fell into your tent during setup, and even worse a wet sleeping bag can combine to make for a miserable or dangerous night. The first step starts with taking every extra precaution to make sure your sleeping gear, insulation, and any spare clothing you have stays dry at all costs. Water-resistant pack designs and pack covers / liners help, but don't stop there – pack your clothes, sleeping bag, and unless it's closed cell foam and too bulky, throw your sleeping pad all in a lightweight dry sack as well for multiple layers of protection. Once in camp, (see Campsite Selection as well as Eat Up and Stay Hydrated) setup a dry shelter and change into dry clothing immediately before the body heat you've been generating from hiking wears off.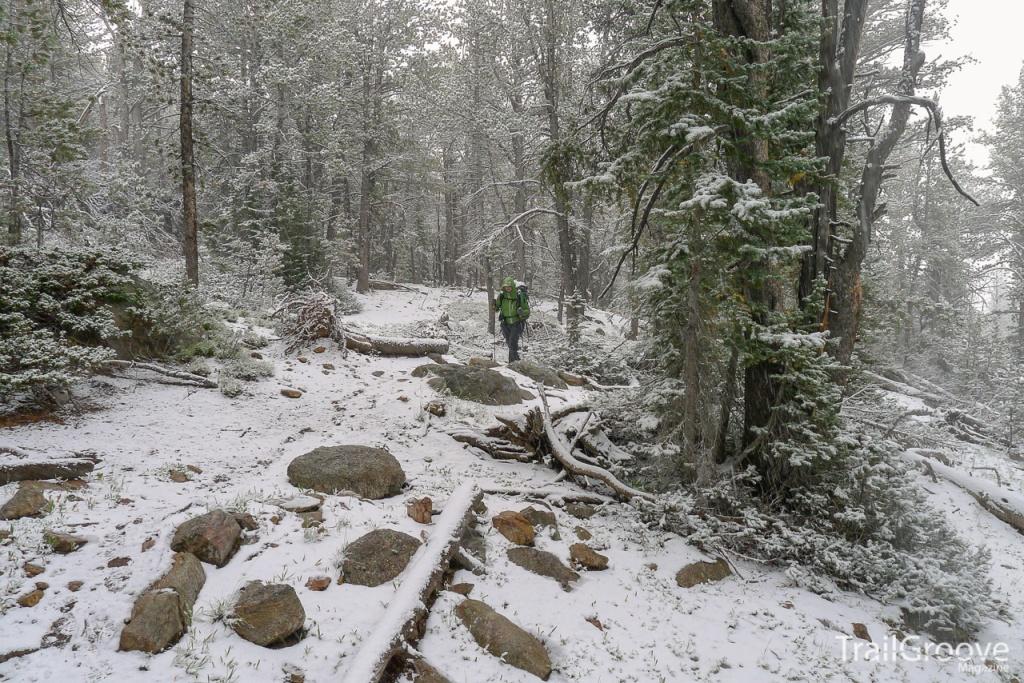 Loft and Down Distribution. If you're using a down bag with continuous baffles, it can be easy to forget they're there. Designed to control the down yet allowing you to shift it as needed…It can also let the down end up in the wrong place – beneath you. Start at a zipper with the bag unzipped and shake to work the down to the top of the bag – heat rises.
A Vacuum Bottle. If you think taking a Nalgene is a luxury, bringing a vacuum insulated bottle along is definitely taking it a step or two further…along with the associated weight. So while this tip may be best suited for car camping or lower mileage jaunts where weight is not the primary concern, it's hard to argue with the heat-from-within effect that a piping hot beverage can provide. Unfortunately, it won't be too warm on the outside, but the contents will stay hot throughout the night if you need it. I use an insulated 20 ounce Klean Kanteen bottle, although due to weight mostly for winter day hikes and morning trips to the trailhead. But if you're willing to carry the weight, a vacuum bottle is hard to beat.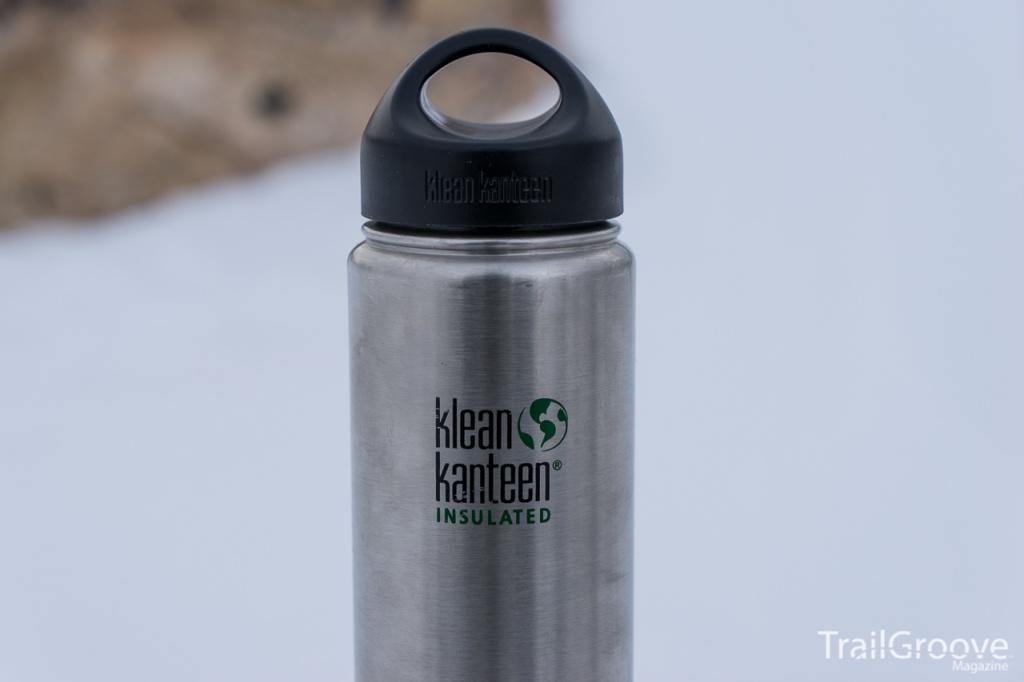 Exercise. When all else fails, warm up by generating more body heat – with exercise. Although not a preferred activity at 3 a.m. for most of us, 60 seconds of situps in your bag can help to generate enough heat to at least get you a little sleep – until the next round. Don't forget this tip before getting in your bag either – jumping jacks work well.
A Warmer Sleep System. In the end, while these tips and strategies can all help on that unexpected exhausting long day or a colder than anticipated night, the best and most efficient way to stay warm is to take the right sleeping pad and insulation (bag, quilt, etc.) in the first place. If you find yourself consistently cold at night and having to resort to extra measures, adding a little more weight in this department is your best bet. And if it helps you sleep better at night, not to mention the safety factor, your time on the trail will be much more enjoyable. Evaluate the r-value of your current sleeping pad, and either upgrade to a warmer model or for a cheap solution, simply bring a layer of closed cell foam, like a RidgeRest SOLite or similar (even a torso length addition will add needed insulation) to combine with your existing pad for as little as a few bucks and a few ounces. A 20 degree bag isn't a 20 degree for everyone – if you're consistently cold, it's ok to admit it! A warmer bag will be well worth the weight and investment.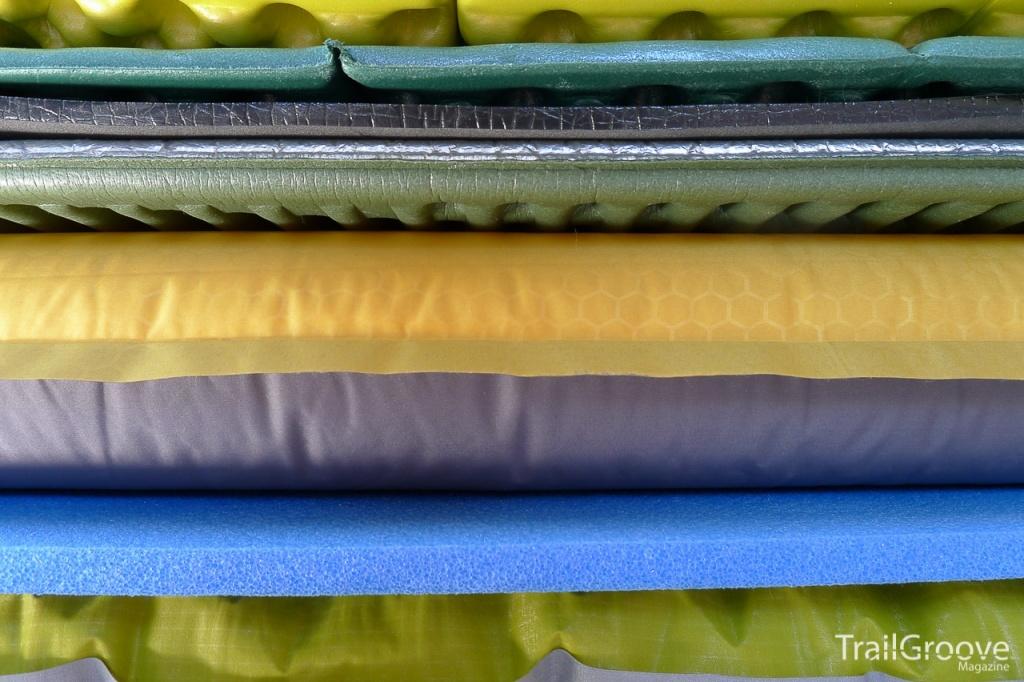 Hopefully, these ideas will add up to keep you warmer at night on your next backcountry trip when the temperatures drop.

What are your favorite ways to stay warm at night?
2