Skiing to Hogan Cabin - Beaverhead-Deerlodge National Forest
---
In typical backpacker fashion, I did my solemn duty of taking off the Thursday before a federal holiday falling on a Friday to schedule a two-night trip followed by a day of rest. A stroke of good fortune allowed me to book Christmas Eve and Christmas night at a small, rustic Forest Service rental cabin in the mountains of the Beaverhead-Deerlodge National Forest.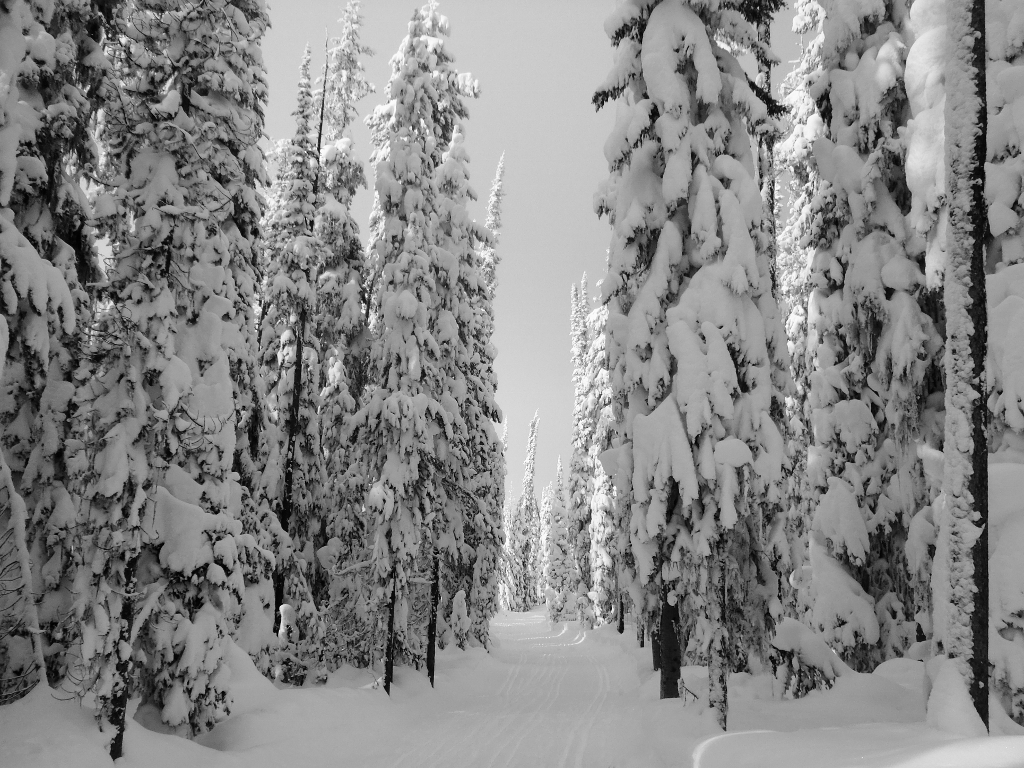 Given the frigid forecast, it was well worth the nominal fee to know that after skiing around all day I'd have four walls, a roof, and a wood stove to wind down in and not have to put in the full effort required of winter backpacking in the northern Rockies.

Parked at noon on Christmas Eve, I skied away from Chief Joseph Pass under overcast but nonthreatening skies. It was in the mid-teens, but I shed my hardshell jacket within a mile of the trailhead. I'd forgotten how much effort cross-country skiing with a pack took and was grateful that it was only six miles to the cabin, on a slightly downhill grade. My gratitude mixed with distraction and enchantment at the snow-covered landscape and my blissful inattention led to me missing the painfully obvious turn to the cabin. By the time I reached the cabin, around 3:30 p.m., I'd skied closer to nine miles than the six I'd planned on. I rarely comment on footwear, but I was glad to be out of ski boots and in down booties as I worked at getting a fire started in the wood stove.

As a consistently non-traditional individual (please forgive or embrace the contradiction), I spent Christmas Eve in a quintessential Christmas scene, sitting beside a crackling fire watching snow fall from the window of a snow-covered cabin in a stand of evergreens on the edge of a meadow, while doing absolutely nothing related to Christmas. I stretched to try and loosen up my muscles, with a slight degree of success. I unpacked and arranged my gear in what seemed like a logical manner. I listened to a bit of music (Palace Brothers) and read from a travel-worn book of poetry by David Berman and from "Outer Dark" by Cormac McCarthy. Each of these three were perhaps equally incongruent with the time and place, but somehow it worked.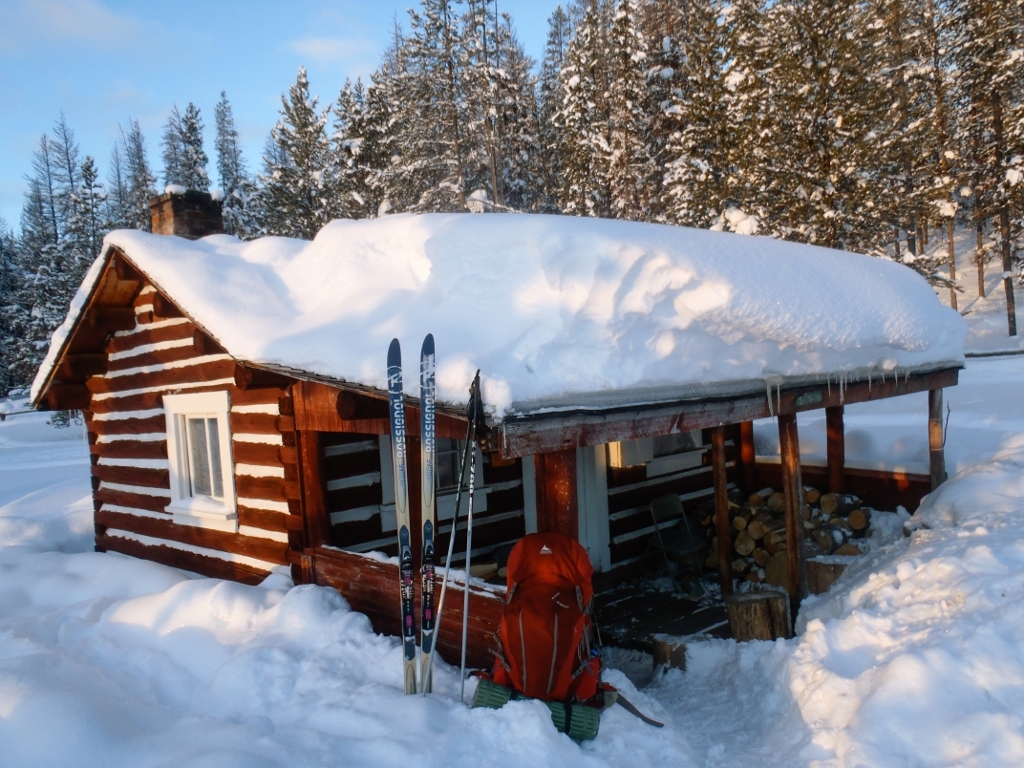 After a filling meal of mushroom ravioli and pesto, and a glass of pinot grigio, I took a brief stroll outside to admire the scenery. It was too cloudy for moonlight skiing, but perfect conditions to stand outside in the single-digit temperatures and ponder the vastness of the planet with as much or as little effort as desired. I tucked myself into bed at an embarrassingly early hour and hoped that Santa might bring some fresh muscles to me overnight.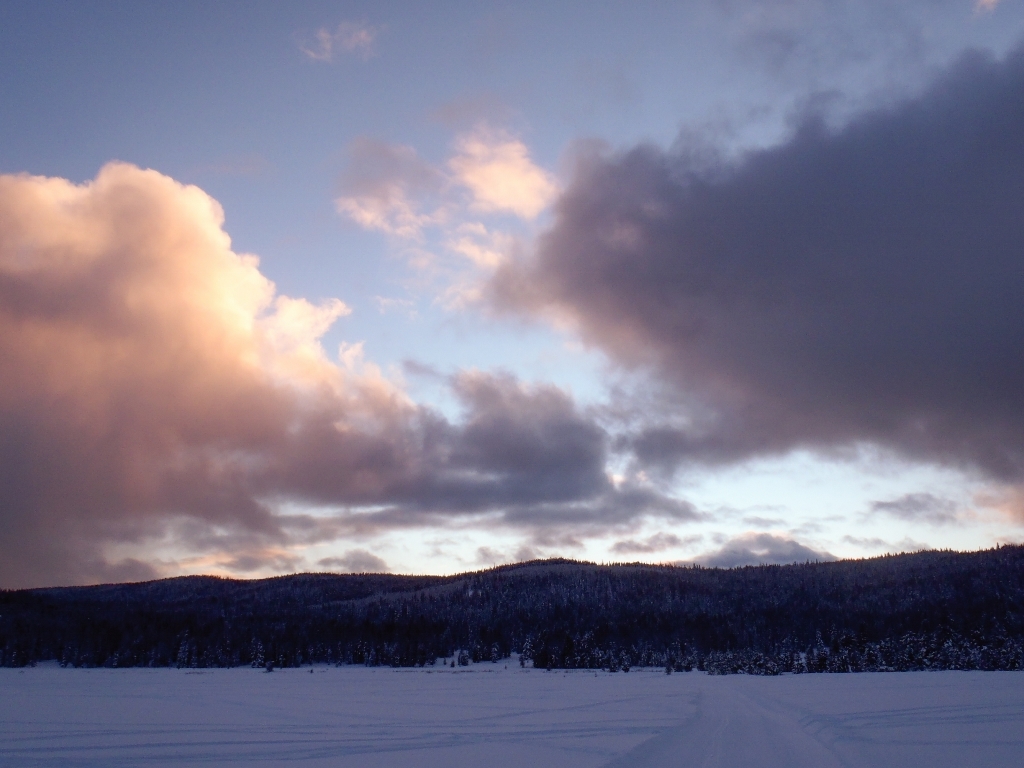 I awoke on Christmas morning to a chilly cabin, slightly stiff legs, and an inch or so of powdery snow. No complaints. I made a quick breakfast, packed up my gear for the day, and headed out the door into crisp temperatures and a cloudy but clearing sky.  About halfway through my 8-mile loop I encountered the trail groomer (the forest roads in the area are machine-groomed for skiing by the Bitterroot Cross-Country Ski Club) and stepped off the road to let him pass. We exchanged brief pleasantries and I received some unpleasant news. A close friend of the groomer's had been solo backcountry skiing two days earlier and was missing; presumed dead. I offered my condolences and we spoke with detached but intense mortality about the dangers of beautiful places before wishing each other well and parting ways.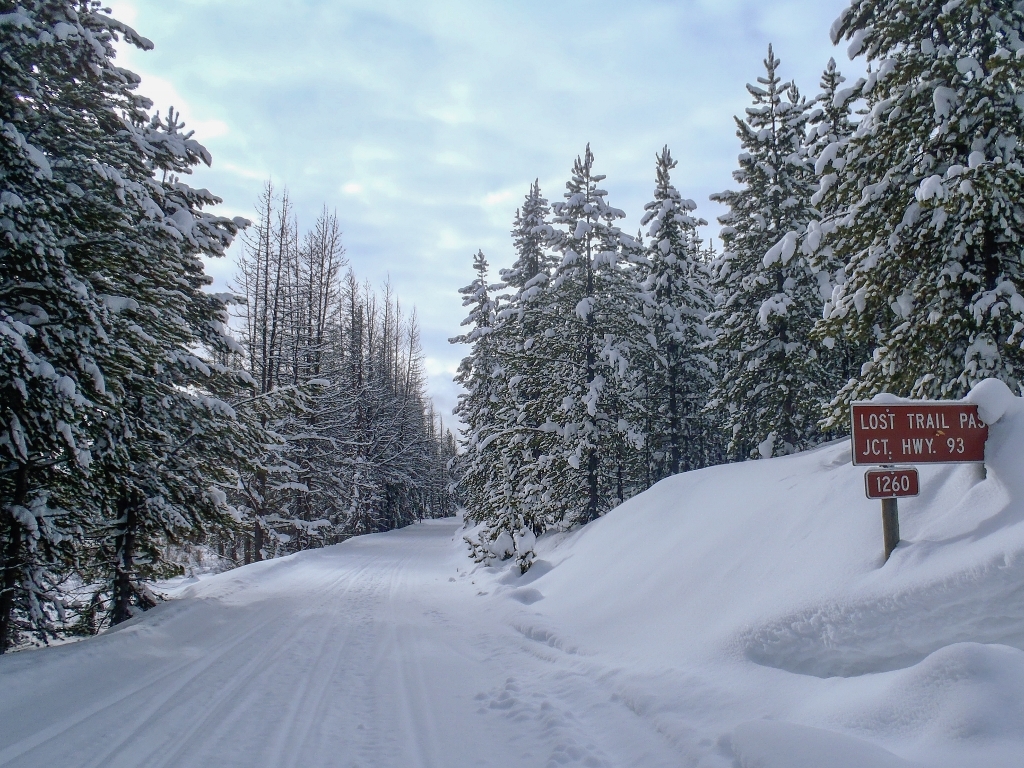 Needless to say, that exchange didn't exactly lighten my mood. It was a somber and introspective event as I skied back toward the cabin. Successfully resisting melancholy, I reflected considerably on the themes of loss, of love, of change, and rattled through my mental catalog of personal experiences in each category. The miles slid by on the freshly groomed road as people, places, and decisions streamed across my internal projector and bubbled into my consciousness. Some of these I examined with more purpose than others; some it was almost like watching someone else's life, especially when speculating on the what-might've-beens. But as always, truth and reality were most certainly stranger than fiction or speculation.
This should perhaps be a mere footnote, but I've always found strange solace when ruminating on loss or love, or loss of love, in the poetic profundity of a specific line in one of the songs penned by David Berman:

I asked a painter why the roads are colored black
He said, "Steve, it's because people leave
and no highway brings them back."

Not exactly Zen Buddhism, but I've always found more than enough to ponder upon. And ponder I did -- about certainty, finality, mortality. All good in moderation, I suppose.
I arrived back at the cabin in mid-afternoon and immediately started a fire to warm the cabin. While waiting for the stove to heat up, I warmed myself by hauling a few loads of wood from the barn on a sled and splitting some for the next guests. More tired, both physically and mentally, than I had anticipated, I enjoyed some tea and read a few chapters before indulging in a brief nap. It was nearing dusk when I awoke and I stoked the fire, ate a large snack, and got excited about the clearing skies and the prospect of skiing under a full moon. It took a couple of hours, and I had to kill some time by reading, writing a letter to a friend, and taking a cautious sip or two of bourbon, but the clouds thinned out and I was able to enjoy the sublime pleasure of moonlight skiing.

Gliding across an expansive meadow illuminated in a monochromatic and surreal light is something I would highly recommend. Not having to rely on the beam of a headlamp to enjoy a landscape after sunset is such a freeing and novel experience. The quiet, the beauty, the vastness -- all were amplified by the moonlight and I skied aimlessly outside for the better part of an hour before returning to the cabin.

I'd worked up an appetite and consumed my meal of Thai peanut noodles with chili-lime jerky and fresh-squeezed lime juice in record time. A satisfying meal any time or place, but particularly enjoyable on a cold night after skiing. I stretched some more after dinner and did what bit of pre-packing I could to ensure an early start and limit the chance I would forget something (I was successful on both counts). More reading and I was ready for bed; with a full stomach and tired body I fell asleep quickly.

I woke a half-hour before sunrise and began packing up by lantern light. Two cups of coffee, a light breakfast, and a few simple housekeeping chores later and I was heading out the door. I stepped into my skies under an impossibly blue sky in temperatures a few degrees shy of zero and began the six-mile trip back to the trailhead. The trip out was pleasant and I was alone on the trail for the most part, although a caravan of snowmobiles briefly interrupted my reverie.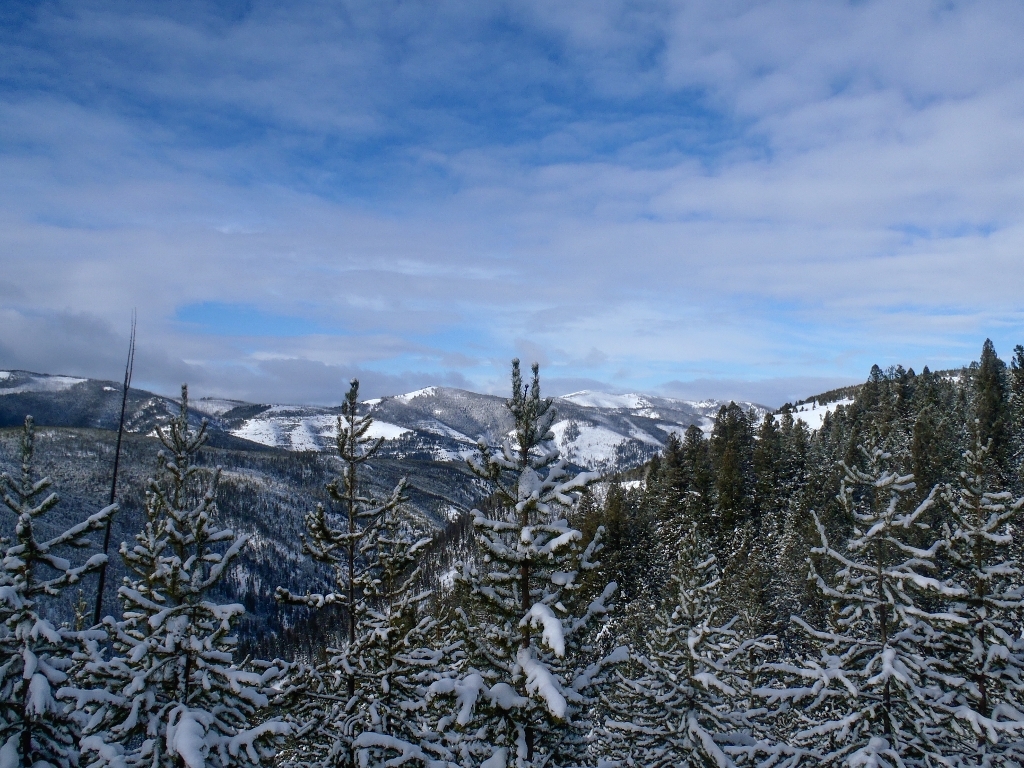 In keeping with my eclectic entertainment choices on this trip, I listened to the criminally under-appreciated Beach Boys album "Friends". Featuring excellent harmonies, but much deeper lyrics than their more radio-friendly material, this seemingly absurd choice was actually a great soundtrack. Certain lines just fit right in with the glorious sunshine and positive energy of aerobic activity in an idyllic setting:

Your life is beautiful
A seed becomes a tree
A mountain into a sky
This life is meant to be, oh
Now is the time, life begins

I reached the lively trailhead just before noon and it brought a smile to my face to see so many others out enjoying a beautiful day in the mountains. Not wishing to delay the inevitable, I packed up and changed into fresh clothes and then headed out. Rather than head straight home, I made the 40-mile detour to Jackson Hot Springs for a soak and a late lunch. It was a beautiful trip, which is a compliment I rarely pay to journeys taken on pavement, through the lonesome Big Hole Valley to Jackson. I think I saw as many mountain ranges as I did other cars. Pioneers, Beaverheads, Anaconda-Pintlers. Dodge, Ford, Honda. 

Soaking in a hot spring is a treat that needs no justification, but it always feels even better after a hiking or skiing trip. Watching steam float from the outdoor pool into the blue sky to mix in with the few clouds overhead was a great way to wind down what might be my last backpacking trip of the year. Forty-two nights backpacking in 2015, each one incredible in its own right. By the time I left the hot spring I was already planning well into 2016, thinking about which new places to explore and which favorites to visit again. All I knew for certain was that there wouldn't be enough holidays or vacations for half the adventures I had planned.

Information: Visitors are requested to sign in at the trailhead. Hogan Cabin can be booked via recreation.gov by searching "Hogan Cabin" and completing the reservation process. For additional information, call the Wisdom Ranger District of the Beaverhead-Deerlodge National Forest at (406) 689-3243.
Getting There: The trailhead for Chief Joseph Pass and its system of cross-country ski trails is located on Montana Highway 43 a mile or so east of the junction with US Highway 93, near the Montana-Idaho border. Missoula, Montana is the nearest major town (about 100 miles away), although most goods and services can be procured in Darby, Montana or Salmon, Idaho.
Best Time to Go: The best time to go is somewhat dependent on snow, but anytime from December to early March should be good conditions on groomed trails.
Maps & Books: Maps can be obtained from the US Forest Service ranger stations in the area, as well as a nifty brochure map published by the Bitterroot Cross-Country Ski Club that should be available at the trailhead registration booth. This area is also exceedingly well-signed, with maps posted on trees at each major junction. 
The Author: Mark Wetherington is an avid backpacker and occasional writer. Since 2008 he has attempted, with varying degrees of success, to spend 10% of each year on backpacking trips. Born in Tennessee and raised in Kentucky, he now lives on the edge of the Selway-Bitterroot Wilderness in Montana.
4