Platypus GravityWorks Water Filter Giveaway
---
Note: This giveaway ended 2/22/16.
With an eye on the upcoming arrival of spring next month, we're giving away a Platypus GravityWorks water filter system - similar to the system we reviewed here in Issue 25, just in the 2 liter reservoir kit version, plus your choice of shirt or hat from the TrailGroove Store. The GravityWorks filtration kit is an easy to use .2 micron water filter system that we've found to be well designed and easy to use, and it's a great choice for anything from a day hikes to longer backpacking trips. Click here to see the exact system the winner will receive.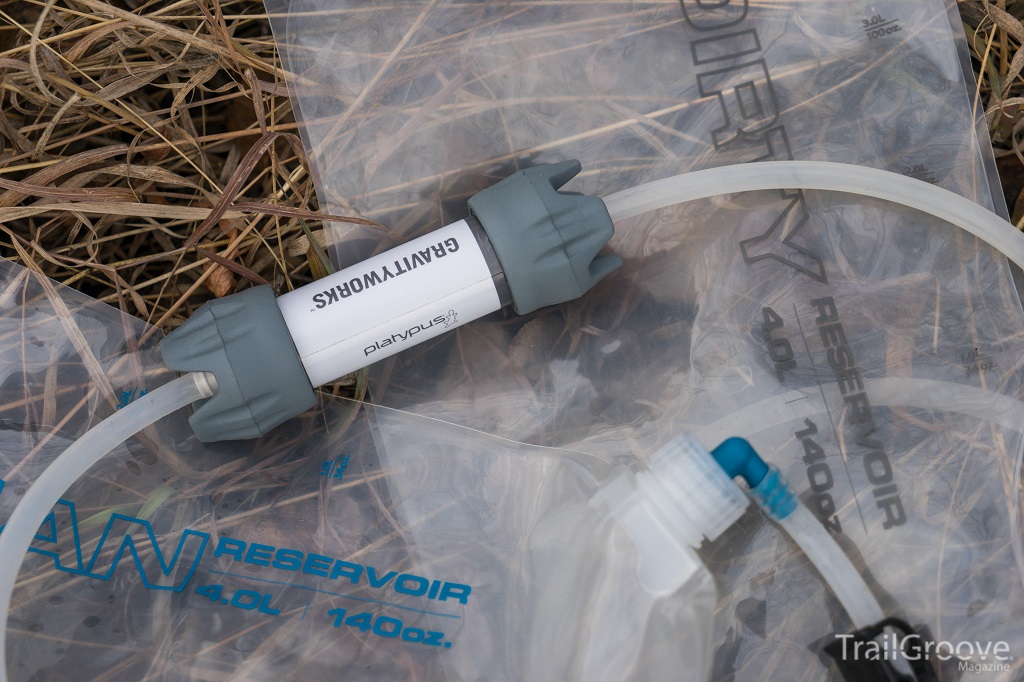 (Above: Our 4L Review Setup)

How to Enter
1) Like this blog entry in the lower right hand corner of this post. Simply login with your TrailGroove account and like this blog entry in the lower right hand corner of this post to let us know you'd like to be entered to win. New to TrailGroove? Click here to sign up for a new account - make sure to select the subscribe option on the sign up screen as well - it will help with step 2. The button you then need to click to like this post will look like the one below, albeit a bit smaller:


2) Subscribe to TrailGroove. Odds are you might already be subscribed, but you can subscribe below or verify by typing in your email if needed. (Hint: Receive an email from us about this giveaway? If so, you're subscribed!) Note that you won't be subscribed twice, so it doesn't hurt to check - make sure you're subscribed with the same email you used here for your TrailGroove account:

Subscribe Here

3) Premium TrailGroove Member? You've been automatically entered into this giveaway - like this blog post for an additional entry and chance to win! Or sign up for a premium membership anytime before 2/22 to take advantage of this benefit.
4) Optional: This isn't required and doesn't even earn additional entries, but since you're here feel free to give us a like on Facebook and a follow on Twitter below - we'd appreciate it! (And it helps us keep you up to date with any future giveaways and TrailGroove news from time to time)
5) As always, if you're new to TrailGroove or perhaps just haven't dropped by in a while, feel free to stop by the forum to jump in the discussion or just to say hello.
 
We'll randomly draw from all entries on Monday 2/22 at 2:22 p.m. Mountain Time and will contact the winner here via a private message - Good luck!
117