Altra Lone Peak NeoShell Mid and Low Review
---
While non-waterproof shoes shine for summer backpacking and hiking with their light weight, breathability, and quick dry times, when temperatures fall, and especially when snow is involved I turn to a waterproof breathable solution. This has meant abandoning my usual lightweight footwear approach and turning to heavy Gore-Tex boots or similar, and going from my normal lightweight zero drop trail runners to a heavy cumbersome boot with a raised heel and significant heel to toe drop has always been a bit of shock. Not to mention, I still have yet to find a boot of this type that is completely comfortable. These types of boots are often built for maximum durability and consequently they're bulky and heavy, which simply isn't great for walking. To keep the soles from wearing out faster than the uppers the sole rubber used is durable, but often with durability the tradeoff is that traction is compromised on slick surfaces like snow and ice without additional traction devices. However, a couple years ago zero drop shoe maker Altra released a waterproof breathable version of their popular Lone Peak trail running shoe, quite popular with many hikers, backpackers, and myself for most 3 season conditions.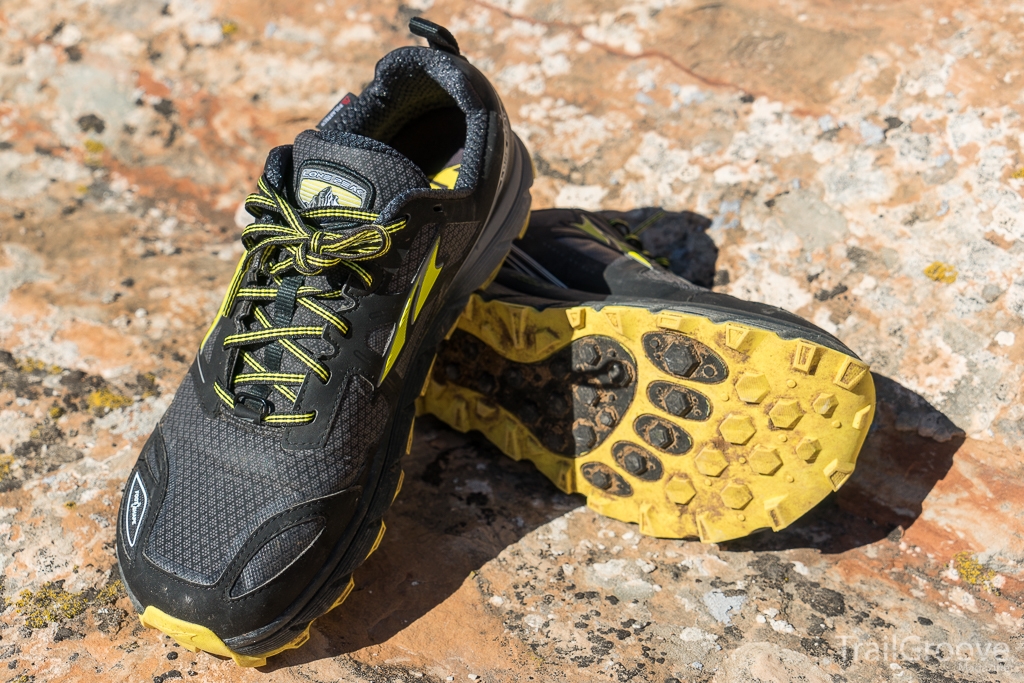 The NeoShell version of the Lone Peak features Polartec's air permeable yet waterproof NeoShell fabric along with all the normal features you'll find in the Lone Peak. A normal low cut version, as well as a mid-height boot offering are available in the 3.0 line – while the mesh Lone Peak is now up to the 3.5 version, no Lone Peak Polartec NeoShell 3.5 is currently available from Altra. Since the Altra NeoShell release, I've had the opportunity to utilize both the original 2.0 NeoShell as well as the more recent and current NeoShell low shoe and mid based on the more recent Lone Peak 3.0 – in addition to all other normal mesh versions of the Lone Peaks save for the 3.5.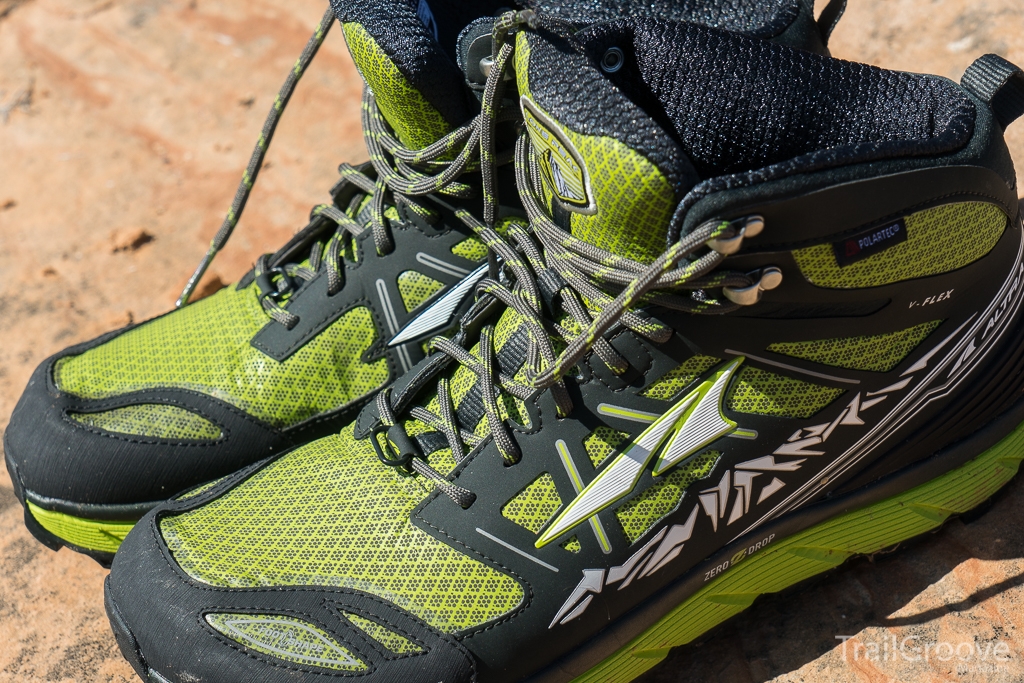 In either version the NeoShell Lone Peak uses a unique approach and places the waterproofing layer on the outside of the shoe as a shell, instead of as a bootie or liner sewn into the interior of the boot or shoe as you'll find with Gore-Tex, eVent, or similar proprietary membranes from other manufacturers. What this does is repel moisture immediately without allowing it to soak the outer fabrics or materials of the shoe, and it also allows the interior fabrics of the shoe to offer quite a bit of moisture buffering capacity as your feet sweat. For either version, an aggressive trail running tread pattern provides traction, while a generous midsole with a rockplate provides ample cushioning and smooths out the ride. Shoe or boot, the Lone Peak NeoShell is quite light (15.25 ounces each in my size 12.5's for the mid) and this combined with the zero drop design, and "foot shaped" wide toe box really make these very comfortable to hike in.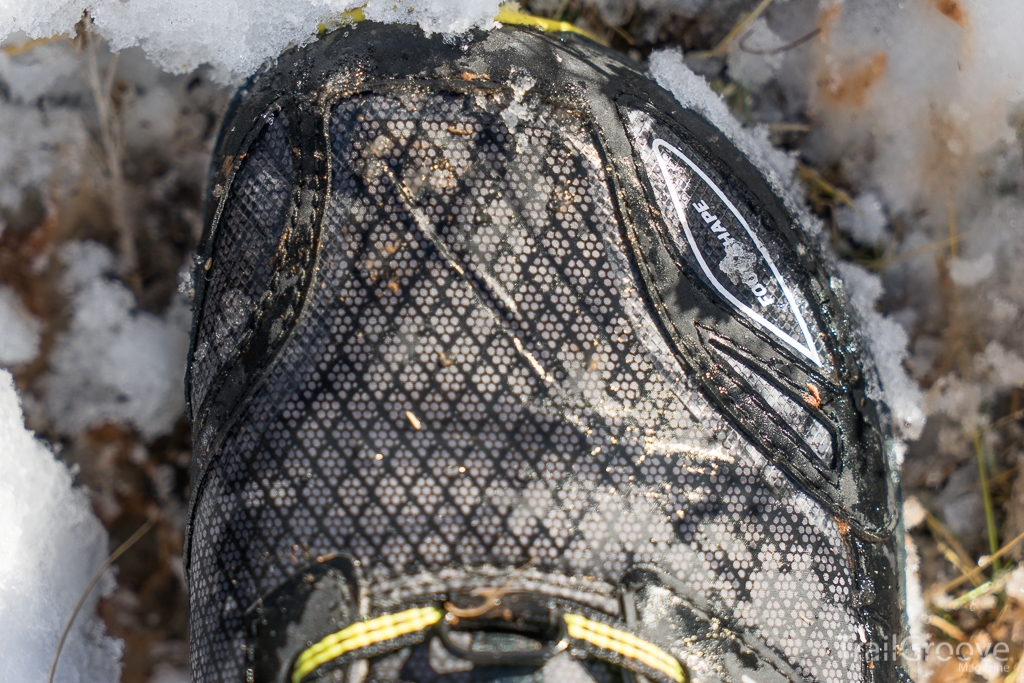 The NeoShell Mid offers all the same features but with the addition of added ankle support, better compatibility with gaiters, and additional warmth. All things that should be great for snow travel, while the low cut version is great for its light weight and mobility. While the tongue is gusseted, unfortunately it's gusseted using a non-waterproof, ripstop nylon material and this can be the source of water intrusion into the shoe or boot. On the 3.0, there is still an improvement in this area as the tongue is now covered in NeoShell, compared to the earlier 2.0's non-waterproof mesh. The tongue gusset issue is limited to some extent simply by the overlap of the tongue and shoe, creating something of a seal when worn, and can be further sealed off through the use of gaiters if you use them. However and in my case using the MLD eVent gaiter, the area is not completely covered towards the front of the shoe and some spacing is always created by the laces. (Altra also offers their own gaiter, but it is not waterproof) If you'd like to use a gaiter that does not utilize an underfoot strap or cord, the NeoShells are well setup for them, containing Altra's Velcro gaiter trap on the heel for compatibility with gaiters that secure this way, and either way along with a ring in front of the laces for your gaiter hooks.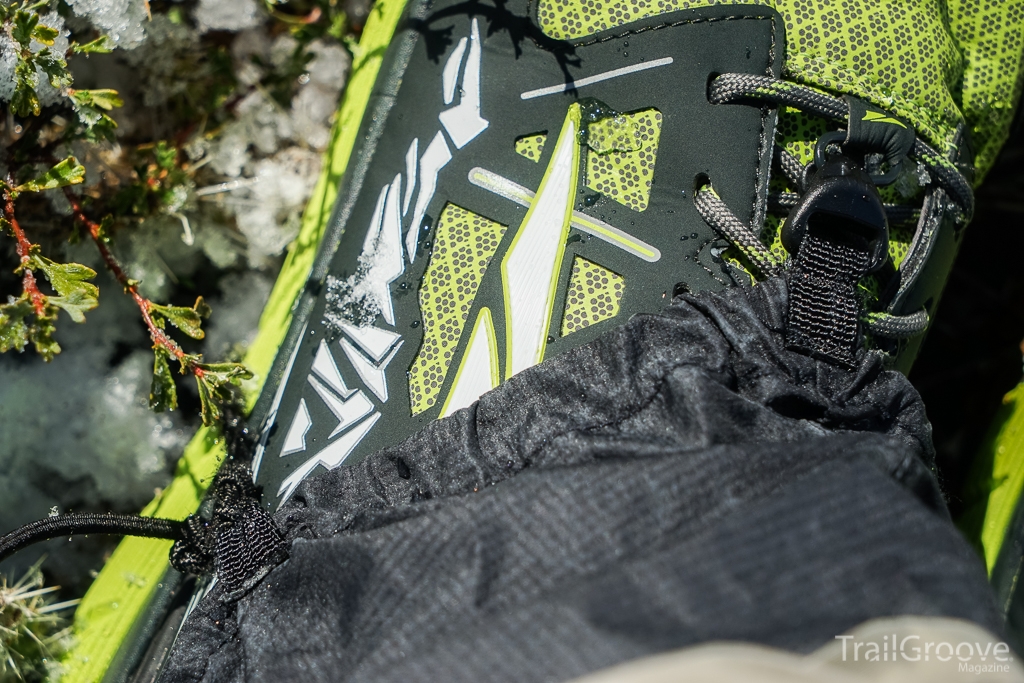 Lone Peak NeoShell Mid w/ MLD eVent Gaiter
Altra does offer up a disclaimer on their website that these are not meant to replace waterproof full rubber boots, but I was hopeful that they would at least offer a replacement for typical Gore-Tex, eVent, or proprietary membrane waterproof offerings from many mainstream shoe and boot manufacturers that use an inner bootie to provide waterproofing. In practice the NeoShell from Altra is more water-resistant than proof, with the leakage through the tongue gusset, standing water is out of the question and I have additionally noticed leakage in this area from melting snow, and seemingly through the fabric / seams of the shoe itself as a hiking day goes on in snow and / or wet conditions and even when wearing waterproof gaiters. Additionally as the NeoShell is on the outside of the shoe and while it's designed to be used as an outer layer, it will take direct abuse and abrasion over time from snow, ice, rocks, and brush and as time goes on the fabric will wet out faster. As such, for longer shoulder season and winter excursions in snow or chilly wet conditions there is still very much a place for more traditional Gore-Tex or similar waterproof / breathable boots in my gear room and the NeoShell is best suited for conditions where only occasional or intermittent moisture may be encountered. Hopefully as with improvements from the 2.0 to the 3.0 further waterproofing improvements can be made in the future as the NeoShell version matures, and especially since the Lone Peak platform is essentially unrivaled when it comes to fit and comfort.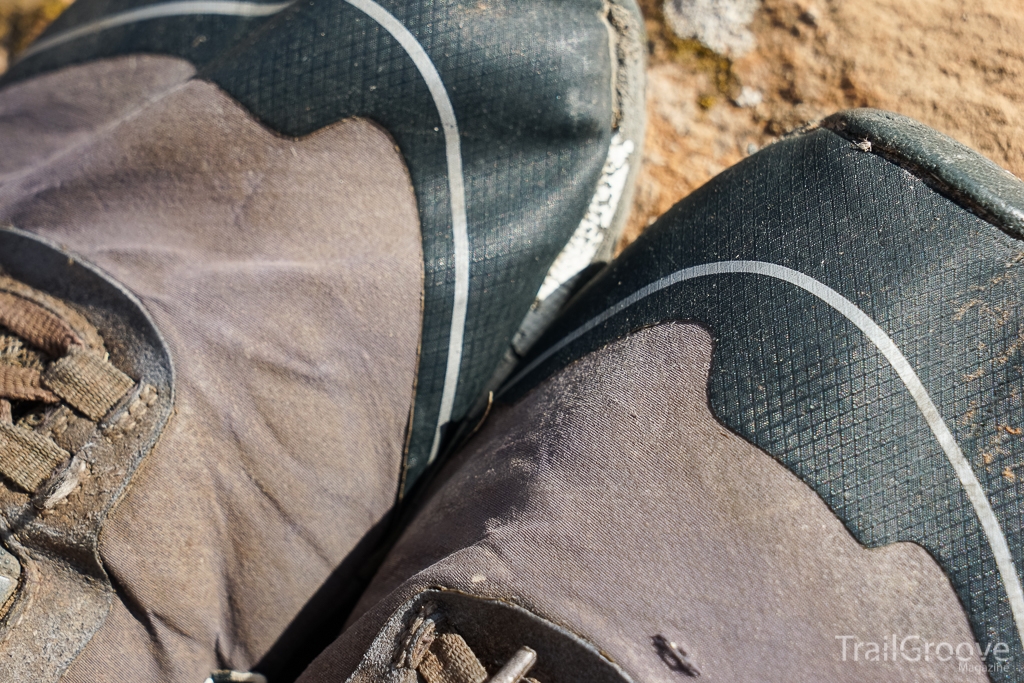 Long term, extensive NeoShell wear example. (Lone Peak 2.0 NeoShell version shown)
I do however find breathability of the shoes to be a plus, although as you might expect they do run a bit too hot for me for summer hiking. As such and overall the NeoShell is best at keeping your feet warm in cool but not cold conditions – adding a VBL will help as temps drop lower, but at some point you'll want to switch to an insulated boot – and thus as a whole I find them best for a somewhat narrow range of day activities (running in the lows, day hiking in either the lows or mids) and they work best in cool dry conditions or on shorter excursions in the same weather when moisture is added to the equation. When wet and placed in a dry warm environment to dry, the shoes do dry quickly for an offering of this type.
One other thing on the wishlist for a future version and only in relation to the mid version is that metal closed eyelets are used towards the cuff – it would have been great if these had been open hook speed lace hardware to make tying and untying your shoes and loosening all that much easier and faster.
Durability is inline with what you'd expect from a normal trailrunner. The sole will wear at the same rate, and I've found that just as the soles are about completely out of tread the upper is breaking down at around the same rate. Of course by this time with the shoes out of tread traction became a concern with a few slips to prove it. It seems that the upper and tread wear out all at about the same rate and somewhat gracefully over time, so if the feature set and performance works for one's usage at first it all works. In regards to the mids these won't be boots you'll have resoled and use for years and years by any means, though.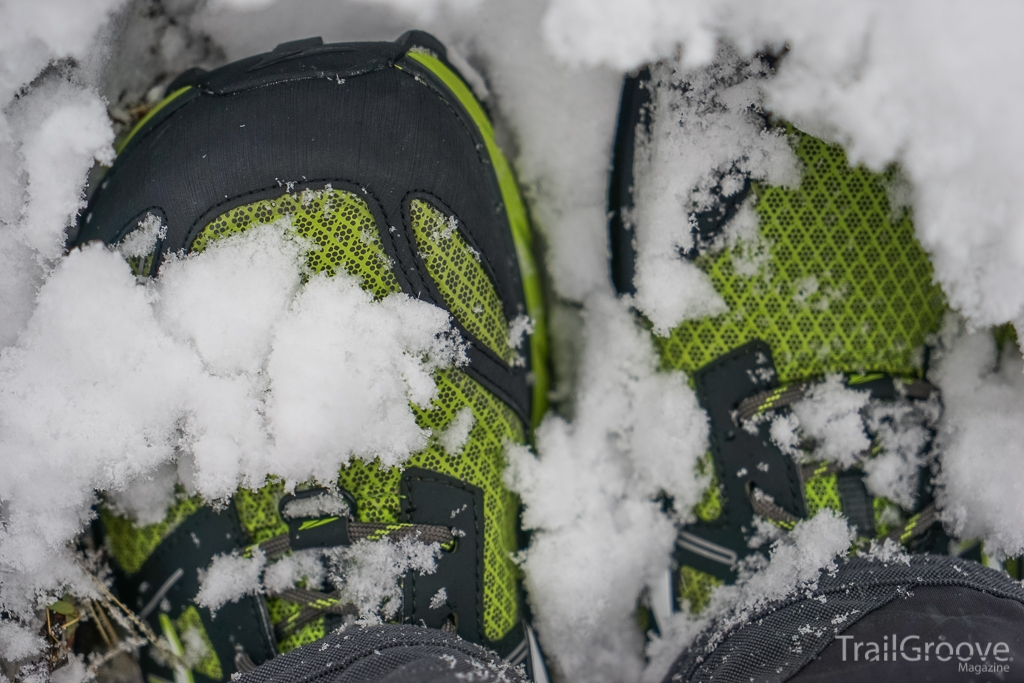 For me the low cut version for the most part is relegated perhaps for what it was originally designed for: running in cold conditions and I also like it for day hikes or backpacking in chilly, but dry, shoulder season conditions. If more support and warmth is desired in similar conditions with running out of the equation, the mid may be the way to go. Either way the benefits of a footwear solution that's as comfortable as your normal trail running shoe while adding both water resistance and warmth are very welcome during those times of the year when temps are lower, and on shorter excursions when light infrequent precipitation or snow may be encountered or where water resistance is desired, and in these specific situations the NeoShells do excel at keeping your feet warm and comfortable.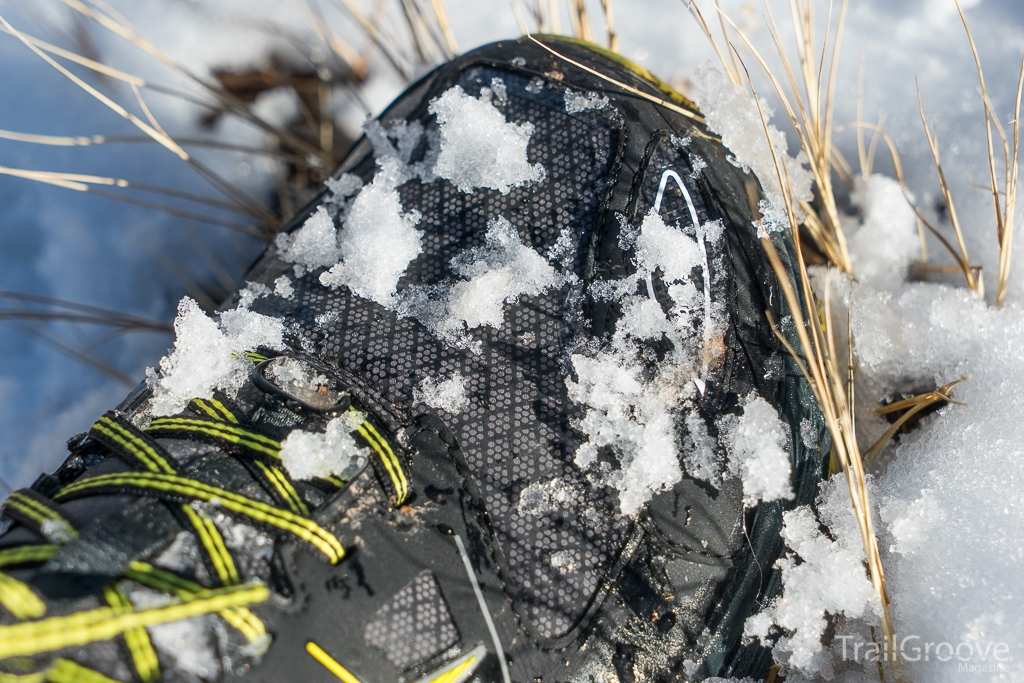 The NeoShell Lone Peak from Altra is available for men and women in both a low cut trail runner and mid-height boot version ranging from around $130 to $160, but you can occasionally find them on sale for a modest discount. You can check out both versions here at REI, at Backcountry, and on Amazon.com.