Mountain Laurel Designs eVent SuperLight Gaiters Review
---
No matter your outdoor recreation activity of choice, for most any type of winter activity in deeper snow some type of gaiter is desired to keep snow from entering through the top of your footwear and causing an uncomfortably chilly situation, or even eventually worse, predicament for your feet. Although of a shorter design I've been utilizing the Mountain Laurel Designs (MLD) SuperLight Gaiter for the past several years as my gaiter of choice anytime snow is present in shoulder seasons, and throughout the winter both in mid-height boots, and in those boots paired with a set of MSR Lightning Ascent Snowshoes.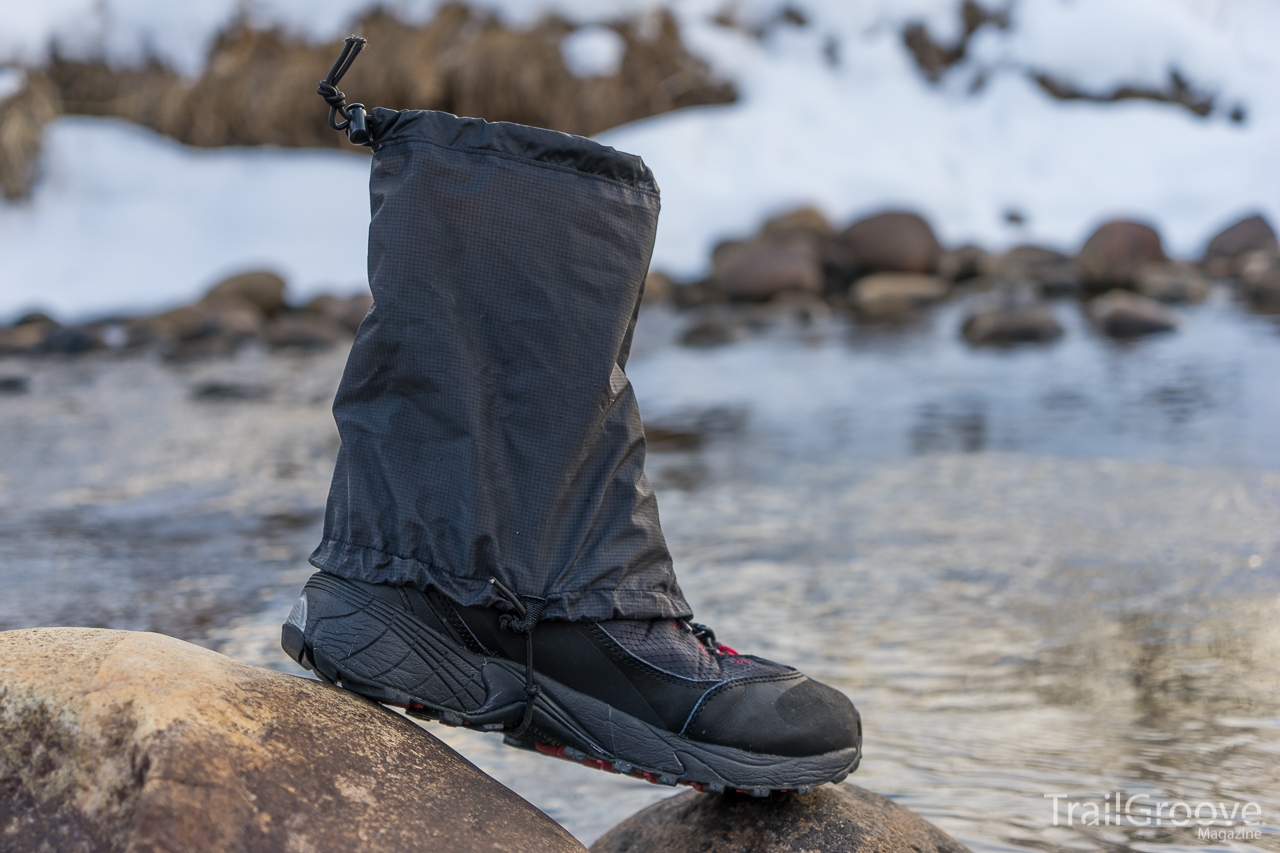 The MLD Superlight Gaiter is constructed of a 3-Layer eVent waterproof / breathable fabric, and as far as waterproof / breathable fabrics are concerned, eVent is great. Waterproof as you'd expect, and while no waterproof / breathable solution is perfect, I have indeed found eVent to work surprisingly well, relatively speaking, in regards to breathability. In the case that you're using these in warmer conditions, or on those blue sky sunny winter days in the snow that feel almost like summer with the effort of gaining some elevation, eVent will cope with a wider range of variables here compared to any other waterproof solution I've tried. I don't wear gaiters for 3-season conditions with trail runners, but from my experience with the very similar MLD eVent Rain Mitts, I can see the SuperLight Gaiter being useful throughout the year as well, and specifically during shoulder seasons or cooler rainy conditions. (Seam seal here if desired) The Mountain Laurel Designs SuperLight Gaiters are available in 3 sizes for the perfect fit and are listed at just 1.8 ounces for my size large pair, (2.2 measured) and they'll run you $49. The large size has been a perfect fit for my size 13 boots.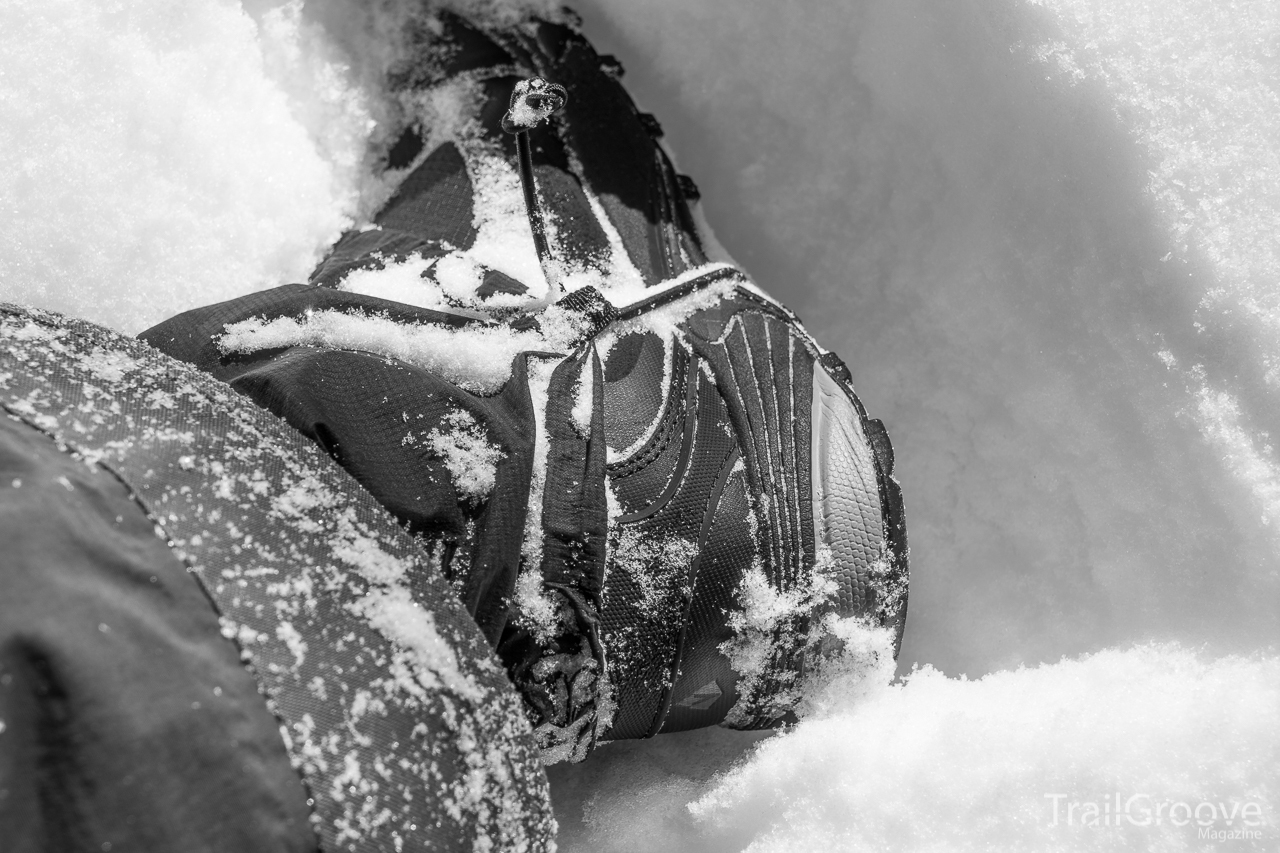 For winter, keeping snow from getting in the top of my boots as previously mentioned with the nice bonus of adding some warmth is the goal for me, and the SuperLight Gaiter works very well here. The gaiter is designed to be put on prior to your shoes or boots, and creates a nice seal towards the bottom of your shoe through the sewn-in elastic at the bottom of the gaiter, a lace hook to secure the front, and an under-shoe elastic cord that nests into your instep. At the top of the gaiter, adjustable elastic and a cord lock allow you to easily dial in the fit with one hand to create that just-right seal without being uncomfortably snug. The underfoot elastic runs through a loop at the bottom of the gaiter and is designed to be adjusted for your footwear by running the cord through the loop on the bottom of the gaiter, then tying some type of "stopper knot" to keep the cord from slipping back through under tension. In practice, it seemed that no matter what type of stopper knot I tried it would eventually slip back through the loop, and thus on my pair you will find a timeline of several previously unsuccessful knots along the length of the cord, and I have even resorted to tying the elastic back on itself, in a loop, to prevent this problem. But once dialed in, the system works well and allows you to slip the elastic on or off your shoes without adjustment. My advice would be to simply tie a stopper knot much larger than you'd think you'd ever need.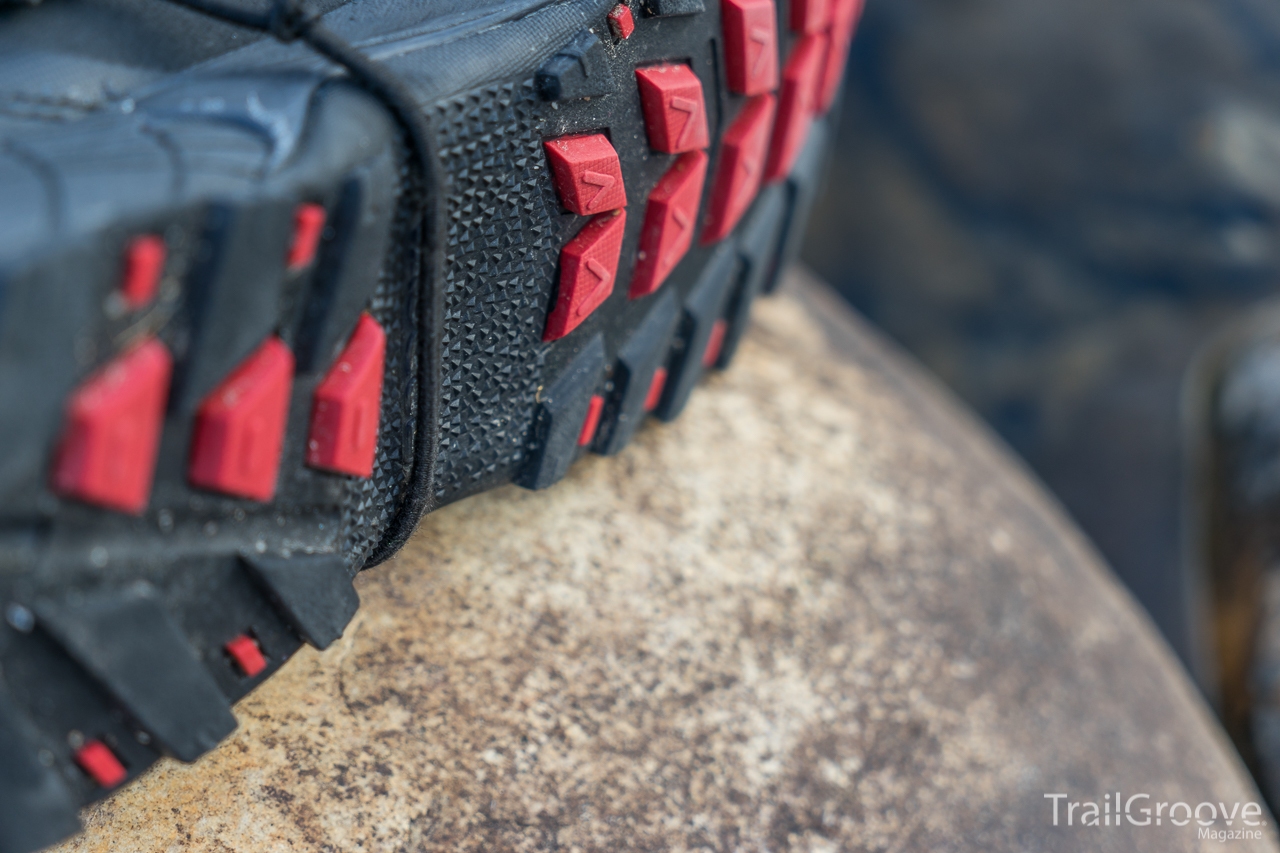 The lace hook stays securely on a lace, while usually (and with the right technique) still being somewhat easy to slip on or off...depending on the lace and on how cold your hands are. However, on one boot I tried with a dedicated gaiter ring, the hook was just too small to work, and on another boot with the same feature, it was too snug of a fit to use without frustration. But quickly snagging a lace works in all cases. Luckily, I'm able to both take my boots off and put them on without removing the gaiter. On winter backpacking trips, I simply leave the gaiters on my boots at all times without disengaging the underfoot elastic or lace hook.
Durability has been very good. Of course in winter long pants are worn which helps in this regard, and while I'm a gaiter inside of the pants but over my baselayer kind of guy, I frequently find myself in such scenarios as hiking or snowshoeing through alternating deep snow and deadfall on the north facing side of a shaded canyon, then having to take the snowshoes off to hike through rocks and brush on the other side that receives a lot of light, then repeating the process. I've even encountered a few cringe-worthy moments from the sound of deadfall scraping over the fabric, but the gaiters have held up with no tears, and even the underfoot elastic holds up surprisingly well here and is easily replaced if needed.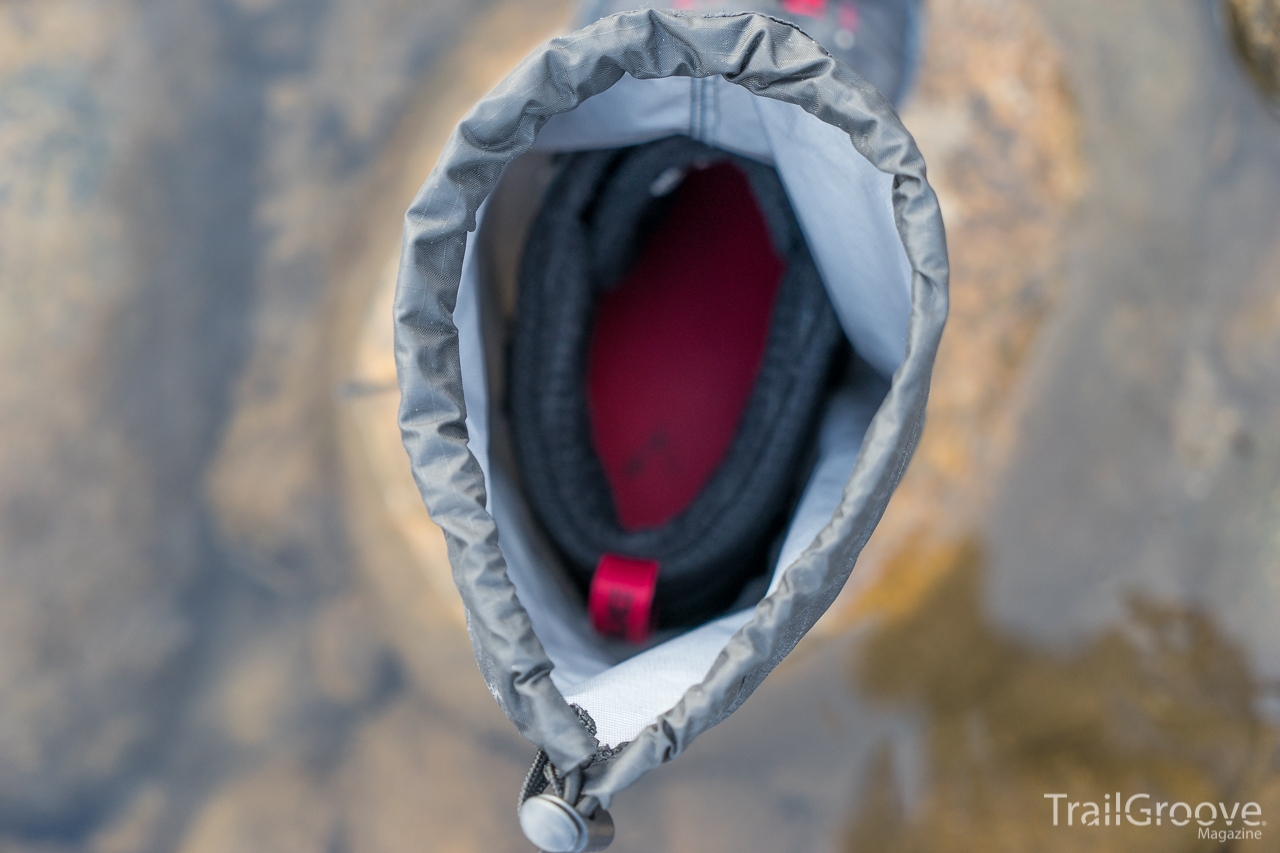 This fabric isn't bombproof, but is tougher than one might expect – I've even taken a fall while running at a fast pace with the similar MLD Rain Mitts on, bracing for the fall with my palms as I hit the ground, and this resulted in some abrasions and just a small hole on only one mitt. While for very deep snow a higher gaiter (such as MLD's LightSnow Gaiter that fits up to the knee) could be useful, the height here is ideal for my use. The only issues I've had in this regard is when I've suddenly run into deep snow and I'm too lazy to stop and strap on my snowshoes – and I posthole my way through deep snow until exhaustion finally forces the required break to strap on my snowshoes. In these instances my lower legs and baselayer have gotten a bit damp from the resulting snow melt, but the gaiters have still delivered for my feet. Just using the right gear here should solve that issue, but if you're frequently slogging through very deep snow or enjoy the exercise from an afternoon of postholing, MLD's LightSnow gaiters would be the way to go.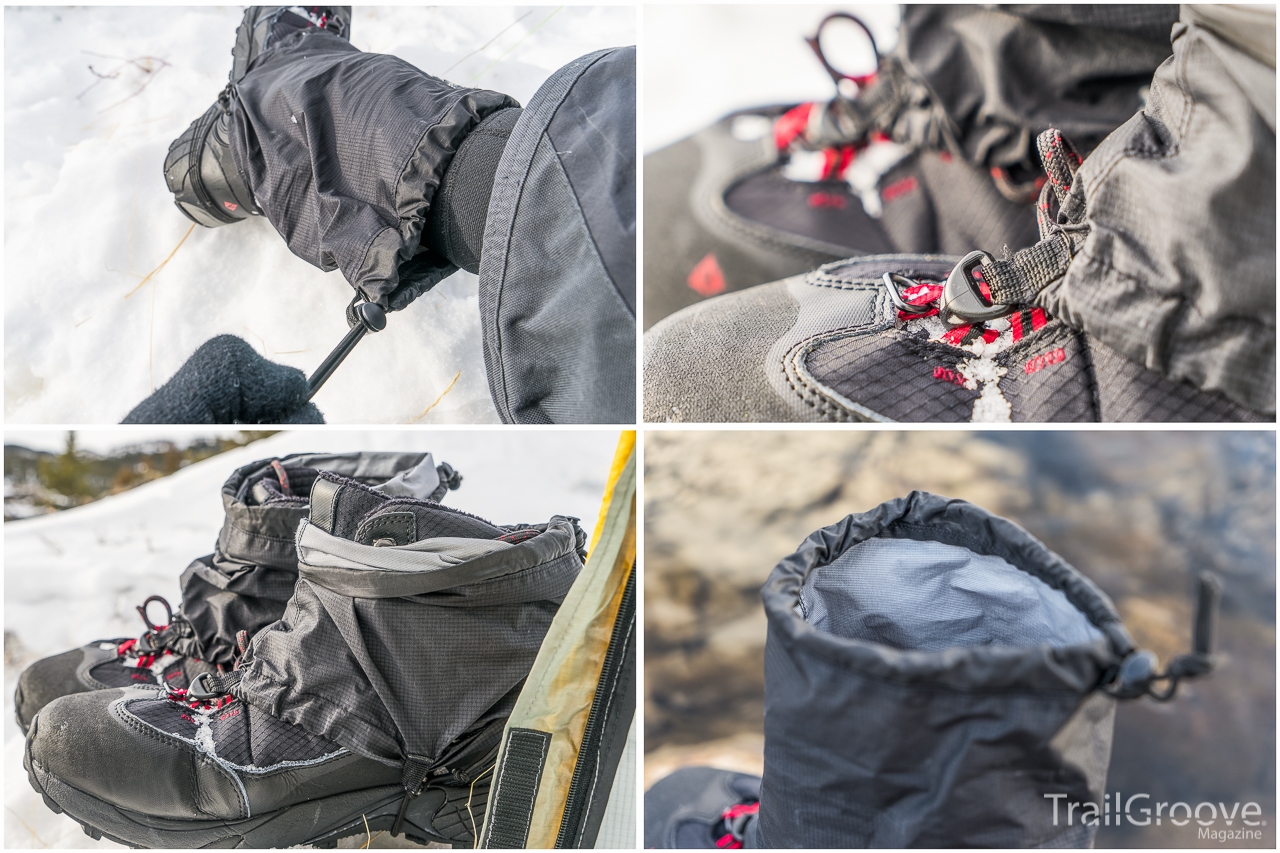 Overall, and while not marketed as a dedicated winter gaiter, the MLD SuperLights have worked very well at keeping my feet snow free, dry, and warm throughout the winters of Wyoming. Good design, durability, and one of those items on the gear list that just lays low and gets the job done.

The MLD SuperLight Gaiter retails for $49 a pair - see more here at Mountain Laurel Designs.
2017 Winter Update: For easier use with gaiter rings and laces I've replaced the included lace hooks (cut the plastic with wire cutters) with the Micro Lock S-biner from Nite Ize. Although these could have the potential to ice (moving parts), I haven't yet had any issue in the dry snow of the Rockies and I've found this makes the lace or gaiter ring hooking / unhooking operation much quicker and easier.
1