Overnight Ski to Section House at Boreas Pass, Colorado
---
They say fire warms the soul, better yet when that fire is in a potbelly stove set inside a historic cabin atop the spine of the continent burning wood you didn't have to chop! Rachel and I decided to celebrate my 31st birthday and our recent move to Colorado by booking an overnight stay at one of the over 30 backcountry huts for rent in Colorado through the 10th Mountain Hut Association and the above scenario is exactly what we found. Based on some advice from fellow TrailGroove writer @PaulMags, we decided on Section House – a historic railroad cabin built in 1887, restored in the 1990's and situated at the top of the Continental Divide at Boreas Pass just outside Breckenridge, CO. The trip promised mellow skiing and excellent views along with the ample snow Colorado has received this winter. A $30 per night fee gave us a roof over our head, a warm bed, gas and wood stoves and a propane cook top – not a bad way to spend a gusty winter night at 11,500 feet!
We started our trip on the Bakers Tank trail from the Boreas Pass trailhead – the start of the winter closure of Boreas Pass Road. The trail was well graded for Nordic skis, wide and well used. Barely out of the parking lot we both noticed a total lack of grip to our skis when we started to slide backwards instead of glide forwards. Rachel and I use waxable metal edged Nordic touring ski's which provide better glide than their waxless counterparts but require selection of the correct sticky kick wax for the snow conditions to provide grip on the snow. When the skis don't grip, you switch to a warmer wax. The only problem was the giant balls of snow that formed under the warmer kick wax! Warm, wet, fresh snow is extremely unstable and will easily melt and refreeze to form large clumps under your ski, waxless or not. We quickly gave up on wax and switched to kicker skins – short segments of patterned nylon that do the gripping. The skins worked for a while but as the day warmed and we skied through slush on the trail even those iced up and we resorted to strapping the skis to our backpacks and bare-booting our way down the trail. Our boots made only shallow imprints on the well packed trail so we didn't feel so bad.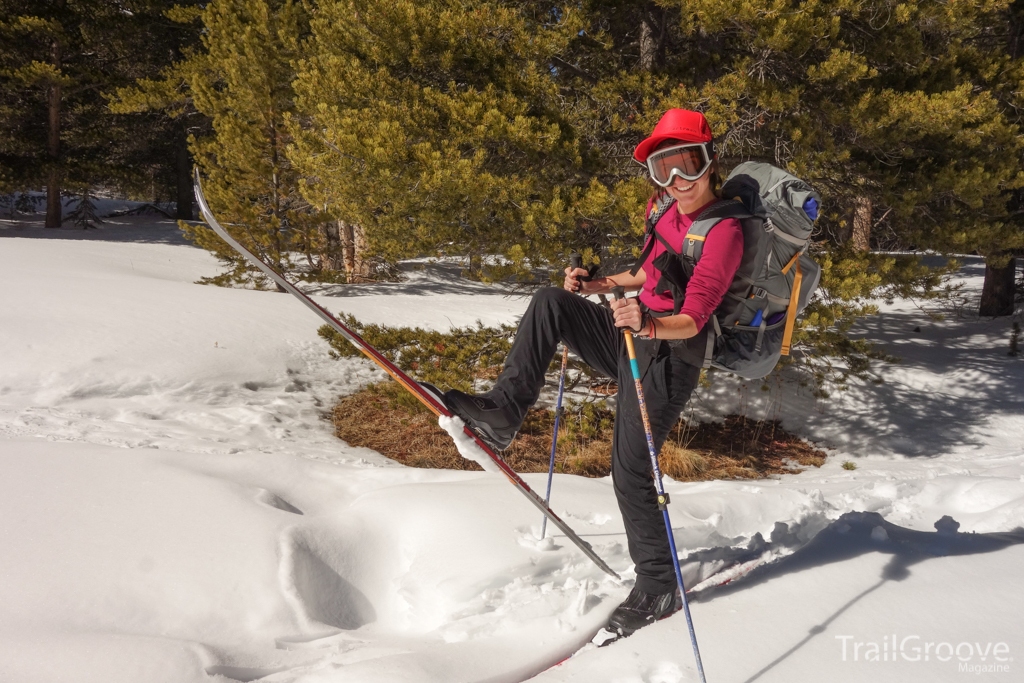 On the Bakers Tank Trail we passed several intersecting trails not shown on the hut association map, then ran into some other skiers planning on staying at Ken's Cabin – a private cabin next to Section House. They gave us some rub on glide wax for our skins which made skiing possible again. Next time my rub on glide wax is getting packed with my skins!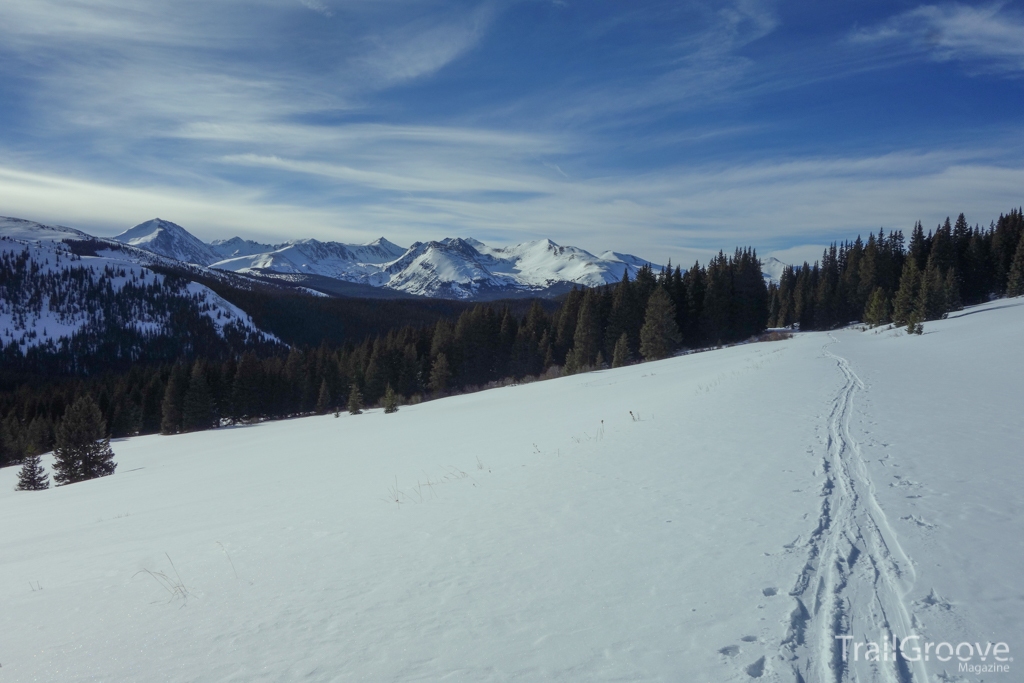 We had a quick lunch with our new friends and skied our way up the former railroad grade covered in several feet of snow. The snow depth was fantastic and we frequently stopped to take in the views of the snow-covered Tenmile Range across the valley below. With a little imagination the recent snowfall turned the distant mountains into sinister marshmallows, fluffy and white but still steep and avalanche prone. Just out of view was the sprawling Breckenridge ski area, both out of our budgets and out of our minds as we swished our way up to the Continental Divide.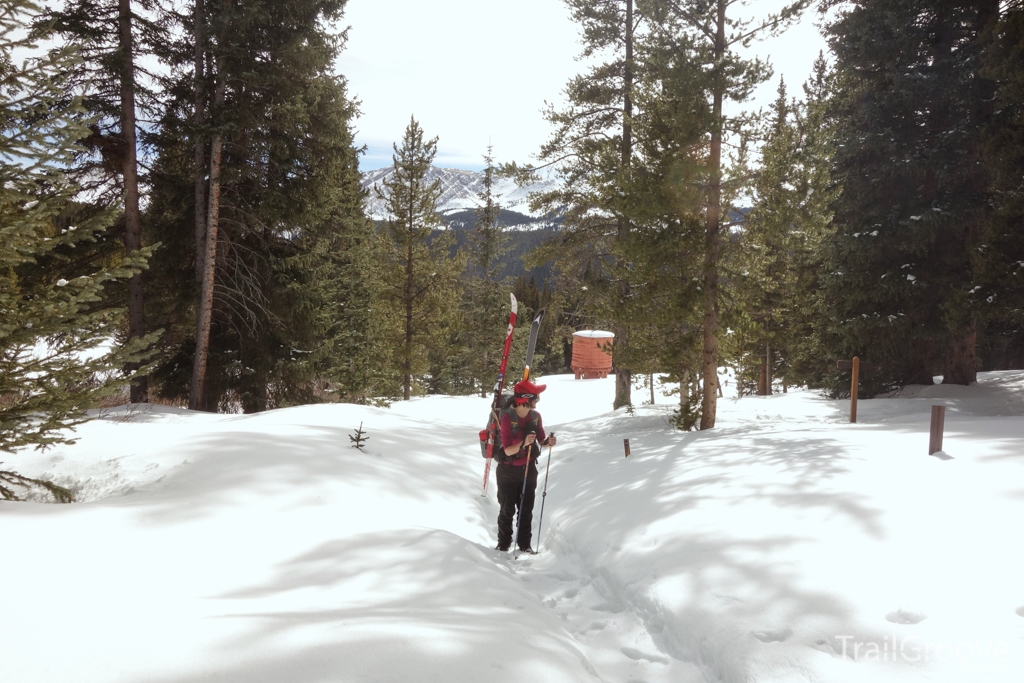 The ski up Boreas Pass Road was pleasant and we were even getting good kick and glide with the skins on the slight uphill. Soon the hut was in view and we opened the lock using the code in our reservation email. Several Forest Service placards dot the area and explain some of the history of the narrow gauge railroad used to ferry miners, equipment, and ore between the Front Range and Leadville. The town of Boreas used to exist at the top of the pass to house railroad workers but was abandoned in 1937 along with the railway which was plagued with avalanches and rock falls during its service life. The Army Core of Engineers reconstructed the old rail grade for automobile traffic shortly after World War 2. The house we stayed in decayed until 1992 when it was restored by a joint effort through the U.S. Forest Service, Park County, Texas A&M University, the Colorado Department of Transportation, and Harris Construction. Summit Huts Association now has a permit to rent out the hut to ski, snowboard, and fat biker enthusiasts during the winter. Ken's Cabin next door to Section House was also restored and sleeps 3 for a more private setting but at a higher nightly rate.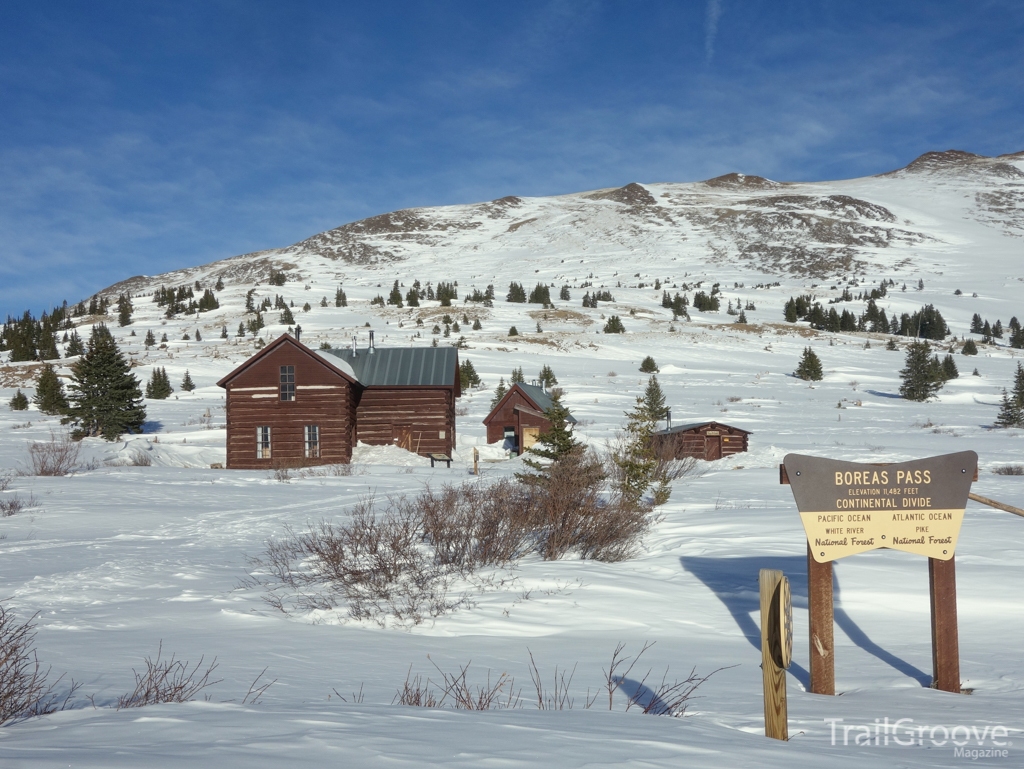 Inside the hut we found an ample kitchen and common space stocked with tables, couches, a three burner propane cook top, two woodstoves, and all the cleaning supplies we would need. The night before our trip I prepared and froze some potato chicken stew and baked some brownies for dessert. Rachel brought pastries from work for breakfast along with ample hot chocolate. While the food cooked on the stovetop, we got a roaring fire going in the woodstove and I successfully practiced not losing any fingers while making kindling with the provided hatchet. Two enormous pots of water from melting snow made cleanup a cinch and we worked fruitlessly on a 500 piece puzzle until bed.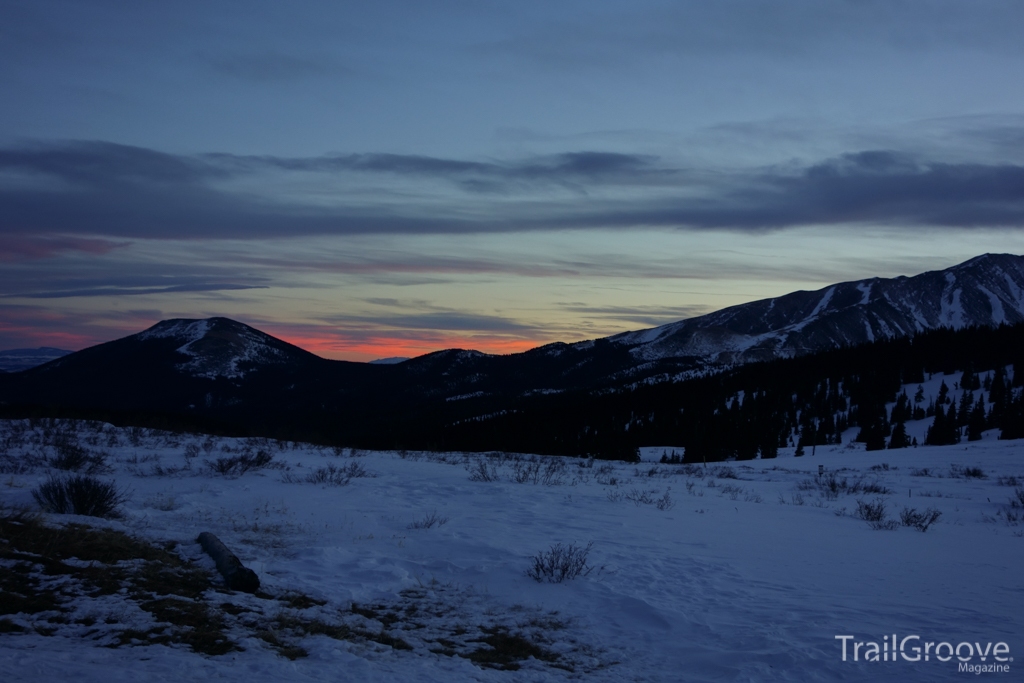 Upstairs the beds were all reasonably comfortable and came with sheets and pillows that we used alongside our 3 season sleeping bags. There are even some double beds for couples! There is a gas heater but I couldn't figure out how to regulate the heat so ended up turning it off after the room reached sweltering temperatures. Despite howling winds, we slept warm in 3 season bags and were able to dry our boots by the wood stove.
The next morning was an easy downhill ski out although the grade wasn't quite enough to glide the whole way down as we had imagined. We decided to stick to the road all the way back to the trailhead instead of taking the Bakers Tank Trail for a change of scenery. The views were even better on the way out but we hit several sections of road that lacked enough snow to ski on. Still, we made it back in under 2 hours and enough time for Rachel to get her first Colorado downhill resort skiing in at Loveland ski area.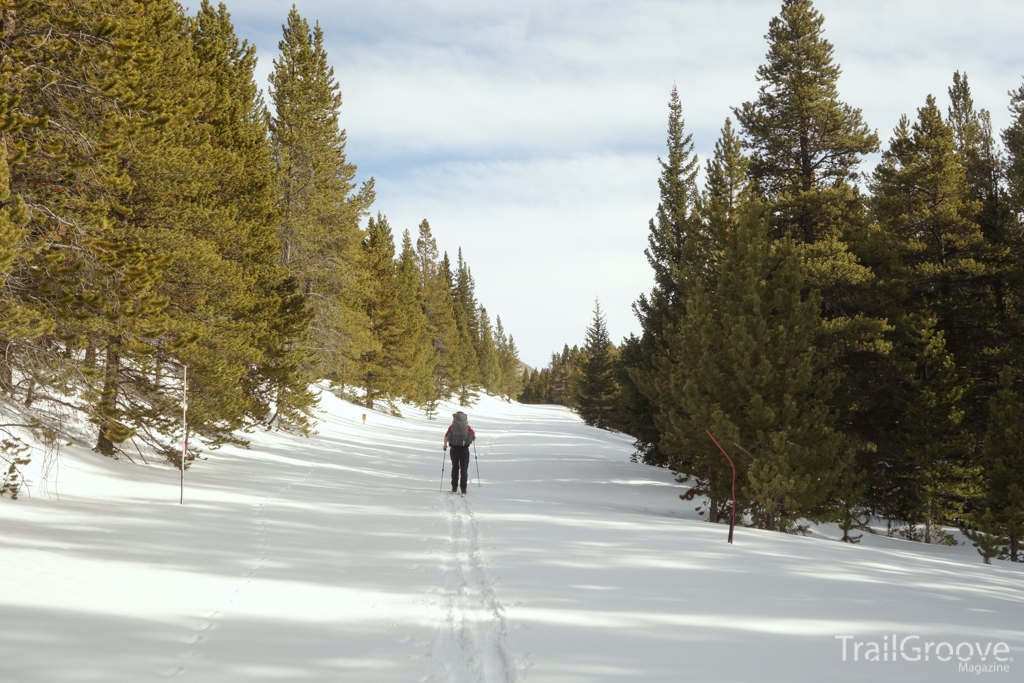 Information: There are many, many huts for rent in Colorado to the point where it's hard to tell what hut is suitable for your abilities at what time of year. Section House and most of the more accessible huts can be booked at www.huts.org with additional information at http://summithuts.org/. A listing of all the huts and their amenities can be found at: http://www.huts.org/cohutsyurts/amenities.php. Prospective hut users should be aware of which huts require winter routes with avalanche danger, which is listed with the hut information and found in any guidebook. Hut skiing is very popular in Colorado but since we were able to go midweek, our hut was available on short notice but booked on weekends for the next month. You should definitely book well in advance for weekend trips or other more popular huts.
Best Time to Go: Generally December through April or later depending on the year will have the best snow conditions; also some huts are only open certain months of the year. For Section House, check the weather in Breckenridge and keep an eye on the snow totals at the ski area. Warmer temperatures during the day can lead to icy trails so you may have to time your skiing when the trails are softer.
Getting There: From I-70 take Exit 203 for Route 9 South towards Breckenridge. Stay on I-9 around the outside of the Breckenridge and take a left onto Boreas Pass Road. The road is closed at the trailhead with ample parking.
Maps & Books: A free map of Section House is located here and other free maps are located here. The map for Section House didn't include several trail intersections so it would be wise to bring a larger overview map of the area such as Trails Illustrated 109. I recommend picking up Colorado Hut to Hut: Skiing, Hiking and Biking to Colorado's Backcountry Cabins by Brian Litz which covers most of the huts.
Recommended Gear: For the ski up Boreas Pass Road any Nordic ski will work great. The grades are very mellow and metal edges wouldn't be critical even for moderate ice. One of the benefits to a hut is being able to dry your boots overnight so there are no worries about removable liners. You won't need a shelter, stove or cooking equipment which leaves room for good food and beer! Slippers for the hut and a warm jacket to wear until the wood stove kicks in (1 to 2 hours after lighting) are critical. Any 3 season sleeping bag will work since the hut is heated. Don't forget the hot chocolate!
4