Lightweight Photo Gear and Carrying a Backpacking Camera
---
Combining cameras with the outdoors and taking one along to document your hiking and backpacking trips introduces a few challenges that must be overcome to take your photos quickly and easily, while still being able to maintain and keep your camera safe from the elements. On the trail, a few key points are worth the most consideration and the following is the setup that has worked best for me on trips where the hiking is a higher priority than, or at least on equal ground priority-wise, with the photography objective.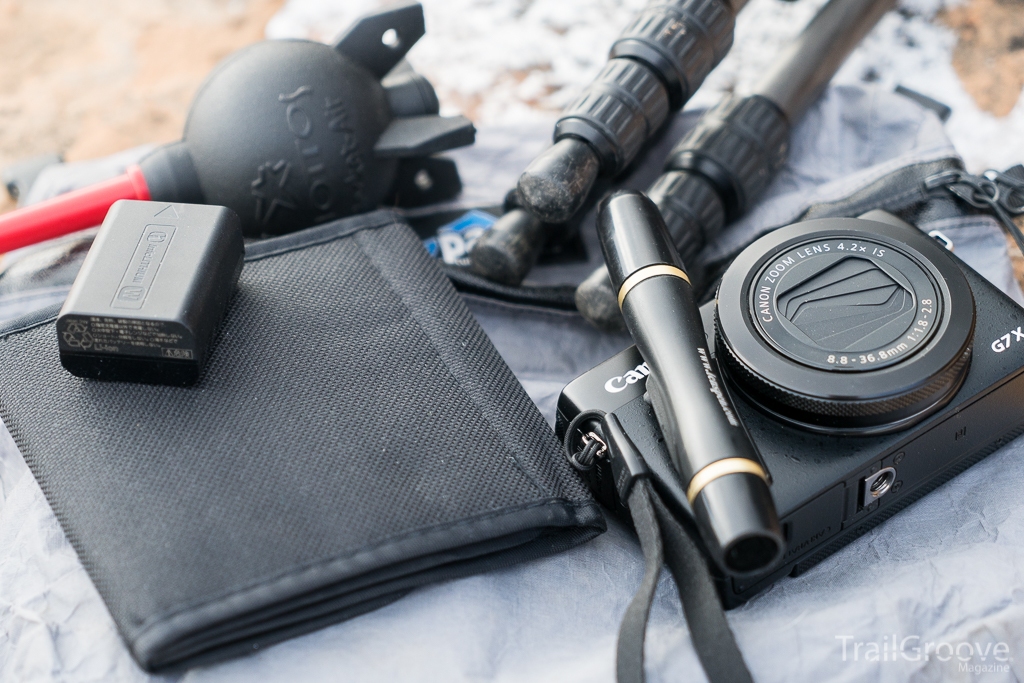 How to Carry the Camera
When I first started taking my old DSLR backpacking, it was a frustrating experience. The camera was too big to carry in any pocket save buried deep in my backpack's main compartment, and as such the camera had to stay inconveniently inside my backpack - causing many photos to be missed as it was just too much trouble. The alternative was to carry the camera around my neck hanging by the neck strap, banging around as I hiked, but this was of course uncomfortable, tiring, and the camera was completely exposed to rain, blowing sand, rocks and branches during class 2 hiking, etc.
2 different methods to solve the issues above have worked best for me. If you're able to find a small, compact camera (like the Canon G7X – find our review of the G7X here – or the popular Panasonic ZS series) that satisfies your requirements for image quality, using a backpack that has generous hipbelt pockets (like my ULA Circuit) is a great bet. Most of these pockets are made from water resistant – not necessarily waterproof fabrics, so back that up with a quart size Ziploc bag stored in the bottom of the pocket for rainy days or river crossings, or if you want something more durable that will last more than a trip or two many have had success with the heavier-duty Aloksak bags. In your hipbelt pocket the camera remains well protected, but is still easily deployed and stowed again all on the fly. If your compact camera has an automatically closing and opening lens cap / cover, it's backpacking photo bliss.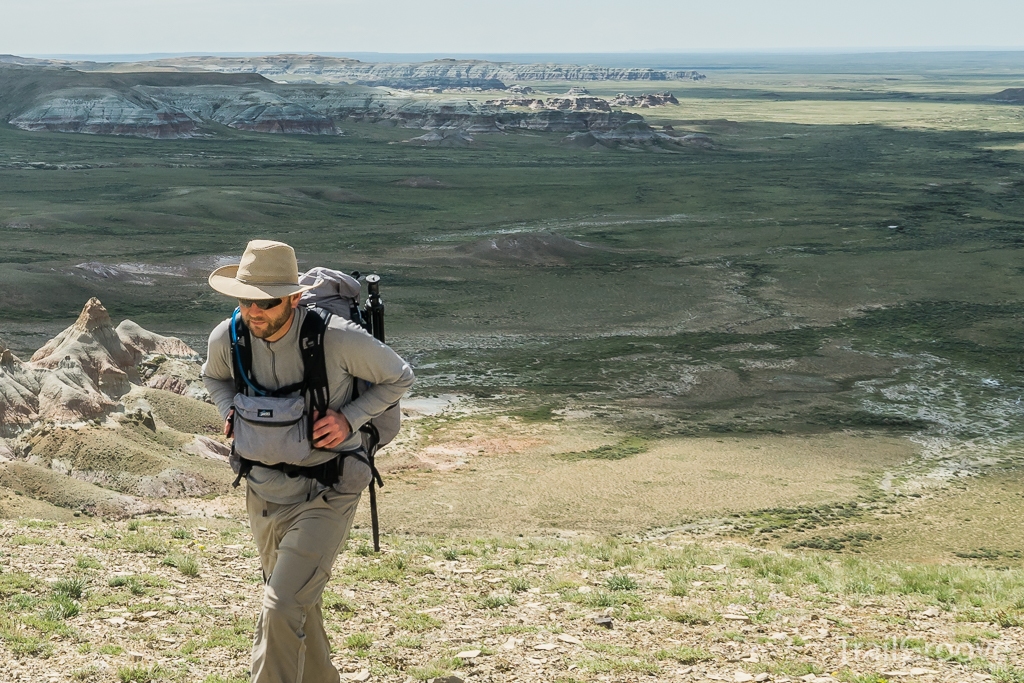 Carrying a Camera with the ZPacks Multi-Pack
If your photo requirements are a bit higher and you opt for a larger DSLR, mirrorless camera, or interchangeable lens camera like me, the camera will likely be too large for a hipbelt pocket. The best solution I've found is the Zpacks Multi-Pack - you can find our review of the Multi-Pack here. Hanging from your shoulder straps and at just a few ounces the Multi-Pack doesn't weigh you down, but keeps your camera very accessible. The Multi-Pack is constructed from waterproof DCF fabric and features a water resistant zipper that keeps your camera dry in the rain, and offers protection from dust and sand when stowed. Since the zipper is technically water resistant, I back it up with a rolled up gallon size Ziploc freezer bag in the bottom of the Multi-Pack for wet trips and river crossings. For a lot more on the Multi-Pack be sure to check out our full review. Other choices like the Cotton Carrier harness setup are also popular where photography is a high priority. The Zpacks option isn't padded, but the camera stays close to your chest and save for a complete face plant, the camera remains in a protected spot. The Multi-Pack would potentially have room for a small spare lens as well, but when I'm out on a backpacking trip I like to take one do it all lens instead of several. The Multi-Pack, and other carriers also have plenty of room for your photo accessories as detailed below.
The Lightweight Accessory Kit
One of the worst feelings while on a mulitiday trip is getting your camera lens dirty, with no way to properly clean it until you get home. As such I take every precaution to keep a lens clean in the first place, but smudges and dust are inevitable. A small, lightweight, and inexpensive kit has served me very well and consists of 2 items: a small Giottos rocket blaster which is used to initially blast off as much surface dirt or dust as possible using ambient air.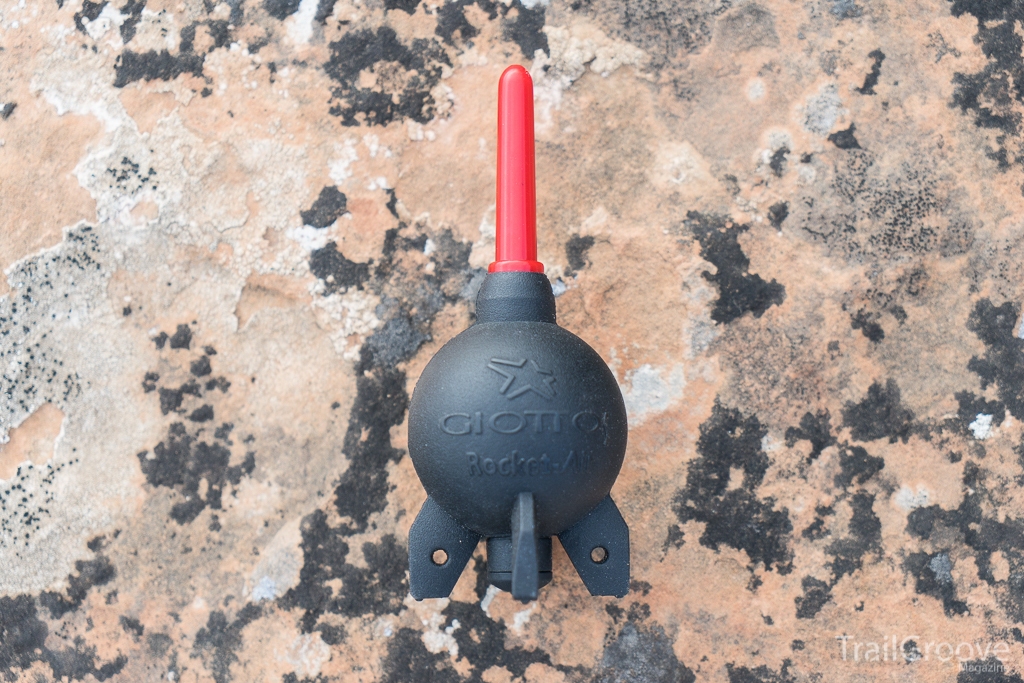 After blowing off as much dirt and dust as you can, anything that remains and stubborn smudges can be removed by following up with a Lens Pen Cleaner. (First the brush end, then the carbon felt side) These items and this method will keep your lens clear, your photos crisp, and works great on the trail while working much better than any cleaning cloth I've ever tried.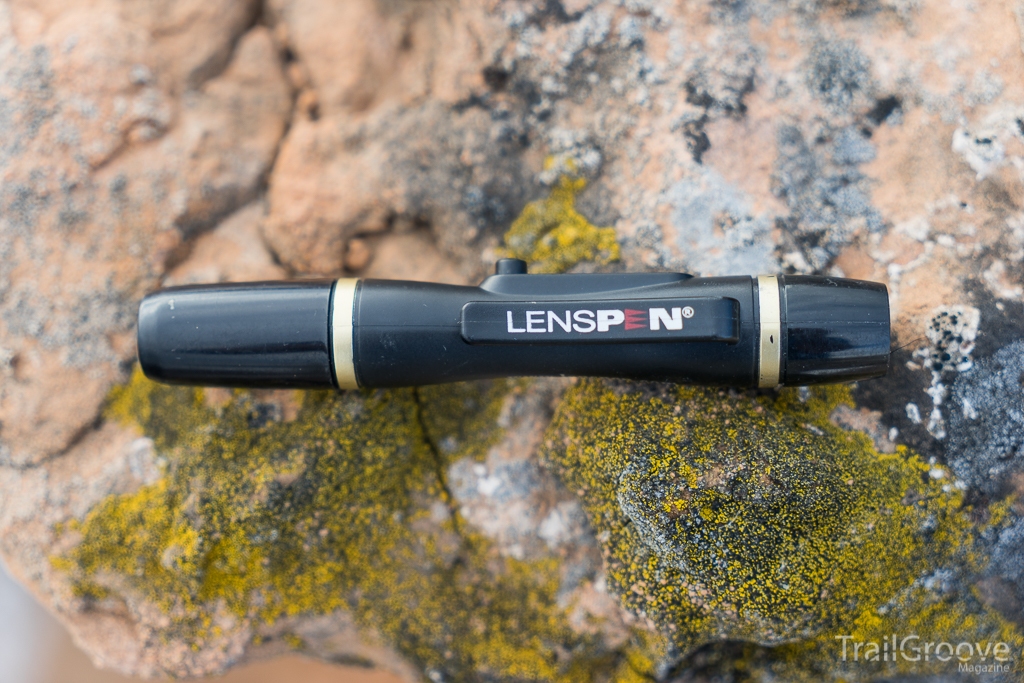 A couple other accessories are helpful. An extra battery or two is essential – when packing two I usually adopt a shoot at will strategy for the first battery and then if I exhaust that one, use the second prudently. This will of course also depend on your particular camera and how many photos you like to take, outside temperature, etc. Amazon is a great place to pick up a few spares. However, you can also opt for one of the many battery banks / solar chargers on the market if your camera will charge via USB, and if it doesn't, I've had success with the PPuClip battery charger in the past. If you've collected a couple memory cards over the years, I also like to toss in a spare in its protective case just as a backup in the event the main memory card malfunctions, or maybe you just run out of space, and really, these days small memory cards are pretty cheap. If you carry any additional filters like a polarizing filter to help cut the glare, there are times when you'll need to take this off and store it without fear of it getting broken, dusty, or scratched, and a lightweight filter wallet does the job nicely.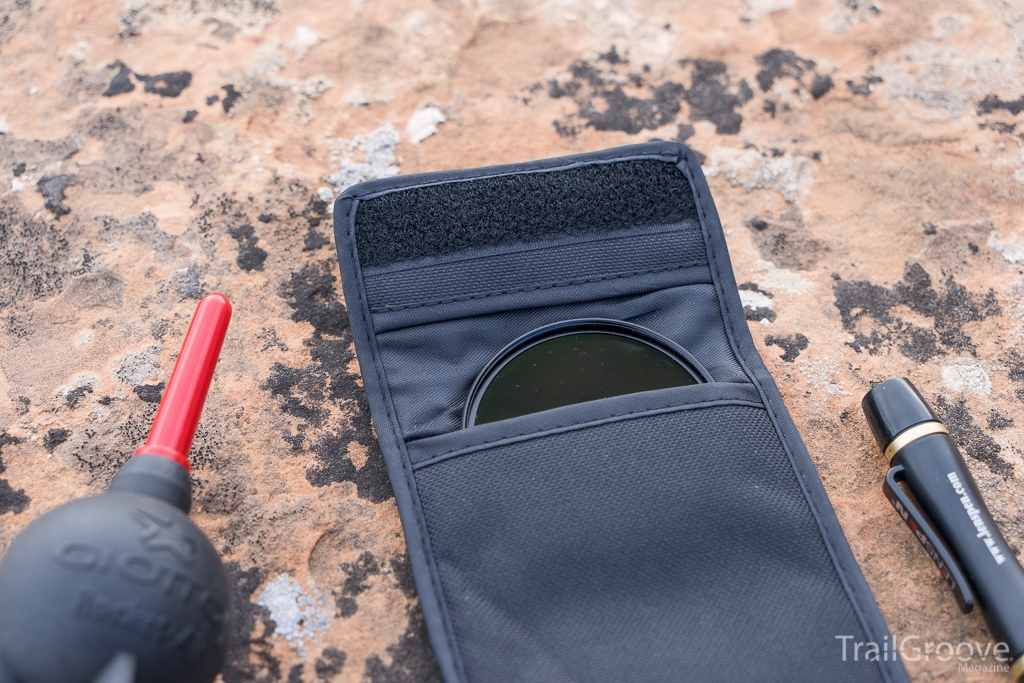 And if you're looking to take your photos to the next level, a tripod rounds out the system. A tripod will allow you to take long exposure photos at dawn and dusk and an array of options are available depending on your needs. Unfortunately larger and heavier cameras generally need larger and heavier tripods, and as such I carry my Gitzo option on the outside of my pack. This does require me to remove my backpack to use it, but unless your trip is completely photography oriented, a tripod is most beneficial at dawn and dusk anyway – where I'm already in camp. On the trail during the day I much prefer to take photos quickly while on the move. If you have a smaller more compact camera you won't need as stout of a tripod, and one of the various shock-corded options are great and can even be secured to your shoulder straps for use on the go without pack removal.
Overall, while the actual best camera for hiking and backpacking use will widely vary depending on your image quality requirements and weight and size tolerance, a camera needs to be easily accessible while having a protected spot away from rain, snow, dust, and sand, and you'll need a way to clean it when it does eventually get dirty without having to wait until the trip is over. A backup battery or two and an emergency memory card keep you going until the trip is over, and finding a system that works for you will allow you to photograph the trip, without the photography getting in the way of the trip itself.