ZPacks Triplex Review: Ultralight 3 Person Tent
---
The Zpacks Triplex Tent is a Dyneema Composite Fabric / Cuben Fiber tent that's marketed as a 3 person shelter solution with a 90x60" floorplan and a generous 48" peak height – it's essentially a larger version of the Zpacks Duplex, which is designed as 2 person tent with a smaller 45" wide floor. Featured in this review however, the only slightly heavier 24 ounce Zpacks Triplex requires a minimum of 8 stakes, and additional tieouts can be used at the head and foot ends for more wind stability and / or for extra head and foot room utilizing up to 12 stakes.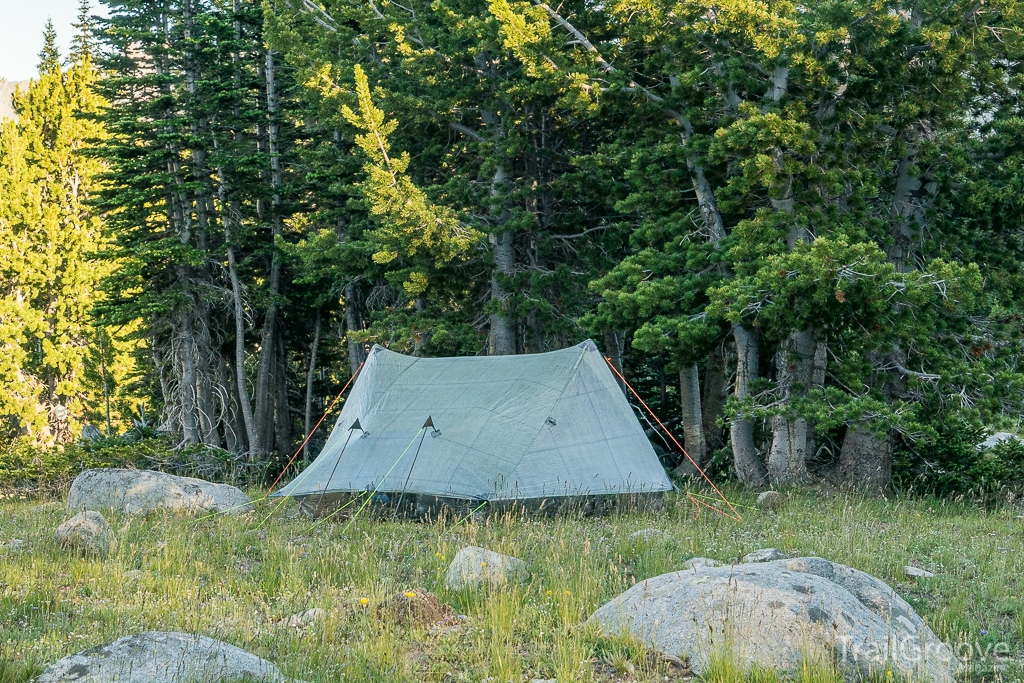 The Zpacks Triplex is a single wall shelter, supported by 2 trekking poles set to a suggested 48", or by a pair of optional dedicated carbon fiber poles. 2 rainbow shaped doors and 2 vestibules offer plenty of livability, and save for the full noseeum netting that bug-proofs the living space, the rest of the tent is made from Dyneema Composite Fabric (DCF - previously known as Cuben Fiber). The canopy is made from a lighter weight material and is available in .51 oz, .74 oz, and a camo .67 oz, (weight per square yard) options. The heavier options are a bit stronger and a bit more durable, while the .51, as seen in this review will weigh the least – my Triplex weighs 24.5 ounces by itself with lines, tensioners, and interior pockets outside its stuff sack. Either way, Zpacks rates the shelter as suitable for at least one thru-hike of a major long trail (around 6 months or 2500+ miles continuous use, or depending on how often you like to head out many nights for non thru-hiking backpackers). In all options, a heavier 1.0 oz / sq. yd. DCF bathtub floor is used for more durability. The Triplex also features a unique vestibule closure; the 2 vestibule doors simply overlap each other when closed for waterproofing; and hooking each door to a lineloc attached to the main side guylines then allows you to tension each door taut and closed. Both doors can also be individually secured open for views and ventilation.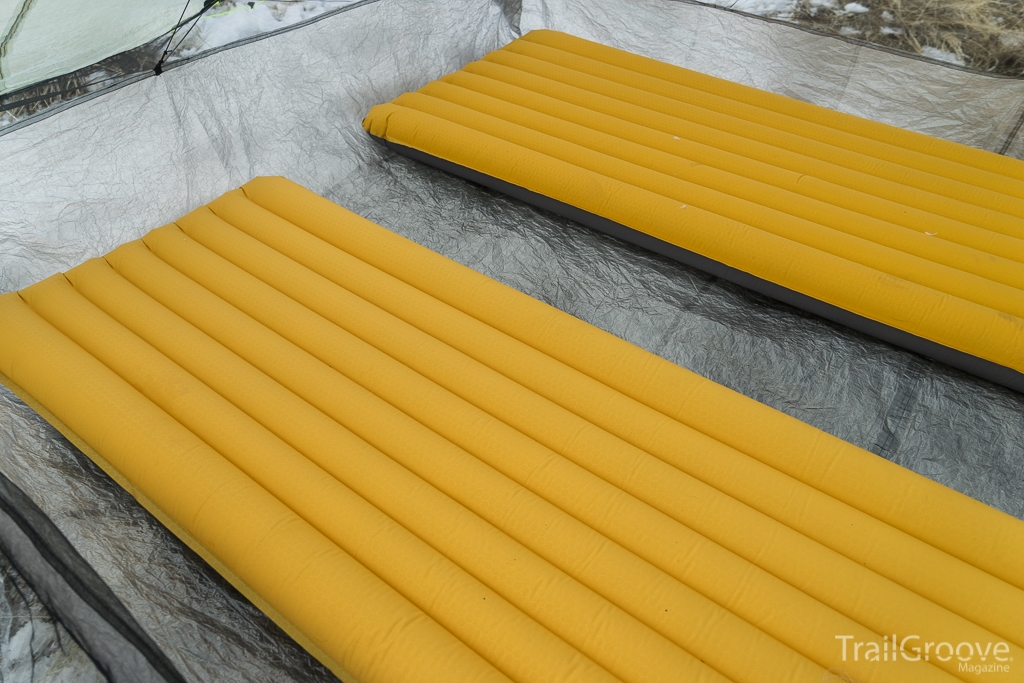 The Zpacks Triplex with one standard 20" width sleeping pad, along with a wide 25" pad.

While rated for 3, the Triplex has been my shelter option of choice for two people for the past several years, or two and a dog, and the dimensions offer a generous amount of space when used as a 2 or 2.5 person tent. I honestly wouldn't try 3 – I often use a wide pad (Exped Synmat UL 7) anyway and the 60" width is an exact fit for 3 standard width pads. For all my shelters, I like to plan on at least a couple inches between each sleeping pad and then on either side for some breathing room, and if I was looking to pack a backpacking shelter for 3, I would just take my TarpTent Hogback at that point for the extra space. This puts the Triplex in a bit of a no man's land width wise; for 3 adults ideally a tent just a bit larger would offer the most sanity, while for only 2 people the Triplex is a bit spacious.The Zpacks Duplex with the 45" wide floor is another option, but again we run into the same issue; if one partner has a wide pad, we are at the limit of the floor's width - 2 wide pads are a no go. In my experience the 50-54" floor width range works best for versatility and some room for two people. However since the weights are so low here, the only real drawback to using the Triplex for two or the Duplex for one is footprint and packing size.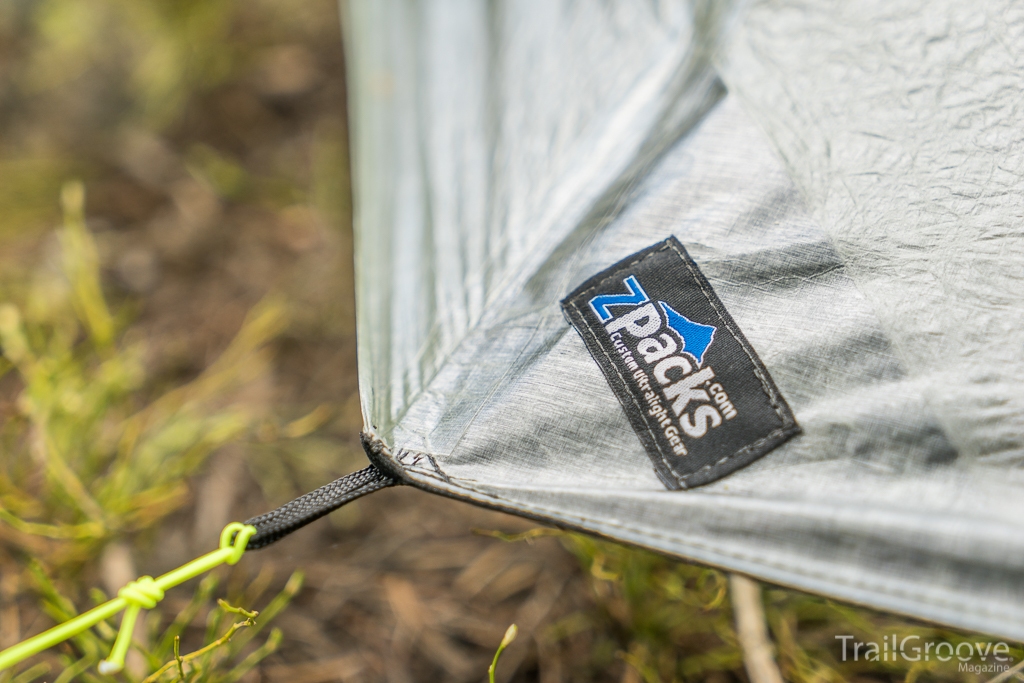 The construction of the Triplex is such that the canopy overlaps the bathtub floor for excellent rain and splashback protection, and that's all with no seam sealing required as Zpacks tapes all the seams for you. Speaking of the floor Zpacks makes a very good, 8" high bathtub arrangement that rises well above the ground all the way around, offering great peace of mind. The interior rainbow door allows for access to either side of the vestibule, or entering and exiting via any side if you have one storm door closed, though the mesh door will fall onto the ground when open compared to the D-shaped or L-zipper style doors found on some tents. The vestibules provide plenty of space, and while you can opt to setup the Triplex with all 4 storm doors closed (which form the vestibule), all 4 open, or anywhere in between, the tension of the storm doors affects the pitch of the rest of the tent, requiring readjustment, so I'd suggest determining the door configuration you want to go with throughout the night and initially adjusting the guylines based on that.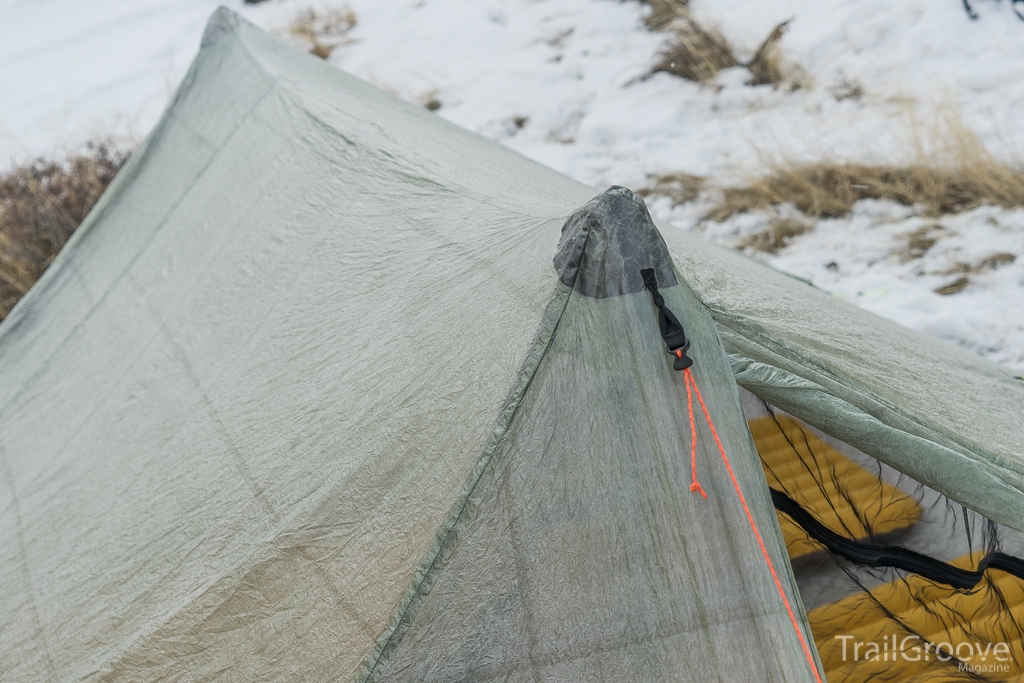 Adjusting ridgeline tension is made easy via the use of Lineloc 3 guyline tensioners.

Zpacks is always making subtle, on the fly changes to their products (example there is no Triplex 1.0, 2.0, etc.) so 3 different Triplex tents may have minor differences. Mine is an earlier version; newer versions feature the same design with a couple added features like integrated linelocs (I added my own tensioners), interior pockets (Zpacks offered a retrofit option that I installed), and a vestibule door toggle to prevent flapping in high winds...which can also be retrofitted but hasn't been a problem for me, as you can also pitch the tent with the overlapping side into the prevailing wind to mitigate this (Zpacks logos located on the canopy oriented downwind). No stakes are provided, and I go with the MSR Carbon Core Stakes – find our look at these stakes and review here – to keep the Triplex secured.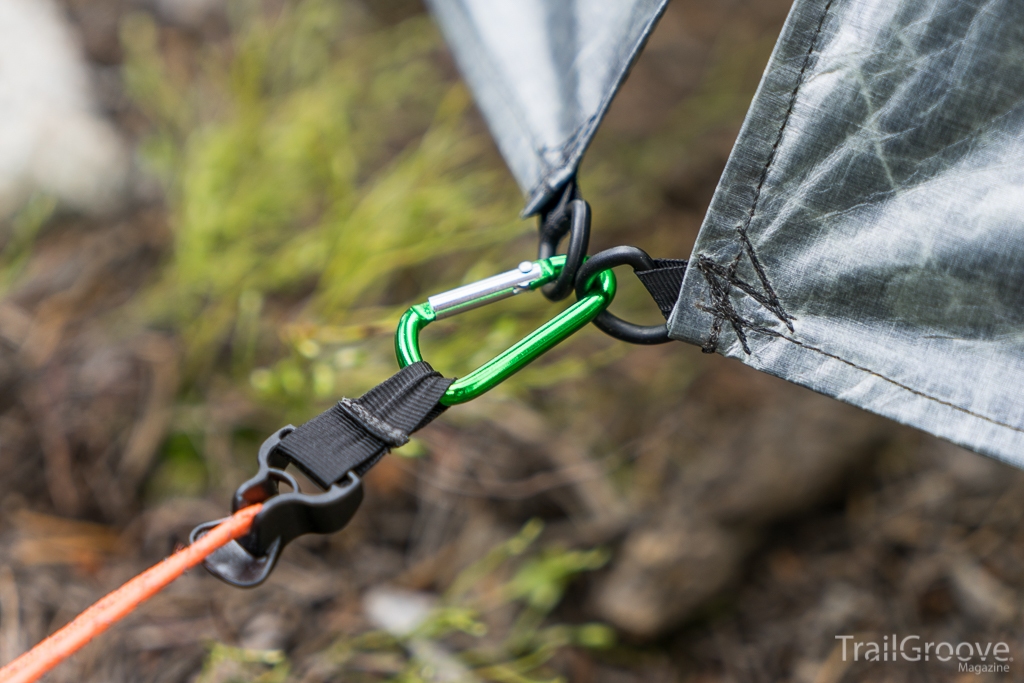 Original storm door closure system
The closure system for the storm doors has also been updated. Original models clipped to a carabiner attached to a lineloc – effective albeit a bit cumbersome, but newer models feature custom , open-ended quick-release hooks for easier manipulation. These new hooks can be purchased and retrofitted, but I swapped out the original provided carabiner for a NiteIze SBiner that also works quite well (not shown above). Setup of the tent is fairly quick and easy, just seek out a larger tent site as the Triplex when fully guyed out will take up some space. Headroom is very good for me at 6' 2", and for a little extra room for taller hikers it can help to combine the head, and / or foot guyouts with the pole cup option from Zpacks. I do however find that the 48" suggested pole height puts too much tension on the mesh doors when they're closed, and thus I set my poles at around 45-46" to alleviate this.
Durability of the Triplex has been good, and that goes for cuben fiber / DCF shelters in general in my experience as well. One benefit of DCF compared the silnylon is that once you get your pitch set, the material stays taut and doesn't sag, so no more adjustments are needed. For more durability and peace of mind, you could opt for the .74 or camo .67 options. Generally, you will want to avoid abrasion, so make sure the canopy isn't contacting any rocks or branches during or after setup. The floor is subject to more wear, hence the heavier duty DCF used by Zpacks here, and I always take a very light, cut to size window insulation film groundsheet to go under the floor as well.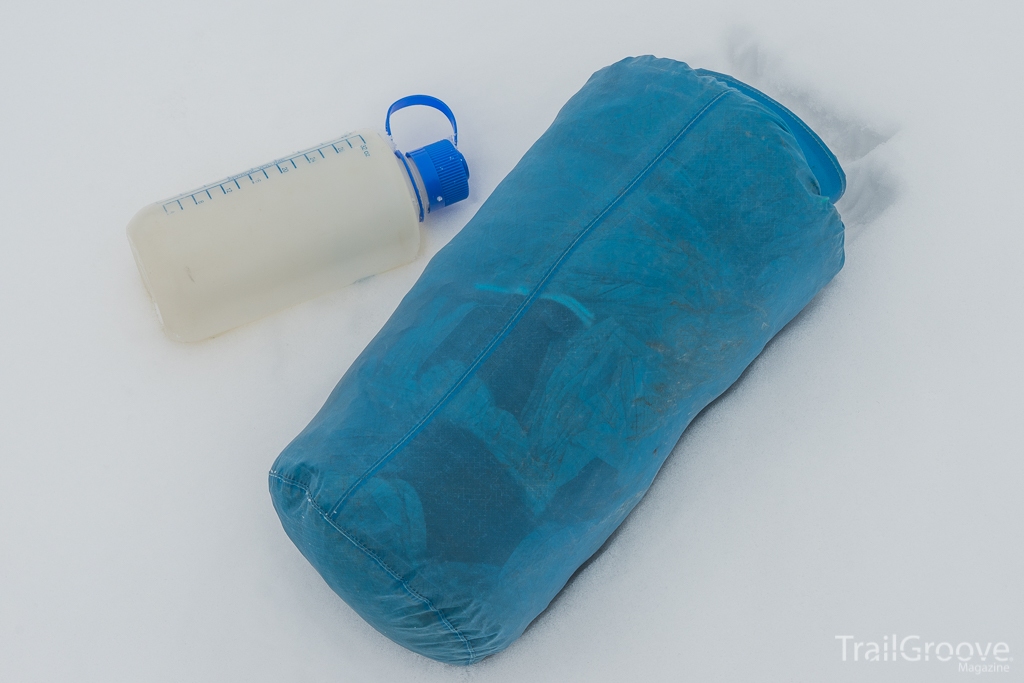 Packed size in a 8L Sea to Summit Ultra-Sil Stuff Sack.
Overall either the Triplex or Duplex are excellent 3 season shelters and can be suitable for a wide range of uses whether solo, or up to 3 people with the Triplex, just depending on how you like to use the tent and how much space you prefer. For the storm worthiness, and bug proofness that's offered here combined with space and headroom, the weight is extremely light for what you're getting, and when you're using the Triplex the 2 separate, opposing doors, with each person (for groups of 2) having their own vestibule provides very ample livability on the trail. And this is all with great interior space due to the vertical side walls and headroom that all occupants can make equal use of. Of course with all these benefits, as the weight goes down the price goes up, and retailing for $700 the Triplex is quite the shelter investment indeed; if you can wait, keep an eye out for the Zpacks yearly holiday sale to help a bit in this regard. You can find more about the Triplex here at Zpacks.