Review: Good To-Go Chicken Gumbo Backpacking Meal
---
Meals from Good To-Go have always been intriguing from my point of view with their focus on delivering backcountry meals utilizing great, real ingredients – their newest meal, chicken gumbo stays true to this philosophy. I've always liked their meals as well, but haven't relied on them too much for my backcountry dinners as all the original meals were vegetarian. Recently however, Maine-based Good To-Go has broken that mold and I had a chance to try one of their new meals with meat – dubbed "carnivore" meals by the company, their chicken gumbo offering made with antibiotic free chicken, rice, okra, along with a set of complementary ingredients and spices.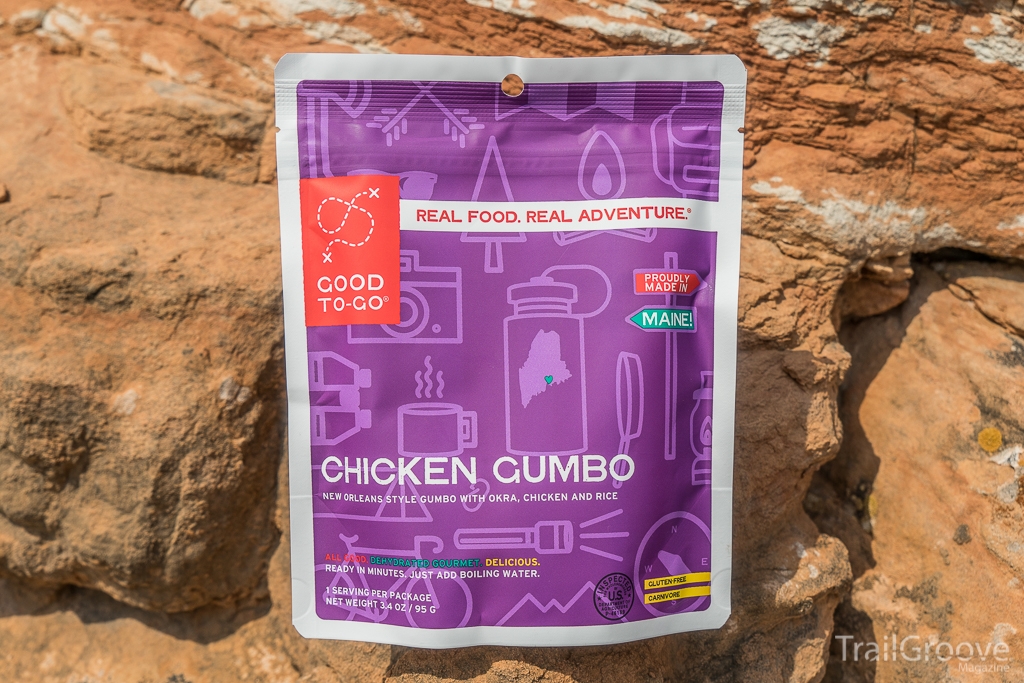 After at least 15 minutes of rehydration time, Good To-Go chicken gumbo rehydrates nicely. With all the spices in the bag here, I was a bit surprised that the first bite tasted a little on the bland side. I was however pleasantly surprised that the heat level was indeed, good to go. As a guy that normally packs a spice rack in the backcountry that includes habanero flakes, I didn't need to add any additional spice to this meal with the already included ancho chile powder, cayenne pepper, and black pepper ingredients.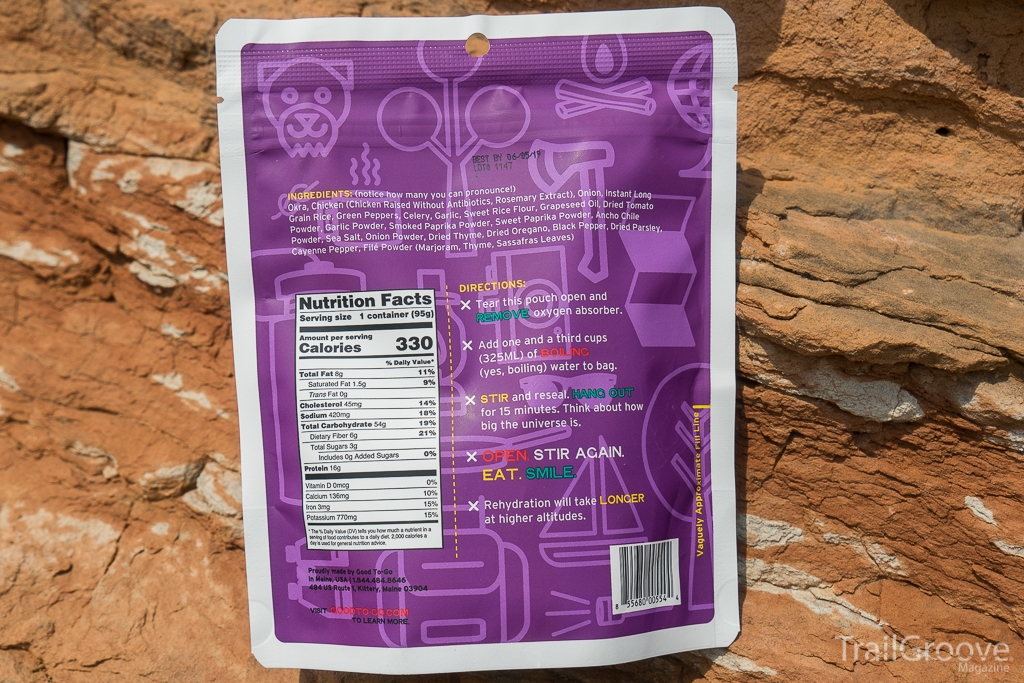 As Good To-Go didn't hold back with their seasoning approach on this backpacking meal, it indeed could be too spicy for some palates however. Crackers compliment the meal nicely, and for those that don't like too much spice, an addition of this type will tone the spice level down a bit while boosting the calories up a bit as well. One thing I definitely did appreciate with this meal was an extra dash of salt that did seem to bring out the rest of the flavors in the dish, and if you're already bringing some salt along, it's always easier to add more than to take too much out.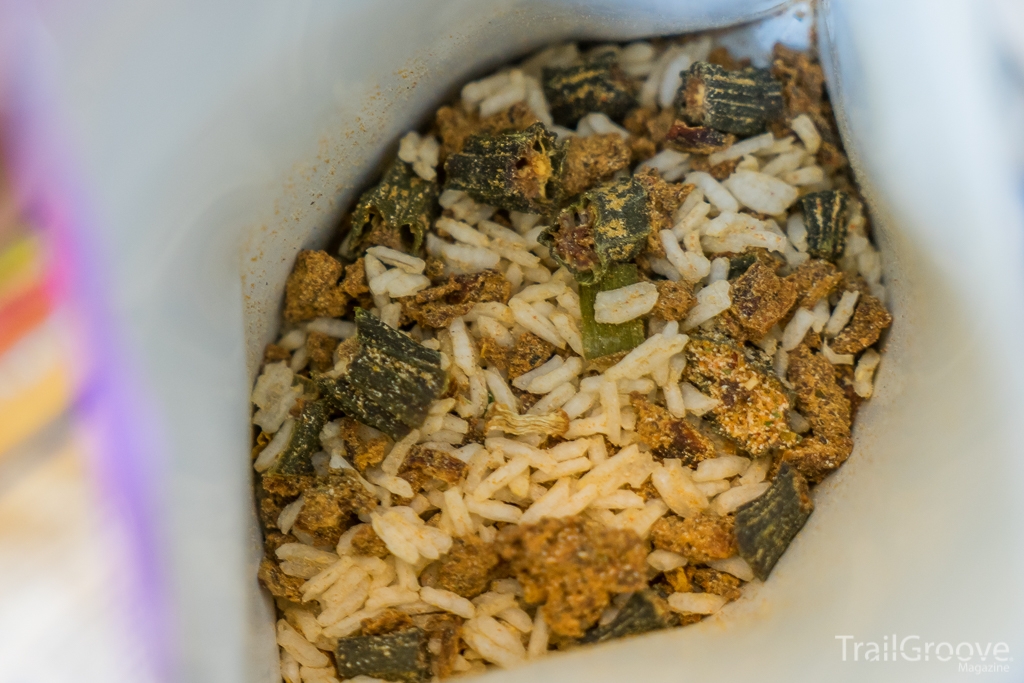 As a guy originally from the south who frequently gets a craving for a side of fried okra with dinners at home at least once monthly, okra in a backpacking meal is simply awesome. Even though it's the first ingredient, I found myself wanting even more and searching for any hidden pieces of this vegetable popular in the south, which after eating this meal, I've learned apparently dehydrates and rehydrates quite well. For me at least, Good To-Go Chicken Gumbo definitely brings back some memories and is a great comfort type meal, and is very unique among the array of backpacking meal options available from many manufacturers.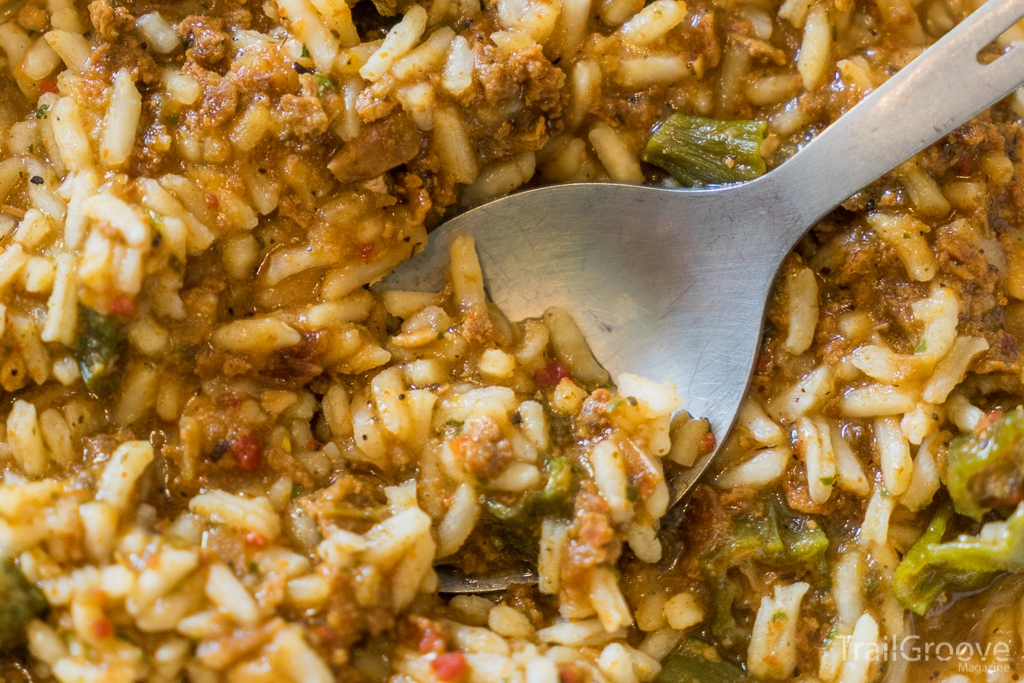 At $14 for 2 servings, this meal is quite pricey and I was surprised that the meal expired only one year after purchase...you'll want to eat your Good To-Go meals quick, and look around for a sale or use REI's ongoing 10% off 8 or more backpacking meals deal. For lunch, as just a component of a dinner meal, or if you're looking to test the waters a bit a single serving version, as seen here, for around  $7-10 is also available. One great thing about the packaging is a "vaguely approximate" fill line already printed on the outside of the bag. While this wasn't one of the best premade backpacking meals I've ever had, the meal is unique enough to earn a spot in the rotation to mix things up every once in a while without a doubt, and would serve up a nice lunch as well as working for a dinner time entrée.
You can find Good To-Go Chicken Gumbo here at Amazon, as well as here at REI.com.