Therm-a-Rest NeoAir Jembe Seat Kit Review
---
A camp chair is definitely an item not often seen on most lightweight or ultralight backpacking gear lists, and is indeed something I gave up on long ago. These days it doesn't seem that Jen and I spend too much time lounging around camp anyway - If we're not working to cook a meal and setup the shelter, we're probably already asleep.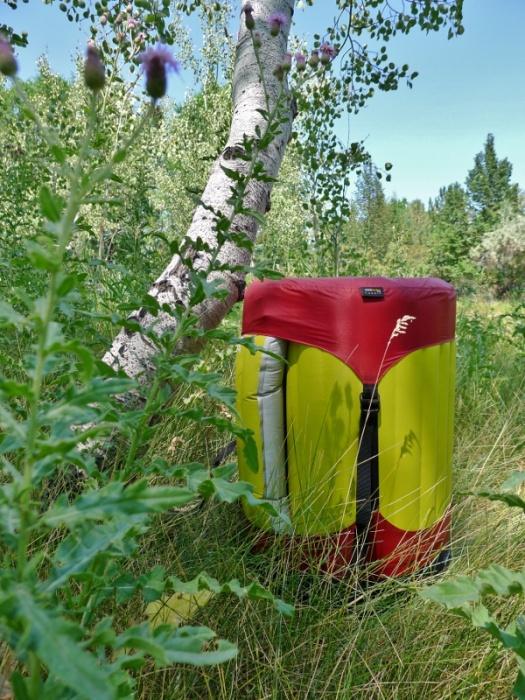 For those times when we do have a bit of spare time, a log, rock, or simply the ground itself usually serves the purpose - Situations where a foam sleeping pad can help. Lately I've been using lightweight inflatable sleeping pads however, and throwing down an inflatable pad made from ultra-thin fabric onto rocks and logs probably isn't the best idea. The idea of a little extra comfort in camp is always an idea I'm open to, provided that it doesn't weigh my pack down so much that it makes the actual hiking part more of a chore than it needs to be. At a listed weight of 3.7 ounces, (3.8 ounces on our scale) the Jembe Seat Kit from Therm-a-Rest looked as though it could be an interesting solution.
The Jembe is essentially a pair of open fabric cylinders, connected by 3 adjustable straps made from nylon webbing with ladder lock style adjusters. By rolling your partially inflated NeoAir mattress inside, then inflating the mattress firmly and tightening the straps all around, a solid drum-like structure is formed that can support your weight and get you off the ground. The resulting height is about 20-25 inches depending on pad width, with a 14 inch diameter. The Jembe fits all mattresses in the NeoAir line except the size small sleeping pads. The bottom of the seat protects your pad with a heavyweight 200 denier nylon fabric, while the rest of the seat is composed of lighter weight ripstop nylon to save weight.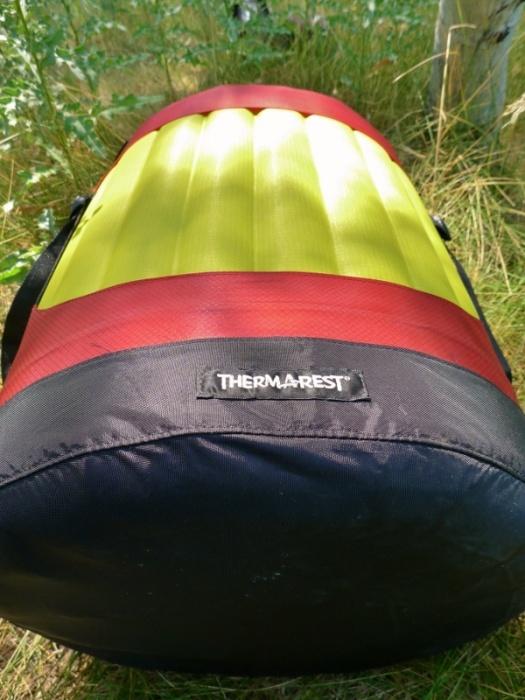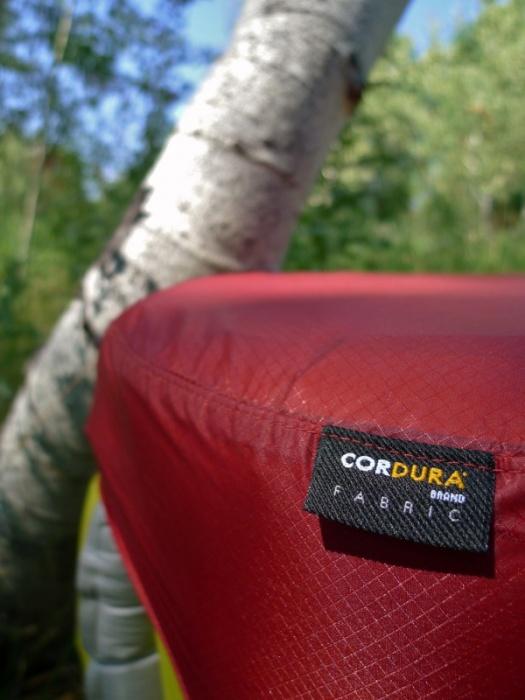 The whole process of setting the seat up is quick and without much hassle. I used an original NeoAir in the medium size for testing and to be honest am a bit torn on the result. The concept is really interesting, and the result is indeed a workable seat that protects your sleeping pad well, provided that you don't lean the seat up against sharp or abrasive surfaces where the mattress fabric is exposed. The seat at first is a bit shaky even when fully inflated. I found that it usually takes some repositioning to find the right spot, but once you do the seat is quite stable and definitely comfortable. Since there is a no back support and the seat isn't rock solid, I found that it helps out in regards to camp comfort, but you still have to steady yourself with your feet and hold your back and head up of course, so you're not exactly going to be dozing off in the Jembe completely relaxed in the shade on a nice day. Therm-a-Rest also makes a deluxe version of the seat which adds closed-cell foam padding to the seating section and uses a plusher fabric - The deluxe version is $10 extra and weighs in at 7 ounces, but the standard version ends up being quite padded just from the mattress itself.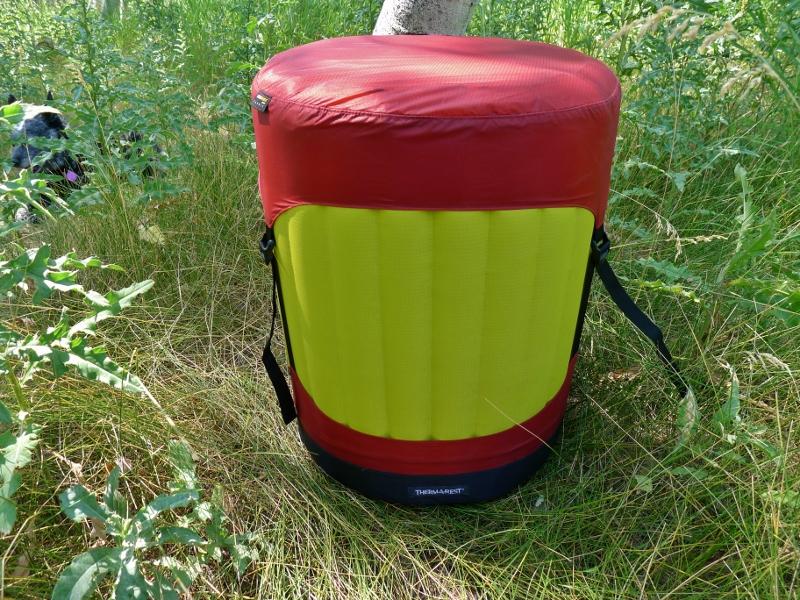 There isn't much to the kit and it packs up into a fairly small, but noticeable fist-sized bundle. You could probably even get away with strapping the seat with an inflated pad onto the back of your pack while hiking if you wanted, which would be great for trail stops and lunch, but you'd definitely have to be careful if there were any tree limbs or snags that might be encountered. It might also be a good idea to partially deflate the mattress as elevation changes, heat, and changing weather could potentially result in too much pressure within the pad and result in some damage. I was also curious to see if the seat kit would work with an Exped Synmat UL 7, which uses baffles that run vertically instead of the NeoAir's horizontal arrangement. The test didn't work out so well and I could never really get it to work as a seat at all - It looks like horizontal baffles are key to the design and setup.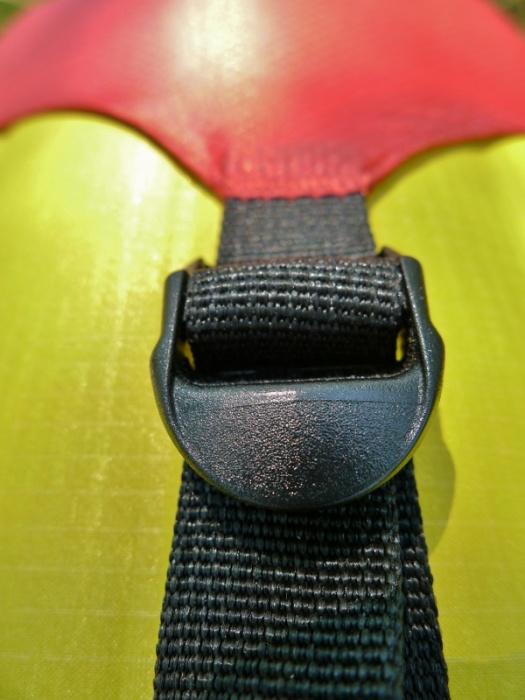 Since my sleeping pad of choice is now from the Exped line, the seat isn't applicable to my gear list, and though the setup was pretty comfortable, it wasn't quite enough to cause me to consider switching to a NeoAir + Jembe Kit for an all in one sleeping and seating solution. Overall however, I feel that the Jembe is a great concept and could potentially work for a lot of people who need a light way to get off the ground when in camp and who are already taking along a sleeping pad from the NeoAir line. If I were a NeoAir user, I would definitely be taking along the Jembe for trips where I planned to spend a lot of time in camp and for trips where comfort was the goal instead of the lightest pack possible and longer miles.
Find the Jembe Seat Kit for about $40 at Here at Backountry.com, over at REI, and at Amazon.com.