Backpacking Hydration Options: An Overview and Guide
---
As soon as we set foot on the trail, a way to carry one of the most essential ingredients for a successful hike – water – becomes essential. With a myriad of options available from bottles of nearly every variety to dedicated, and often complex, hydration systems on the market today, when choosing a way to carry your water while backpacking the shopping experience can become complicated quickly. What follows is an overview of options that are available for this task along with my preferences, and a look at various water-carrying strategies for the trail.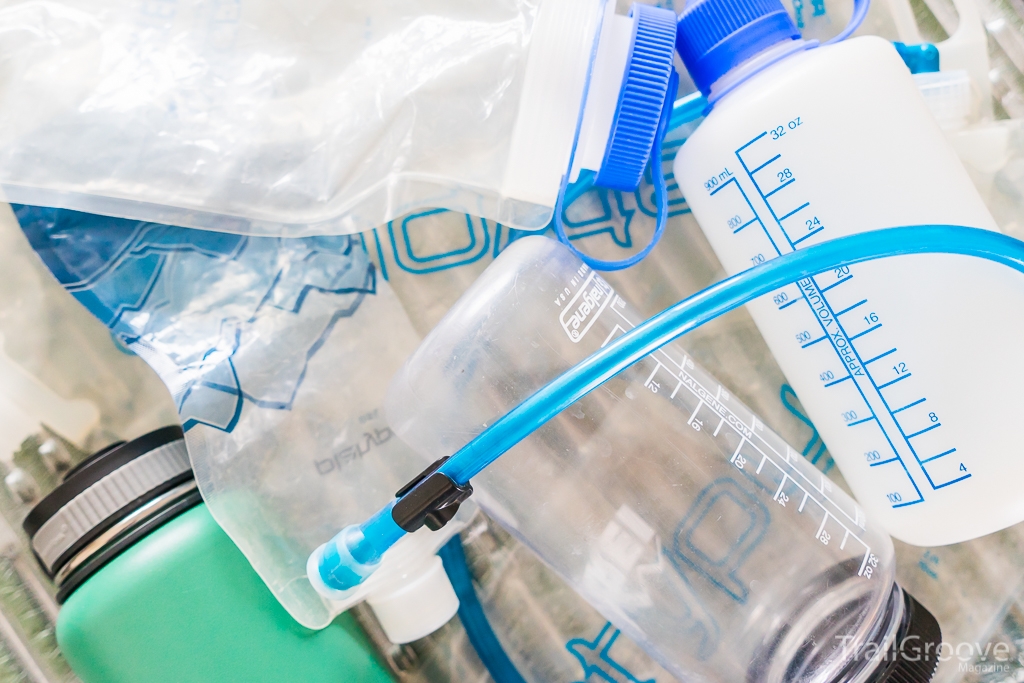 Bottles
The simple standard water bottle comes in many forms, but attention will need to be paid towards capacity, ease of use, durability, and weight. By far the most popular water bottle you'll find on the trail, and often off of it as well, is the 1 liter Tritan Nalgene bottle. These bottles offer a nice capacity while still fitting in most backpack water bottle pockets – but they aren't light – weighing around 6 ounces for the bottle alone and these are often one of the first things backpackers will change if they're looking to save some pack weight.
In the bottle category, repurposed plastic drink bottles will be among the lightest options, such as empty Gatorade bottles, bottled water containers, 1 liter softdrink bottles, etc. and often will weigh less than 2 ounces empty. The bottles are an excellent choice if you're looking to go ultralight and are ok with treating them somewhat gently. These types of bottles do not handle boiling water well, and I've had these bottles last for many trips only to crack when dropped a short distance – relegating them to something I can't use but get to carry around for the rest of the trip. Luckily, if you go this route replacements are cheap! Soft bottles can also be placed into this category, also being very light if you do not mind a non-rigid drinking container.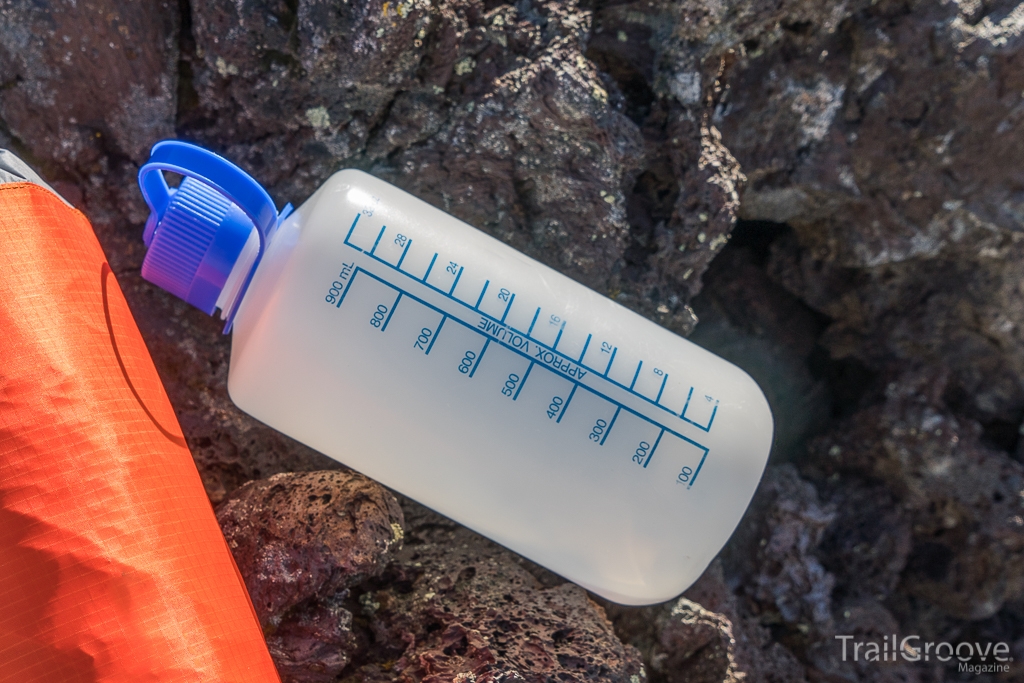 In between these 2 options is the Nalgene Ultralight, or HDPE version which features a more opaque and flexible type of material than the Tritan (both are BPA free). These at just under 4 ounces in the 1L version, are still a bump up in weight from a something like a repurposed plastic bottle (Gatorade, etc.) but will be much more durable. Both types of Nalgenes will also handle boiling water with ease, and on cold nights these are great for tossing inside your sleeping bag (the heavier Tritan will hold heat the longest). With a balance of durability and weight, the Nalgene Ultralight has become my personal go-to bottle choice on the trail. Both types of Nalgenes are available in a wide mouth (easier to fill) and narrow mouth (easier to drink) versions.
Of course, there are countless other options on the market in this category (REI offers 100+ water bottles for example), the main things are to select the capacity you need and go with some type of bottle that will be sufficiently durable for your wilderness excursions without weighing you down – not counting the water that the bottle will carry. For capacity 1 liter seems to be about right on size to last for a sufficient amount of time without having to refill too frequently, while still being small enough to be packable. For 3 season use and weight wise, it may be hard to justify anything weighing more than the already a bit burly Nalgene Tritan bottles. This would exclude winter backpacking however, when something heavier that is vacuum insulated like a Hydroflask or a Klean Kanteen can be very nice to have and can keep water / tea etc. hot for many hours even in bitter cold temperatures, keep water from freezing at night, etc. (burying your water bottles, upside down in the snow is a another technique here).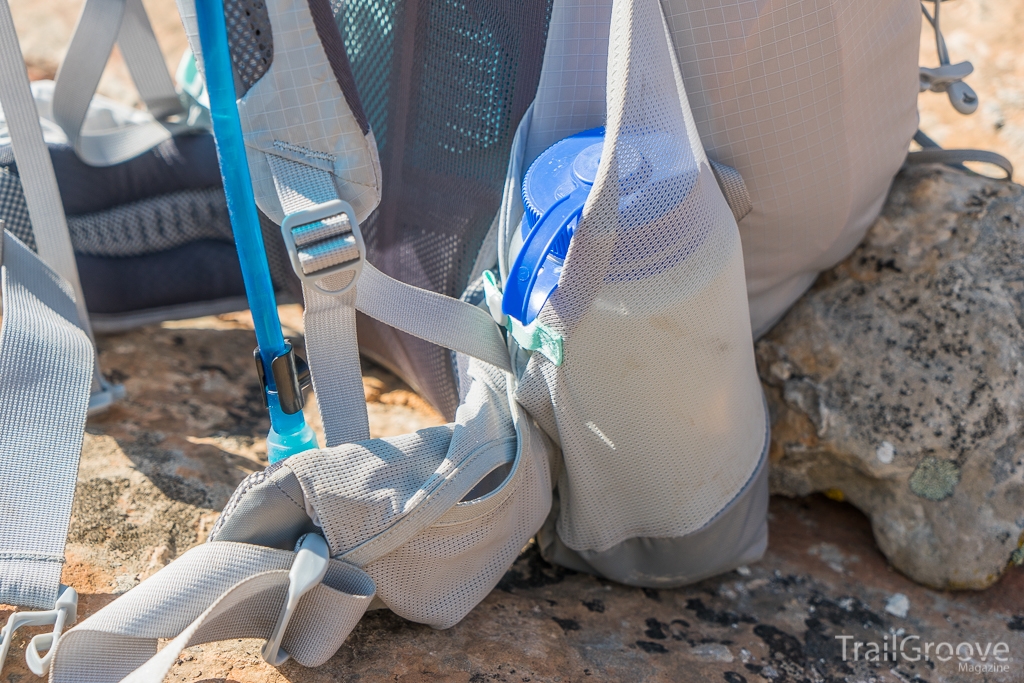 In all cases make sure your backpack choice allows for easy access to your bottles so that you do not have to take your pack off to get them out or back into the water bottle or side pockets on your pack. Although, there are other ways to attach a bottle to your pack as well. Lastly, one other small, but handy feature to have is a measurement scale on your bottle, which can help when it comes to measuring out water for that freeze dried meal at dinner time.

Hydration Reservoirs and Systems
Hydration reservoirs are very popular and for good reason: once they are filled, in place, and setup they make drinking on the go (we are hiking after all here) very easy and can be operated without stopping and having to remove and replace bottles. While filling can be awkward, often times your water filter choice can be connected directly to the system and the reservoir can be filled by pumping water or via gravity.
Hydration systems are perfect if you like to take more of a sip as you go approach vs. a tank up at intervals approach to hydration on the trail. In any event, since having that drink tube close at hand throughout the hiking day makes things so easy, I do find I always seem to end the day more hydrated when I pack along a hydration system compared to a bottles only approach, and this is especially helpful in hot weather and at altitude. For capacity here 3 liters is a great all around size – as long you remember that you don't always have to fill it all the way – only enough to get to the next water source (or water source you want to stop at). Many various options exist on the market, but as features increase so does the weight.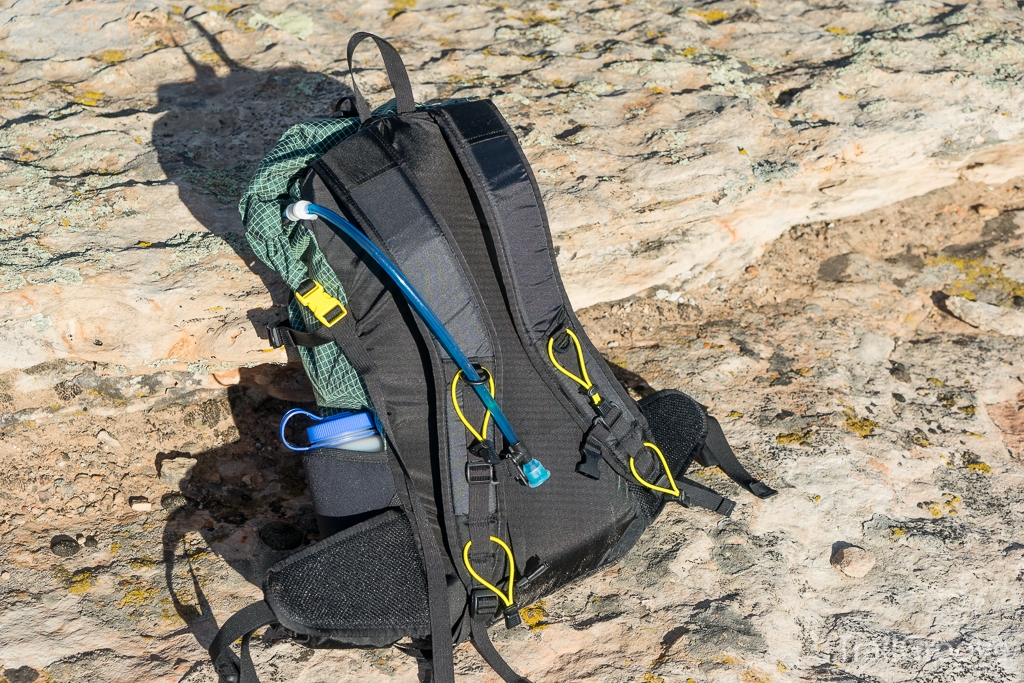 While insulated tubes are available for cold weather hiking, for winter use I do simply leave the hydration system at home and switch to a bottles only approach (often including insulated bottles as we talked about earlier). Hydration reservoirs can be a little tricky to clean: after all we have a main flexible reservoir often with a small opening, a drink tube, and a bite valve. Some type of system with an anti-microbal treatment like the Platypus Hoser is very much appreciated here, along with a cleaning kit when needed between trips. Many bite valves will wear out or get dirty over time and start to slowly leak, so having some spare bite valves in your gear stash is helpful. Make sure you'll be able to route the drinking tube out of your pack – most packs have dedicated hydration ports – and while a hydration sleeve in the pack can be useful, it's not necessary – I usually pack my hydration system sideways across the top of my pack for easy access during the day.

Capacity Considerations
Having the ability to carry extra water or have extra water on hand while at camp can be beneficial as group size increases, when you'll be hiking where the distances between water sources are large and / or during hot weather, and when you'll be carrying all of your water into a dry location on shorter backpacking trips. While I have been known to carry gallon plastic jugs of water in the latter type of situation on several occasions, this is not the most suggested way of accomplishing this task. Rather than fill our pack with empty bottles that always take up lots of space empty or full, my preference here is to utilize lightweight, collapsible containers like your standard Platypus container or similar. Taking up little space and weight when empty, these can easily be filled at camp or when needed for dry locations.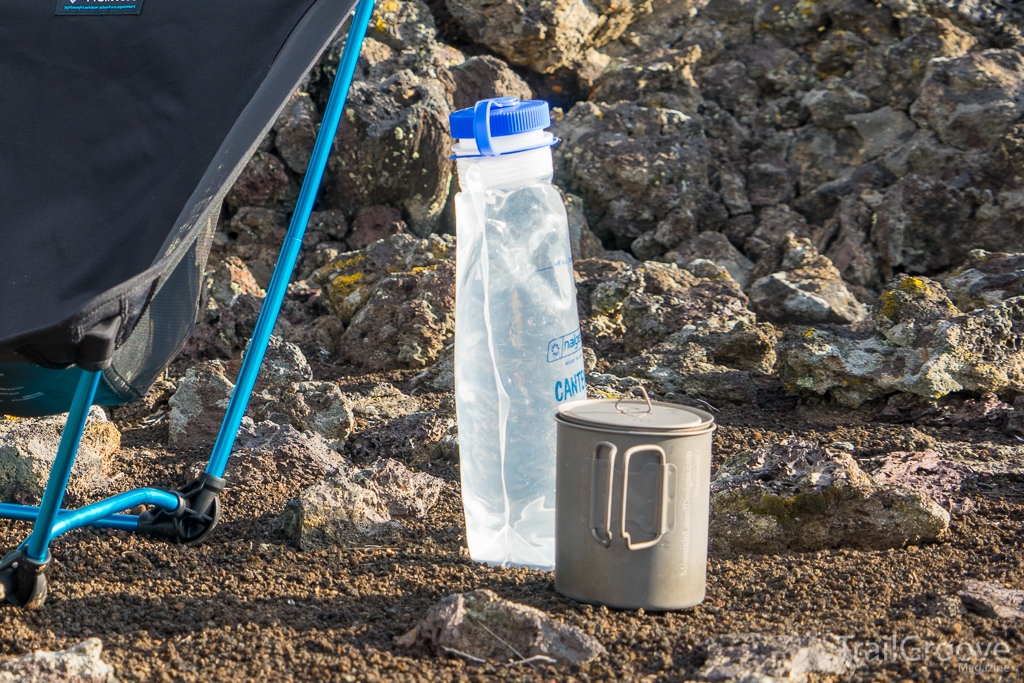 The total capacity you need among all water containers will vary based upon how often you like to stop throughout the day to filter / treat, how much water you like to drink, conditions, and if you'll be dry camping or not. In normal conditions where water sources will be prevalent, I find that a 3L hydration reservoir combined with a 1 liter bottle is a great combo: I will usually either leave the water bottle empty or leave space in the reservoir during the day to save on weight, refilling both completely when at camp or at the last water source prior to. Water is heavy, but your pack gets lighter with each sip; strategies vary greatly on how much water to carry and I like to take the carry a little more weight and stop less often approach in this regard. If you like to spend more time in camp, or like to hit the trail and do not want to be forced to filter water again first thing or early in the day, having an extra collapsible container can be helpful. In drier conditions extra containers may also be needed, so a little math will be required in these cases to see what the ideal total capacity to take along should be.

The best route to take when it comes to your backcountry hydration solution? Simply put, there may not be a best. My preference is to vary my approach to the subject depending on season, the type of trip, weather, and anticipated sourcing of water on the trail and my approach nearly always results in some type of mix of all of the above. A hydration system is great for convenience during the day, but I still always like to have a bottle on hand for camp, for a little capacity boost, and to have if I'll be adding any type of drink mix to my water, etc.
For a complete list of hydration options that you can sort and filter by the considerations we've discussed above, check out REI's complete selection of water bottles and containers here, and you can find a list of hydration systems on this page also at REI.