Northern Rockies Gold: Hiking in Search of the Fall Larch
---
The Rocky Mountains provide hikers with countless opportunities to immerse themselves in backcountry areas filled with quintessential landforms. Majestic mountain peaks, sublime subalpine lakes, waterfalls, glaciers, and wildflower-filled meadows come immediately to mind. Rolling high-altitude plateaus, cascading mountain streams, and fragrant forests of dense conifers are also key contributors to this enchanting landscape. Somewhat surprisingly, there are even some natural arches scattered across the Mountain West, mixed in amongst the gendarmes, sawtoothed ridgelines, and other rock formations.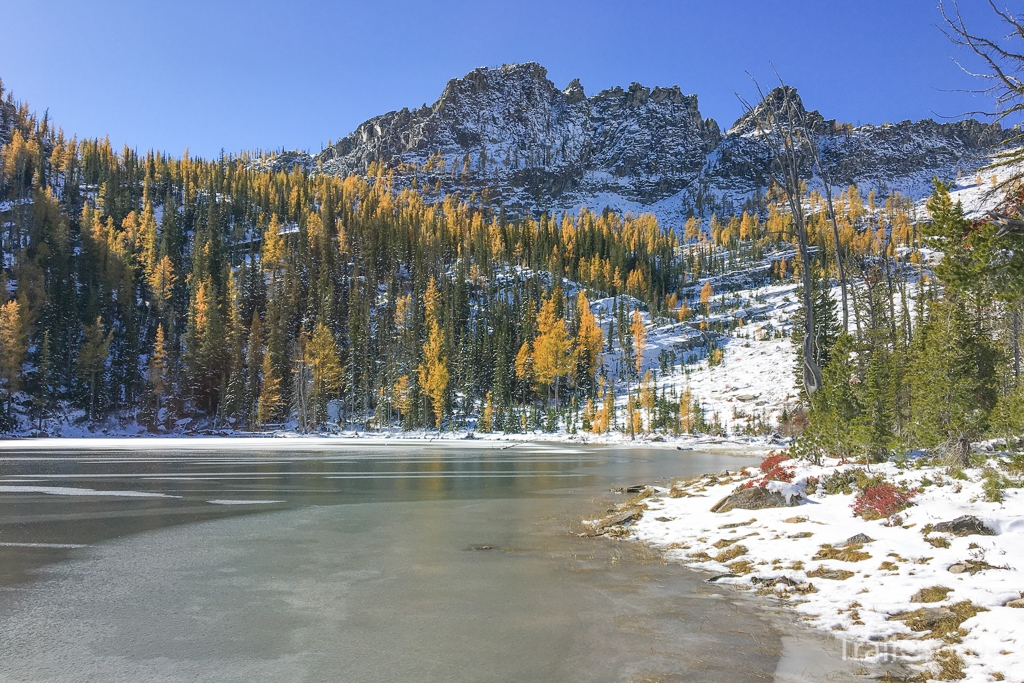 Despite the abundance of grandeur in many regards, there is one piece of natural phenomena that the Rockies lack – the stunning display of fall color that deciduous forests come alive with each autumn. The mosaic of reds, oranges and yellows, presented in a stunning variety of tones – from brilliant to muted – is one of the most captivating sights in the mountains of the eastern United States. From New England to the Great Smoky Mountains, the trillions of leaves clinging to well over 100 species of trees form an enchanting tapestry of color. An almost kaleidoscopic canopy hangs above trails that traverse an already wonderful landscape for hiking.
While the West lacks the type of forest that bestows hikers with the unique experience of hiking during peak fall foliage in New England or the southern Appalachians, it isn't entirely monochromatic during the fall months. Aspens turn a rich yellow before dropping their leaves and many shrubs turn vivid reds as the nights get colder and the days grow shorter. However, in the high country of the Northern Rockies and the North Cascades hikers can witness a spectacle that – while lacking in the breadth of Eastern foliage displays – is mesmerizing enough to plan a backpacking trip around.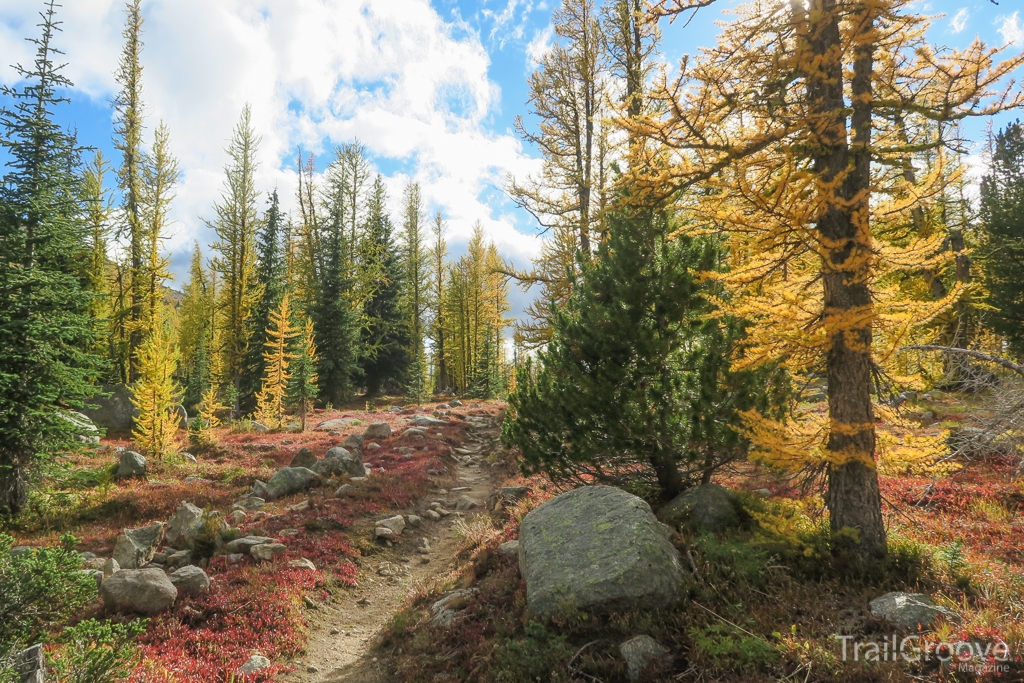 Larch trees, also known as tamarack and containing several subspecies, look similar to spruce and other conifers, but every autumn their needles turn gold and drop to the ground. They're somewhat of a contradiction: a deciduous conifer. When the sunlight hits these trees, which are the dominant species at certain elevations and in certain cirques, they emanate a glow that is almost iridescent. There are several different subspecies of larch, and going into the complexities of them is beyond the scope of this article, and the word "larch" throughout this piece refers to those found in Montana, Idaho, and destinations in Washington (such as the Pasayten Wilderness). Specifically, it is the alpine larch (larix lyalli) which is the focus of this piece.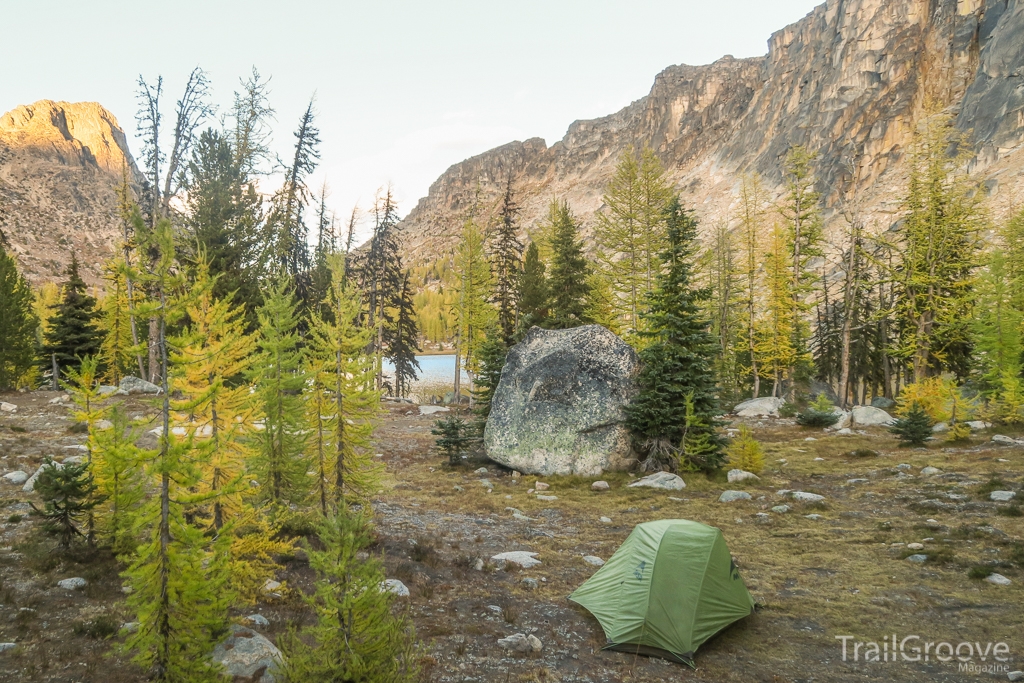 The sight of a golden conifer is magical enough on its own and would be worth hiking a few miles to see even if it was in the middle of a cornfield. That said, the context in which fall larch are set often increases the amount of awe to mystical levels. The subalpine and alpine country where the larch inhabit is both Spartan and spectacular. Rock, hardy conifers, and lakes tend to dominate the landscapes in these upper reaches of the Mountain West. Summer is short and the legacies of glaciers and dramatic geological forces are front and center. The summer months are understandably the most popular time to visit the high country, as the weather is about as benign and predictable as it gets in the mountains (which isn't saying much). The days are long and allow a lot of miles to be covered while still providing plenty of time for a refreshing (or bone chilling) swim in a lake and lounging around camp. Or, for the ambitious, hiking up a peak near camp.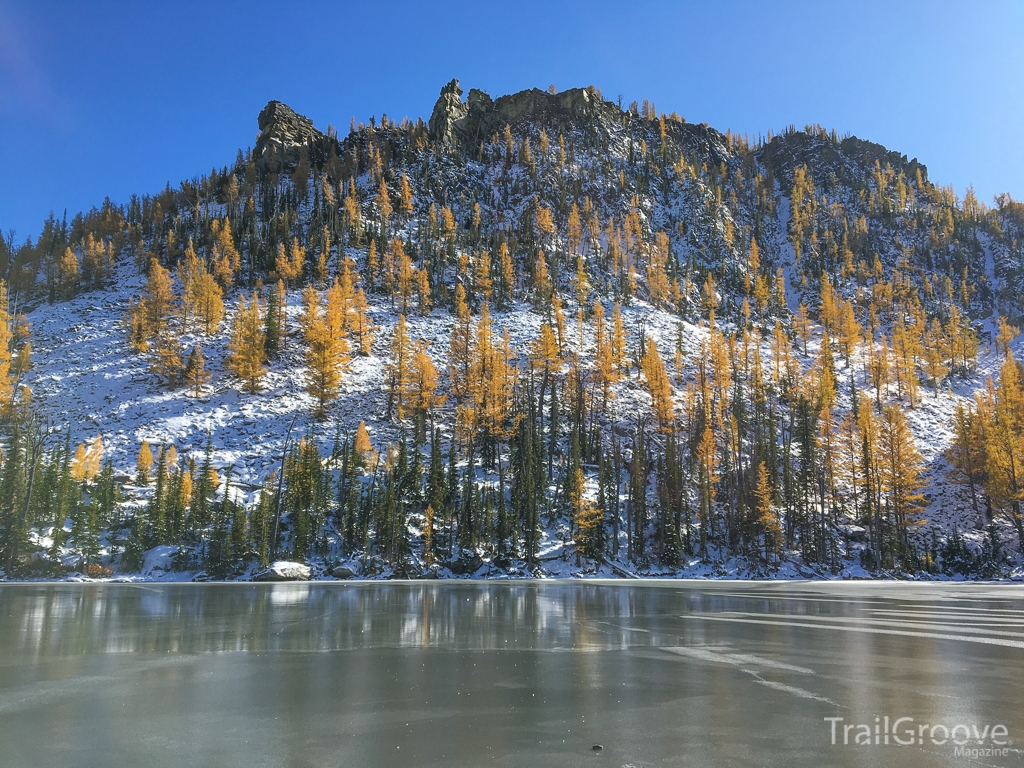 Late fall in the high county comes with many rewards. The complete lack of biting insects is a major plus and the fishing in fall can be excellent. The larch trees, of course, are a bonus that can't be understated. Lakes that would be crowded on a July weekend can become lonesome in late September and October. There are also some challenges in late fall as well. There is the potential for wet, heavy, early season snow which can be challenging to hike through or camp in. Earlier sunsets and clear skies allow for excellent stargazing, but the nights can come with a frigidity that lets you know winter is not far away.
For hikers well-prepared for camping in shoulder season conditions, few things can be more memorable than a trip to the high country to see the larch. If you're able to catch them at peak, with a dusting of snow on the ground and blue skies overhead, you will likely make a visit to see the larch a yearly pilgrimage.
Information: Larch trees are common in most subalpine areas of Montana, Idaho, and Washington's Cascade Mountains (you can find a map of past destinations that we've featured in TrailGroove Magazine at this link). They are typically found near treeline and usually begin turning in late September through the middle of October, although this can vary some from year to year depending on conditions. Consult guidebooks, ranger stations, and trip reports to get information about where the larch are at and how far along they are in turning when planning your visit.
2