Like most backpackers, my cook kit usually consists of a stove, pot, spork, and mug. Sometimes I even forego the mug in a quest for simplicity and weight savings and just drink my tea and coffee out of the pot. And, inadvertently, I've left my spork behind once or twice and enjoyed extremely minimal and inconvenient weight savings.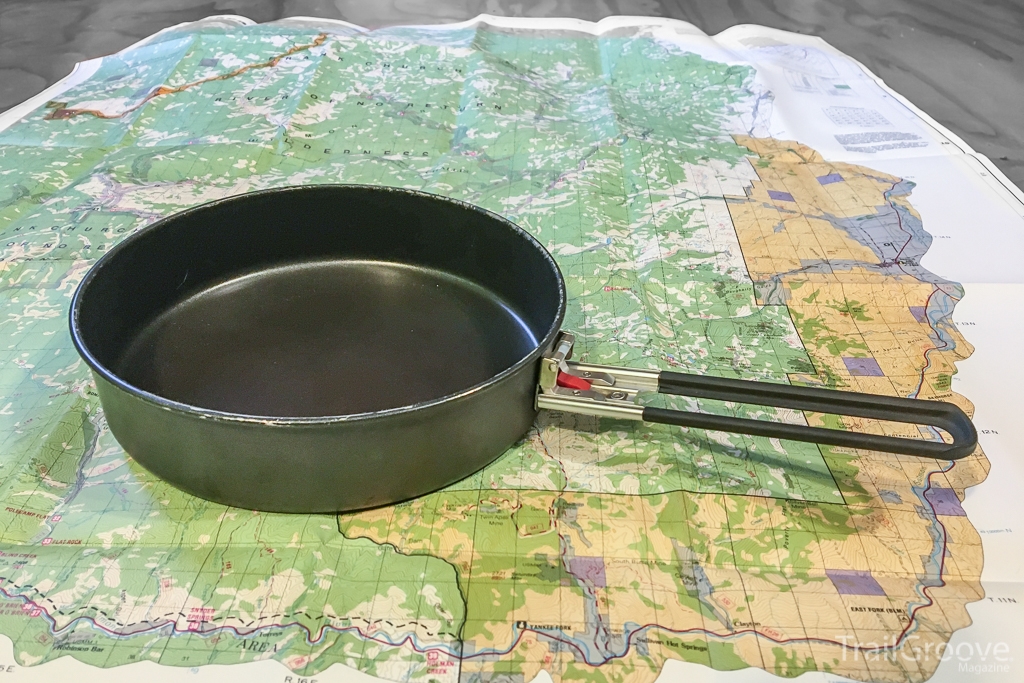 However, under certain conditions, I've been known to expand my cook kit to include a non-stick skillet and cook up meals normally reserved for car camping or the kitchen at home. Scrambled eggs, veggie quesadillas, ground beef for tacos, and chocolate chip pancakes have all been cooked up at one time or another on backpacking trips – meals that would've been virtually impossible to make without a skillet. The MSR Quick Skillet has been my skillet of choice for nearly ten years of backpacking and if you're looking to expand your cooking options beyond dehydrated or freeze-dried options or simple one-pot meals, this skillet is an excellent choice.
Weighing in at 5.9 ounces, this additional piece of cookware isn't horribly noticeable when added to a backpack for an overnight or short multi-day trip. The handle is removable, which makes it easy to pack up. I use this skillet in conjunction with the MSR Alpine Spatula (given the non-stick coating, only plastic utensils are advisable), which folds up conveniently and weighs less than an ounce. Although this a review of the skillet, it is worth noting that the tip of the spatula is prone to melting when placed in contact with the heated pan for more than a few seconds, so use appropriate diligence to avoid unpleasant consequences. Aside from that, I have found this pairing of utensils to be all that is needed to cook delicious and creative meals in the backcountry.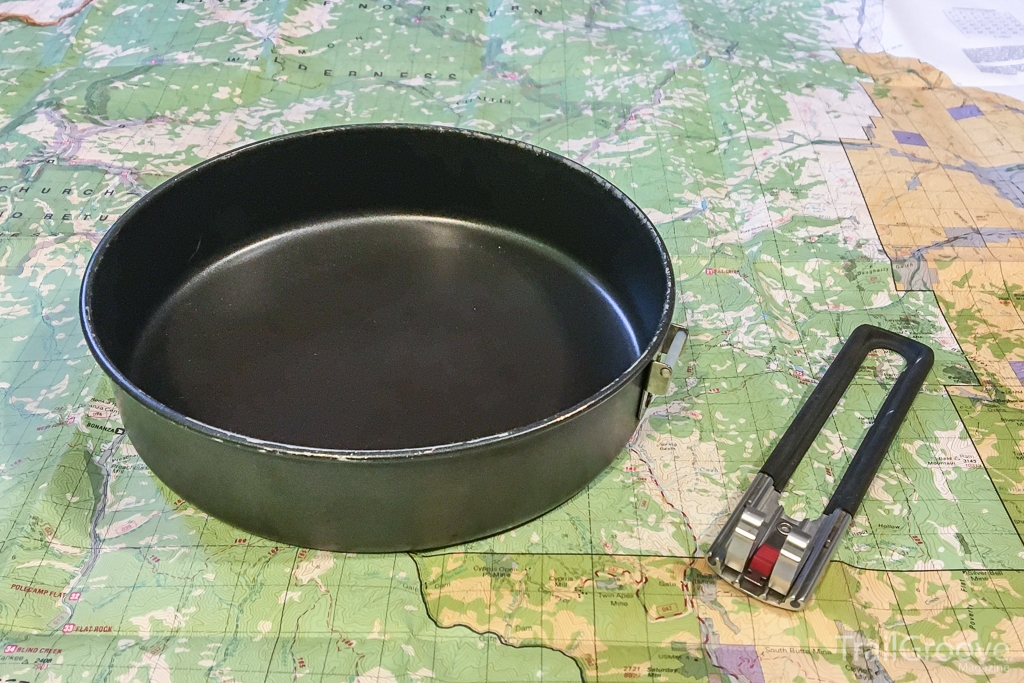 Cleaning this skillet is a breeze and only needs a minimum of water (be sure wash this and other cookware in compliance with Leave No Trace principles and pack out food scraps). For the most part, after removing any food particles, a quick wipe with a damp paper towel and some water to rinse is all I've found is required. The non-stick coating has remained largely intact, although the rim is starting to lose some of its coating – likely from being packed with other cookware items that rub against it.
I've used this skillet on MSR Whisperlite and Primus Micron stoves, and on a woodstove in a fire lookout. Although the skillet is made from aluminum, one notable limitation of this skillet is that it tends to hotspot in the middle and not evenly distribute heat throughout the pan. This should come as no surprise to anyone familiar with cooking in the backcountry, but it is something to be aware of when using this skillet. I've been able to get around this by simply moving the skillet around in a circular motion when cooking and making sure it doesn't sit directly on the burner for too long. This "babysitting" is a bit tedious, but I've found the results are worth the extra attention you have to pay when cooking with it.
One of my favorite meals to cook in this skillet is veggie quesadillas. Two 10-inch tortillas (folded in half) fit in this skillet with a little squeezing (its 7.75 inches wide) so you can cook two at once. Mexican rice, your choice of backpacking spices, and jerky tossed in the skillet is a great entrée that I've found makes for a great group meal as well. When staying at lookouts or backcountry cabins, another easy and tasty meal is tacos. I cook the ground beef or turkey at home and simply re-heat it on the skillet. With none of the other ingredients typically requiring cooking, this meal cooks up quickly and with little clean up or other preparation.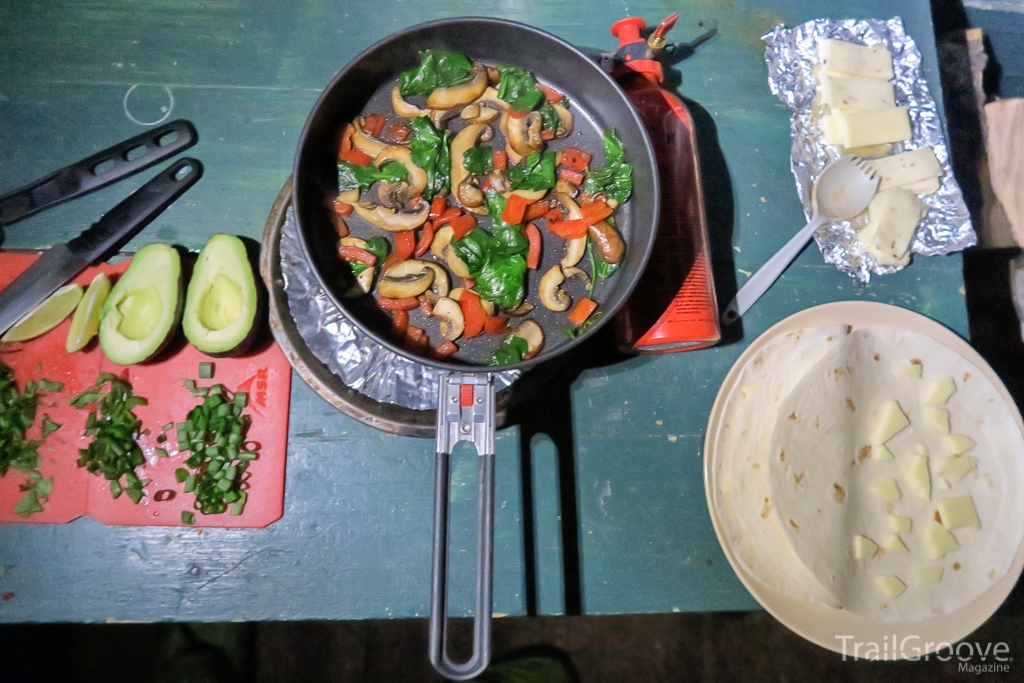 Pancakes with chocolate chips, fresh huckleberries, or banana slices tossed in are a great morning dish to make using this skillet. I use a fair amount of butter to prevent sticking and make sure the pan is moved in a slow circle over the stove so the pancake doesn't end up burned in the middle and uncooked on the outer edges. Scrambled eggs are also easy to make using the same strategy and, if you have extra cheese and tortillas handy, can result in a tasty burrito for breakfast.
Overall, I'd recommend this skillet to anyone looking to add some flexibility to their backpacking (or car camping) cooking options. At a reasonable price and modest weight, it isn't a major investment after you've acquired your initial backpacking kit (and likely gotten tired of freeze-dried meals, or oatmeal breakfasts). Eating tasty, fresh food in beautiful locations can be a memorable experience and this skillet is a great tool to help you experience that.
The MSR Quick Skillet retails for $30 – find in here at REI and on Amazon.com.
1