Alcohol and Canister Stove Weight Comparisons
---
When it comes to backpacking stoves a key consideration is of course weight, and more importantly the weight of a system including fuel for the duration of your trip. Not only is initial weight important, but also the average weight you'll carry each day. For 3 season, lightweight backpacking use alcohol stoves and upright canister stoves are the most used options for weight conscious backpackers, and while both are very different in application, many similarities can be found to exist in the weight department.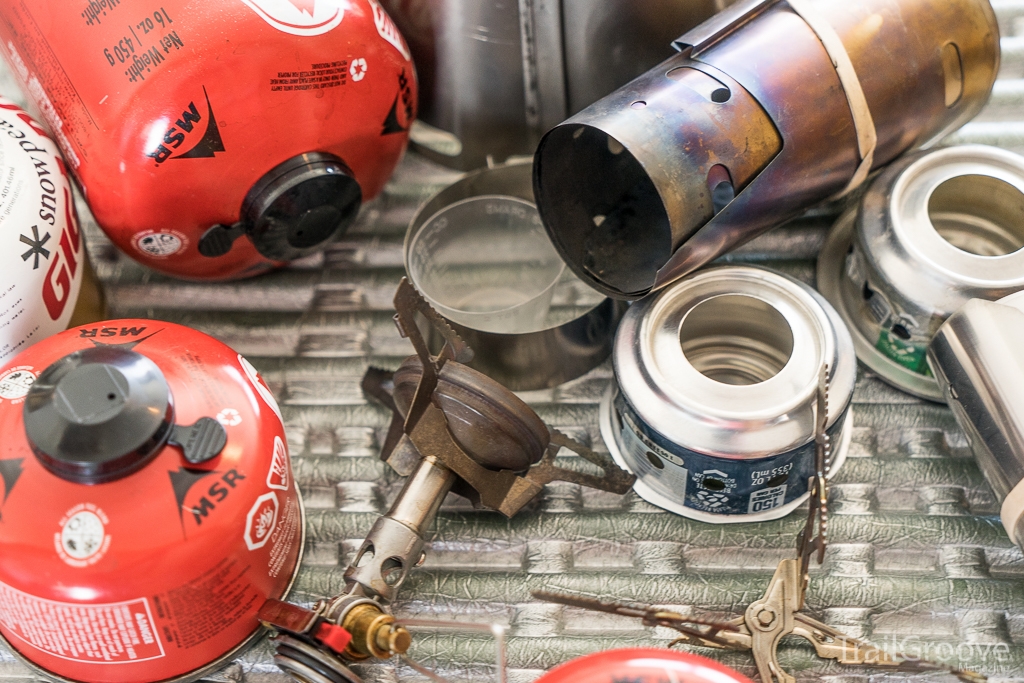 Alcohol stoves, whether homemade or one of the many commercially available lightweight solutions or stove systems, have a developed reputation as being ultralight, and especially for solo shorter trips, while upright canister stoves are known to be a speedier and efficient option for 3 season backpacking. (Heavier inverted canister stoves are more appropriate for winter or year-round 4 season use) As someone who maintains a presence of both options in my gear collection, when saving pack weight is the number one priority the actual choice of alcohol vs. canister stoves weight wise, and what is actually the lightest stove system, can become a bit complicated indeed.
Alcohol stoves are very light on their own, and you don't have to carry around a relatively heavy canister: instead you pack a lightweight bottle with the fuel you need for the trip, exactly measured. However, isobutane and propane, the main components of most 3-season ready fuels like MSR's IsoPro offering pack more punch in the BTU department, making them more efficient, and upright canister stoves can be as light as under 2 ounces like the Snow Peak LiteMax – I like a piezo igniter, so I go with a 2.4 ounce Soto WindMaster.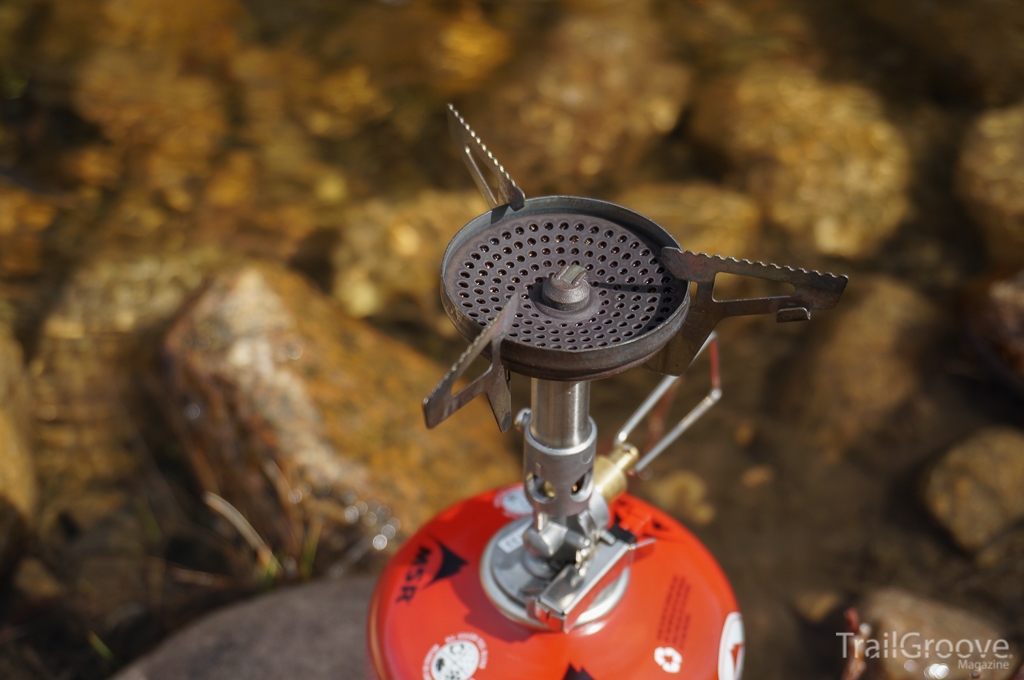 Here we'll take a look at a collection of my trip scenarios detailing the initial weight of each system, as well as the weight of alcohol and canister stove setups averaged at the start of each hiking day (after morning use) with fuel included in all scenarios. These are all done using my own realistic water and cooking needs / preferences, and the stats and fuel usage are taken from our reviews of the Traildesigns Ti-Tri (alcohol stove) and Soto WindMaster (canister stove) reviews. For detailed fuel usage in a variety of scenarios be sure to check out the aforementioned links to each review. Both stoves use a little less fuel in our 68 degree, 0 wind tests, and much more in our windy tests, but here we'll just take a middle ground and go with the cold, 32 degree no wind usage. Thus calculations are made using .6 ounces of alcohol fuel to boil 2 cups of water for the alcohol stove, and 9 grams for a 2 cup boil for the canister stove. No extended cooking or simmering is included.
Actual fuel usage will vary depending on stove, water temp, ambient temp, barometric pressure, and wind. Canister weights were calculated using MSR IsoPro canisters. For water usage, I'm using my actual usage for solo and 2 person trips, and I usually like a hot drink both morning and night, and a hot dinner with a cold lunch and breakfast. Additionally, a cold front rolling in one night of my longer trips is pretty par for the course, so I've included the real world, luxury scenario of heating up a hot Nalgene (a 4 cup boil per person, aka a shoulder season heater) for one night of the longer 7 and 10 day trips but not the shorter hike. Thus, some hikers will use their stove less, and some more: the numbers below are accurate to my backpacking style and everyone's charts and graphs would end up a little different.
 
Here we look at 3 different solo trips, a 3 day, 7 day, and 10 day excursion: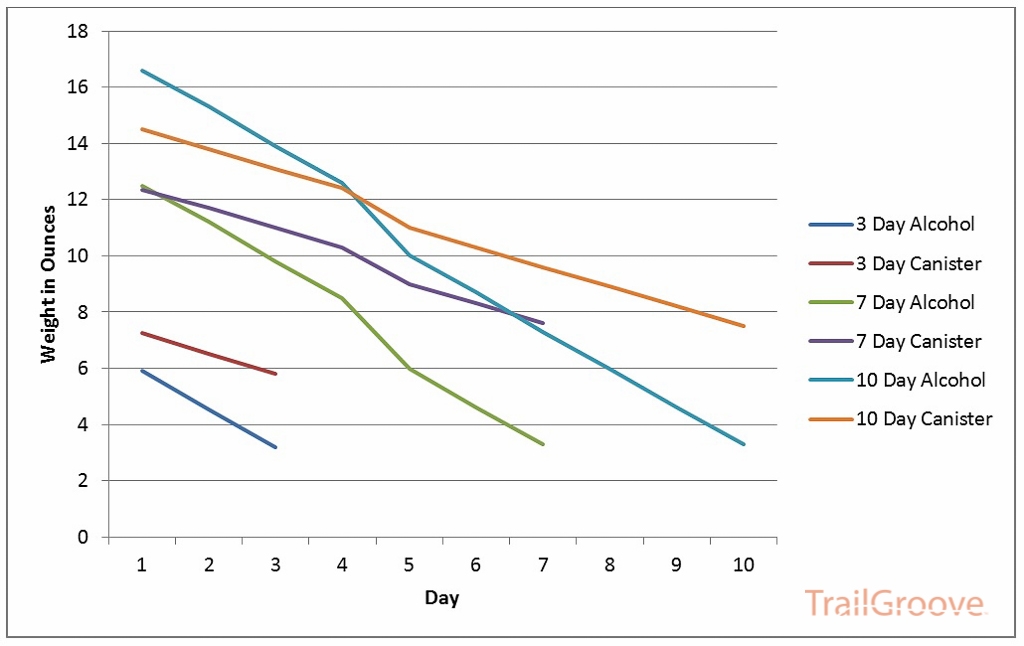 And here's the averaged weight of each system at the start of each hiking day (after morning use) - weight in ounces: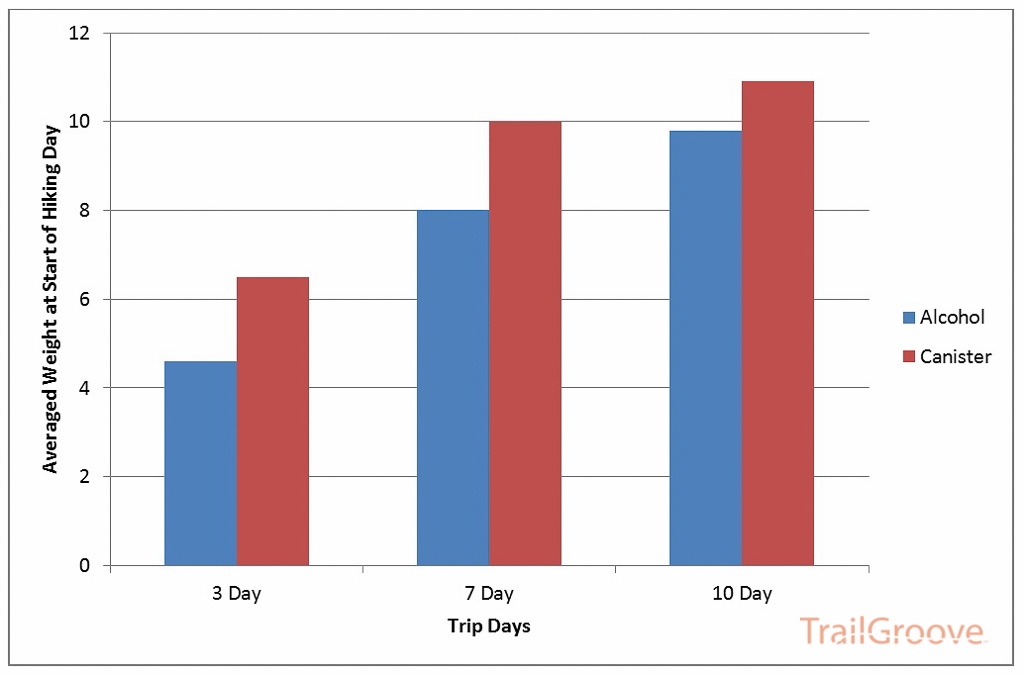 Now on to using the stove for two people at the same trip lengths: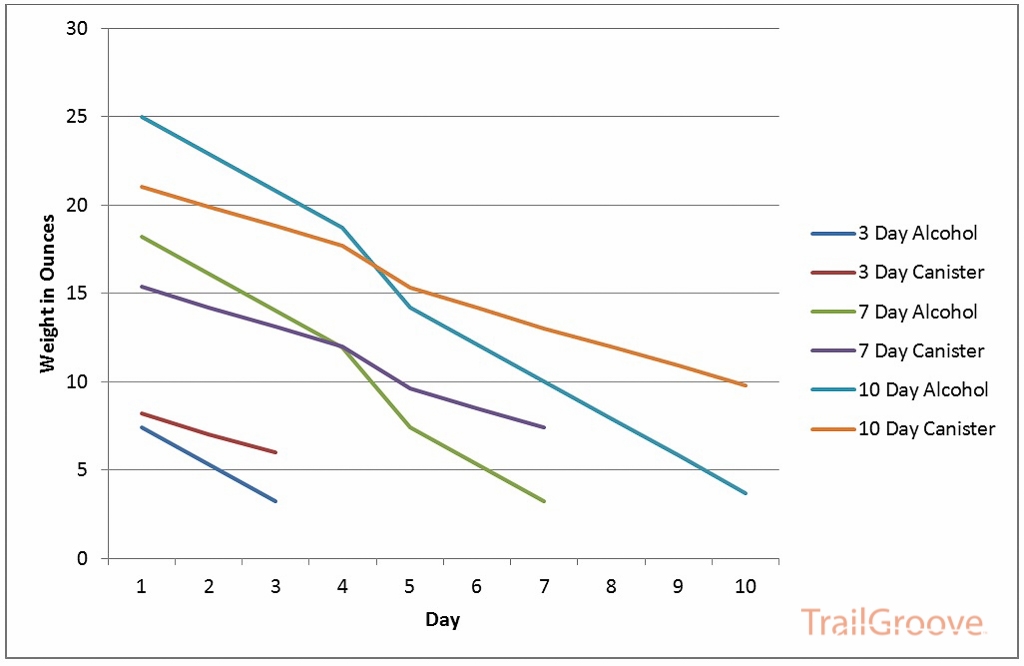 And the averaged weight at the start of each hiking day, again for a group of 2 (weight in ounces):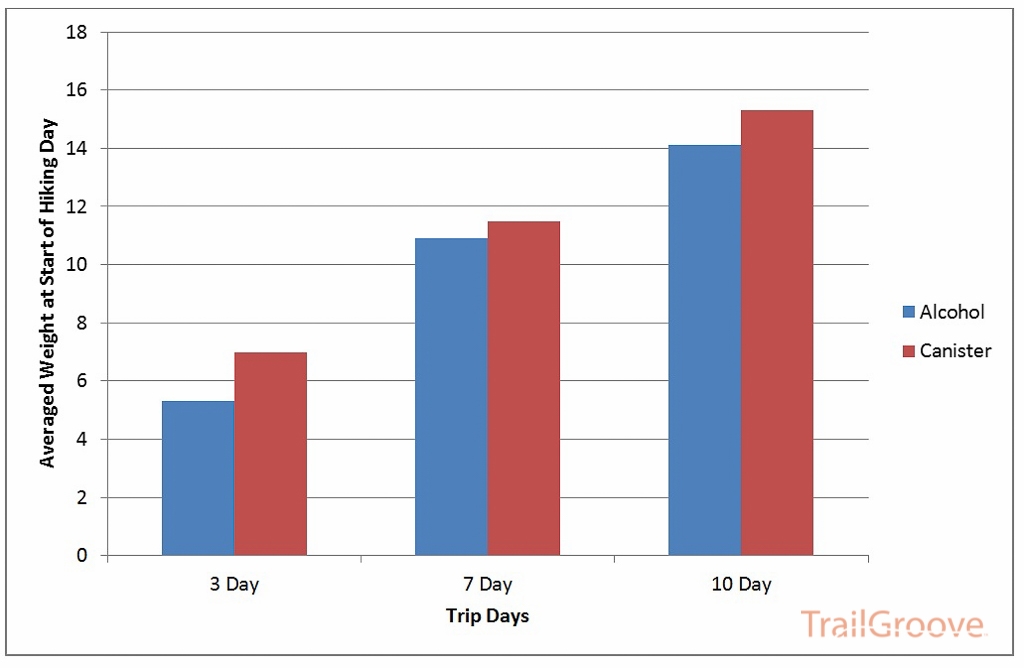 Which is best? Both. The conclusion here is that it's a pretty close race, and it all depends on how much water you are boiling / how much cooking you like to do and group size. On shorter and solo trips alcohol stoves are initially lightest and are lighter each day, while as the trip and group size increase canister stoves are often initially lighter when your pack is heaviest, with alcohol stoves catching up in the middle of the trip and lighter as the trip finishes out; you just can't get rid of that heavy fuel canister. Perhaps the most important number however, is the average daily starting hiking day weight – in these scenarios the average daily starting weight is very close and within just a couple ounces.
Frankly, I would rule weight out of the equation entirely except for warmer short solo trips where alcohol stoves are the clear winner weight wise, and just go with a system that provides you with the right benefits in regard to convenience of use, speed, and fuel resupply considerations if applicable. The main caveat here is that for whatever fuel choice, you will have to dial in the fuel to match what you'll need. For alcohol stoves this is easier, but once you've used a canister stove for a while you will inevitably collect partial canisters, and these can then be weighed using a digital scale to determine how many grams of fuel are left. Of course, you have to take a few trips with full canisters before this happens, while you can obtain this goal right off the bat with alcohol fuel. Either way, I usually take a canister a bit heavier than I need, or pour a little more alcohol than calculated; this way I don't have to worry if it's windy or if I decide to have a hot lunch one day.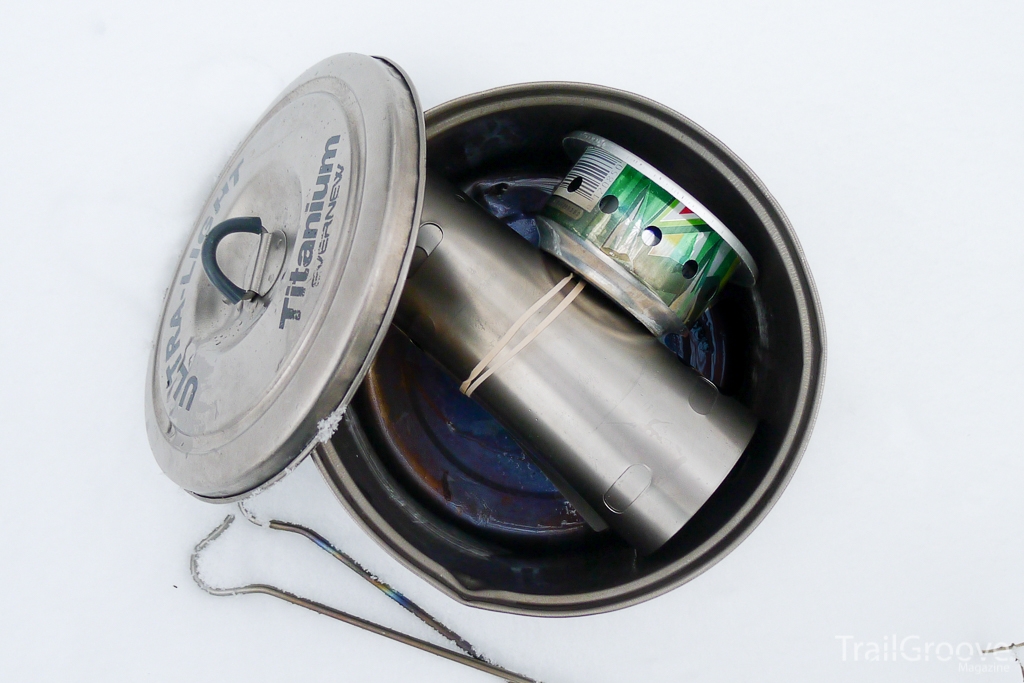 Either way, it's best to test with your own setup, in cold, warm, still, and windy conditions so you get an idea of the exact fuel usage of your stove. At that point and with a digital scale we can now figure out exactly how much alcohol or canister fuel we'll need - alcohol is easy, for a canister just determine how many grams of fuel you need for the trip, add that number to the empty canister weight, and then select a canister that is at least that weight plus whatever buffer you are comfortable with. (MSR kindly lists gross and net weights in both ounces and grams on the side of their canisters; subtract net from gross for empty weight) But in the end, it might just come down to which stove you like the best. For other backpacking stove considerations and more comprehensive information on stoves in general that includes other stove and fuel types with a focus beyond just the weight factor, check out this post.