Evernew Ultralight Titanium Review: 1.3 and .9 Liter Pots
---
While the potential exists to makes one's backcountry cooking setup nearly as complex as the average home kitchen, albeit hopefully a bit more miniaturized and lighter, in most cases the average lightweight backpacker only needs to boil water for freeze-dried dinners, freezer bag style cooking, to heat and hydrate a basic meal within the pot, or to heat water for things like coffee and tea. For these backpackers – like myself - the Evernew Ultralight Titanium Series have been a fairly popular option on the trail and have been my go-to choice for many trips over nearly the past decade.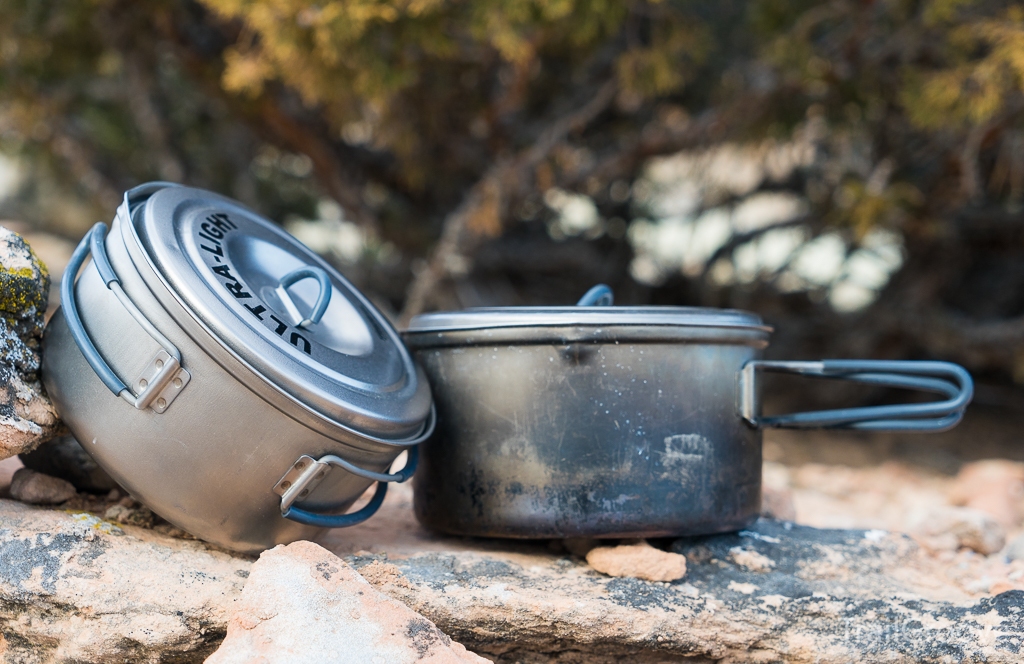 These 2 pots are from the Evernew's "All Purpose" lineup, which also includes a 600ml version (ECA251) not tested here. With a listed weight of just 4.6 ounces and 4.1 ounces for the 1300ml (model ECA 253 – measured weight: 4.9 ounces) and the smaller 900ml (model ECA252 - measured weight: 3.85 ounces) options at my disposal, respectively, these Evernew pots are really quite tough despite being so light. I've downright abused the 1.3 liter, including dry baking (not suggested), cooking in campfires, melting lots of snow for a group, and it's even suffered a few impacts in the outside pocket of my pack from dropping it off ledges while traversing class 3 terrain.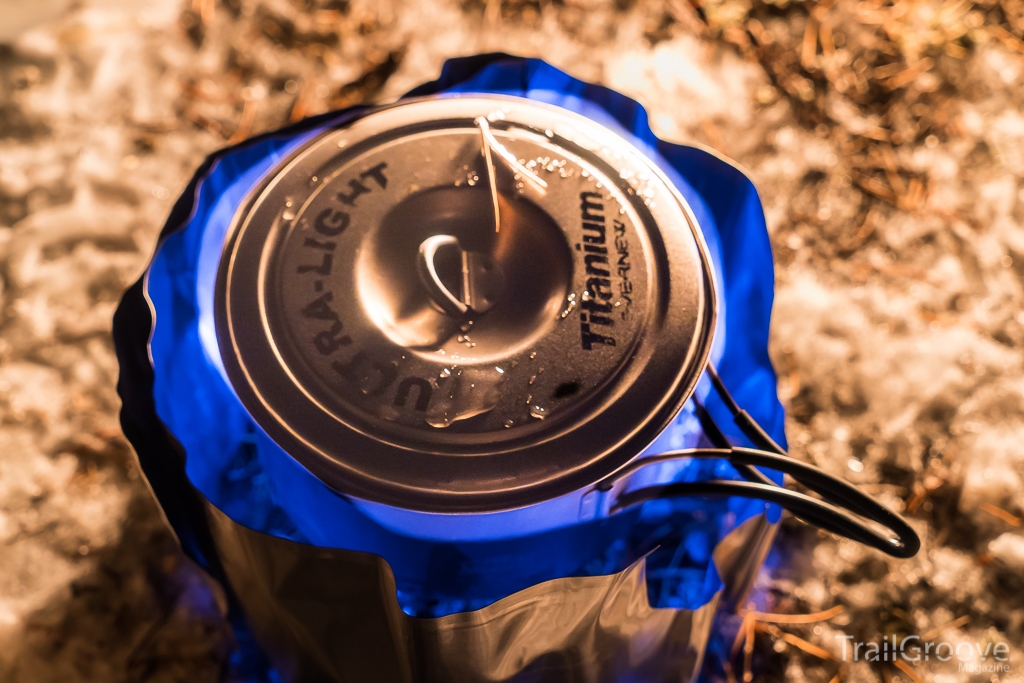 These pots are more short and squat than tall and thin, and as such catch more heat, heating faster and saving a bit of fuel and are more stable on top of a stove. On the downside, the shape doesn't really lend itself to an effective or satisfying combo for an all in one pot / mug solution (Such as something like the Snow Peak 700), although it would work if you're not too particular. The lids fit securely, and don't seem to require constant re-bending of the pot every time you unpack it in an attempt to get things to line up like some other solutions I've used. At times I've used a large rubber band with a loop to loop to connection on the lid handle – this allows one to then wrap the rubber band all the way around the pot and lid for even more security in the pack (for example when trying to store too many things inside), but these days I don't bother and the storing the pot in the outside mesh pocket of my ULA Circuit also helps to keep everything in place.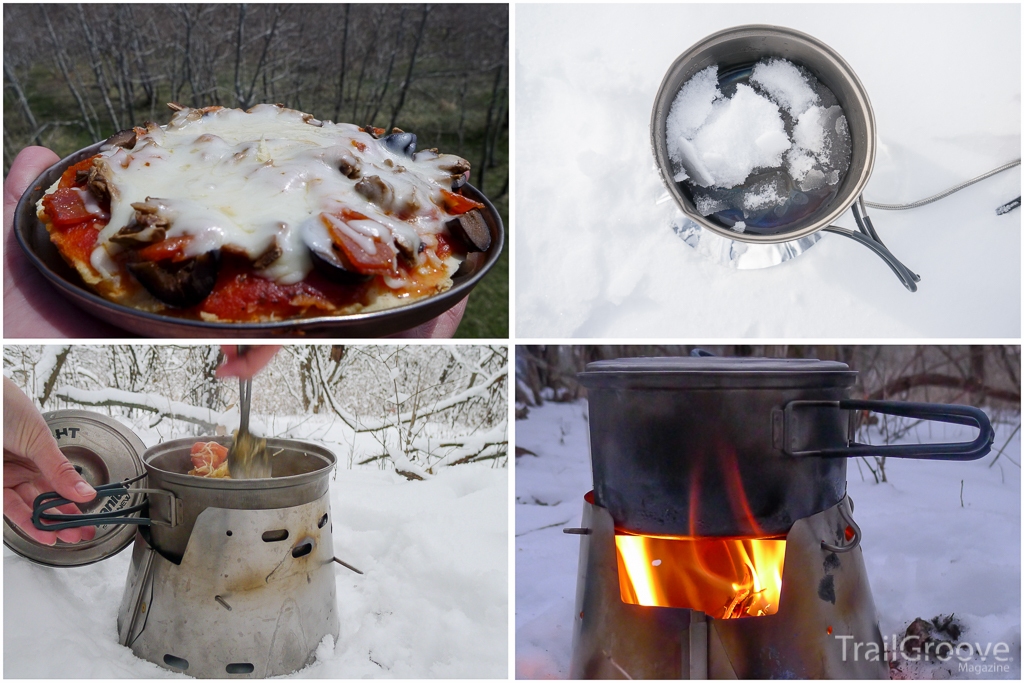 The Evernew Ultralight Series is a great choice for a variety of average lightweight backpacking conditions and applications - although the pizza in the upper left was baked in the 1.3 liter proving it possible, the thin walls may not be best for more in-depth and advanced cooking techniques.

The handles (which fold for packing) along with the handle on the lid both feature heat insulating silicone material so you can take care of cooking without having to find that bandanna to use as a pot holder. A small pour spout is integrated to minimize spills and to ease water transfer, and measurement graduations can be found on the sides. Evernew also offers the non-stick versions of these as well, but in my experience it's not needed, adds a little weight, and the coating requires care both in your choice of utensils and in your cooking technique to keep from scratching it.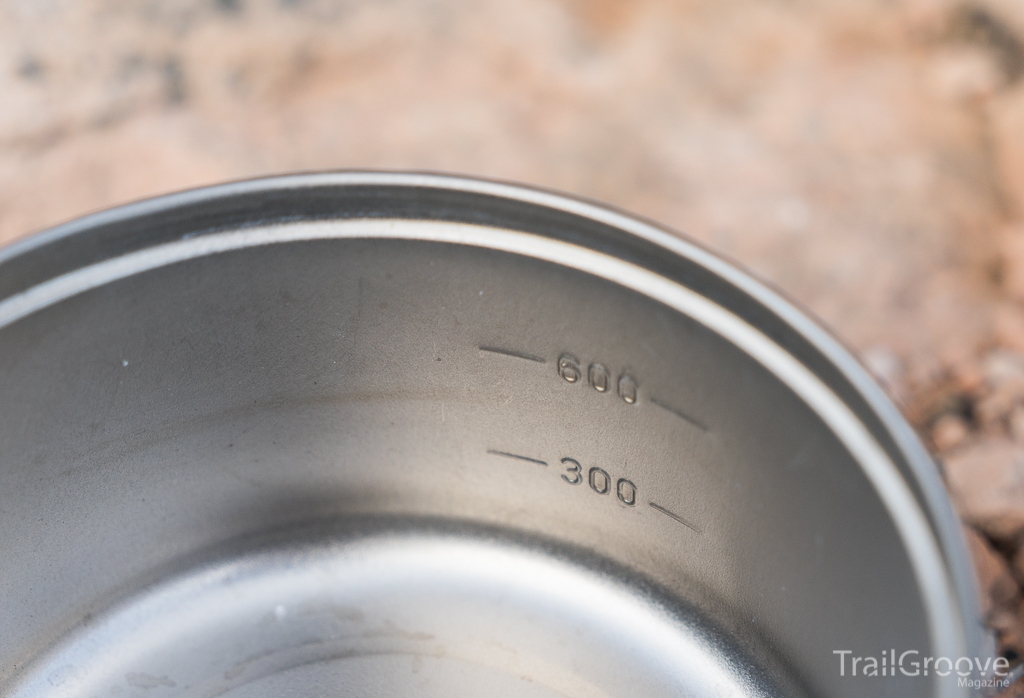 3 sizes are offered - a .6 liter, a .9 liter, and the largest 1.3 liter version. The .9 liter has been a perfect size for me for either solo cooking in the pot or for two when heating water and rehydrating freeze-dried or freezer bag style meals is all that's required. I will step up to the larger 1.3 liter version when cooking in the pot for two, baking experiments, or when melting snow for water in the winter. I've used these with alcohol stoves and mostly in that case with a Trail Designs Sidewinder Ti-Tri, but most recently I'm usually using them with a canister stove and usually the Soto WindMaster. With this stove, I'm also able to fit a small MSR 110 gram fuel canister in either size, and I'm able to fit a larger 220 gram Snow Peak fuel canister in the 1.3 liter upside down while still being able to close the lid.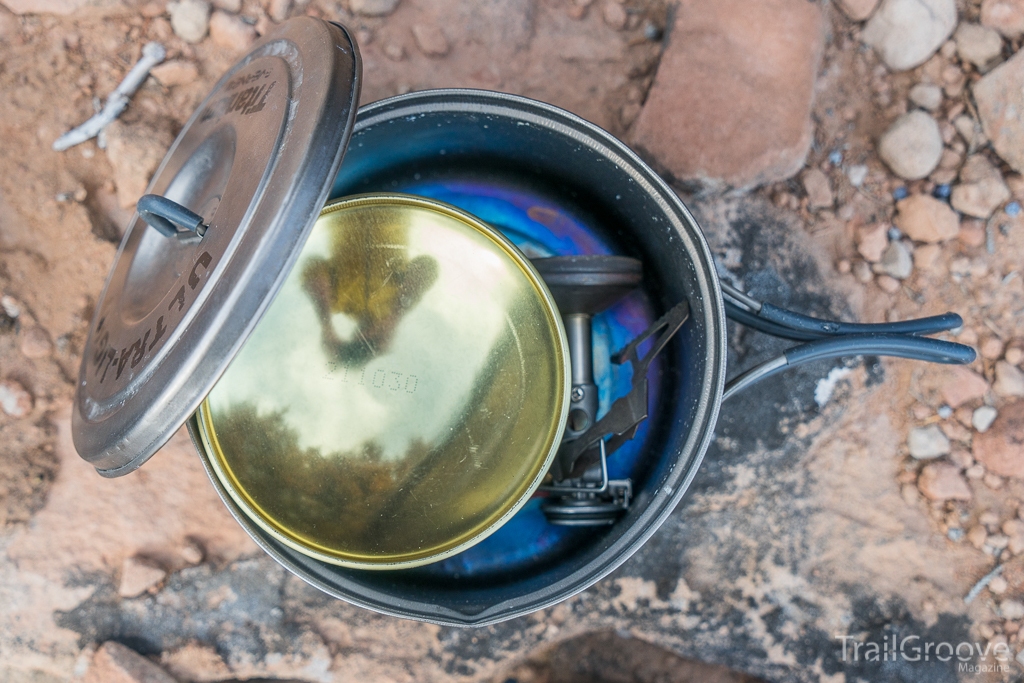 While the thin, scorch-possible walls of the Evernew pots might not be the best choice for the gourmet backcountry chefs among us or for your next morning huevos rancheros experiment on the trail, if you mostly need to heat and boil water, melt snow, or cook the occasional basic pasta meal or beans and rice in the pot like me (low heat and keep stirring!) the Evernew Ultralight series of pots are hard to beat. Throw in a long handled spoon (the Toaks is my current choice) and optionally some type of mug for coffee (my pick: the Snow Peak 450 – single wall) and you're set. Although the Evernew Ultralight Pots are a bit on the pricey side, they're also light, effective, and durable – always a great combination for the outdoors.
The Evernew Ultralight Pots can at times be hard to track down, but you can usually find them in all 3 sizes for around $50-$70 depending on size here at Amazon.com.
3