From Mexico to Canada: Thru-Hiking the Route In Between
---
Hikers love maps. Maps are more than just navigational aids – they're permission to let our imaginations run free. Maps inspire childlike wonder. We dream about what's around the bend. I've spent years staring at a map of long-distance hiking trails in the United States. The Arizona Trail runs north-south through its home state, as does the Idaho Centennial Trail. Between the two, there's a gap where no established trail exists.
The gap is not for lack of scenic beauty, however. The state of Utah is chock-full of amazing landscapes: iconic National Parks, little-known subalpine plateaus, and sweeping mountain views. In 2019, I set out to walk all the way through that marvelous landscape – a route from Mexico to Canada through the heart of the American west. This "Route-in-Between" (RIB) is sandwiched between the better-known Rockies to the east, and the Sierra Nevada and Cascades to the west. The RIB consists of three parts: the 800-mile Arizona Trail, a 1,000-mile connector I call the "Deseret Hiking Route", and the northernmost 700 miles of the Idaho Centennial Trail – 2,500 miles in total.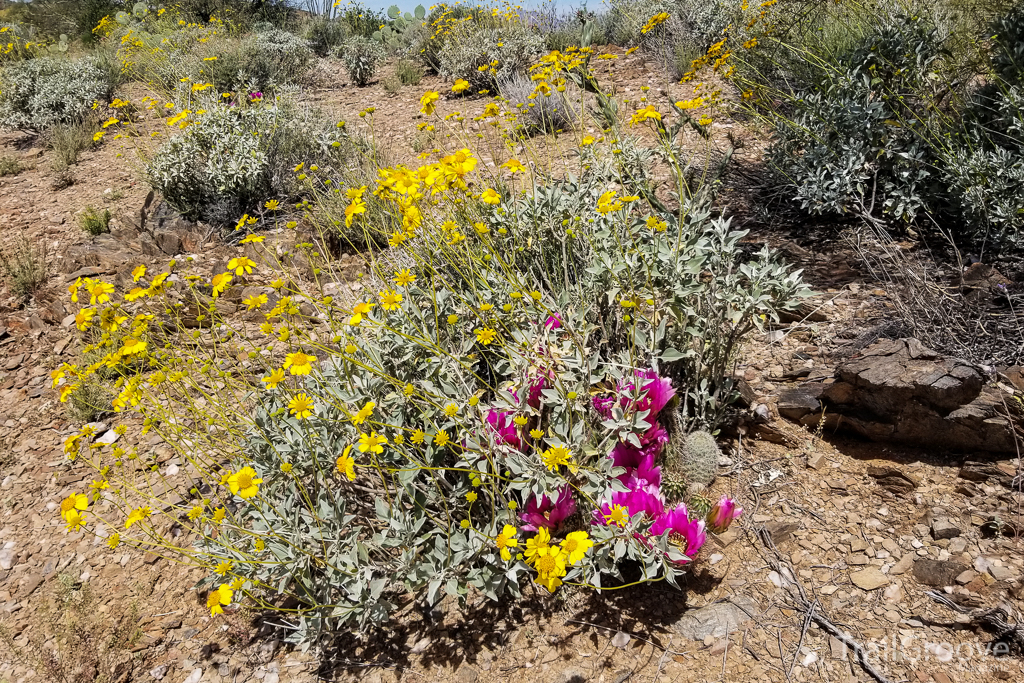 The journey began in late March on the Arizona/Mexico border in the upper reaches of a "sky island" mountain range. Sky island ranges, isolated from each other by the inhospitable desert floor, serve as a refuge for all sorts of plant and animal species, many of them endemic. A hiker can begin in saguaro cactus in the morning and climb all the way into pine forests by day's end. Southern Arizona is a land of big climbs and big views.
As I moved northward into central Arizona, I ran into an unparalleled wildflower bloom in the lower elevations. An unusually wet winter produced a banner year for the entire food chain. Multitudinous wildflowers meant more insects, lizards, snakes, and all the rest. On one occasion, I came across a Gila monster sunning himself in the middle of the trail and stepped off the trail to give him a wide berth. As I did so – bzzzzzzt! – a rattling came from the bushes. The rattlesnake poked his head out, tongue flicking in and out, and the three of us eyed each other with suspicion. As the only non-venomous guest at the party, I eventually decided to end the standoff and leave them to resolve their differences. I made a wide circle around them and continued on my way. I still wonder if the confrontation ended peacefully.
Northern Arizona brought higher elevations, cooler temperatures, and ponderosa forests. I skirted the San Francisco Peaks, home of Arizona's high point. Lingering snowpack emphasized that this had not been a normal winter. There was plenty of snow in my future. The Arizona Trail dipped down into the Grand Canyon and back up onto the snowy Kaibab Plateau for one last push to the Utah border.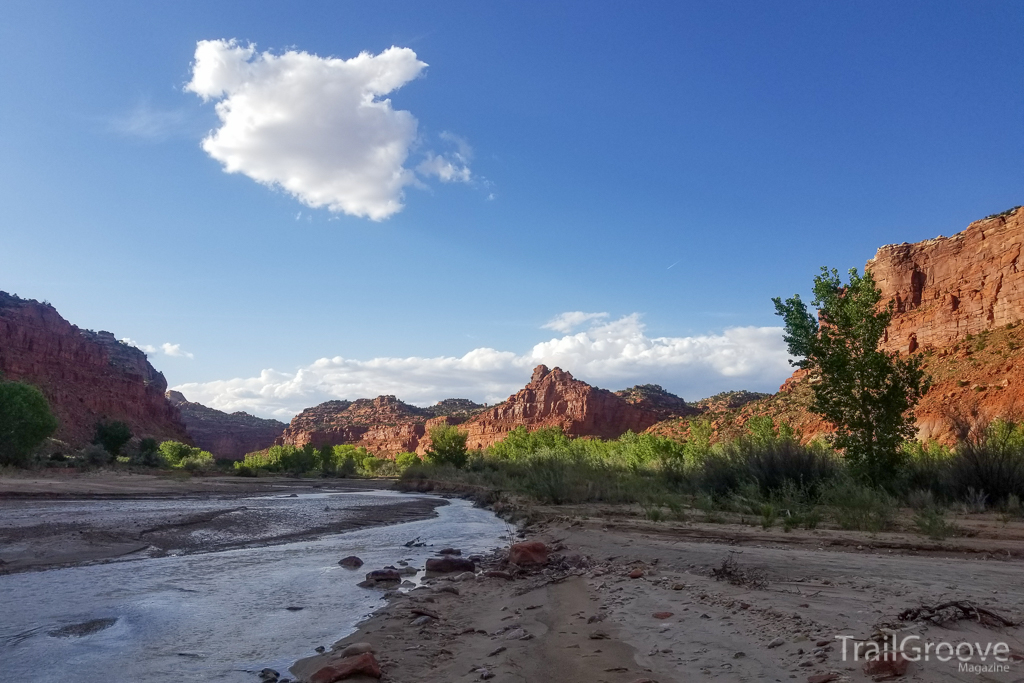 Upon reaching Utah, I left the well-marked Arizona Trail behind and hiked north using a combination of trails, dirt roads, and cross-country travel. As I headed north, I climbed through different geological layers that make up the famous "Grand Staircase" – vermillion, white, grey, and pink cliffs. I topped out on a series of high plateaus, largely above 10,000 feet. And I encountered snow – a lot of snow. In a normal snow year, the high plateaus of southern Utah have mostly melted out by late May. But in this record-setting winter, those plateaus were still buried – and the snowpack was growing deeper by the day. An unseasonable stormy weather pattern lingered over the intermountain west, bringing a new snowstorm every few days.
I hadn't expected quite this much snow. At this rate, I wouldn't even see bare ground for the next five hundred miles. It wasn't melting yet, nor was it consolidating. In fact, it was still getting deeper. My pace slowed to a crawl as I snowshoed across the plateaus. After many days of waiting out ferocious storms, dashing across a section of high terrain, and getting stopped by storms again, it was obvious: I had to take some time off and wait for spring's tardy arrival.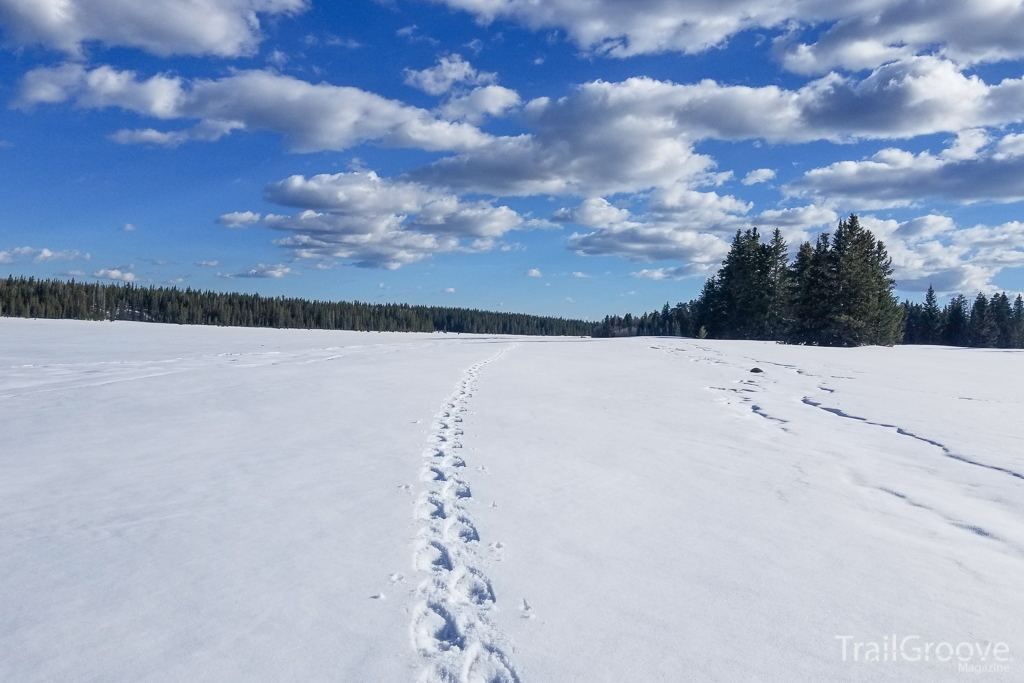 By the time I got back on the trail, June was giving way to July, and the snowpack was beginning to consolidate. I still did plenty of postholing, but at least I made decent miles each morning before the intense midday sun beat down on the pack, turning it into a soft mess. I hiked for many miles over the so-called "Manti Skyline", a beautiful transition zone between the subalpine plateaus of southern Utah and the Wasatch Mountains of northern Utah.
I entered the Wasatch just as the snow was melting off. I followed jaw-dropping ridgelines for many miles, enjoying expansive mountain panoramas and the Salt Lake City urban area below. I still had to use my ice axe once or twice per day, but it was clear that the worst of the snow was behind me. As a Utahn, I'm familiar with the Wasatch, but walking all the way through it, having come from Mexico, was a very special experience.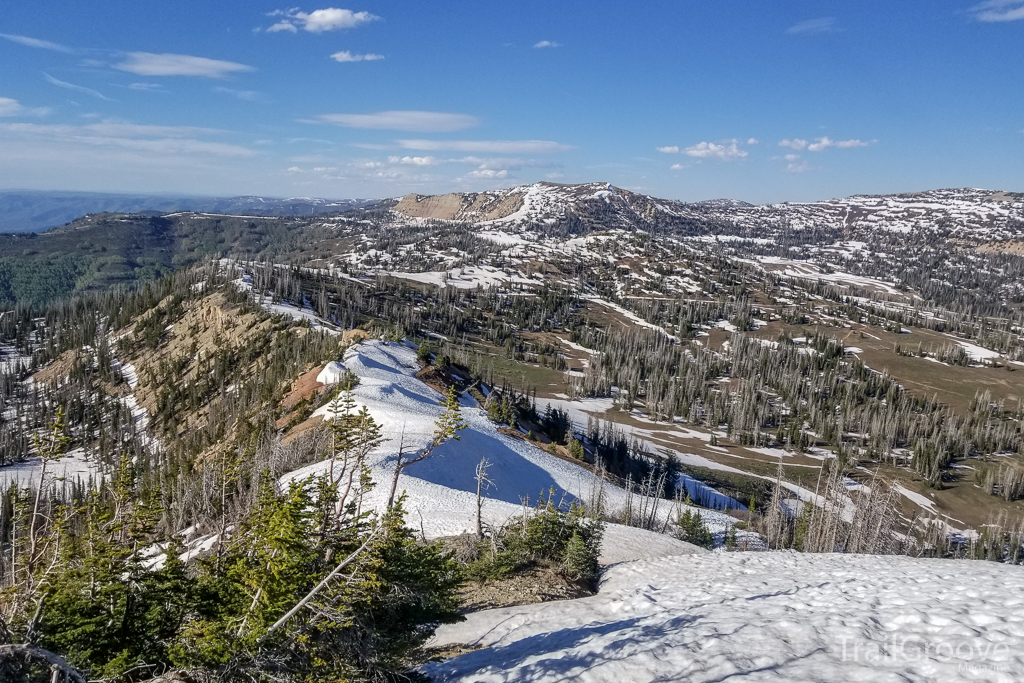 Southern Idaho was a different sort of beast. After having contended with snow for the better part of 500 miles, I now found myself in the lowlands of the Snake River Plain in mid-summer heat. Temperatures reached triple digits on a daily basis and I sweltered in the hot sun. Fortunately, I had planned a very direct route through the area (efficiency is key when water sources are few and far between), and within a week I was back in the mountains of central Idaho – the Pioneer and Smoky ranges. Shortly thereafter, my route joined up with the Idaho Centennial Trail for the final 700 miles to Canada. I hiked through the Sawtooth Range, one of the crown jewels of the west, where alpine lakes abounded. I also saw my first backpackers in many hundreds of miles.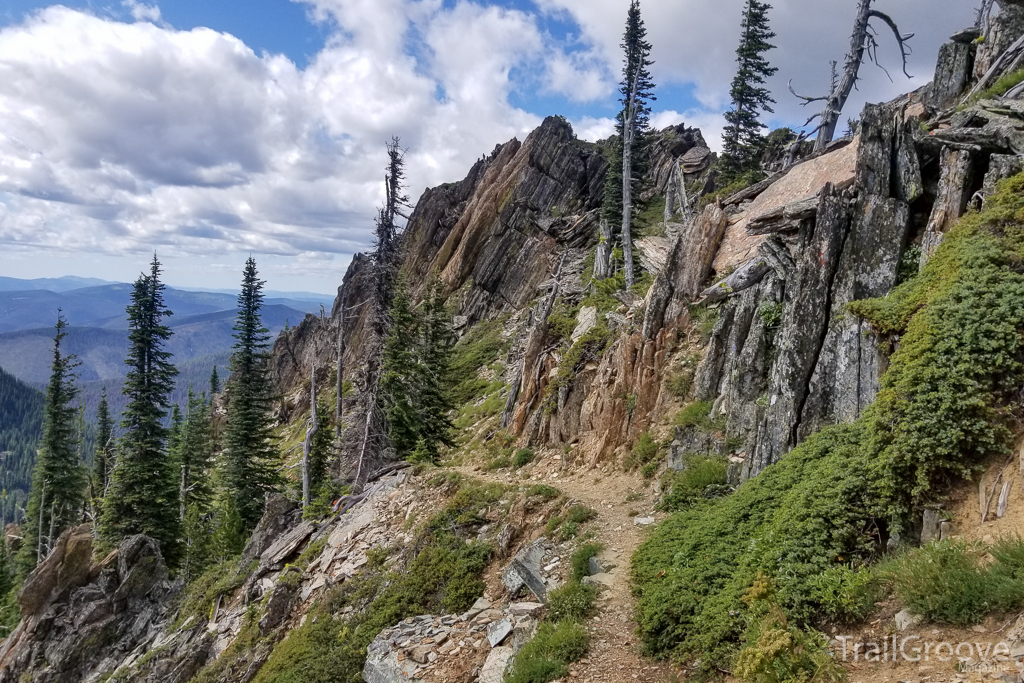 Heading north, I entered what proved to be the most challenging part of the hike. The Frank Church and Selway-Bitterroot are two of the largest designated Wilderness areas in the lower 48 – separated by only a primitive jeep road – and form a 300-mile stretch of unbroken solitude. Trail conditions through this stretch are downright rotten. Combine overgrown trails and burn areas with 5 days of heavy rain and lingering symptoms of Giardia, and you have a recipe for suffering. As I brushed up against wet vegetation, water fell off a thousand leaves, soaking me with every step. I pushed through thick, prickly brush for many hours each day. My shoes, constantly inundated, completely fell apart after only 3 weeks of use. This was my lowest point.
But along with the misery came magic. I saw multiple bears in the Frank Church, along with a lone wolf loping up a hillside in a river valley. And, most special of all, I caught a glimpse of a wolverine bounding away. The wildest place in America rewarded me with some amazing animal sightings.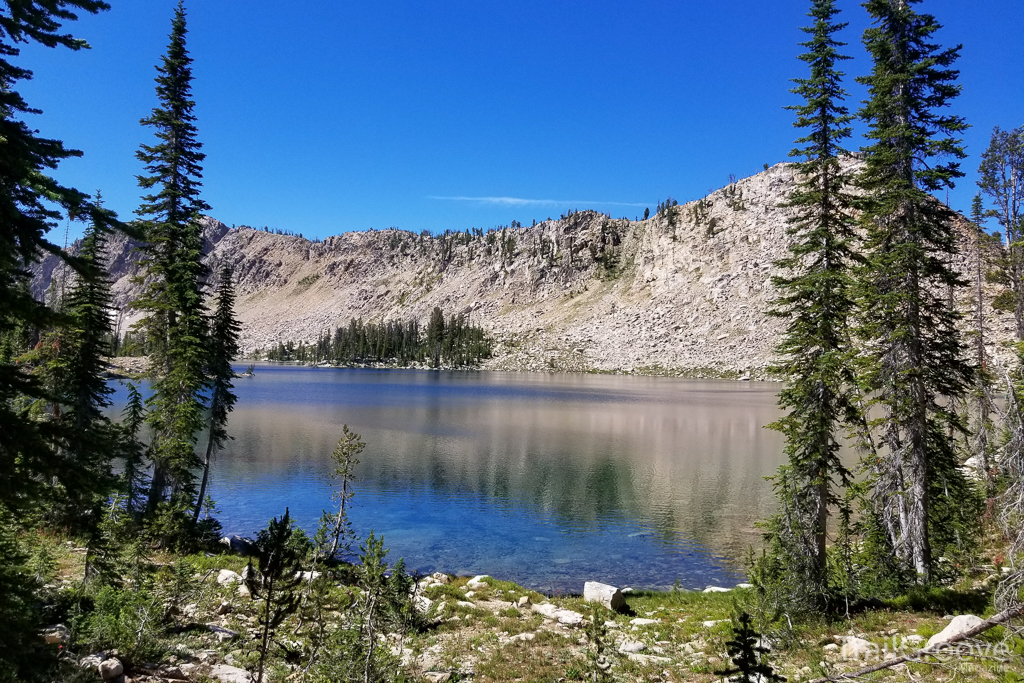 Central Idaho had been more "meaningful" than "fun". But that all changed in Northern Idaho. I cruised along relatively well-maintained trails for miles along the crest of the Bitterroot Mountains. Hundreds of sapphire lakes dotted the terrain below me, nestled up against the steep slopes. If this isn't the most beautiful terrain I've ever walked through, it's certainly close!
By now, August was changing to September. When I reached Mullan, ID, I took off a week to attend a family function. By the time I got back on trail, fall had impatiently crowded out summer, and the rain began. It rained every single day for the last eleven days of my hike. I had one sunny afternoon, where I frantically spread out my gear on the lawn of a small-town general store to dry it off. The scenery was probably outstanding in this section, but it's tough to say for sure because I was continuously stuck in the clouds with thirty-foot visibility.
The final leg of my journey involved a tough off-trail rock-hop between two gorgeous alpine lakes in the Selkirk range. As I descended from the Selkirks into the Priest River Valley, the high alpine splendor gave way to a deep, dark forest. Moss covered every available surface. Gigantic old-growth cedars towered overhead.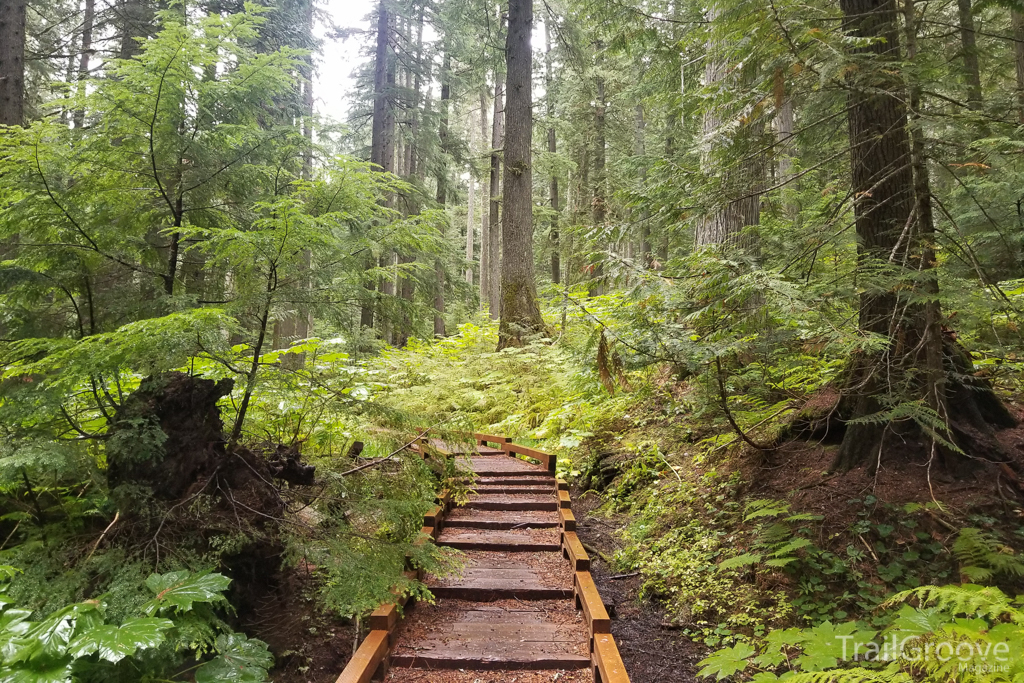 The trail ended at a waterfall a couple hundred yards south of the Canadian border. Weary yet elated, I plopped down on a rock, disregarding the pouring rain, and reflected on the journey. I had begun in a desert and ended in a rainforest. I'd traversed high alpine ridges and forested plateaus, obscure slot canyons and the famous Grand Canyon. I'd walked within eyeshot of a major metropolitan area and thrashed my way through the largest remaining wilderness in the lower 48.
The Route in Between was one of the tougher long-distance treks I've done. It was also one of the most beautiful ones, and probably the most rewarding. It contained all the essential elements of a once-in-a-lifetime adventure. What more could I want?

Information: The 2,500-mile Route In Between consists of the Arizona Trail (800 miles), Deseret Hiking Route (1,000 miles) and the majority of the Idaho Centennial Trail (700 miles). It is designed to be hiked in sections, or as a continuous thru-hike. It's a beautiful route that travels through diverse landscapes. Hikers should be prepared for challenges including infrequent water, vague or non-existent trails, poor trail maintenance, and stretches of road-walking. Backcountry permits are required in Saguaro National Park, Grand Canyon National Park, and parts of Vermillion Cliffs National Monument.
Best Time to Go: Northbound thru-hikers begin their journeys around the end of March, aiming to finish at the Canadian border before the snow starts to fly in mid-September. Southbound thru-hikers should begin their journeys in July, aiming to finish crossing the high plateaus of south-central Utah by mid-October. Section hikers can do the southern sections (Arizona, southern Utah) in the spring and fall, and the northern sections (northern Utah, Idaho) during the prime summer months.
Getting There: The southern terminus is accessed by a dirt road in the Coronado National Memorial, near Sierra Vista, AZ. Commercial shuttle services may be available. The northern terminus is located along the Priest River in Idaho's panhandle, an hour's drive north of the nearest paved road. Major access points along the trail, served by public transit, include Tucson AZ, Flagstaff AZ, Salt Lake City UT, Ketchum ID, and Sandpoint ID.
Maps and Resources: Multitudinous information is available for the Arizona Trail. A past TrailGroove article on the AZT from Issue 36 can be read here. A good place to start is the Arizona Trail Association's website, which contains maps, water charts, and a data book. Deseret Hiking Route information, including maps and water data, is available on my site – LBhikes.com. Idaho Centennial Trail information can be found on Idaho Parks and Recreation website – though hikers should be warned that even officially-sourced ICT information can be out-of-date.
About the Author: Kevin "LarryBoy" DeVries is an avid hiker based in Salt Lake City who enjoys everything from weekend trips to thru-hikes on America's long trails. Most recently Kevin has hiked the Florida Trail, the Route in Between, and in the summer of 2020, Kevin hiked 800 miles on the Greater Yellowstone Loop, a route encircling Yellowstone National Park and traveling through the Greater Yellowstone Ecosystem through Wyoming and Montana.
2