Solarpad Pro Ultralight Solar Panel Review
---
Now having tested several solar panels over the years that are marketed towards outdoor use and use on the trail – most of these stay stashed in the back of my gear closet, and are more likely to be something I might use during a power outage at home rather than actually depend on out on the trail. For hiking and backpacking purposes most of these panels are too heavy, just don't perform well enough, or have significant drawbacks like compatibility with one device, while not being compatible with another. Unfortunately, none of these USB solar panels have performed well enough where I'd be completely confident relying on them in the backcountry, and it made more sense to just carry a pre-charged powerbank if additional power would be needed on long backpacking trips. That is until I tested the Solarpad Pro 5W USB Solar Panel from a company called Solarcycle.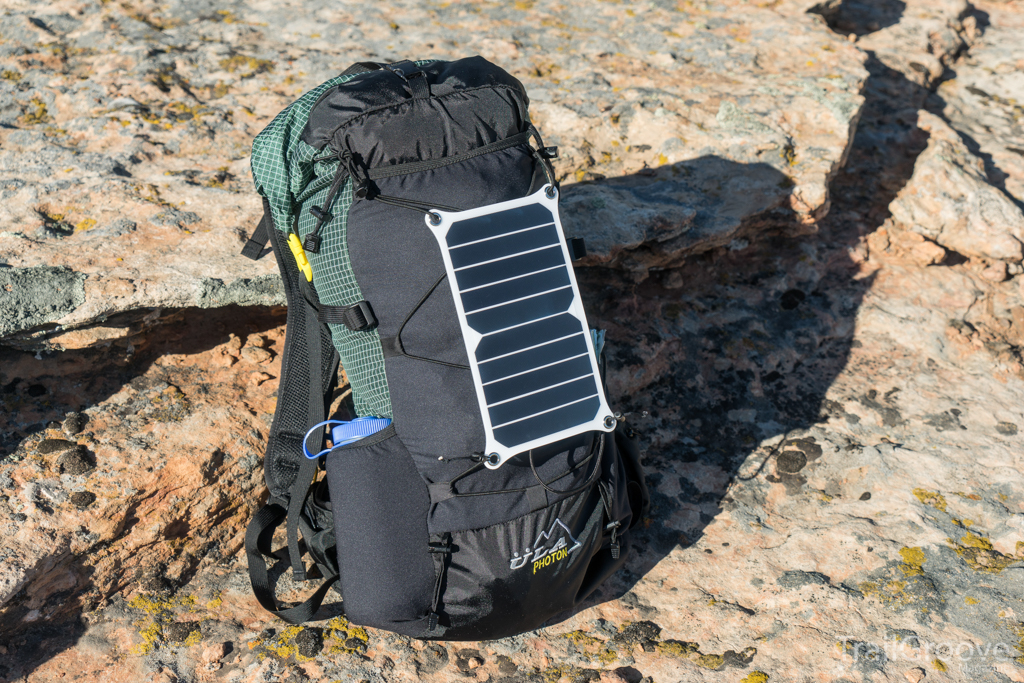 A backpacking solar panel is always an interesting weight vs. reward scenario – as the panel itself will of course add weight. But can you leave any spare batteries behind that you might have otherwise taken? If so, that can swing the additional weight carried quite low or maybe even negative. On top of that, you need to figure out if in place of a solar panel, if it would just be lighter to pack a powerbank. Keep in mind however, that you'll likely need a larger powerbank than you think after typical self-discharge and charging losses, typically about 40% – and this means a heavier powerbank. Thus, you can really split hairs here. Initially I held off on the Solarpad Pro – listed at 4.3 ounces, once I add in needed cables and a way to carry the panel the weight would get to be more than I'd really want to add to my pack. However, once I received the panel I found that Solarcycle isn't quite giving this panel all the credit it deserves – the true weight is 3.4 ounces. I assume that the listed weight includes the carabiners that are also included in the package or perhaps the weight was just transposed. The panel retails for $50.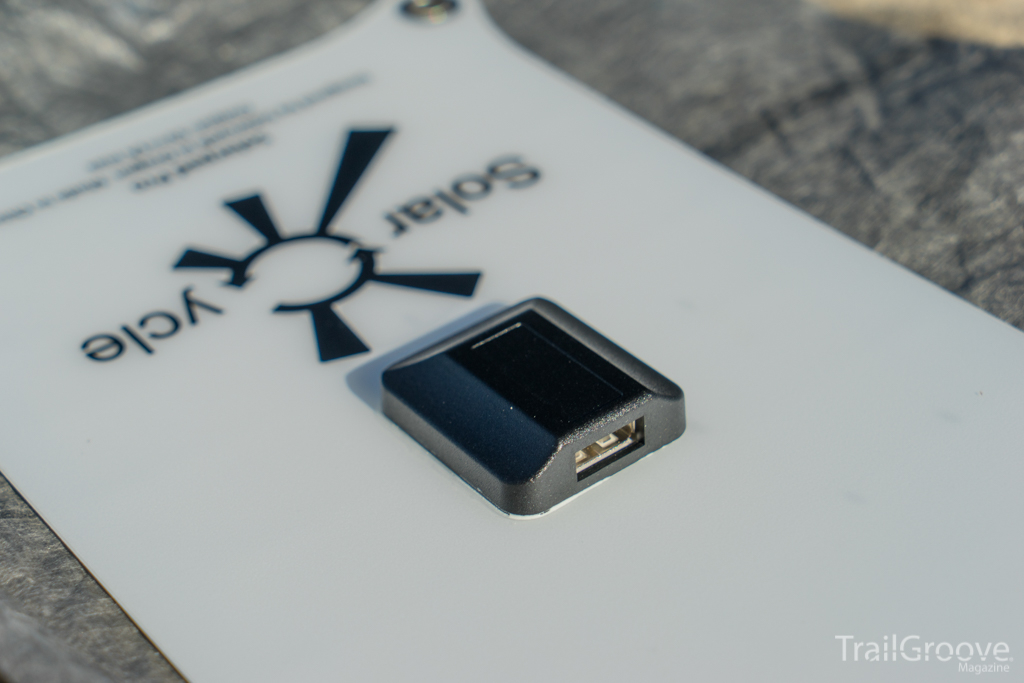 Not only is the panel lighter than expected, it's also quite sturdy and feels more sturdy in hand than something like the Lixada Solar Panel we've previously reviewed. The panel has more of a sturdy covering on the front – in the form of a laminated somewhat frosted surface, and the USB output is centered on the back of the panel. Metal grommets, 1 on each corner add a way to attach this to your pack. That's about it when it comes to the exterior design for the Solarpad Pro, though if it folded – it would be a nice bonus for packing. The manufacturer claims that the panel can output 5 watts, equal to a (standard) phone wall charger for example.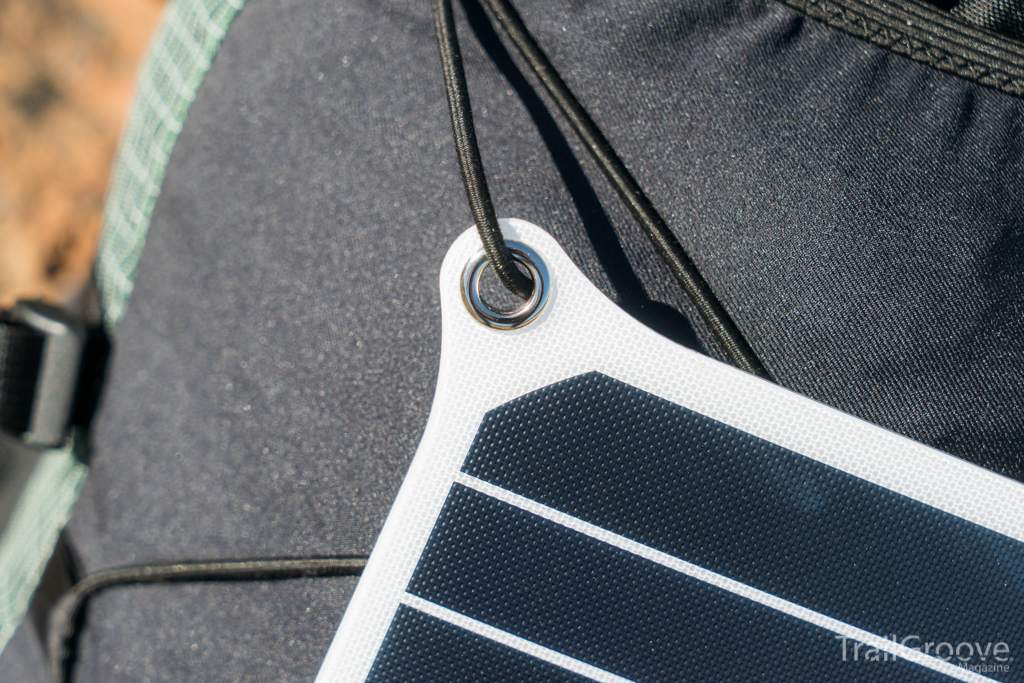 Read our Lixada Solar Panel Review for more on theory when it comes to backpacking solar panels, but with my backcountry electronic usage pattern – plus a pattern on trips where I like to spend some downtime for morning coffee, a lunch break, and preferring to setup camp around late afternoon or early evening rather than finding a spot by way of a headlamp after dark, I always have at least some spare time to set up a panel. Additionally, I'm able to stretch the charge of any device I take to around a week, or possibly more depending on the device, by way of navigating with a paper map and using my devices as little as possible. Aligning with the strategies that many hikers utilize to integrate solar on the trail, Solarcycle suggests using the panel to charge a lithium powerbank, then use that to charge your devices. For me however, this is not a preferred method if I can use the panel to directly charge a device. The powerbank just adds weight, complexity, and I'm not using my devices so much that I need find a way to charge all day as I hike in addition to possibly setting up the panel in camp.
However, this strategy does work well with the Solarpad Pro. Attaching the panel to my pack on a sunny day in an area without tree cover, and averaged between hiking in all compass directions, the panel will add about 10% to a 2500 mAh powerbank per hour. While stopped and with the panel aimed directly at the sun, I was able to boost this number to about 33% per hour to the same powerbank. Attaching the panel to your pack will require a little thought – you can use the provided (2) carabiners or do something like run a bungee through the grommets – the latter of which may just get it attached without adding additional weight.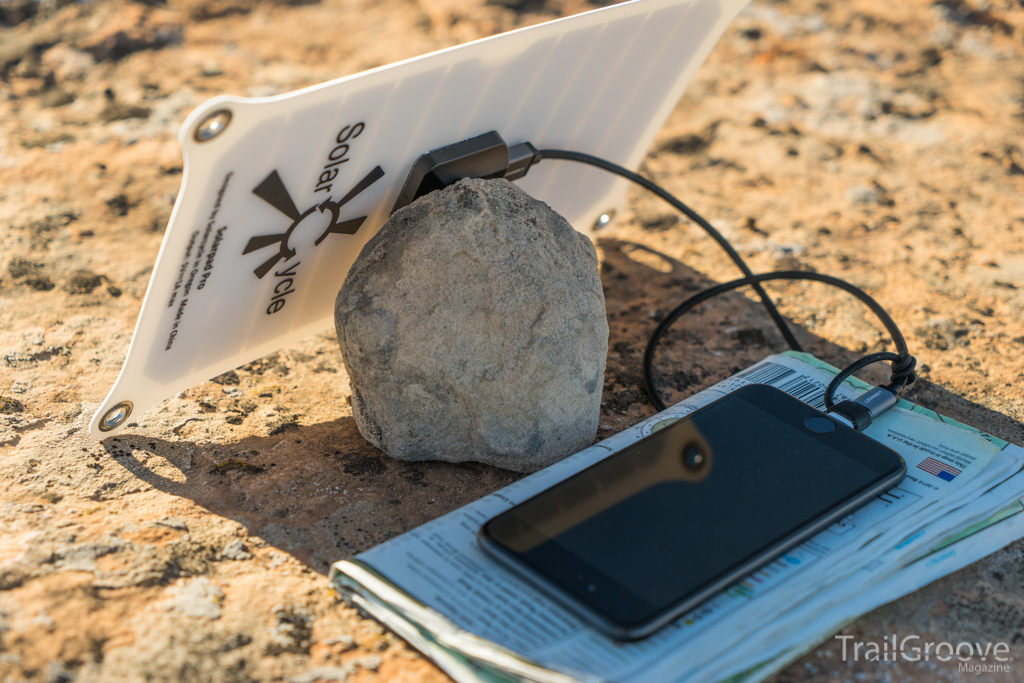 For me however, and while I prefer to not take anything since that saves the most weight, if I have to I'd rather take a solar panel or a powerbank, but not both. Testing direct charging on the devices that I normally take on a trip worked quite well. When aimed at the sun (not just facing upwards), the Solarpad Pro outputs a true to spec 5 watts (or just slightly over). This will add 44% charge to my InReach Mini in an hour and a 32% per hour boost to my camera. It can also charge my headlamp – which uses a rechargeable AA battery – if I bring along a USB battery charger to recharge the Eneloop AA battery I use in the light. My 2020 iPhone SE also works with the panel, but was the only device I had an issue with. Overall, it will add 44% per hour to the phone – but (on the first panel I tried) the charging would reset occasionally. I quickly found out I could disable "system haptics" to stop the buzzing every time the connection reset, and lower the screen brightness all the way down (along with the phone being in airplane mode) since the screen also lights up when this happens. This way, even if the connection resets, it doesn't cause much of an interruption and as an end result, you hook it up and leave it and it does charge the phone.
Assuming this was just a characteristic of this particular panel but in an effort to prove that theory, I also tested phone charging on a 2nd panel. Disproving my theory and also resulting in a nice bonus, the 2nd panel did not exhibit this behavior and steadily charges the phone without interruption. Additionally, this is one panel (as observed with both panels I tested) that will restart charging on its own if it's interrupted by clouds or other shade without having to unplug and reattach your phone to get things going again. This is definitely a nice to have feature – although at least in my experience, and while both panels I tested did work to charge all devices, I'd say it's worth testing everything you'll want to charge just to see if there are any oddities that may present themselves.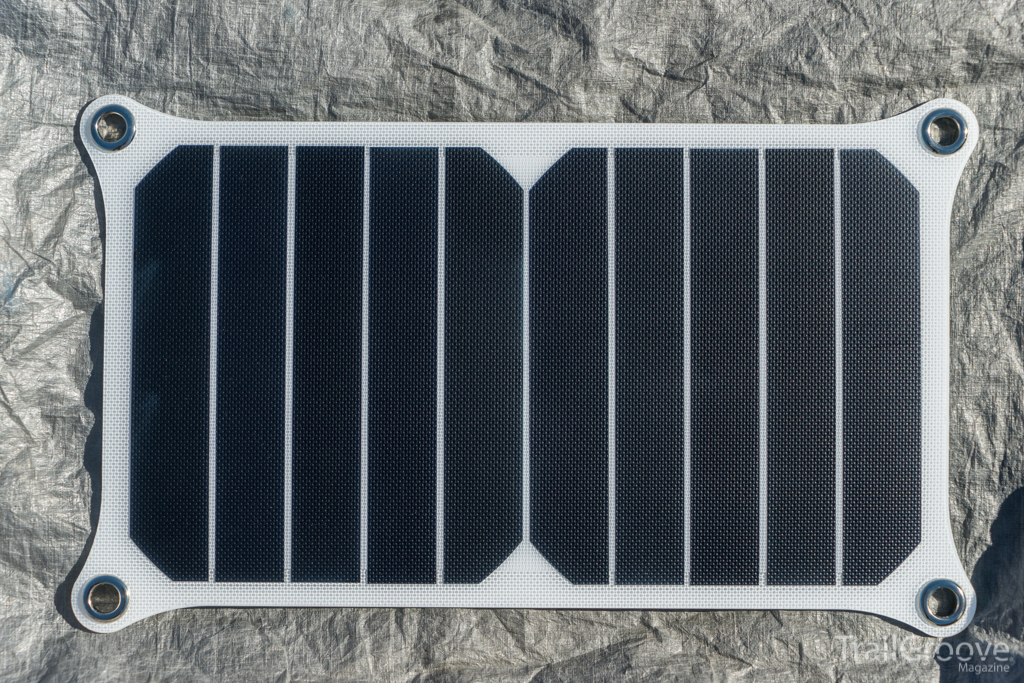 For packing the Solarpad Pro, a .6 ounce Zpacks Slim Dry Bag works great (the panel is pretty much waterproof, but not the USB connector). The dry bag works to protect the panel from rain and can be clipped on your pack, but it will also fit in a gallon Ziploc. You'll also need a USB cable, I use a 1.5' micro USB cable that is shorter to save weight, but long enough that I can move the devices being charged into the shade. This cable charges everything I have except my phone, so I add in a Lightning to micro USB adapter and a "Cable Cozy" to keep things organized. You can also find cables like this pre-made. Total weight for me – the panel, the dry bag, cable, and a small Ziploc (for the cable) all tips the scales at 5 ounces, with the optional AA battery charger adding another .75 ounces since my particular headlamp does not charge via USB. I can also leave a spare camera battery or two behind if I take the setup, saving 1.5 ounces each.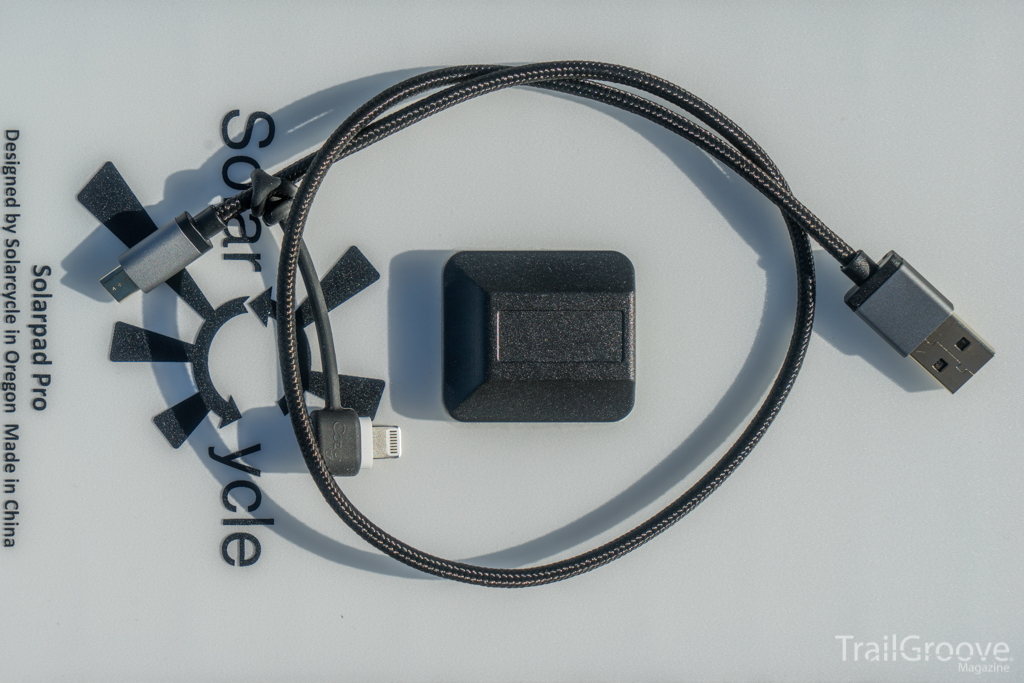 While the Solarpad Pro is the best performing ultralight USB solar panel I've come across – will I be packing it on trips? It depends. Fully charged before heading out, I can make it through weekend trips up to weeklong trips with relatively careful usage. And I do wish the panel had a more packable form factor. Where the extra power starts to make sense for me is on trips over a week, or on longer extended trips where you won't have, or don't want the hassle, of having to recharge during a resupply. All these factors will of course depend on your own electronic usage level on the trail, but if you hit that point where you're looking for ways to recharge on the trail, the Solarpad Pro is worth a close look – as long as the weather cooperates, of course.
The Solarpad Pro retails for $50 (although stock can be a bit intermittent). You can find it here at Amazon.com.