Some of the best things in life are the simplest. For backpackers, there is a pleasure in sipping hot coffee, tea or cocoa from a sleeping bag that borders on the divine. And behind such a simple pleasure is a simple piece of a gear: a kettle, pot or some other means of warming water. I upgraded from a lidless, stainless steel pot leftover from my brief time in Boy Scouts to the MSR Titan Kettle fairly early in my backpacking days and it has proven to be one of the best gear-related investments I made. As a college student it was a bit indulgent to spend $50 at the time (although I was further aided by a 20% off coupon at a local gear shop) on a lighter version of an item I already had, but the purchase is one I never regretted.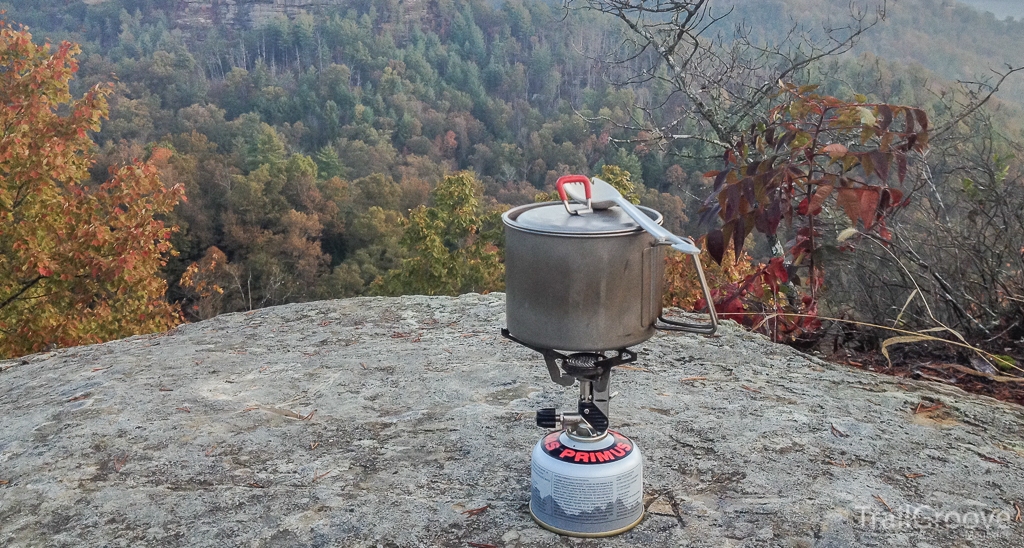 Looking back, it was also perhaps the catalyst for many other gear investments (strategically timed during post-season sales) as I realized what a difference lightweight, quality gear makes in a hobby like backpacking. Although the MSR Titan Tea Kettle now retails at $59.95 (apparently I should have invested in titanium when I was in college) it still weighs just over 4 ounces, has a .85 liter capacity, and is a piece of gear I'd recommend to any backpacker looking to build up their cooking kit.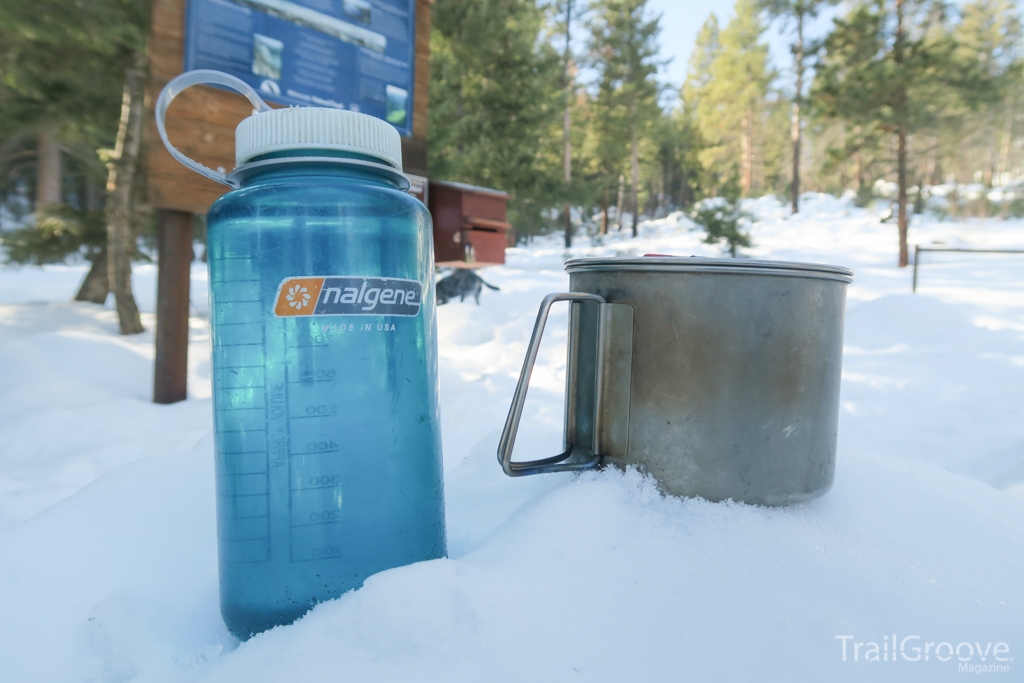 After almost ten years of using this kettle, it has developed a nice coat of character (about as close to patina as titanium can get) but has lost absolutely nothing in regards to function. The handles on the pot still swivel perfectly and the handle for the lid works just as it did when new. The thoughtful design features, such as the slot for the coated lid handle to remain upright so it can be easily removed to check on the contents and the tight-fitting lid and perfectly engineered spout, make this a piece of gear that is hard to imagine improving and the size (0.85 liters) is just right for one person.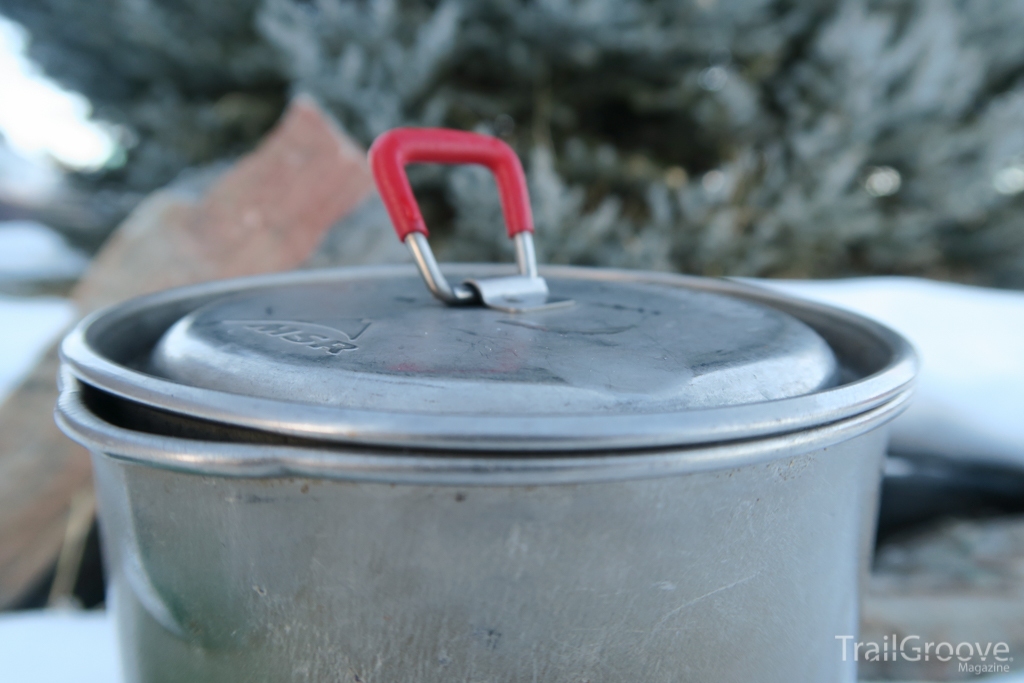 I've cooked hundreds of meals in this kettle, from pasta to curry to rice dishes, and although I've had to pay careful attention when trying certain backcountry culinary innovations I have never had any issues with food sticking or burning (aside from issues resulting as a result of my own negligence). Adding a bit of extra water helps reduce any issues of burning or sticking, as does being conscious of how hot the stove is burning. I've used this kettle primarily with a canister stove (Primus Micron, an MSR Pocket Rocket, or similar) but also with a liquid fuel stove during winter trips. When using a canister stove, a small fuel canister can easily be stored inside which saves spaces in your pack. Its squat design seems to allow for a fair degree of stability on any stove, especially when compared to taller pots that I've seen my backcountry companions use. In my years of experience I've only managed to knock it over twice and both times were completely my fault.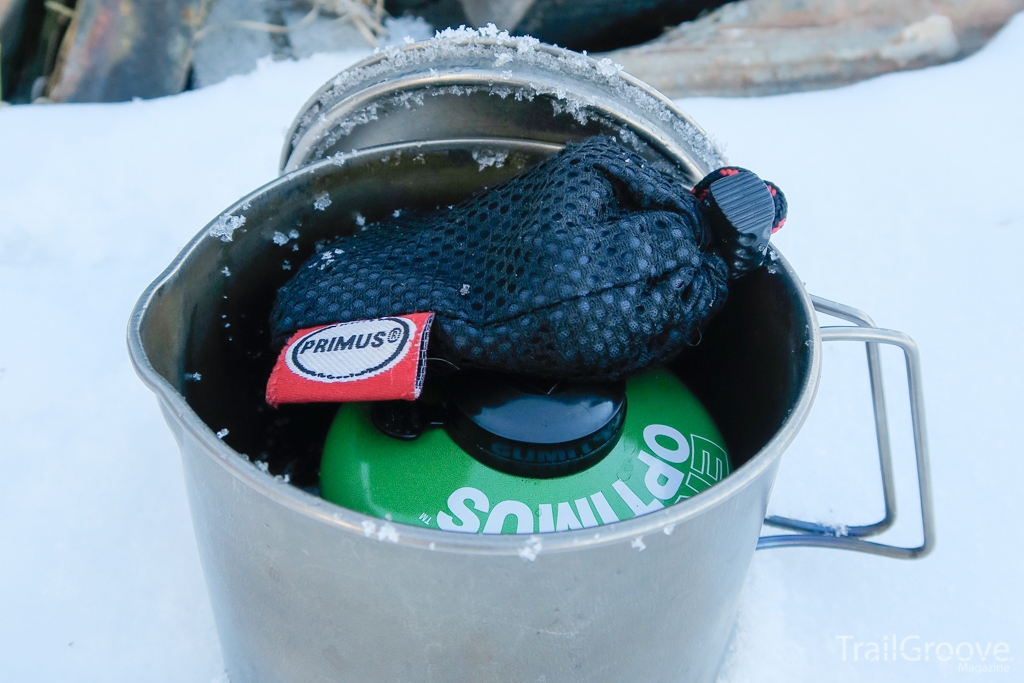 While my recommendation for this product is unequivocally enthusiastic, there are a few common sense items worth pointing out that for the most part will apply to all similar pots. One is that the handles for the pot do tend to get very hot when cooking, especially if wind is whipping the flame around. I keep a small piece of a bandana around to use to protect my fingers when picking up the handles (I just fold it a few times and use it as a barrier) and this also double as a napkin.
A second comment is that there is minimal insulation provided to the contents by the titanium. Water boils quickly and food can be prepared rapidly (such as pasta, which tends to beat the "suggested cooking time" by a few minutes), but in cooler temperatures the meal in the kettle loses its warmth without much delay – especially noticeable if the temperature is below freezing. Generally this hasn't been a problem for me, as I inhale my food as soon as it's at a marginally safe temperature – wise to do so, but if you're the type that likes to eat a few bites, then stare at the clouds for a minute, then eat a few bites, then read a page or two of a book, you might be wishing you had a microwave with you to warm up the last half of the meal in colder weather. Keeping the lid on and wrapping the kettle and remaining food up in a scarf or piece of clothing can help retain the warmth but I've rarely had to use this tactic.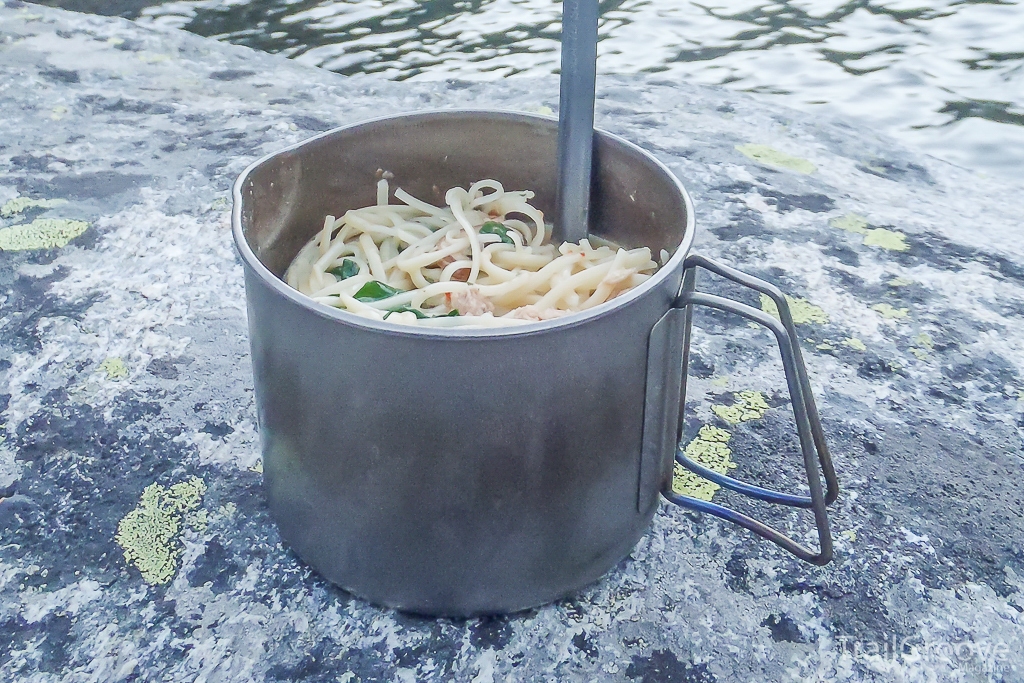 Lastly, there is no nonstick coating on this kettle, which is nice because it means you don't have to worry about your fork scraping a coating off, but it does mean that if you burn some food in the bottom it will take some soaking, scraping, and scrubbing (best done at home) to remove it.
I tend to be fairly loyal to my backpacking gear and this is one item that has my unabashed devotion. The functionality, the durability, the purpose – any item that helps get food in my stomach automatically earns my affection – there are really no major flaws or drawbacks that I've noticed in almost a decade of use. This is one piece of gear that I feel like I've bonded with more than others, given the food and beverage related memories I've created with it. If I ever do end up replacing it, most likely with another MSR Titan Kettle, this one will be going up on the mantle to remind of the meals I've enjoyed in Montana's mountains, Appalachian forests, and Atlantic beaches over the years.
The MSR Titan Kettle retails for $60. Find it here at REI, at Backcountry.com, and on Amazon.com.
2