REI Co-op Minimalist GTX Mittens Review
---
When you inevitably find yourself getting miles in during cold and wet weather on any hiking or backpacking trip, we all of course reach for our rain gear to stay warm and dry. One item that can be overlooked however is protection for our hands: which are especially susceptible to getting chilled quickly. Of all options I've found a lightweight waterproof rain mitt to be the best option in these situations, which can be worn over liner gloves for a complete 3-season layering system that will keep your hands and gloves dry and warm on rainy days. In the past such a solution has often been a niche and hard to find item, but in recent years and fortunately, more options have become available. One such option can be found in the Minimalist GTX Mittens from REI Co-op.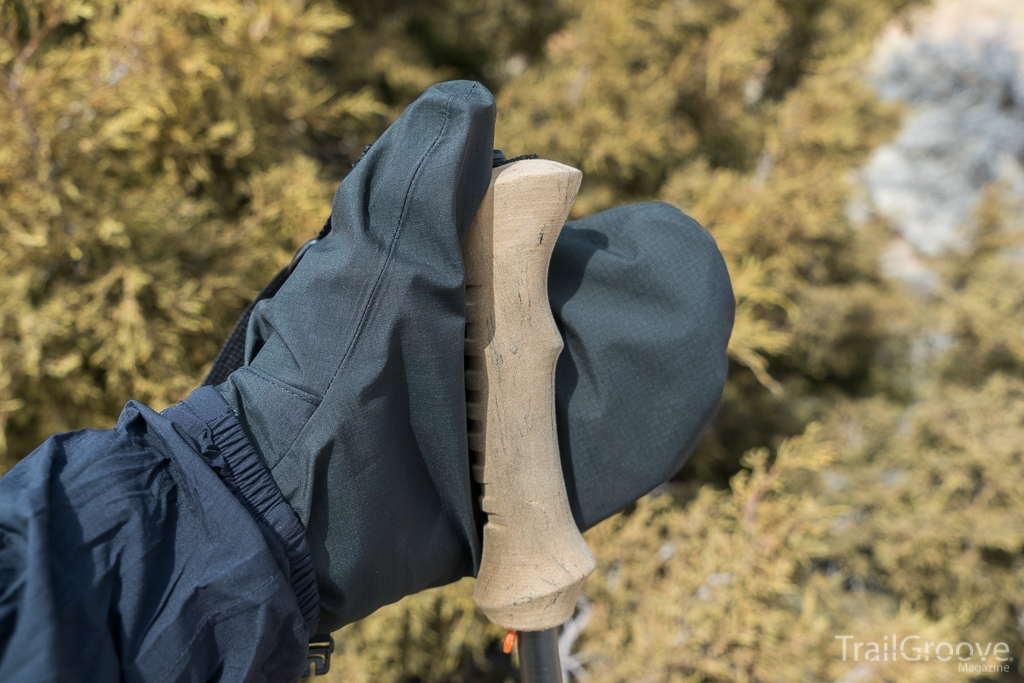 The REI Co-op Minimalist Mittens are a lightweight, waterproof / breathable over-mitt solution, with waterproofing obtained through the use of a Gore-Tex membrane. The mitts are offered in 5 unisex sizes, and feature a hook and loop / Velcro style closure around the wrist. My size large weighed in at an extremely light 1.75 ounces for the pair. Sizing wise and according to the size chart I could have gone with a medium, but opted for the large and am glad I did – after trying them on I considered returning for the extra large as well. If you'll be using these with a liner glove underneath (100% of the time in my case) I would suggest sizing up 1-2 sizes from the size chart, and on the higher side of that if you'll be utilizing trekking poles (holding a trekking pole will make the mittens tighter across the back of the hand and take up space in the thumb). In any event the large size is workable for me with light gloves on underneath and the mitts are slightly narrow for the hand in width and volume, but perfect for my fingers lengthwise. Thus, if I went up in sizing it might be perfect in other areas while throwing others off. But these aren't a custom made item after all, so we'll have to deal with some sizing compromises. They wouldn't fit well with winter style gloves underneath, but for 3 season backpacking, a thin liner glove combined with a waterproof shell mitt is all that I've ever needed.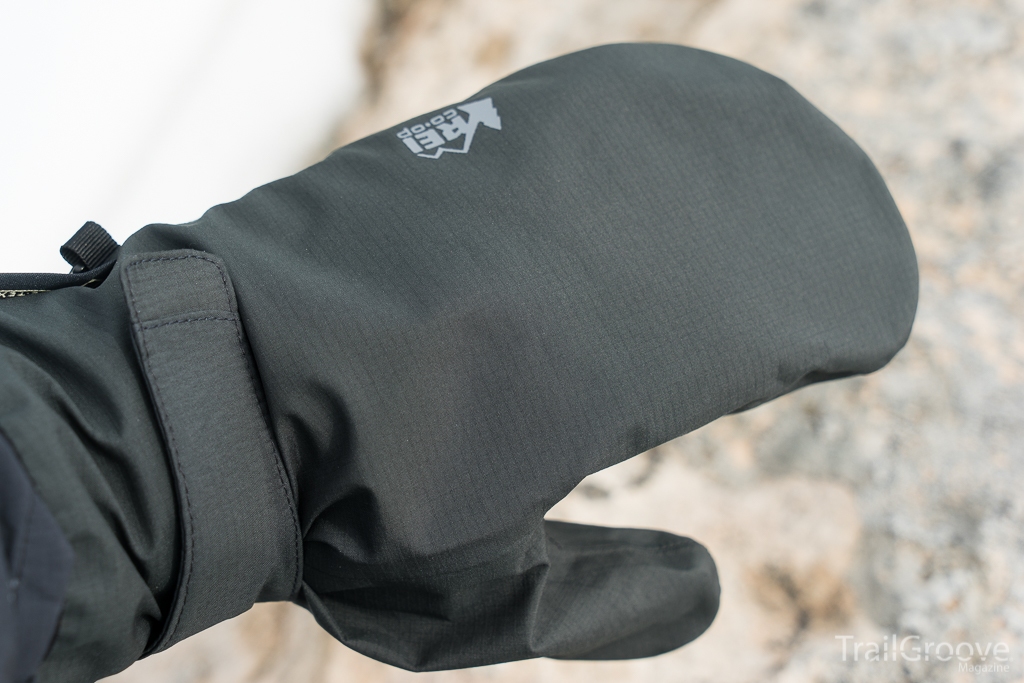 Despite being such a nice item to have when you need it, shell mitts are something that somewhere above 95% of the time, stay in my pack. Thus we want something lightweight and at less than 2 ounces the REI Co-op Minimalist Mitts fit the bill. Being waterproof, the mitts are also windproof, so can be deployed to keep your fingers warm and to beat windchill even in dry conditions. I've also found rain mitts to be useful in dry, mild conditions when the water you'll be filtering in camp is ice cold. The seams on this mitten are taped and indeed, the mitts have proven to be fully waterproof but remain sufficiently breathable even in those milder temperatures.
The hook and loop wrist adjustment works well enough, although any type of hook and loop / Velcro can be a little grabby when it comes to gear…elastic and a cord lock would be an upgrade in my mind, and it would definitely be a bonus if the length of the mittens extended further up the arm for easier and more secure overlap with rain jacket sleeves. In my case, and while I usually prefer to have my rain jacket sleeves go over the top of a shell mitt, the REI Minimalist Mitts are just a bit too short for this arrangement (sleeves will eventually work themselves off the mitt), generally with these mitts placing them over the sleeves is most secure. Of course, this will vary depending on mitt size and your rain jacket. As a bonus the gloves clip together when not in use, so you can avoid the situation of having one mitten in 2 separate places. For packing, the mitts compact to around the size of a tennis ball.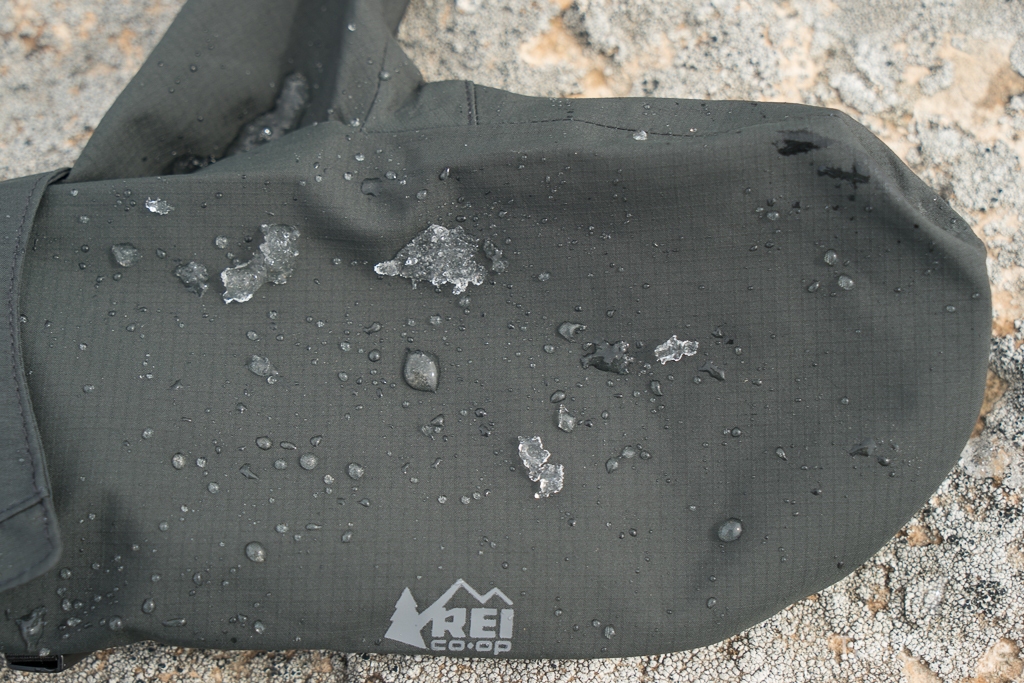 Overall the REI Co-op Minimalist GTX mittens are a nice off the shelf lightweight option that accomplishes the task of keeping hands warm and dry without weighing you down, with reasonable compromises and at a reasonable price. You can find the mitts here at REI for about $45. For more on backpacking and hiking in the rain, see this Issue 38 article.