Cutthroats and Cascades: Spring Hiking in Montana
---
There are certain trails which, when hiked in certain seasons, can be so blissfully pleasant as to seem almost otherworldly. Each step is a pleasure. Every view is breathtaking. The scents of the forest are almost intoxicating. Chirping birds, chattering squirrels and rushing creeks create a soundtrack that is almost orchestral. Spending unhurried time in nature seems to be one of the most refreshing things humans can do for themselves and one of the few activities which consistently pays out rewards greater than the time and effort entered. With an eye towards those indescribable and abstract rewards, I headed to a favorite trail in the Bitterroot Mountains for a quick overnight trip.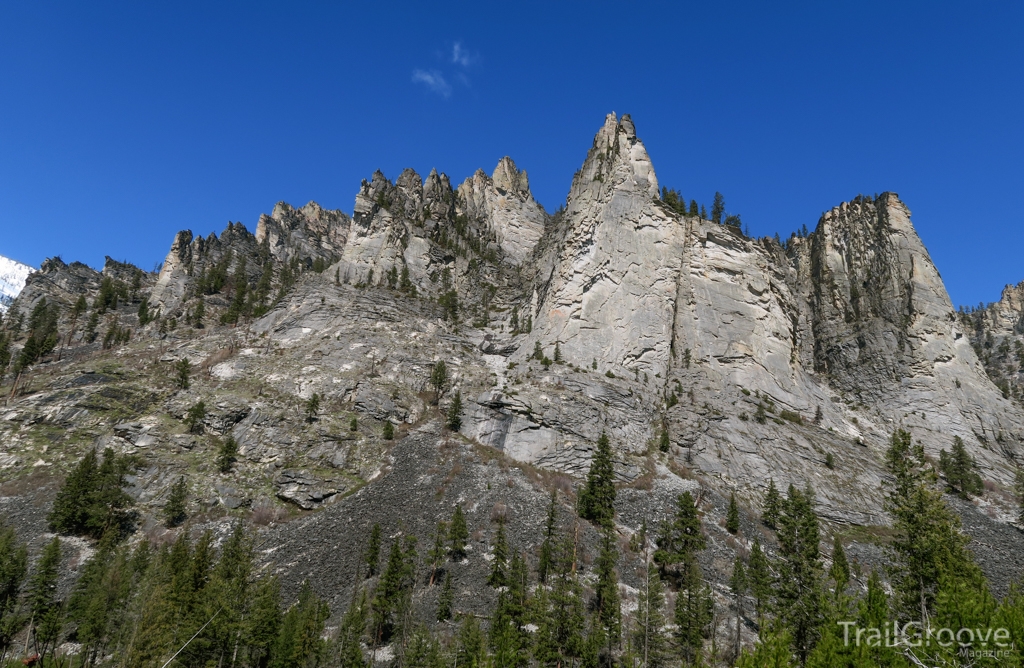 Multiple waterfalls, a distant natural arch, innumerable eye-catching rock formations, dramatic cliffs, and a charming campsite beside a cascade conveniently located at the edge of the snowline made the first five miles a fantastic early season hike that left little to be desired. Since I knew hiking any further than the campsite would involve treacherous and unpleasant postholing (which I'd had enough of on a prior trip to the Welcome Creek Wilderness), I walked with a complete absence of haste and fished at two appealing pools without success. These breaks served as a nice refresher in tying and untying knots and generally reassuring myself that I could still manage to get a fly onto the water more often than in the branches of riparian trees and shrubs (although that ratio could stand some improvement).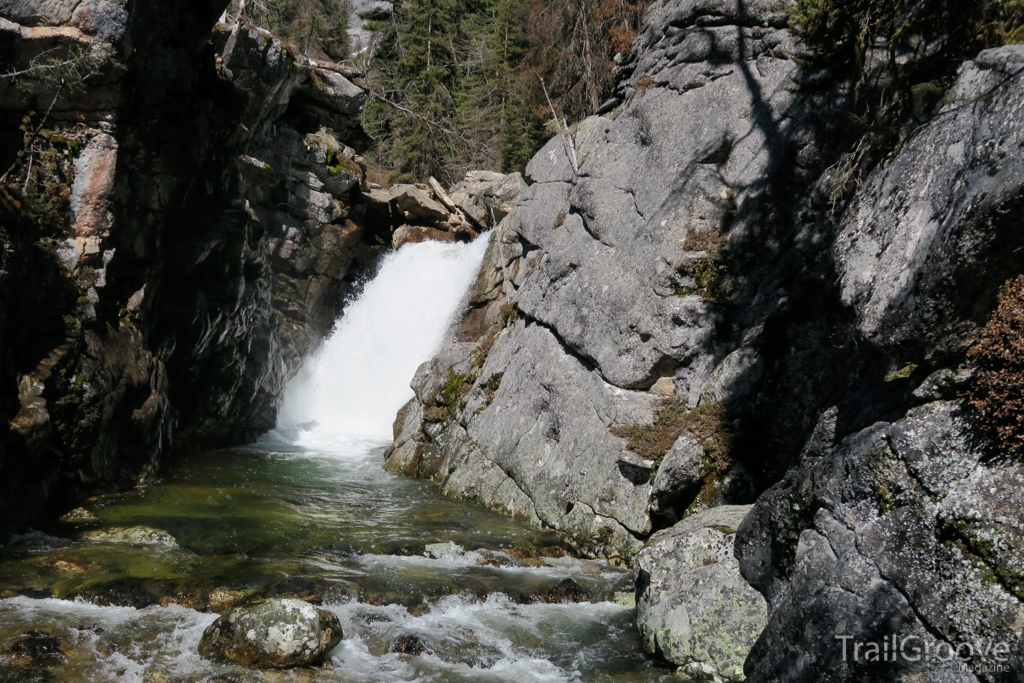 Before packing up after my second attempt at fishing, I paused to appreciate the sound and movement around me. The creek roared through the rugged canyon bottom and reverberated off the cliffs that jutted out of the north slope; birdsong filled the air; the forest seemed to hum with the energy of spring. The sun was warm on my face, yet a chilly wind blew down the canyon from the higher elevations where it was for all intents and purposes still winter.
I strolled across talus slopes, relishing the complete exposure to the sun, and through dense coniferous forest that diffused the light into a soothing illuminative force that emanated from nowhere in particular. I crossed several small seasonal channels that emanated an urgent verdancy, as if they knew they would dry up once the snow melted and the relentless summer sun beat down. Some sections of the trail were still covered with firm snow that made for easy hiking, but for the most part I was walking on dirt. This allowed me to make good time and even with the breaks for fishing I found myself at the first large waterfall on Blodgett Creek. I'd camped near this waterfall, which blasts through a narrow chasm, twice before but had decided to push up to a second waterfall that cascaded rather than plunged and camp there instead.
I arrived at my destination just as the afternoon began its long downhill stretch to dusk and busied myself with the mundane yet joyful chores of setting up camp and establishing a home for the night. Given the nonthreatening forecast – negligible chance of precipitation, highs in the low 60s, lows in the upper 20s – I opted to bring a tarp and bivy sack shelter system with me on this trip. I usually relegate this system to my bikepacking trips, but figured I'd take it along and enjoy a lighter load. As I struggled to achieve appropriate tension in the ridgeline of the tarp and realized I would need a jackhammer to get stakes in the rocky ground, any satisfaction in weight savings had shifted to frustration. Finally, 15 minutes longer and a dozen more curse words than it would have taken me to set my solo tent up, I had managed to cobble together a reasonable excuse for a shelter using rocks to anchor out the guy lines. Needless to say, I was reminded of exactly why I had exited the tarp phase I briefly entered a few years back when experimenting with ultralight backpacking. When a piece of gear takes twice as long to erect and seems to require a background in trigonometry and structural engineering, offers two-thirds the protection, with its primary redeeming factor being that it weighs half as much (but causes three times the headaches), I struggle to think of it as a superior piece of equipment.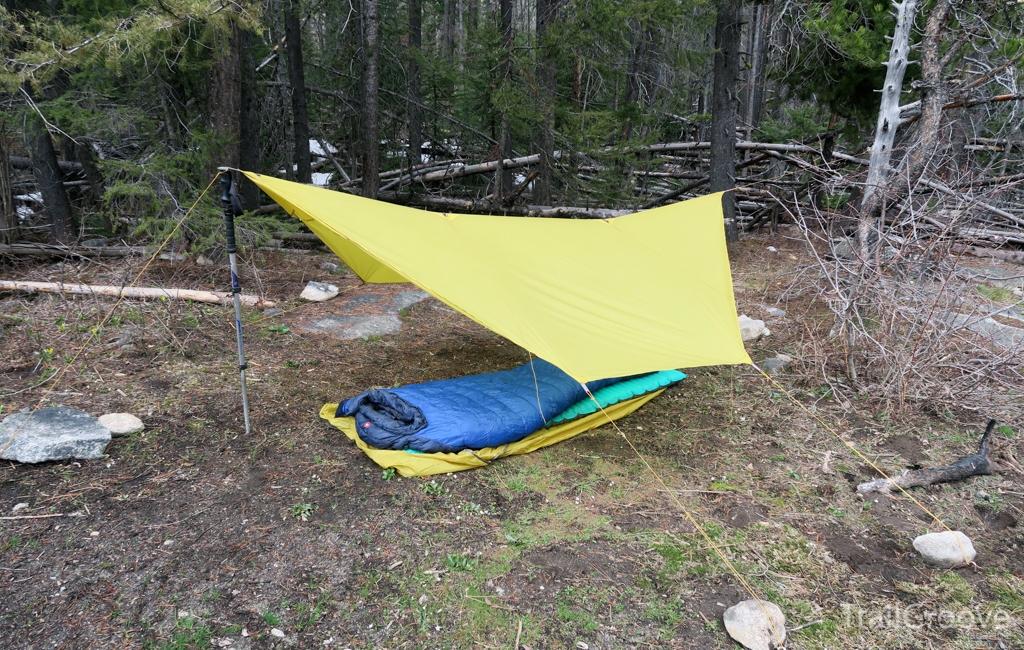 After my battle with the tarp was complete, I gathered water for the night – a task in which my chances of immediate success were fairly high. Filling up my bottles and water bladder beside the cascade was exhilarating. Spray from the rushing stream misted up and shifting winds occasionally blew it across my face. The cascade produced a cacophony that was an audible equivalent of the myriad and enchanting drops, rapids and sluices that were so visually enchanting. Such unanticipated moments of immersion and bliss were perfect reminders of backpacking's inimitable appeal.
An abundance of dead and downed wood, a readymade fire ring, and the slight chill in the air made not having a fire seem almost sacrilegious, so I set about gathering and sorting various limbs and branches. In only a few minutes the necessary piles of kindling and wood of increasingly larger diameters was assembled and, after a brief snack, felt like I could dedicate much of the rest of the evening to leisurely exploring around camp, reading, and casually soaking up the atmosphere. These activities, with a significant amount of time devoted to photographing the landscape, occupied me until my stomach compelled me to light the stove and make a simple but filling dinner.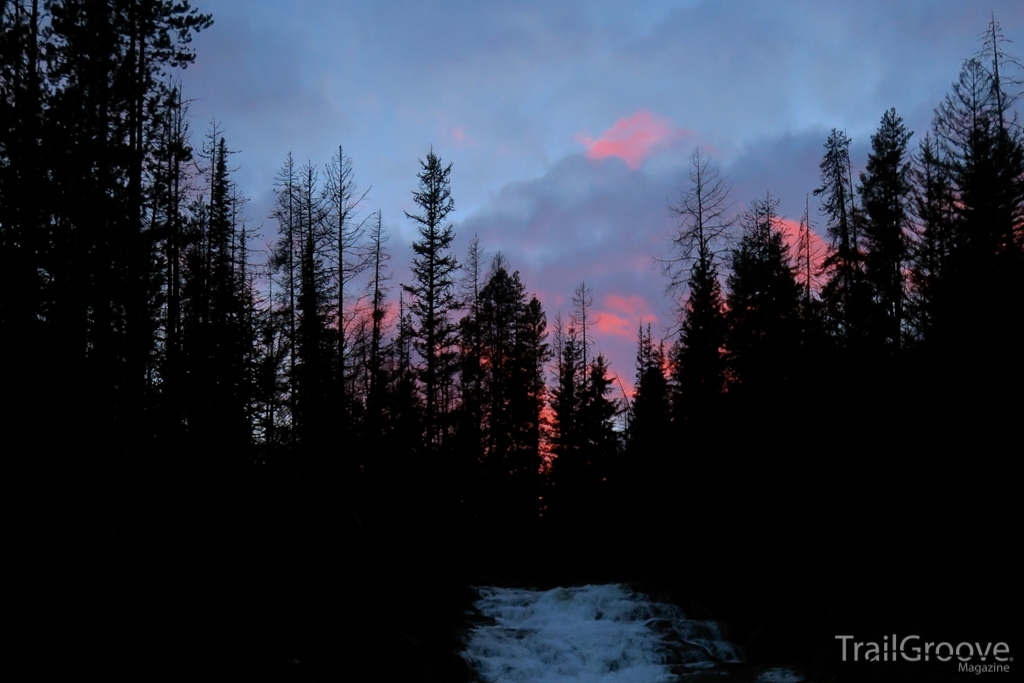 With a full stomach and a light heart, I struck a match and lit the fire just as the sun began to fall behind the mountains at the head of the canyon. Once the fire was stable, I brewed up some tea to enjoy while I read "Leaves of Grass" by Walt Whitman. I felt a bit guilty taking the vintage (1900) edition of this book of poetry with me, but poems such as "By the Bivouac's Fitful Flame" made me feel like the book was more at home out in the woods than on a bookshelf and that it was perhaps the most perfect companion for this particular trip. Flames, poetry, and the pleasant feeling of bare feet warmed by coals under a starry sky led me to delay retiring to my sleeping bag until it became more work to keep my eyes open than to give in and prepare camp for the night and walk over to the tarp.
I slept adequately but intermittently, grateful for the background noise of the cascade which quickly lulled me back to sleep when I found myself awake. Opting to enjoy coffee from my sleeping bag, I took my time and let the sun warm the canyon before doing a quick exploratory hike downstream to check for additional cascades. I didn't have to go far before running into an impressive section of the creek where water slid down sheer rock after leaving the turbulent path created by a jumble of boulders and then continued its downward path in another section of rocks of all shapes and sizes. Returning to camp but reluctant to finish packing and leave, I postponed my departure by making a cup of tea to sip while contemplating my surroundings. I knew the longer I stayed the harder it would be to leave, so I forced myself to push through the bittersweet inevitability of leaving such a beautiful place and headed down the trail. 
After a quick downhill mile, I paused by a pool in the stream created by a logjam and carefully scouted for trout. Sure enough, there were several swimming in the depths of the pool but they were incredibly skittish and none headed for the surface to feast on the few insects that buzzed through the air and occasionally landed on the water. I tried my luck anyways and set up my Tenkara fly rod and line, which is a process so simple and easy that it makes me think I must be forgetting something. Despite my best efforts, the fish were decidedly uninterested in what I was offering and several passersby had kindly commented that it was indeed rather early in the season to be fishing, but wished me luck.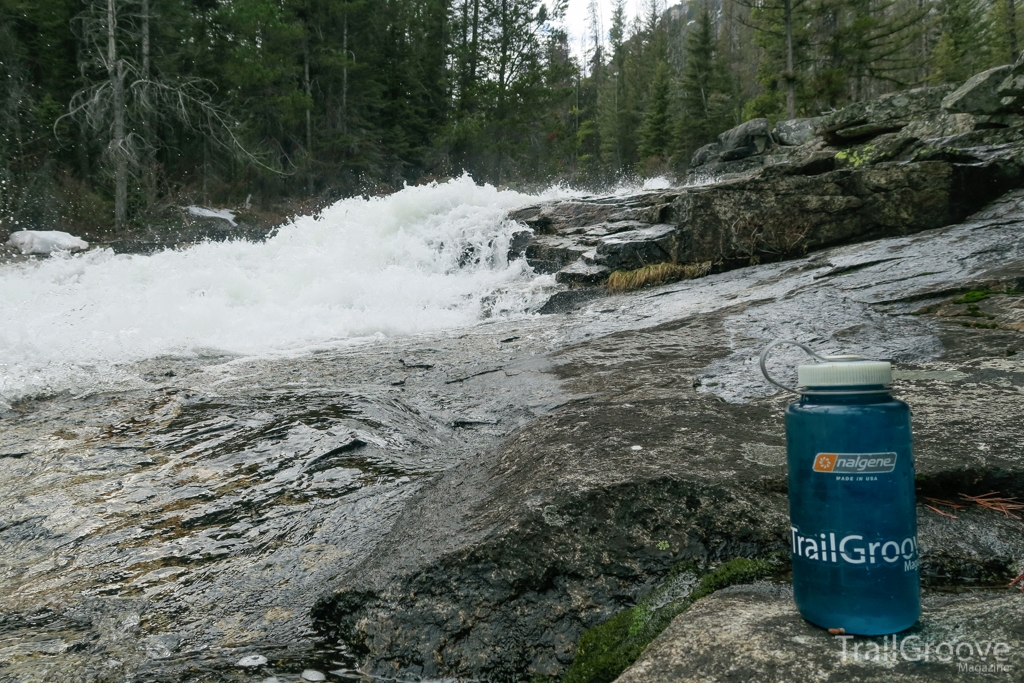 As I contemplated admitting defeat and easing down the trail, the unmistakable sound and telltale circle of a fish snatching a fly off the surface at the upstream end of the pool caught my attention. With renewed determination and enthusiasm, I slowly moved toward where the action was and scouted the waters for a few minutes before tossing my fly towards a trout I spotted at the head of the pool. The first few casts didn't catch its eye, but one landed at the perfect spot on the current and the trout slowly rose as the fly drifted through the pool. Suddenly, that most beautiful burst of water – a trout snatching a dry fly – appeared and the fish was on the line. A quick landing and release and I continued upstream, where I quickly snagged my fly on a log jam, nearly fell in the frigid water trying to get the fly loose, then broke the tippet. I decided to end on the high note of the catch and not the low note of the snapped line and headed down the trail.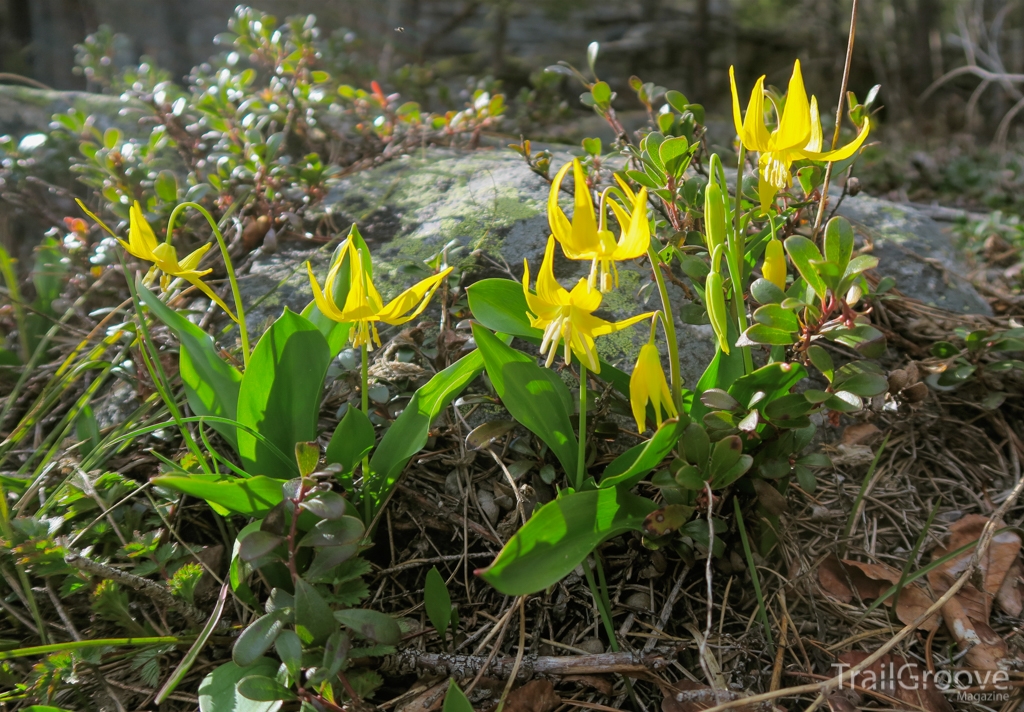 I tried to be a discerning angler, but it wasn't long before I paused to fish another pool. Several trout were rising and I landed one quickly before entering into a long stretch of no action. So it goes. I suppose fishing is like hiking in certain ways – it's not always about the destination (the catch), the journey (waving around a fishing pole in a beautiful place) is sometimes the most important aspect. 
With the high country still snowbound, and likely to remain so until mid-summer, trips like this one provide a great opportunity to stretch the legs and enjoy the shorter journeys and smaller fish, to admire the mountain scenery from the valley floor a bit longer, and to simply enjoy being alive and outside.
3