Choose Your Tour: 7 Scenic Multiuse Recreation Trails
---
I am a photographer. I am a hiker. I am a backpacker. I am a mountain biker. Sometimes I am all of those in the same day. But most often, I am on an awesome trail and am trying to take an award-winning photo of the area. My trips are usually built around getting to an area to photograph its beauty. I am always searching for beautiful photographic exposures of scenes that not everybody has viewed, looking for vistas that excite my eyes. Sometimes hiking or backpacking is the best way to get there, and sometimes a mountain bike the preferred way. Over the years, I have had the privilege and pleasure to visit a lot of places, particularly in the American west. This is a story of my quest to get to some of these places.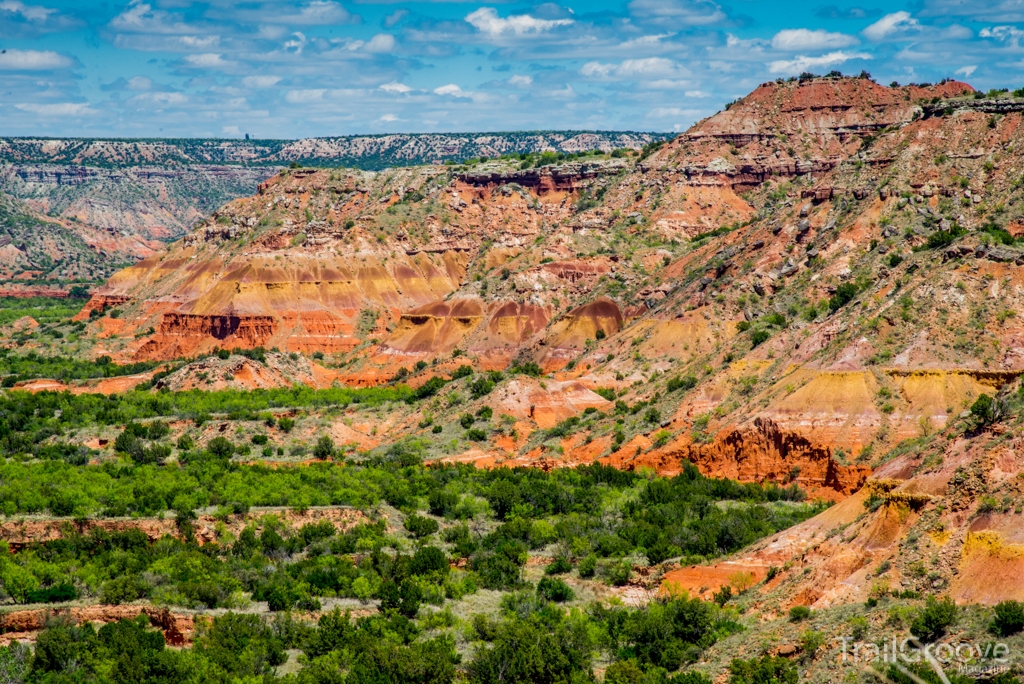 Trails that I have hiked and ridden are often multiuse trails, open to hikers, mountain bikers, hunters, cross-country skiers, equestrians, and other users. Some are designated as National Recreation Trails and others are simply great local trails. Some of the best of these multiuse trails that I have ridden and/or hiked include Gooseberry Mesa and Little Creek Mesa in Utah, Berryman Trail in Missouri, South Boundary Trail and the High Desert Trail System in New Mexico, Black Canyon Trail in Arizona, Palo Duro Canyon State Park in Texas, and Hermosa Creek Trail in Colorado. As I get older and more inclined to hike instead of ride, I will no doubt return and hike more of these.

Gooseberry Mesa and Little Creek Mesa
These trails are some of the most beautiful trails that I have ever experienced. Both mesas tower above the surrounding landscape, offering views better measured in miles than feet. Located on Bureau of Land Management lands east of Hurricane, Utah and just a few miles from Zion National Park, the vistas from the north rims of each mesa display Zion in all its glory. Looking west you can see views of the distant often snow-capped Pine Valley Mountains plus a panorama of desert canyons and plains in every direction. The trails on both mesas feature a combination of sandy tracks and solid rock, known locally as 'slickrock', although being solid sandstone, there is really not much 'slick' about them – your grip when hiking or riding is great. Navigation on a slickrock trail often involves some amount of searching for the trail. Gooseberry is in many places marked by white paint dots on the rock. Little Creek is mostly marked by widely-spaced cairns - sometimes you will come to a large flattish area of sandstone with a single cairn in the distance - it often takes a sharp eye to spot them. Other segments of the trails on both mesas are on more traditional singletrack trail and are easy to follow. Gooseberry has over 20 miles of trails of various lengths which can be combined into hikes or rides of almost any distance, depending on your stamina. Little Creek is a bit more isolated so is not as busy, and has two interconnected loops of about 9 miles each. Getting to Gooseberry and Little Creek Mesas require driving on several miles of sometimes rough dirt roads. These are both places seldom seen by the average visitor to the Zion area, but well worth the effort of getting there. Gooseberry Trail has been designated as a National Recreation Trail.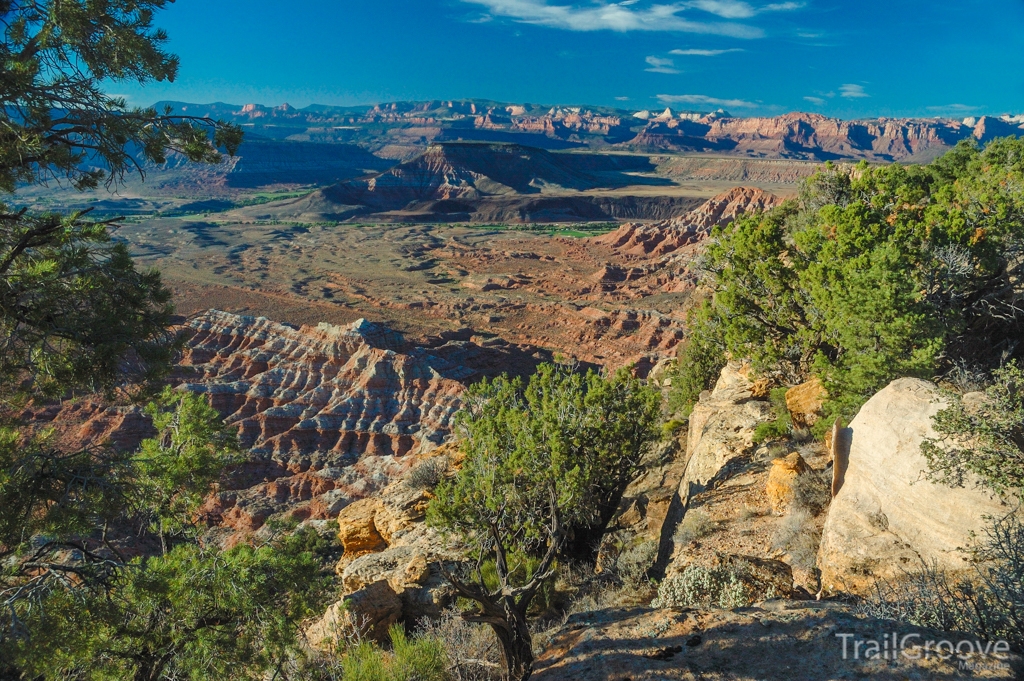 Uses: bicycling, camping, dogs (on leash), and walking/hiking/running.

Best Time to Go: Best April through November. Summers can be extremely hot! There is no water on the mesas, so carry plenty. Restrooms are available near the trailhead of Gooseberry Mesa; there are no facilities at Little Creek Mesa. Primitive camping is allowed on the mesas.

Berryman Trail
This is a 24 mile loop trail in central Missouri near Potosi. This 70-year old National Recreation Trail passes through two campgrounds (Berryman Campground and Brazil Creek Campground) on an up and down route through heavy woods. Several crossings of small streams are included. The trail surface can be rough at times, with exposed rocks, eroded areas, and hoof tracks from horses. One can travel in either direction from either campground, but I have always started at Brazil Creek and gone clockwise. Beginning as I have from the Brazil Creek campground (no facilities are available, except for a few fire rings and picnic tables), and going clockwise, the trail heads uphill through the dense forest, and thereafter a series of descents and climbs greet you until you reach the Berryman Campground (picnic shelter, vault toilet, no water) in about the ten miles. From this point, continuing clockwise it is about fourteen miles back to the starting point at Brazil Creek campground. The western half of Berryman Trail is also part of the 390-mile Ozark Trail. Starting at Berryman campground and continuing to the north you are following the Ozark Trail until the trails eventually split. There is water available from several creeks (treat it!) and from an old trough about two-thirds of the way along the trail (I think this is from an artesian well, but I would treat it too). Overall, Berryman Trail is a great hiking, backpacking, and mountain biking loop. The trail can be easily divided into a two- or three-day backpacking trip, or shorter out-and-back day hikes, or an epic one-day mountain bike adventure.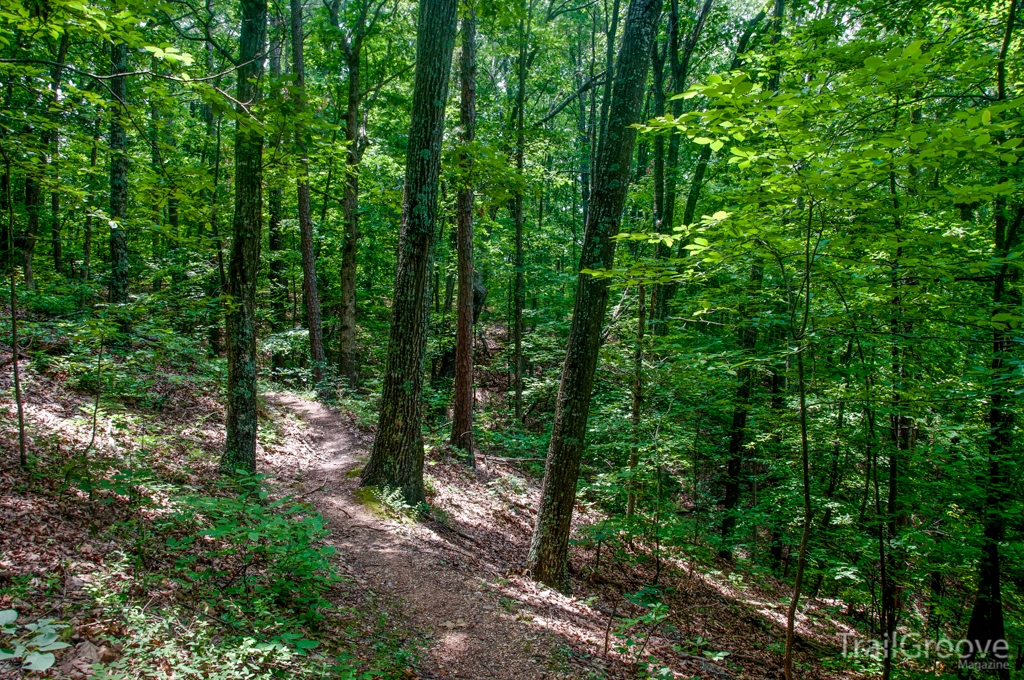 Uses: bicycling, hiking, camping, dogs (on leash), wildlife observation, and equestrian.
Best Time to Go: All year, but summer can be hot and humid.
 
South Boundary Trail
This National Recreation Trail spans about 20 to 25 miles in the Sangre de Cristo Mountains of Carson National Forest between Angel Fire and Taos, New Mexico. It is heavily wooded with piñon pines, ponderosa pines, junipers, and aspens. In the fall, the aspens turn parts of the mountains bright yellow. There are also wildflower-filled meadows, wildlife, and numerous views of the surrounding mountains. As a mountain bike ride, the trail is often done as a shuttle, starting at the eastern end from one of a couple possible starting points, and ending near Taos at the west end. The trail ranges in elevation from about 7,200 feet to about 10,700 feet, so you will definitely feel like you are in the mountains! The South Boundary Trail is one of the most popular trails in Carson National Forest. The trail varies from old fire roads to long sections of singletrack, and the east to west route has more downhill than uphill. Hiking options would include starting at Garcia Park or Osha Mountain and hiking out and back. This would also be an excellent two or three-day backpacking trip. There are camping areas in the Garcia Park area along the trail, as well as dispersed camping in the national forest along the way.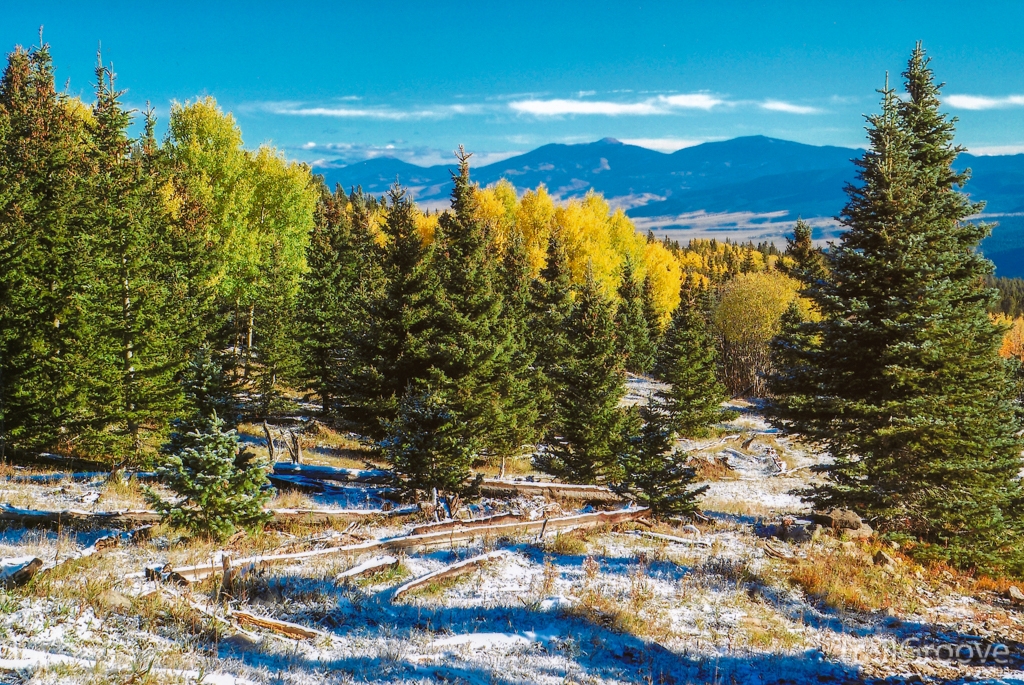 Uses: bicycling, camping, equestrian, hunting, walking/hiking/running, and snowshoeing.
Best Time to Go: Year-round, depending on your use.

High Desert Trail System
Just outside of Gallup, New Mexico is a series of looped trails that start at two different parking areas. The High Desert Trail System is designated as a National Recreation Trail. As you might expect from the name of these trails, this is 'high desert' country and has plenty of rock and sand supporting a desert mix of piñon pines, sagebrush, and junipers. Some of these trails are on rocky ground, but most are sandy soil singletrack. There are a few areas of interesting 'hoodoo' formations, and quite a few excellent views. Even though these trails were designed for mountain biking, I have seen hikers on them several times and would definitely recommend them as a good hiking location, particularly when higher elevations are less desirable because of weather or trail conditions. Along the trails are several metal sculptures, such as a coyote, a sundial, a mountain lion, and others. There are also some of the most amazing trail markers or 'cairns' that I have ever seen - some are as tall as a full-grown human man! Further proof of the trail builders' "cool factor" are Native American-inspired trail signs of a backpacker and a mountain biker. There is no camping allowed on the High Desert Trail System, but there is camping available a few miles away in the Zuni Mountains, to the south of Interstate 40.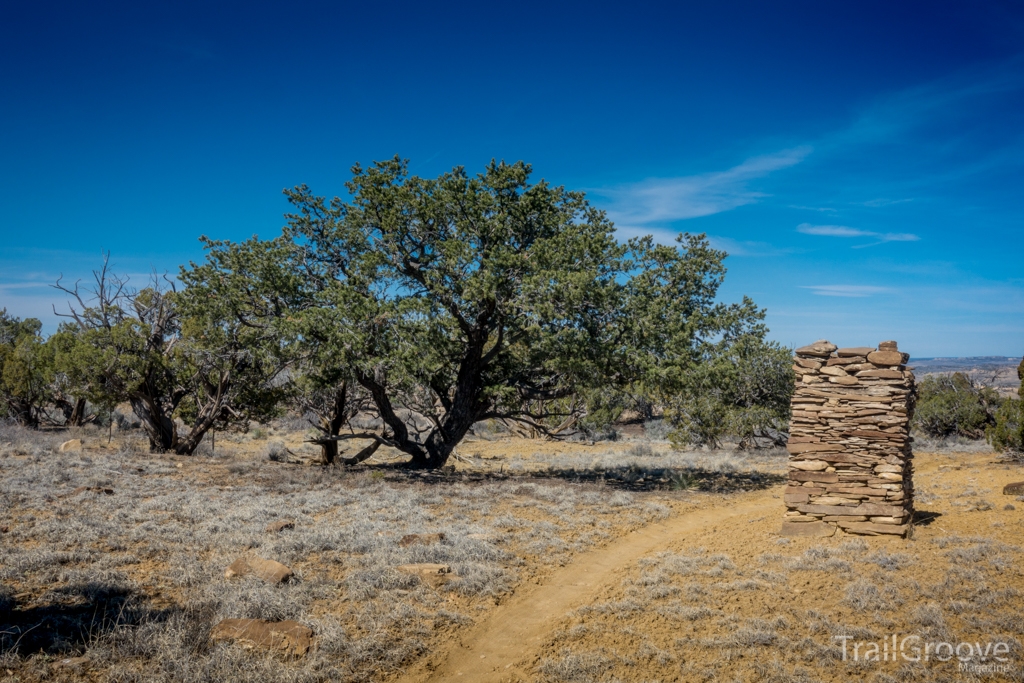 Uses: bicycling, dogs (on leash), walking/hiking/running, and wildlife observation.
Best Time to Go: Fall through Spring. Summers can be extremely hot!

Black Canyon Trail
This is a nearly 80-mile north-south trail in the Sonoran Desert of central Arizona. It extends from Prescott National Forest near Prescott (north end) to Carefree Highway (Highway 74) near Phoenix (south end). The trail has eight trailheads that break it into manageable sections. The trail runs generally parallel to Interstate Highway 17. I have ridden on a couple of segments of this trail, which winds through areas offering some of the most stunning desert scenery that I have seen; for me it was hard to focus on the trail, as I kept looking around at the scenery. Perhaps next time I'll hike instead of ride so that I can slow down and better take in my surroundings. The trail is nearly all singletrack and passes through rolling terrain with multiple types of cacti, including barrel, cholla, ocotillo, and a large number of the impressive saguaro. The trail crosses the Agua Fria River in places, and at those crossings the vegetation is sometimes dense mesquite. On one ride on the Black Canyon Trail, I spotted my first and (so far) only gila monster, which is a large venomous pinkish-orange and brownish-black lizard - quite a thrill, as they are rarely seen.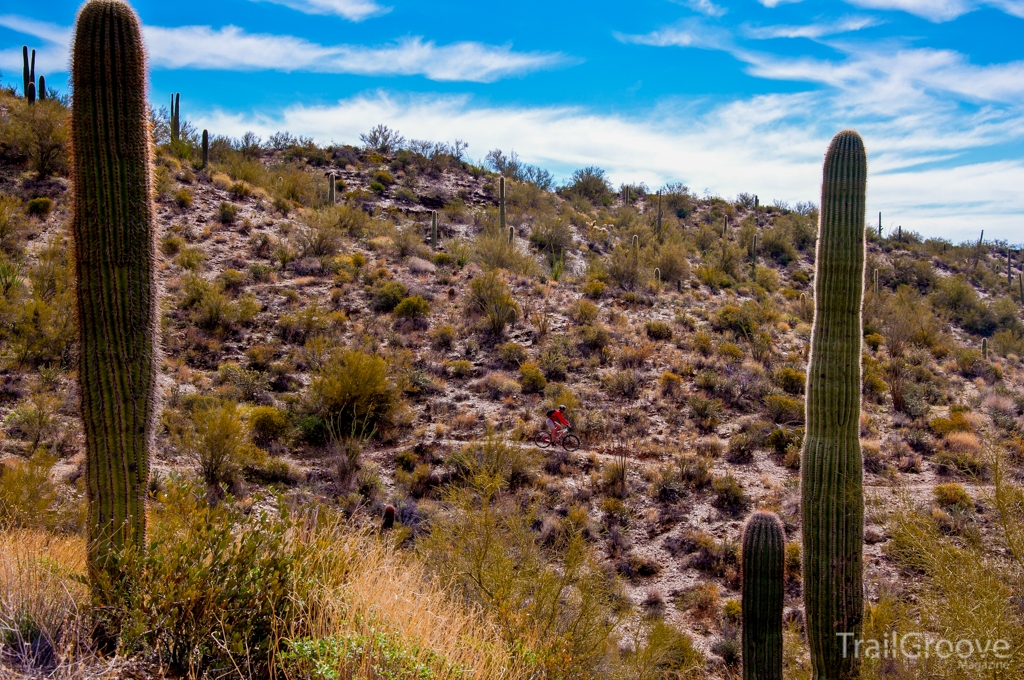 Uses: bicycling, walking/hiking/running, dogs (on leash), equestrian (riding and pack trips), and camping.
Best Time to Go: November through April. Summers can be extremely hot!
 
Palo Duro Canyon State Park
This State Park in the Texas panhandle just south of Amarillo. While not on the scale of the Grand Canyon, Palo Duro Canyon is still impressive, and has several excellent trails. The trail to the Lighthouse (the best known formation in the park), combined with Givens-Spicer-Lowry (GSL) Trail, Little Fox Canyon Trail, and Paseo del Rio Trail makes an excellent 10.5 mile loop. The Lighthouse Trail is a wide, well-used trail with little elevation change until you get near the end, at which point there is a steep climb up and over a ridge. Once you're on the ridge, the Lighthouse is in view. Continuing the last few hundred feet you ascend onto a small mesa where the Lighthouse is located, and where pretty much everybody takes at least one "selfie". Returning the way you came and then turning left onto the GSL Trail, you get away from the sometimes crowded Lighthouse Trail, and can enjoy many more miles of desert terrain. The next few miles are not too difficult, although there are some short steep climbs, and the trail is easy to follow. Along the GSL Trail, you can enjoy several sections of especially colorful cliffs and hills and several areas with hoodoos of varying sizes. The Little Fox Canyon Trail is an out-and-back side trail off of GSL, and the Paseo del Rio Trail takes you from the end of GSL back to the parking lot for the Lighthouse Trail, completing the loop. Across the park is the Rock Garden Trail which climbs about 600 feet from the road in the bottom of the canyon to a rimtop view in a 2.4 mile (one way) hike or ride. This trail is not as colorful as the Lighthouse and GSL trails, but makes up for it in the overview of the canyon from the top. The trail is mostly an uphill hike with just a few downhill sections, but overall I did not find it to be especially strenuous. All of these trails are designed for multiple uses, whereas several other trails in the park are designated for hiking only, biking only, or equestrian only.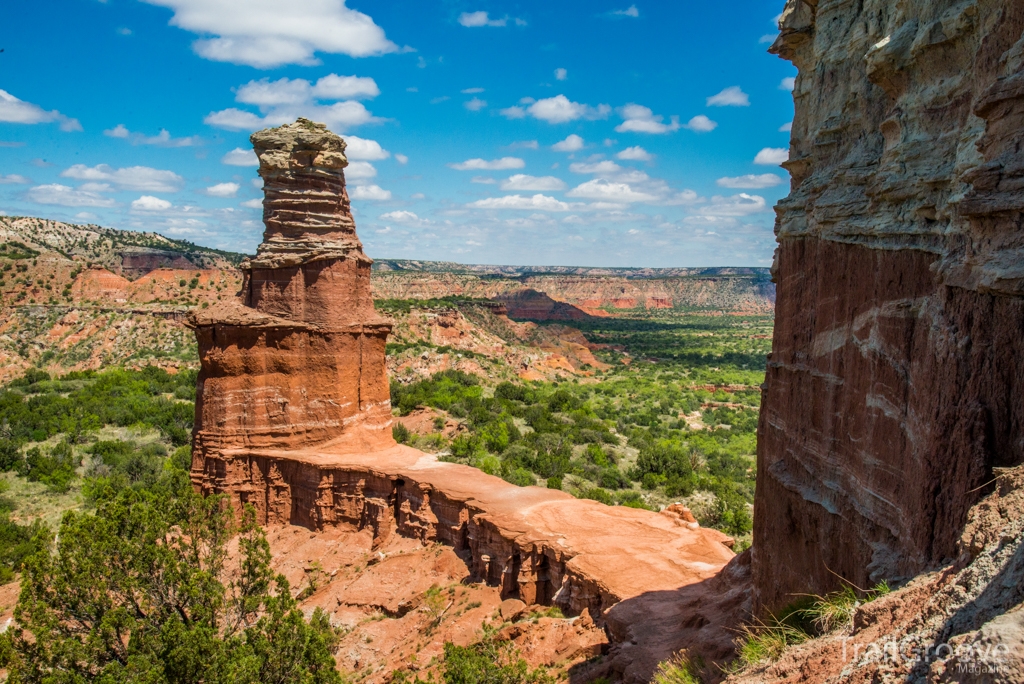 Uses: Walking/hiking/running, bicycling, equestrian.
Best Time to Go: Fall through Spring. Summers can be extremely hot!
 
Hermosa Creek
The 25 mile Hermosa Creek Trail is located just north of Durango, Colorado. Starting at the north end gives you a net loss of about 1,500 feet by the time you get to the southern end near the village of Hermosa. Almost all of this trail is singletrack, except for a few miles at the northern end. The trail is not purely a descending hike or ride, as there is a mile-long section toward the south end that includes a 500 foot climb - the price you pay for the rewards of this beautiful trail! Most of the trail is within sight of Hermosa Creek, sometimes from far above it, and sometimes right next to it. Ponderosa pines and Douglas firs are the predominant conifers along the trail, with stands of aspens in some places. There are also several other trails that branch off from Hermosa Creek Trail, giving you numerous options. One week several years ago, a group of mountain biking buddies and I were planning on a trip to Santa Fe and Durango to ride. Less than a week before we were to leave, I broke my wrist. I decided to go anyhow, and spent the week hiking on trails where they rode, taking lots of pictures, and functioning as their shuttle driver when needed. It was on this trip that I hiked a few miles of the northern end of Hermosa Creek Trail before heading back to the highway to meet up with them after their ride. I've also been on the trail when a summer thunderstorm came up - scary, and not an experience I'd recommend. Check the weather forecast before you set off.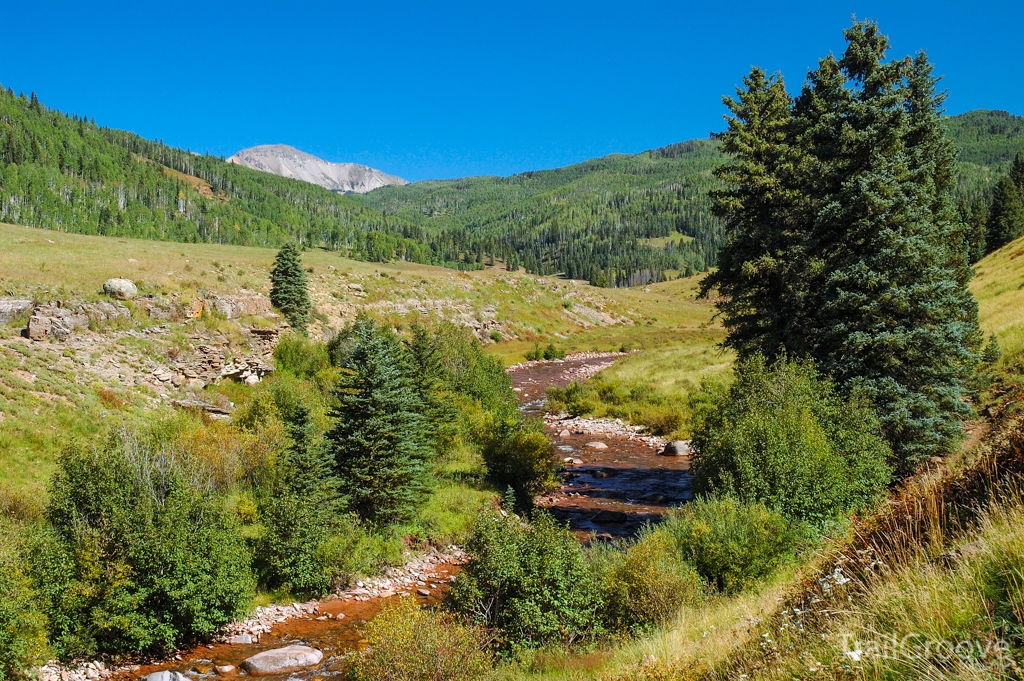 Uses: Mountain biking, hiking, horseback riding, cross-country skiing, and snowshoeing.
Best Time to Go: All year, depending on use.
 
Multiuse trails are a shared experience - enjoyed by hikers, mountain bikers, riders on horseback, and other users. I use these trails as my way to get out in nature and away from the hustle and bustle of civilization and to get to places to use my camera in my never-ending search for new vistas and great photographs. So, whether you are hiking, riding, or using these trails in some other way, just get out there, share the trail, and see the world in your own personal way!
 
The Author: Steve Ancik is a landscape architect by profession whose hobbies include mountain biking, photography, hiking, and backpacking. He lives in Edmond, Oklahoma. You can see more of his photographs at  http://www.lightwavesimages.com/ All photographs in this article © Steven L. Ancik. 
1