Exped Schnozzel Review: Funny Name, Serious Performance
---
One thing is for certain: we all need to keep our sleeping gear dry and we all need to be able to fit it all in our pack. Like many of us, in the past I've used everything from a set of individual dry bags to accomplish these goals to budget friendly trash compactor bags. All worked well and served the purpose of keeping my sleeping bag and clothing dry during rainy days on the trail while also offering some benefit in the way of compression. As a user of an inflatable Exped sleeping pad however, one choice – the Exped Schnozzel pump bag – offers both the benefits of waterproofing and compression while also working for an additional use: inflating my sleeping pad at the end of the day while adding just 2.1 ounces to my pack and gear ensemble.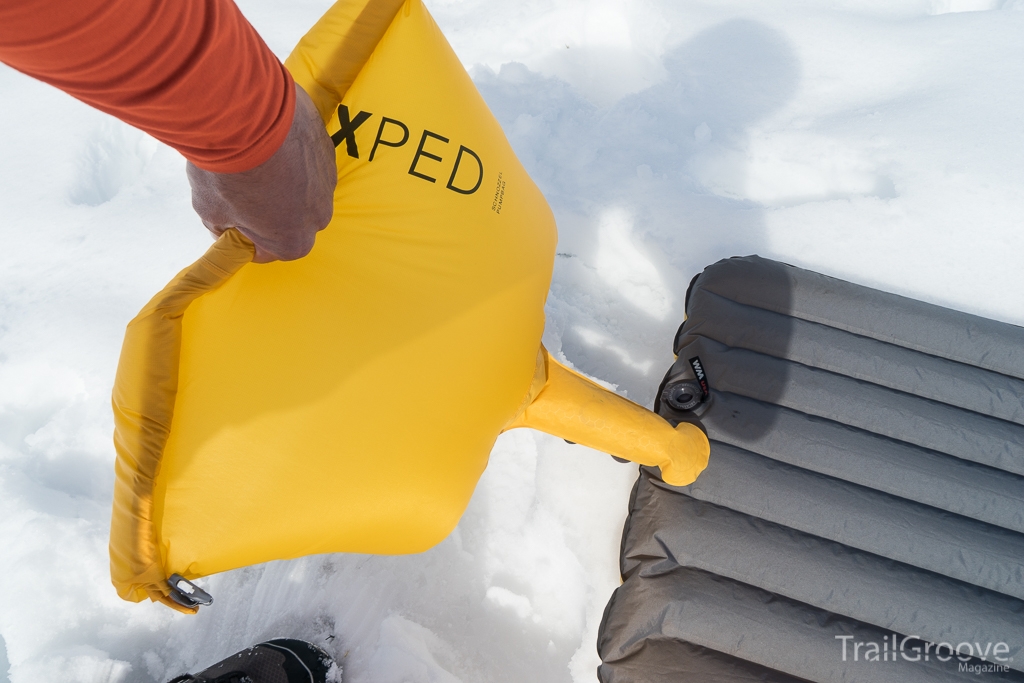 Exped offers several versions of the product, the standard, heavy duty Schnozzel in both a medium (up to 42 liters) and large (up to 85 liters), as well as the lighter UL version in the same sizes. For my use, the UL, medium version is a great fit and is the topic of discussion here. At first resembling a larger roll-top dry bag or pack liner, the Exped Schnozzel pump bag is made from waterproof nylon construction with taped seams.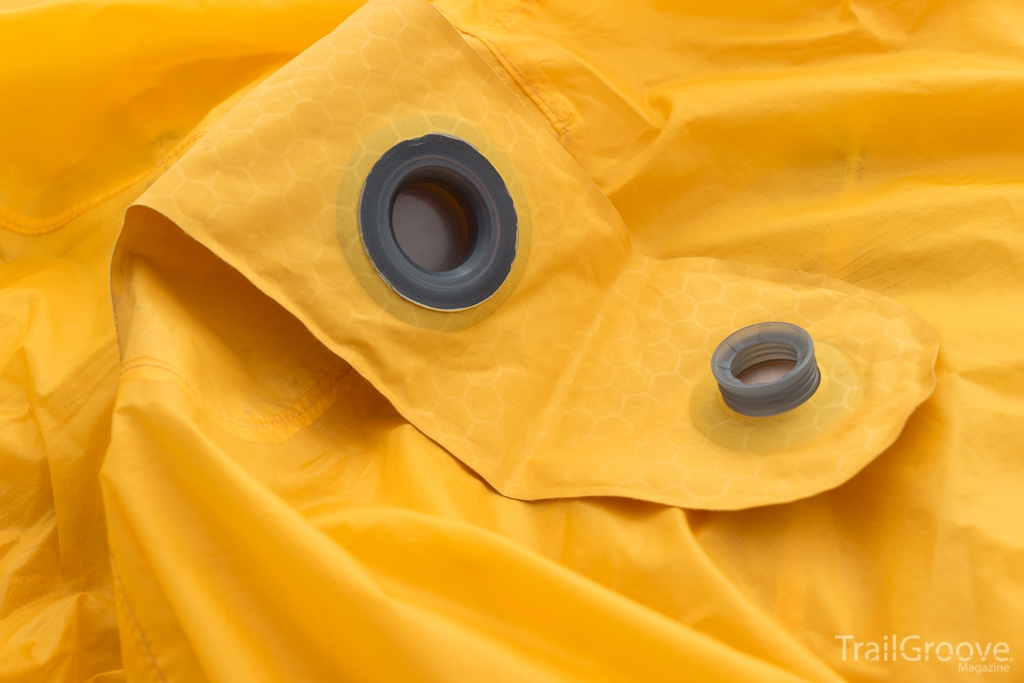 The top of the bag is secured with a roll top and buckles to hold everything in place, and setting it apart the bottom features an adapter that fits the inflation valve on Exped sleeping pads that don't feature an integrated pump; when inside your pack this adapter fits securely in a holder and in a stowed sealed position. If you have an Exped pad made after 2010 you're all set, but for older pads, or those with an integrated pump Exped also offers a flat valve adapter to make the Schnozzel compatible. Additionally and if you're so inclined, Exped even makes a shower attachment for the pump bag to expand its capability into the hygiene department.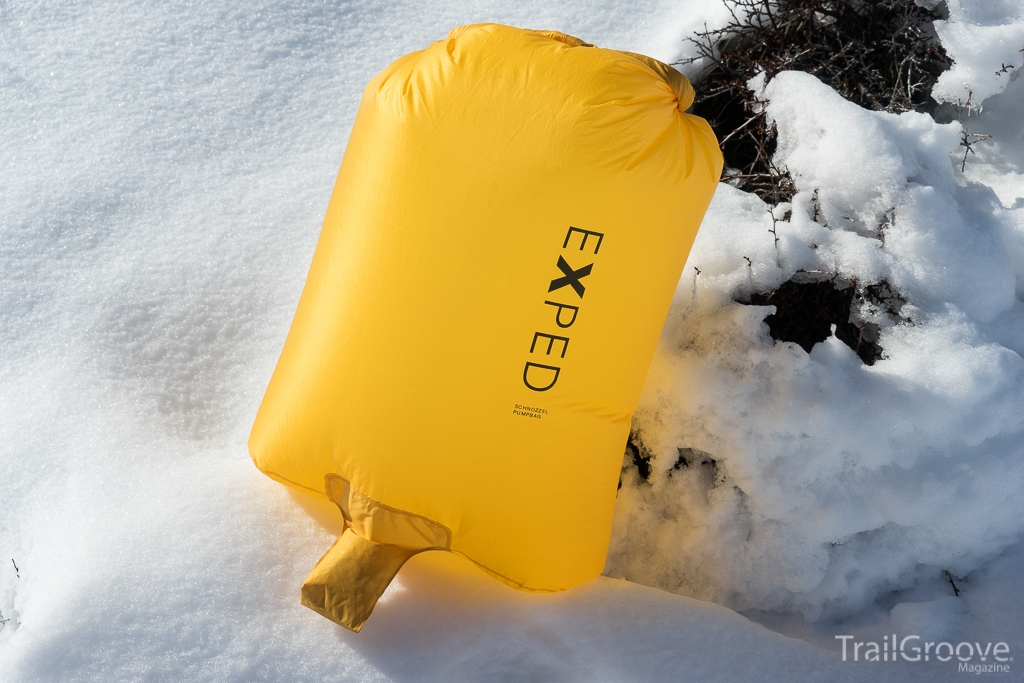 I utilize the pump bag with the Exped Synmat UL 7 sleeping pad, and it works perfectly for inflation once you get to camp. Once the bag is emptied of whatever you're storing inside of it during the day on the trail and by snapping the valve to the sleeping pad, you're able to easily inflate a pad by opening the bag up and allowing it to fill with air (a quick breath from a couple feet away can assist with inflation), then rolling the opening of the bag closed, gradually forcing air from the inflated bag and into the sleeping pad. Repeating the process a few times does the job to fully inflate even a long and wide sleeping pad, and not only does it alleviate any huffing and puffing to get your pad inflated, it also inflates it with ambient air, and not moisture-laden air from your own breath that's getting into your pad's insulation and staying there – not a great mix day after day.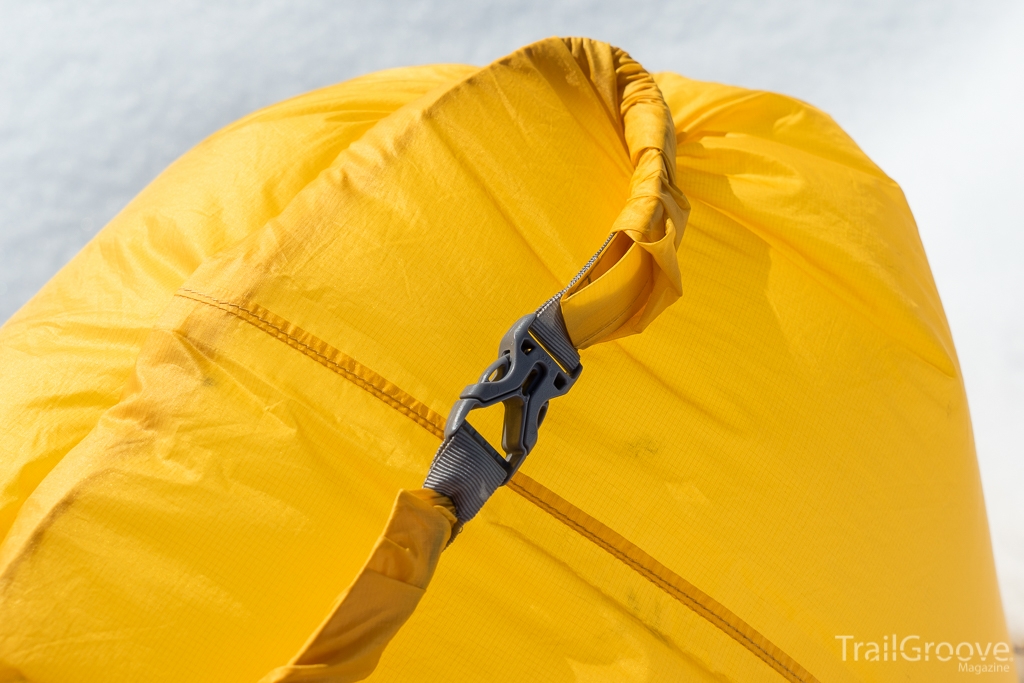 On the trail, I use the Schnozzel to both store and compress my sleeping gear and clothing. Normally I stow both my ZPacks 20 Degree sleeping bag and the aforementioned Synmat UL 7 sleeping pad, a pillow, and a down jacket plus any extra clothing I'm taking along on the trip inside. The bag is then packed first at the bottom of my pack – by inserting the bag and compressing the air out, then rolling the bag closed and securing / sealing via the buckles on each side, you're able to compress all this gear, while sheltering it from the elements and it all ends up perfectly comforming and fitting the available space in your pack.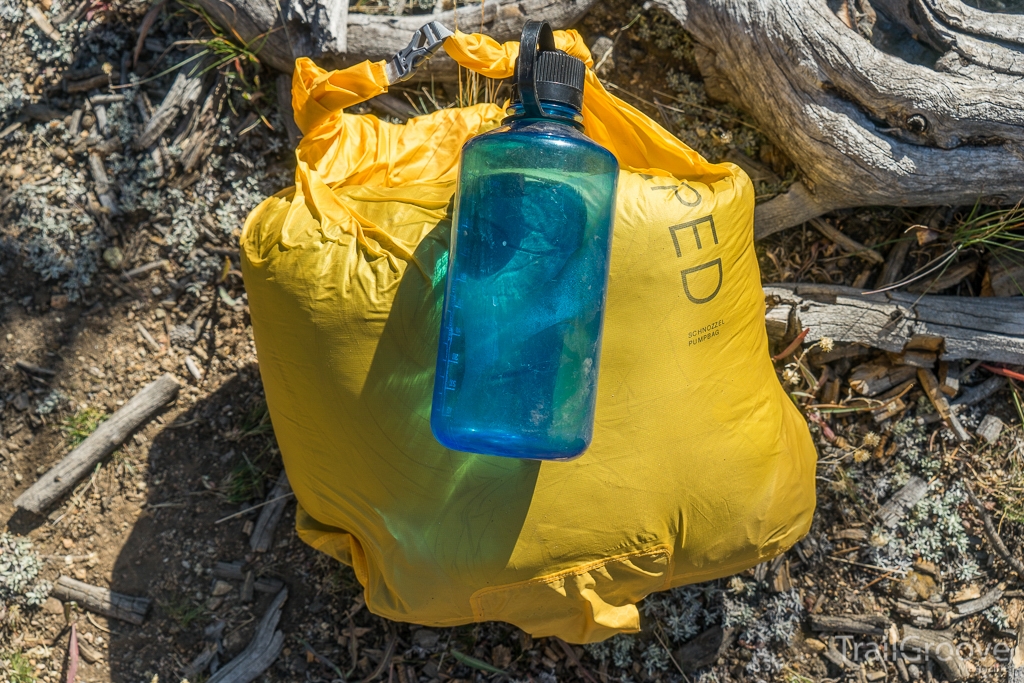 Where the Schnozzel really hits the mark is in its usefulness for a variety of purposes on the trail and it's equally useful for each one. If you're already an Exped sleeping pad user it's an excellent accessory to pick up that will make life on the trail easier by of course inflating your sleeping pad without introducing excessive moisture from your breath into your pad and insulation, while also compressing your gear during the day and keeping it all dry on rainy trail days – and all at an ultralight weight.

The Exped Schnozzel UL retails for about $40 – find it here at REI, at CampSaver, or on Amazon.com.