An Ode to the Snow Peak 450 Titanium Cup & Review
---
The Snow Peak 450 is an ultralight titanium backpacking mug weighing in at only a listed weight of 2.4 ounces for the lighter single wall version of the cup (2.1 measured), or 4.2 ounces for the more insulated double wall offering. This classic cup has a capacity of 450ml (just over 15 fluid ounces), and is available in your typical titanium grey as well as in a variety of colors to brighten up your morning coffee a bit if desired. The handles are collapsible for packing, and can work as a way to attach the cup to your pack while on the trail.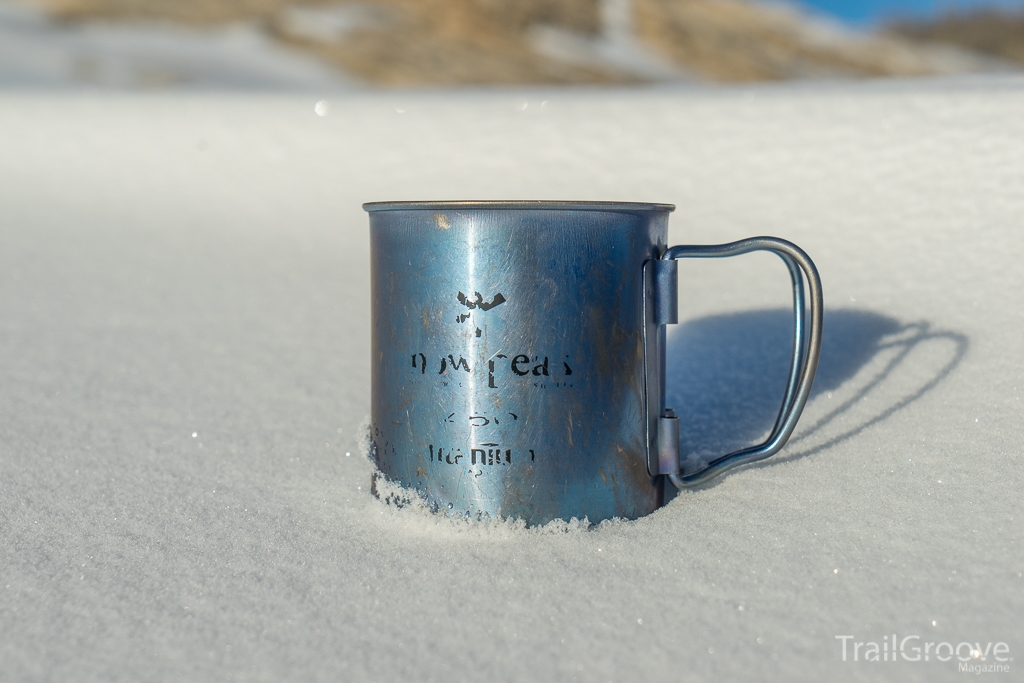 Although the double wall version of this mug will keep your drink warmer a bit longer, I prefer the single wall for backpacking purposes with the lighter weight in mind. Although my drink will cool a bit faster than the double wall version, the single wall allows one to place the cup right on a stove for a quick reheat, and as such everything balances out somewhat in the end. Be mindful however that the handles can get quite hot when heating on a stove. One thing I do appreciate about the Snow Peak 450 is that it's light without being too light; unlike some other titanium options I do not find myself having to constantly bend the 450 back into shape after some abuse on the trail.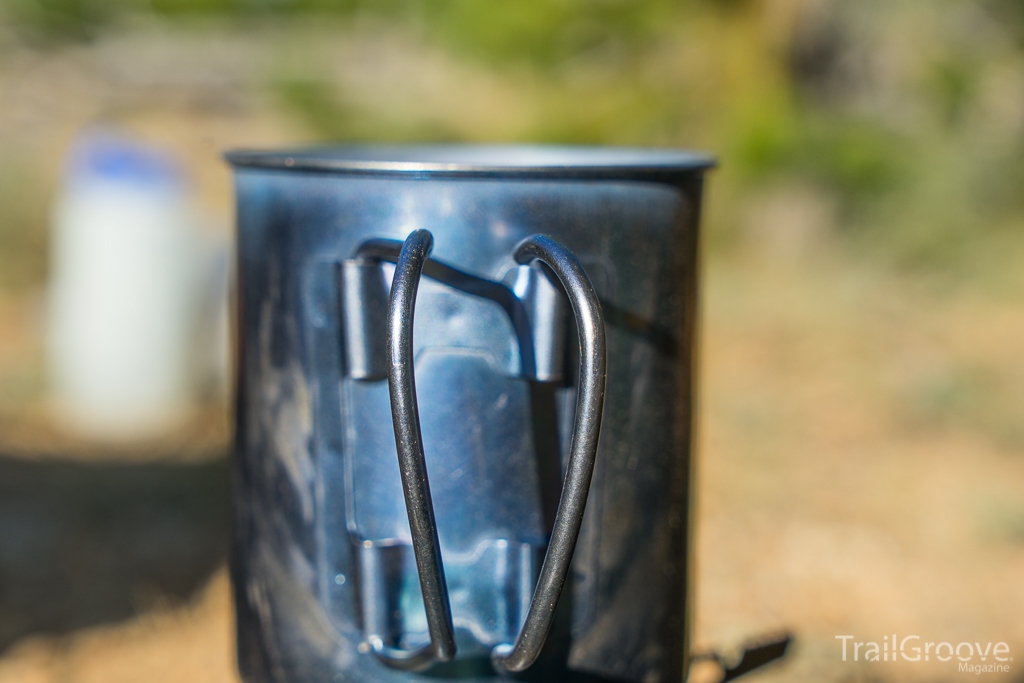 The 450's capacity is just right for a quick cup of coffee in the morning as you're getting ready to break camp – and with 2 packets of Starbucks Via it makes for a nice strong cup of coffee when filled nearly to the brim. The capacity here is a bit too low if you're looking for a jack of all trades, master of none combination pot and mug to take along however, so I usually pair the Snow Peak 450 with an Evernew Option for actually cooking meals in a pot, boiling water for meals of the freeze dried variety, or for FBC style dinners.
Single wall titanium mugs don't insulate well and can get quite hot; using the handles is pretty much required for sipping a very hot beverage and some care when it comes to your sipping may be needed as well. The rolled edge of the 450 combined with not filling it quite all the way to the brim helps in this regard, and Snow Peak offers their hot lips silicone covers as well. While these work well as insulation from the heat, in my experience they don't create a perfect seal and some liquid may be able to escape down the side of the cup when you take a drink. Not too big of a deal, but most of all I found this was just one more thing to keep track of on the trail and as such, I no longer take the Snow Peak hot lips along on trips.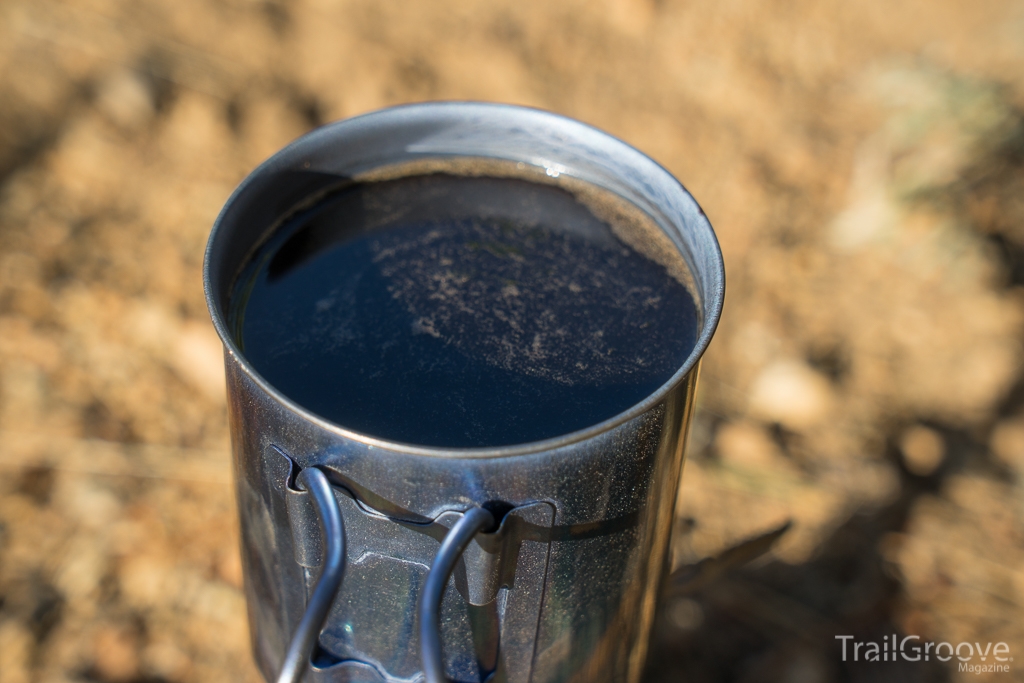 My Snow Peak 450 has taken a beating on many backpacking trips for nearly a decade, and it's bounced around over many miles attached to the outside of my pack by the handles (and this can be configured for a "bear bell" effect if desired), been slammed against rocks and trees, boiled in directly on top of canister stoves, and other than a little age to the blue anodized coating of the cup and an inability to read the logo the cup is still going strong, and I suspect it will continue to perform well for another 10 years. Perhaps more? The Snow Peak 450 is just one of those very few items that is hard to beat and doesn't get replaced by newer or lighter gear as time goes on.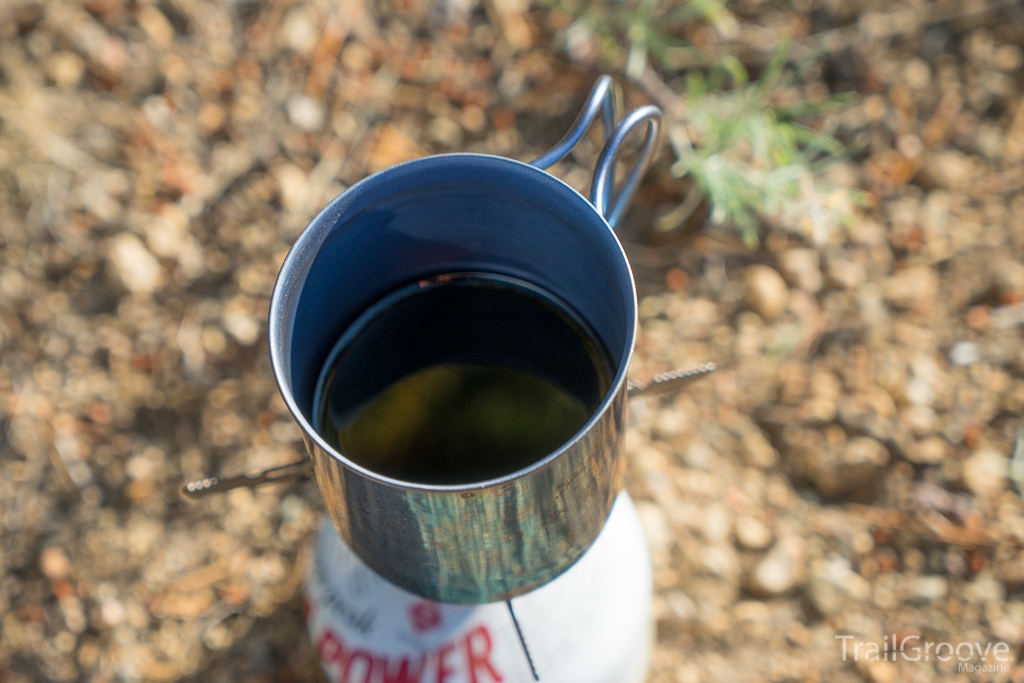 While titanium backpacking cookware can involve a little up-front investment, the material offers durability and strength while keeping your pack weight low – always a good combination when it comes to backpacking gear. The Snow Peak single wall titanium cup retails around $30 for the grey version, and about $35 for the green, blue, or purple option. Find the standard version here at REI, and find the color version here at Backcountry.com. And for more on choosing a backpacking mug in general, see this post.
1