The Backpacking Mug: Choices and Considerations
---
A key component of any practical backpacking kitchen setup is a cup or mug suitable for morning coffee or your hot drink of choice, and of course we need something light and packable while still working well for the purpose at hand. While the best backpacking mug choice may vary a bit from hiker to hiker, like any other piece of gear there's a few key points worth consideration.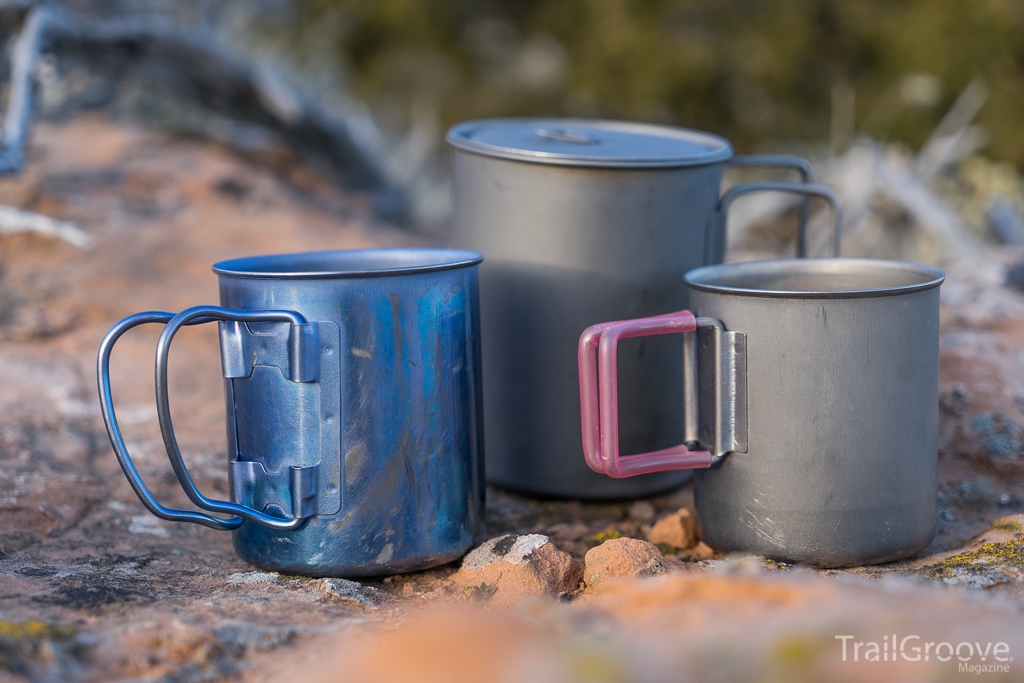 A multitude of materials have been employed for the purpose, from aluminum to titanium and plastic, and in addition such mugs are available in single wall and double wall insulated versions. All have their pros and cons.
The lightest mug to rule them all is no separate mug at all, by using your existing cooking vessel / pot to serve the purpose. But here we enter a conundrum; wide pots are the most efficient for cooking but the least efficient for drinking. Thus if we're looking for a pot / mug combo some compromise is in order. For solo backpacking, I do take the single vessel approach and use a titanium MLD 850 pot, and this larger mug-like shape (pots like the Snow Peak 700 are popular as well as the MSR Titan) is suitable and large enough for solo cooking and boiling water while still be serviceable for a mug.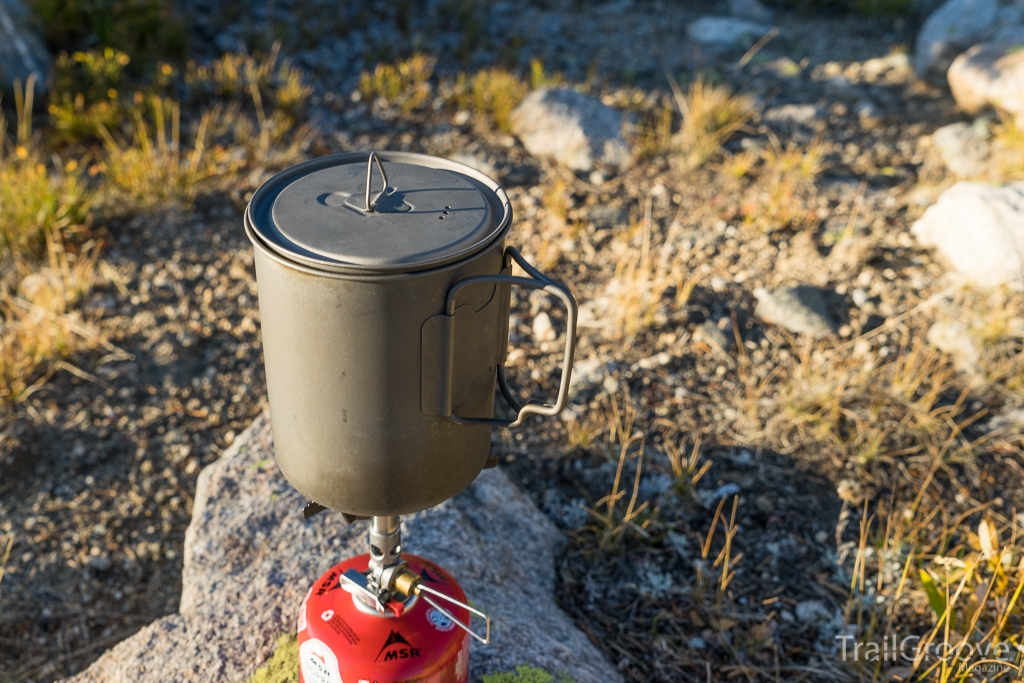 If you want to cook and have hot coffee or tea at the same though you're in for a bit of a conundrum. For morning coffee this isn't an issue for me - I like a cold breakfast on the trail - and at dinner I will frequently boil water for the meal, pour that into a freezer bag or Mountain House style meal, then enjoy a hot cup of tea while the food dehydrates. 
However, for real cooking in the pot I much prefer the using a dedicated cook pot here and choose from one of two Evernew Ultralight models and take a separate dedicated coffee mug. The wide pots work better for one pot meals, use fuel more efficiently, and have enough volume to share and to cook for groups of 2, in which case each member of the group needs their own cup.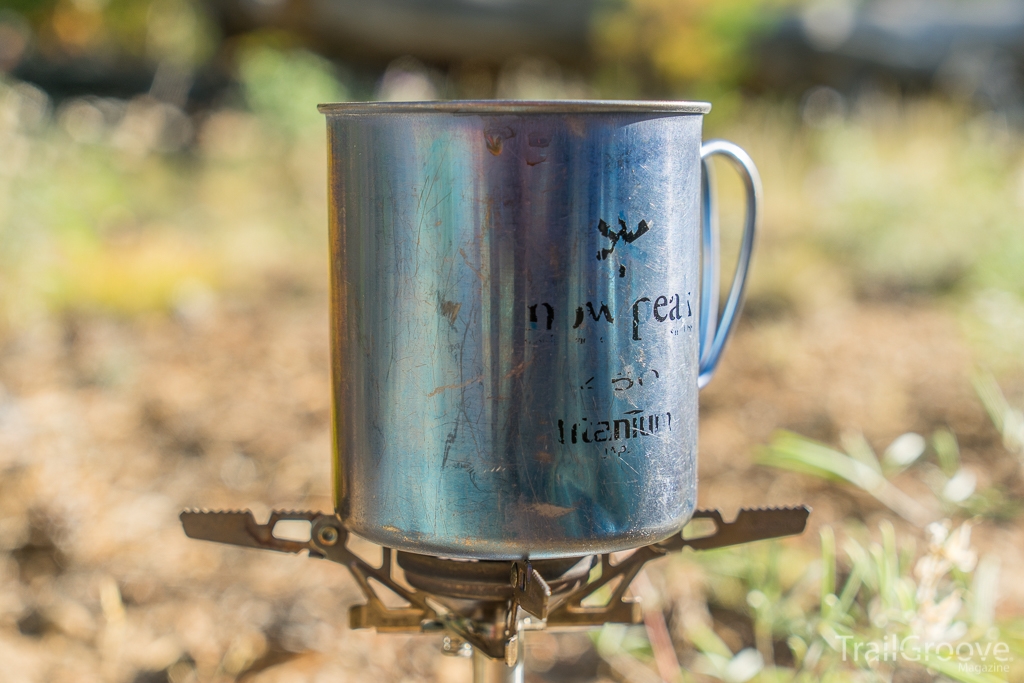 A few stories to tell; Snow Peak 450
In these situations my choice is the 2.4 ounce Snow Peak 450 ml singe wall titanium cup. This aproximately $30 cup really keeps things light, has folding handles for easy packing and being single wall I can put it right on the stove, which becomes quite handy when your morning coffee begins to cool down just a bit. The 450 ml capacity is also perfect with 2 packets or Starbucks Via, making a potent morning cup of coffee for some trail motivation on chilly mornings. Check out the Snow Peak 600 for a little more volume.
But wouldn't double wall keep it warmer longer? Absolutely, however double wall mugs are heavier, more expensive, still lose most heat through the top (although Snow Peak for instance, does offer a separate insulated lid for their 450ml cup), and you can't put them right on the stove which can be very convenient. Pereonally, the pros of single wall work better for me, and if I'm winter camping and need an insulated beverage holder I leave the mug behind entirely and take a Klean Kanteen or Hydroflask vacuum insulated bottle, which keeps liquids hot for hours and works well for hot water, coffee, tea, etc.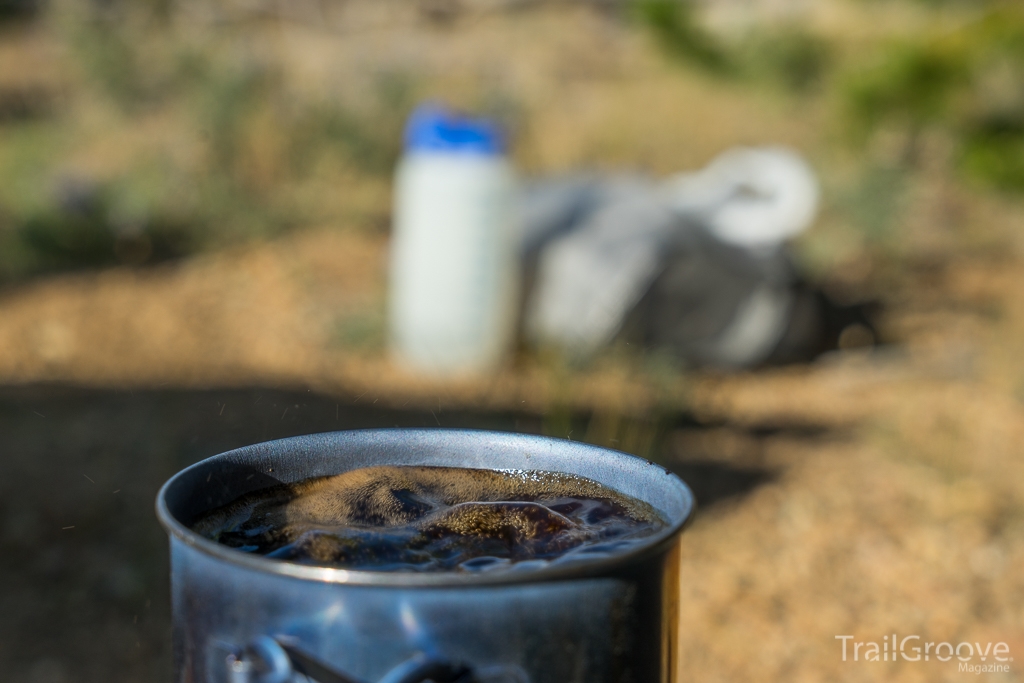 Heating (hot!) coffee directly on a canister stove in the Snow Peak 450 Single Wall
Thus I either go with no dedicated mug at all (pot mug combo) solo, prefer an ultralight single wall cup, or go all out for winter camping with a vacuum insulated bottle. Materials are up to you: titanium can be a tad hot on the lips for some - Snow Peak offers a hot lips solution that I've tried, but it's also one more thing to keep track of. Honestly though, I've found just the straight titanium to be a non-issue with some careful sipping. Single wall titanium is also hot on the hands so make sure to pick up a mug with handles – another mug on my gear shelf, the no longer made REI TiWare mug actually has snazzy insulation on the handles as well.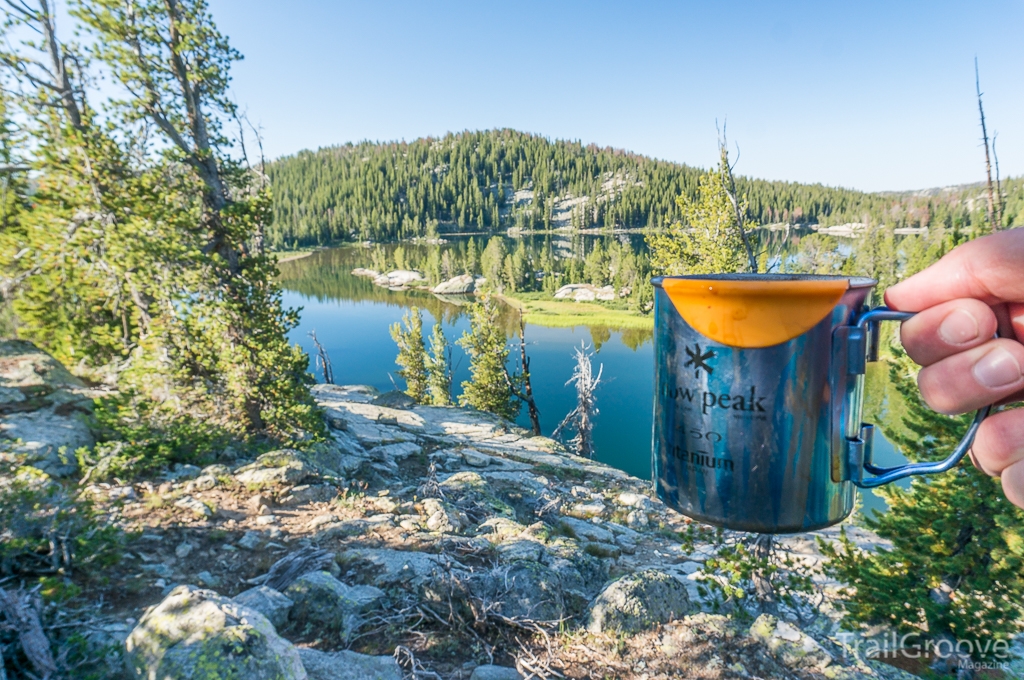 Snow Peak Silicone Hot Lips
Aluminum is of course another metal option, and plastic choices are popular and insulate well, but you lose the ability to use it on your stove there. Metal mugs are very durable, in fact I've been using the same blue anodized single wall Snow Peak 450 for nearly 10 years and Snow Peak makes a double wall version of the same mug if that's your preference. Size wise the 450ml to 600ml volume range, and in the 2-4 ounce weight range, is about right. And again stepping up in size and moving into pot / mug combo territory it's hard to go wrong with titanium offerings like the Snow Peak 700 and MSR Titan which are quite popular, versatile, and still quite light. 
No matter which strategy or choice you end up going with, what we can all agree on is that there's nothing quite like that first sip of coffee in the morning or a hot cup of tea on a chilly day in the wilderness. As such, in my mind the perfect backpacking mug is definitely an indispensable piece of gear.