Mountain Laurel Designs 850ml Titanium Pot Review
---
While there's something to be said for getting technical with your backpacking cookware choices – evaluating the benefits of wide pots for heat transfer, aluminum vs. titanium heat conduction, or breaking down various pot and mug capacities and mixing and matching depending on the trip, there's also a lot to be said for a single solution that does everything well. When it comes to solo backpacking and even on dayhikes, my cookware option of choice over the past few years has been the do it all 850ml combination mug and pot from Mountain Laurel Designs (MLD).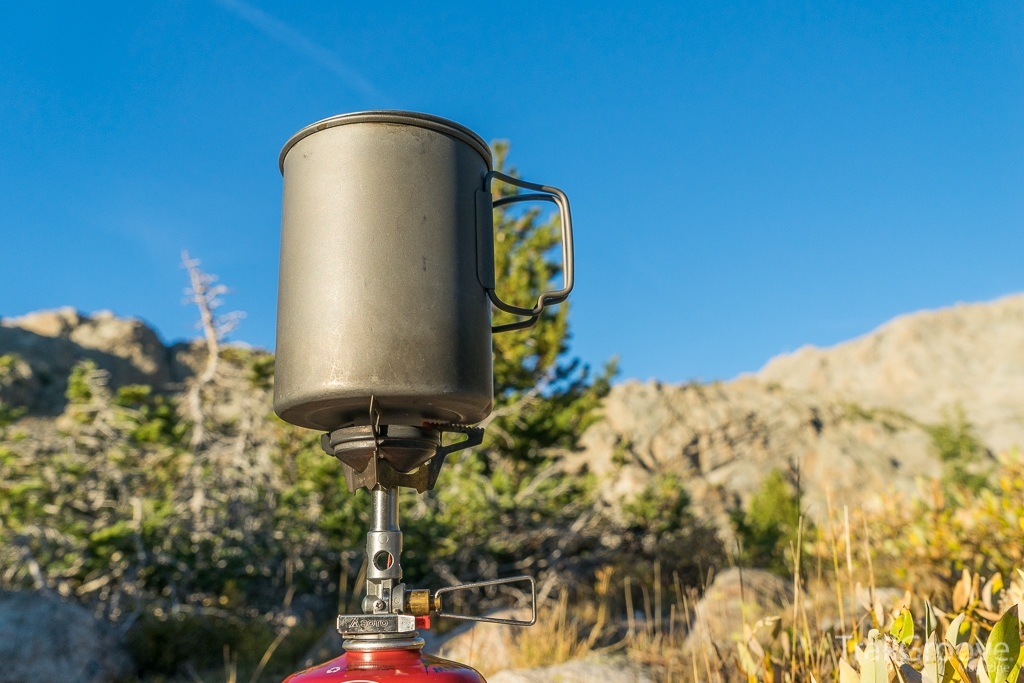 The MLD 850 is a thin walled titanium mug with a .85 liter / 28.7 fluid ounce capacity filled absolutely to the brim, featuring collapsible handles, an included lid with integrated venting / drain holes, and a hinged (for packing) lid lifter / handle. The 850 is listed at 3.3 ounces, and comes in at 3.6 ounces on my scale. The 850 will fit 110 gram fuel canisters along with most upright canister stoves, and the mug shape works great for those double doses of morning coffee when you wake up to a fresh layer of snow. The 850 works just as well when it comes around to dinner time; the size of the mug allows you to easily boil 2 cups of water, enough to rehydrate most backpacking meals, homemade, freezer bag style, or otherwise. In fact with the extra capacity here my favorite dinner time routine is to boil about 3 cups of water, pour two cups into my meal, and then enjoy a hot cup of tea with the remaining water while watching the sun go down as the meal rehydrates. Alternatively, if you prefer to cook your meals in the pot there's room for that here as well if solo for some basic cooking. Either way, throw in a backpacking utensil and you'll be set.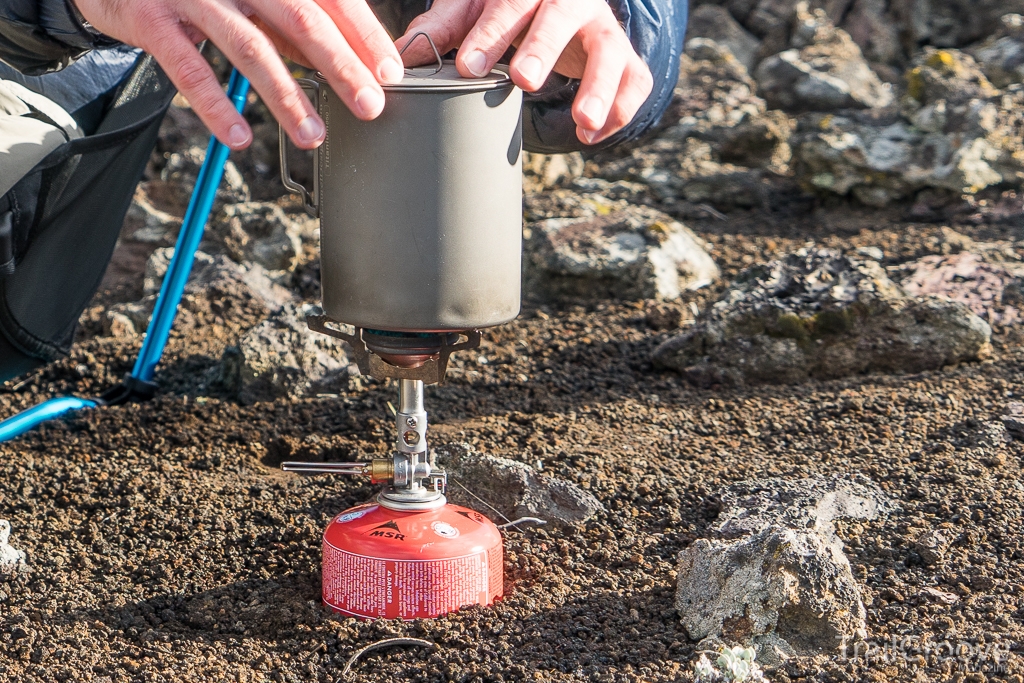 The 850 is that great size that is not too large to work as a mug, and the handles feature a strategic and convenient finger rest – by resting your middle or ring finger on the flat part of the handle you don't have to white knuckle the handles or use two hands to hold on to a full cup of coffee. Although the capacity is listed as 850ml, if you plan to boil water about 3 cups is the max comfortable limit here to prevent water from boiling over the sides. I've found the stability on upright canister stoves is fine. Keep in mind that the handles here will be close to the stove however – so try to keep the handles downwind if you can (see our Issue 24 Trail Tip).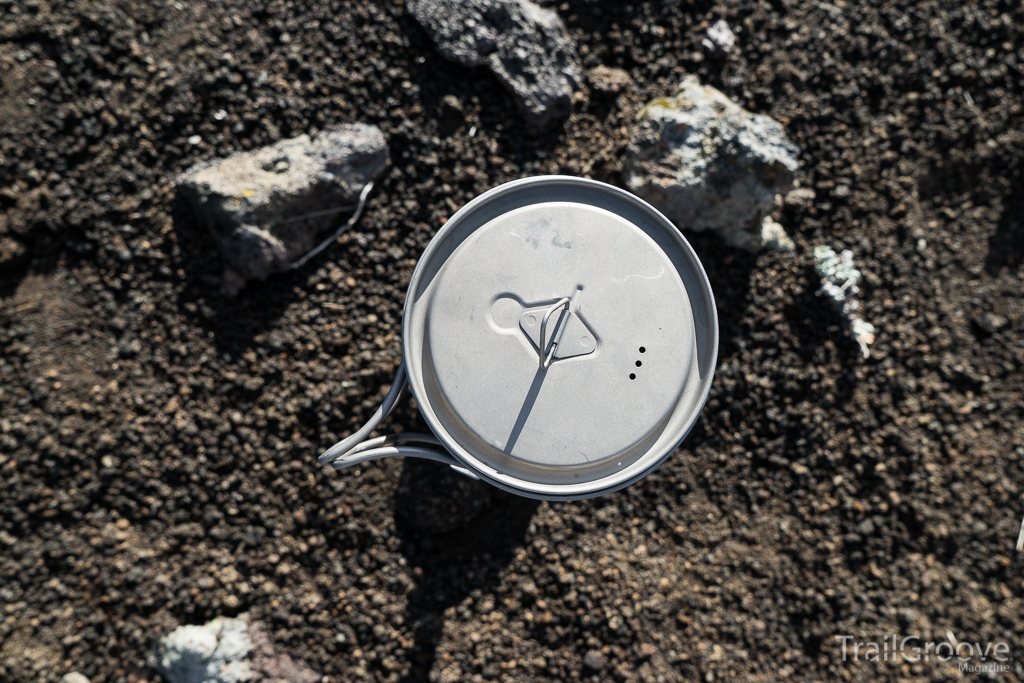 If I have one nitpick on the 850 it's that from time to time, the pot is so thin that it can get bent out of shape ever so slightly, which won't allow the lid to fit fully flush. This is about a 5 second fix (just gently bend back into shape), and could be solved through more careful packing; cookware may not face the easiest of existences in outside pockets of packs as they're leaned against trees and rocks, or when pots are shoved into full packs. But sometimes this is the small price we pay to go ultralight. While Mountain Laurel Designs has recently hinted that the venerable 850 may or may not be available in the future, it's still in stock as of the time of this writing (the Toaks 750 pot is very similar and also comes in a bail-handled version).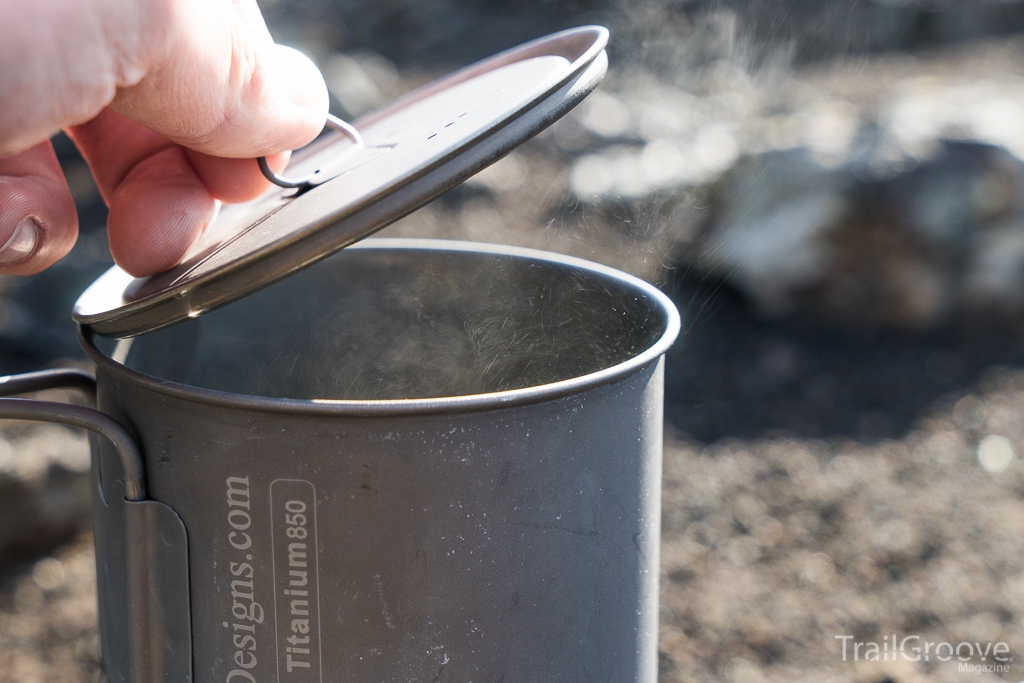 Although the 850, or pot / mug combos of this design may not be quite as fuel efficient as a separate wide pot (example: the Evernew 900) combined with carrying an additional backpacking mug, the 850 works well for those desiring an all in one, jack of all trades ultralight solution for their solo backpacking cookware needs. The MLD 850 retails for $55, and you can find it here at MLD.