Good To-Go New England Corn Chowdah Review
---
The latest meal from Good To-Go, their New England Corn Chowdah is an option that seems well suited for a company that's based in Maine to offer. This meal brings 330 calories for the single serving version to the table and 670 calories for the 2 serving option, and is a hearty soup / chowder (or chowdah when pronounced appropriately) containing dried corn, sweet potatoes and potato, milk, carrots, bonito (fish), along with leeks, shallots, parsley, salt, and black pepper. This meal is gluten free, pescatarian, and is ready in 15 minutes after adding about 1.5 cups of water for the single serving version and 3 cups on the double serving option.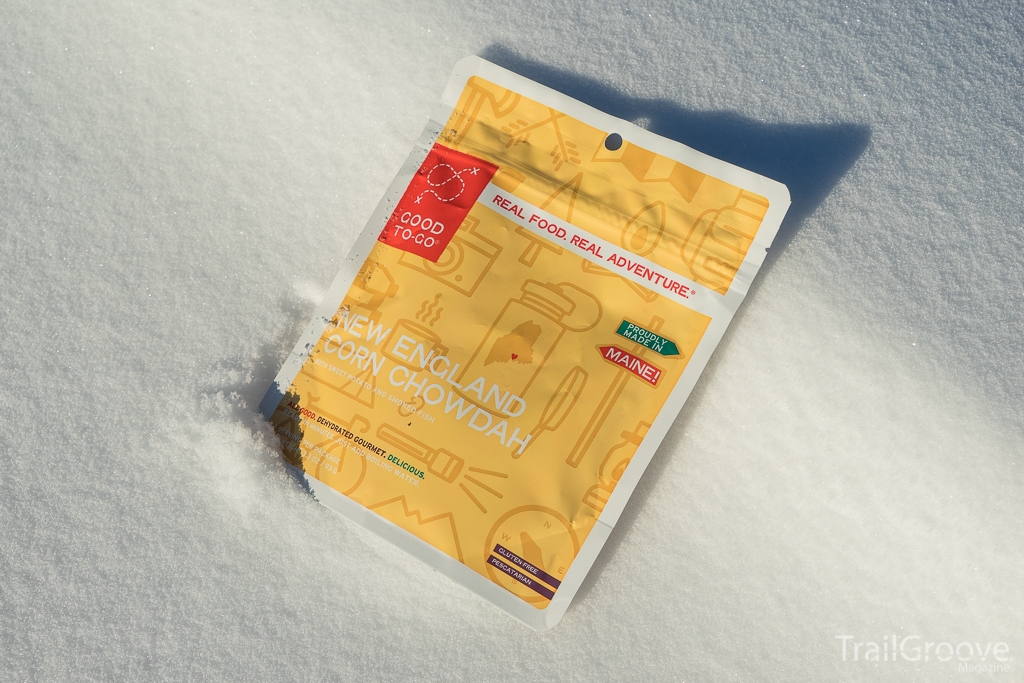 Immediately upon opening the bag, you are greeted with the smell of smoked fish, and one favorite of Good To-Go meals is the approximate fill line that they place right on the bag of each meal for those of us that are satisfied with a "close enough" approach when it comes to cooking measurements. After rehydration you'll end up with a meal that has a soupy consistency – spoon suggested on this one for your backpacking utensil of choice compared to a spork, but with the chowder inspiration here there is still plenty of heartiness to the meal when you dig down towards the bottom of the bag. The smoked fish is quite prevalent – I'd say the bonito ingredient (a tuna relative) could be reduced just slightly if I had to nitpick, but this would be a great meal for those that enjoy a meal on the trail with a seafood component. Despite corn being the first ingredient here, I would consider this more of a fish chowder than a corn chowder.
As a result however, there is no shortage of savory here, and no shortage of taste either – Good To-Go has really packed in the flavor with a balance between smoky and sweet and this is easily my favorite meal from Good To-Go. The meal rehydrates well after the wait and tastes surprisingly fresh, and it's hard to think of a better option after a cold or rainy hiking day if you're a seafood fan. I'd say the serving suggestion is pretty accurate and can be followed here, as the meal is surprisingly filling with the single serving making a hearty lunch for 1 and the double serving working for 2 who don't have too huge of an appetite and perhaps combined some crackers to go with the chowder or your side of choice.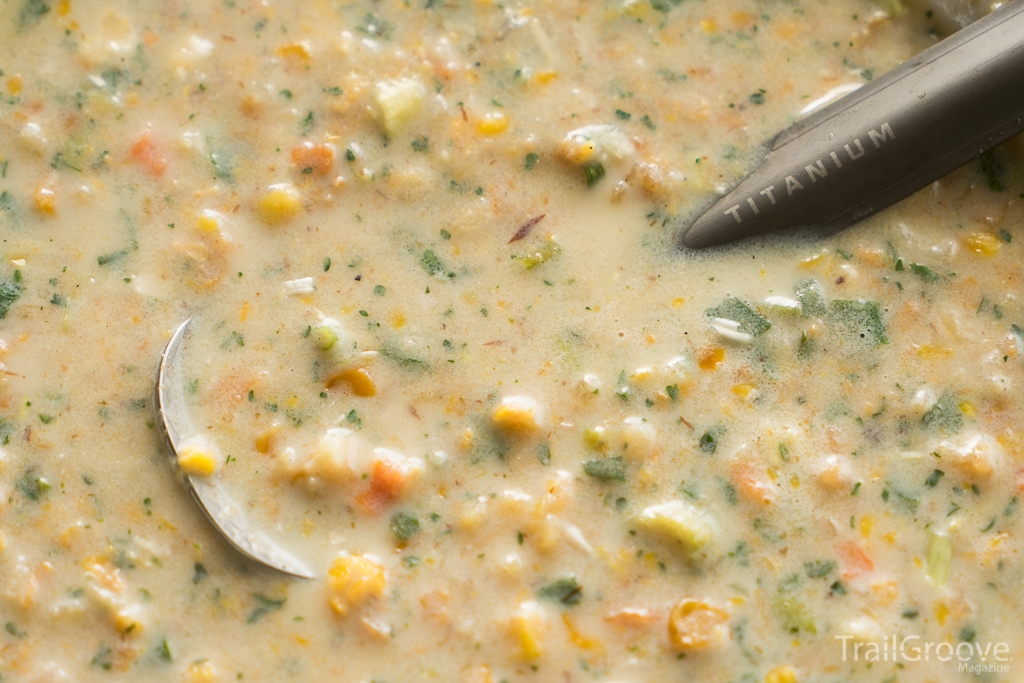 While one can definitely pick up the smell of the fish, there's no fishy taste. However, with the odiferous nature of the meal, it would be worth considering this when backpacking in bear country when it comes to cooking the meal and in regards to storing the empty bag after dinner, and for the rest of the trip as well. OPSak odor resistant bag suggested. Overall this ended up being a surprisingly filling meal, tasted great, and if you're looking for a backpackable, chowder style meal with a prevalent seafood component (the meal is quite appropriately named) look no further.
The New England Corn Chowdah Meal from Good To-Go retails at around $7 for the single serving version and $13 for the double serving. You can find the meal here at REI and on Amazon.com.