Petzl Actik Core Headlamp Review
---
Depending on what time of year you're hiking and your latitude, a headlamp likely alternates between something you might barely use (summer in Alaska) or something you're using when cooking dinner, breakfast, and for the many hours in between (winter in most of the northern hemisphere). Not to give a particular piece of equipment too much credit, but in a certain sense a headlamp is an almost biblically miraculous piece of gear – where there is darkness, it provides light. Whether that's for illuminating the trail as you crank out post-sunset miles or reading in the tent, a headlamp doesn't just make tasks easier. It makes them possible.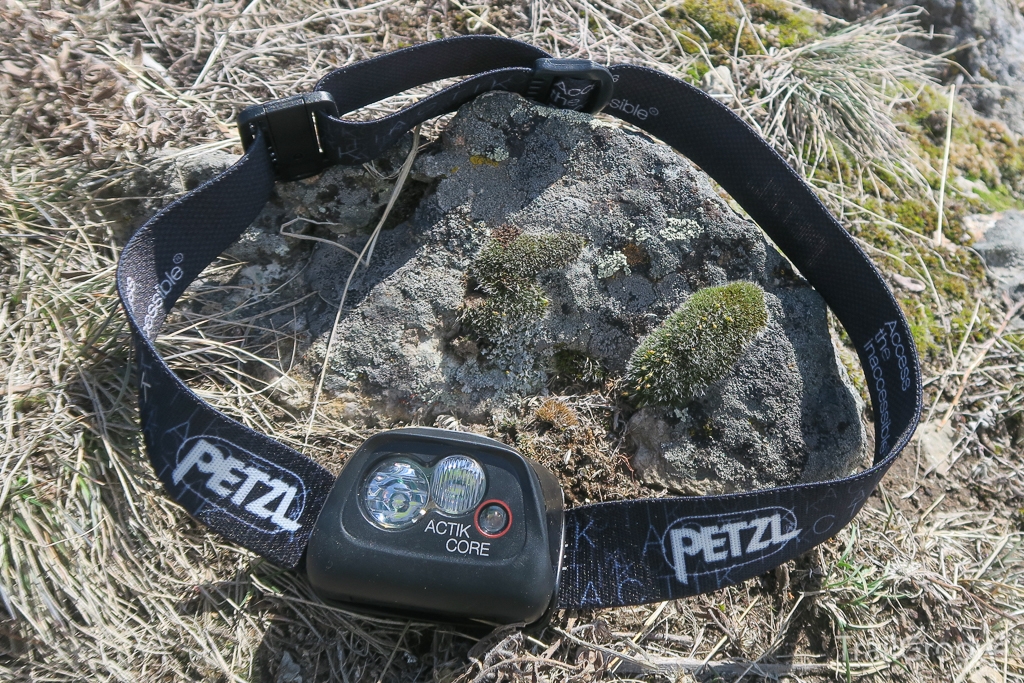 Like most headlamps, at its most basic the Petzl Actik Core is a piece of plastic (lights like the Zebralight H53w would be an exception) housing an energy source that uses bulbs and electrical wizardry to project light and attaches to your head with an adjustable elastic strap. The most notable feature of this headlamp is its energy source(s). The standard power source is a rechargeable battery and AAA batteries can be used as well. For longer trips, this allows one to easily bring back-up power without having to use an adapter or bring a spare battery specific to the Actik. I've found the standard battery charges fully in just over two hours (via the included USB cable) after extended use and much quicker when just "topping it off" in between trips where it didn't see too much use. The convenience of not having to have as many batteries on hand to swap in prior to trips – not to mention avoiding the frustration of wasting batteries with a quarter-charge or so remaining – is huge. If your car has a USB outlet (if it doesn't, 12 volt USB car adapters are inexpensive), then the convenience of recharging your headlamp on the drive to the trailhead will be much appreciated. Just don't get distracted and leave your headlamp in the car before you hit the trail!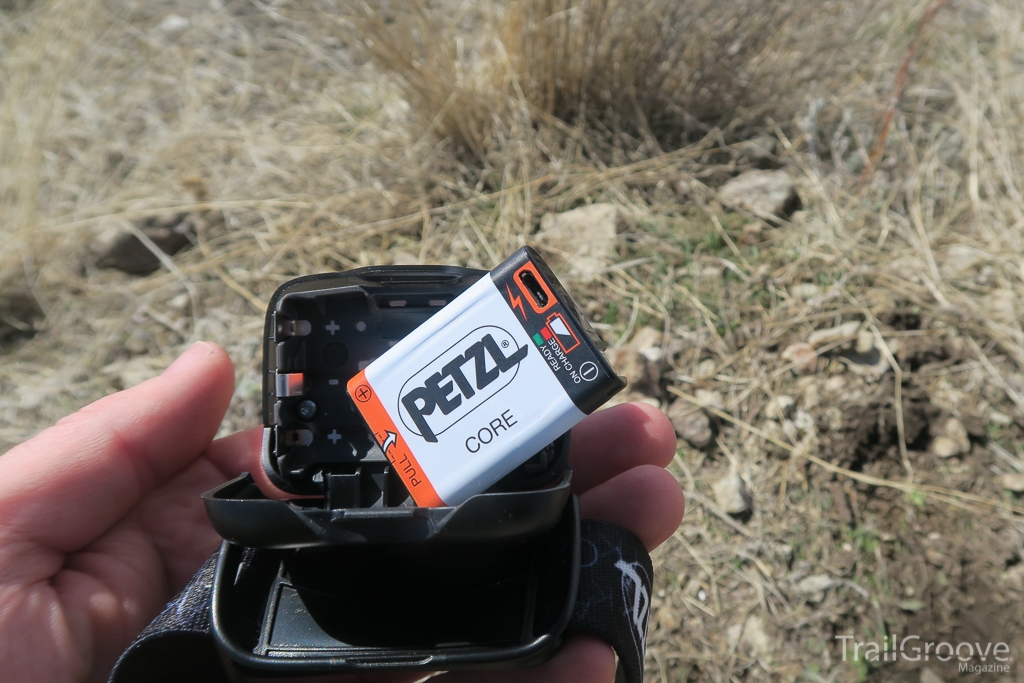 The light has three different brightness settings that draw down the battery at speeds proportional to the brightness. The 350 lumen mode – super bright – will burn through the battery in a mere two hours, whereas the standard 100 lumen mode lasts for seven hours. The minimal five lumens (enough to read in the tent or other tasks not requiring a large field of illumination) will last 160 hours. On the low mode, only the diffused beam LED is activated, with medium and high modes utilizing both white LEDs for a mixed, spot and flood combined beam effect.
Depending on how much daylight there is any how much time you spend in camp, bouncing around between these settings should last most hikers for up to a weeklong trip. If you're going to be doing a lot of hiking at night and using the brightest setting (although for on trail night hiking I've found the 100 lumens to be reasonable) then you could easily burn through the battery on an overnight. The brightness doesn't fade as battery life diminishes, but instead quickly decreases towards the end its capacity. A red light option (including strobe function) is also available and keeps you from interrupting your "night vision" after becoming acclimated to the dark and allows you to be considerate of others around camp and not blind them with the white light.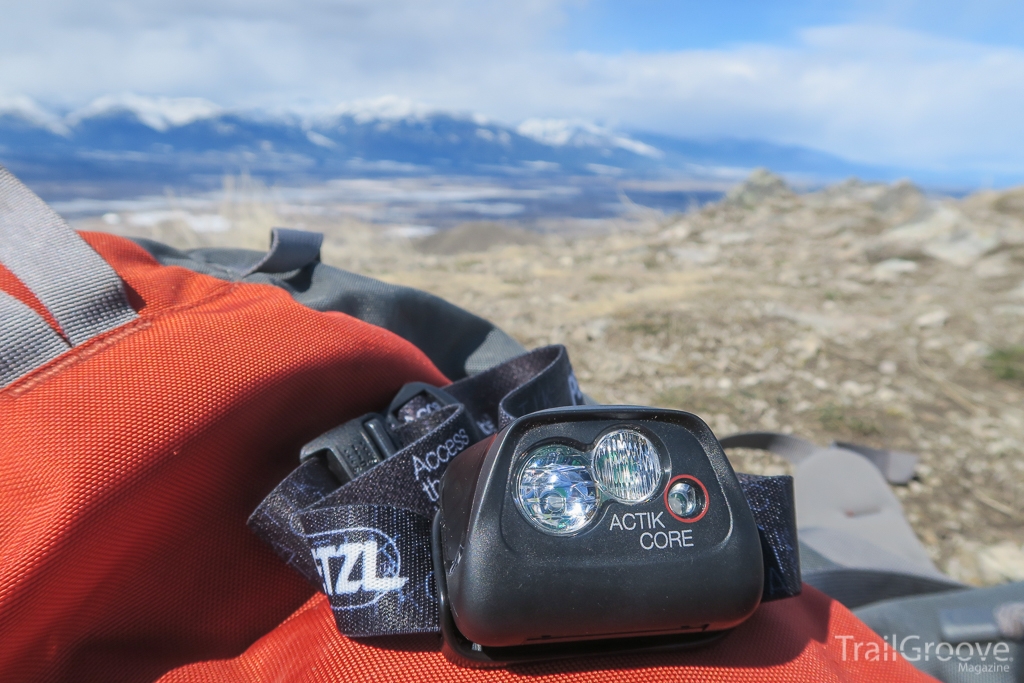 Most of my use has been on either the medium setting (chores around camp in the dark) or the low setting (reading in the tent). The maximum setting is extremely bright and offers plenty of illumination for hiking at night, even cross-country. For night hiking on trail, I found that even the 100 lumen setting was adequate for distinct trails.
The headband fits comfortably and is easily adjustable. After getting damp, I've found it to dry more quickly and seemingly absorb less water than the straps from other headlamps I've owned. Although not fully waterproof, the Actik is listed as "weather resistant" by Petzl (IPX4). I've had limited use in extended downpours, but light drizzles have had no effect on performance. While its primary function is providing light when you need it, this headlamp also has a few safety features worth noting. The lettering on the strap is reflective, which is a nice touch, and a cleverly designed whistle on the adjustment piece of the strap could come in handy in an emergency. As mentioned, an available strobe setting also falls into the safety department. Unfortunately, the headlamp can't be locked out, but the on switch is designed in such a way that makes accidentally turning it on unlikely.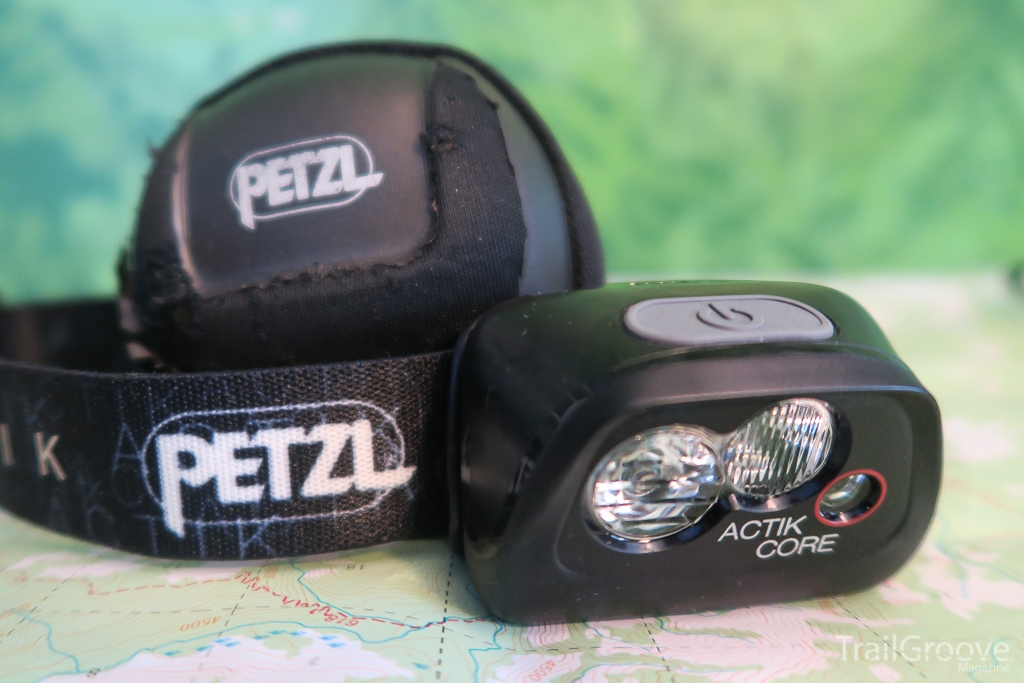 If you're in the market for a headlamp, the Petzl Actik Core certainly warrants a close look. Having all the standard headlamp features, a rechargeable battery, good mix of brightness, and an MSRP of $69.95 it should check most practical, convenience, and economical boxes for most backpackers. Although the price is a bit more than non-rechargeable headlamps, the convenience and the fact that you won't have to spend money on batteries over the life of the headlamp still makes it an appealing purchase. Weighing in at just shy of three ounces, the performance certainly is commensurate with the modest weight. It you've ever tried to find a campsites at night using an underpowered but ultralight headlamp, I think you'd agree the extra weight is well worth being able to see what you're doing and not ending up camped on a bumpy, sloping piece of ground. Available in black or red, this headlamp has reasonable warranties for the lamp and battery (five years for the lamp; one year or 300 charging cycles for the battery, a Core replacement battery is $29.95).
You can find the Petzl Actik Core here at REI and at Backcountry.com. For more on headlamps in general, see our guide on choosing a backpacking headlamp.
1