Shenandoah National Park: Hiking Back East for a Change
---
It's almost as if the Pacific Ocean is a magnet, pulling me west each time I venture out to explore. While I take full advantage of the natural wonders offered by my home region in the central U.S., if I am traveling very far to hike, it is usually somewhere west of Oklahoma. As a result, I have hiked very little in the eastern United States, though I've managed to walk short sections of the Appalachian Trail on trips to Vermont and Maryland. Not much to brag about.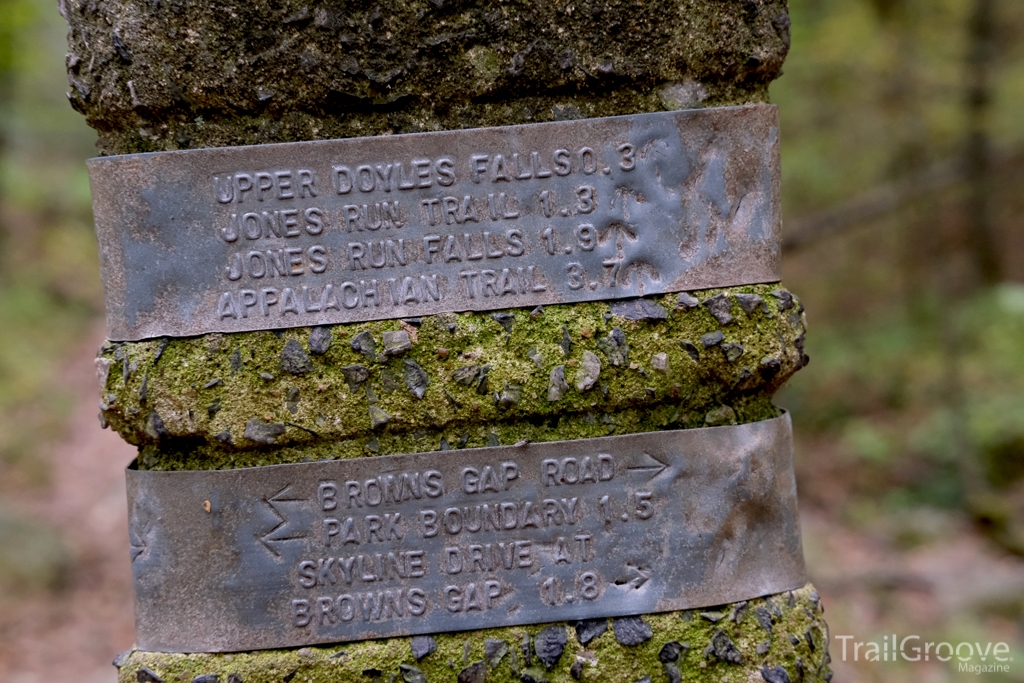 Recently, I was in Virginia on business with my husband, Bill, and found myself with a free day, presenting an opportunity to experience a slice of the hiking in the East. We were stationed only a 30-minute drive from the southern boundary of Shenandoah National Park (SNP), so it was a natural choice. The 200,000-acre park is located in the Blue Ridge Mountains in western Virginia, stretching 105 miles from north to south. One main road, Skyline Drive, runs the distance of the long, narrow park and most hiking trailheads are accessed right off that main road. With more than 500 miles of hiking trails at SNP, there's plenty to choose from. But how to choose? Since I was coming from the south and wanted to maximize my time hiking rather than driving, I picked a trail in the Loft Mountain area, about 20 miles north of the park entrance. And who doesn't like waterfalls? SNP is full of waterfalls and I selected a couple of trails that appeared to have nice cascades, connecting them in a loop with a section of the Appalachian Trail, which runs all the way through Shenandoah. My total walking distance would be about eight miles, a nice length for a leisurely day hike.
Arriving in Shenandoah early in the morning on a cloudy October day, I pulled into a nearly empty Jones Run Trailhead, pleased to be getting ahead of the weekend crowds. There was only one other vehicle there and I let its owner get on the trail ahead of me. I was alone, since Bill was working, and I preferred some solitude on the trail. The leaf-strewn path lined with ferns took me down, down, down into the hollow toward Jones Run Falls, a 42-foot cascade. I knew what the long descent meant – what goes down must come up. But for the moment I enjoyed the easy walking. Raindrops began to pepper the forest canopy and I thought how silly I was to have forgotten a rain jacket.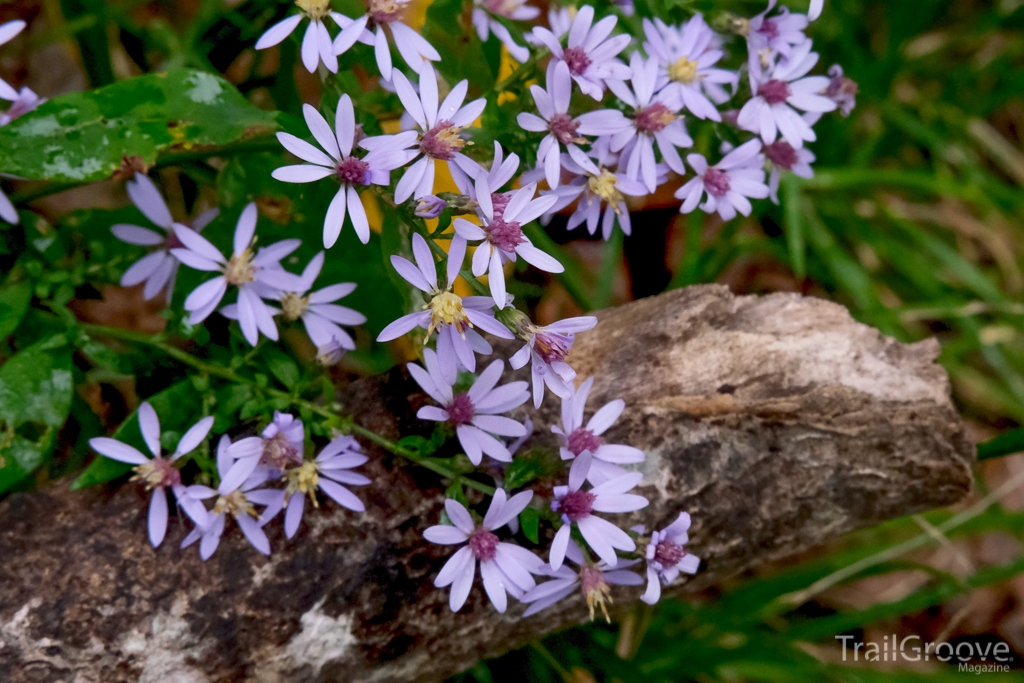 In spite of what the calendar said about the season, there was little color change in the oaks and hickories, and what little existed was muted by the overcast skies. The temperature was pleasant, though, and the rain had stopped. I was enjoying myself thoroughly, nearly scampering along on the rocky trail.
"I got my picture of a bear," said a hiker, approaching from the opposite direction. The gray-ponytailed man in a ball cap stopped to explain he had just seen a bear on the trail and was able to capture a photo of it. He said he'd had to wait a while before proceeding, watching the bear cross the creek and eventually clamber up the hillside.
I thanked him and continued, a little more watchful in case I too might get such a photo op. Soon I came to Jones Run Falls, but it was only a trickle, as the area had been experiencing drought. The 42-foot cascade was a 42-foot dribble, but I imagined it would have been quite spectacular with water. Continuing, I crossed the creek and began to ascend, now on the path toward Doyles River Falls.
There are two falls along the Doyles River Trail, the upper and lower. Like Jones Run, there was only a trickle of water flowing across them. As I approached the lower falls, my solitude ended. Crowds of hikers, young and old, human and canine, were coming down the hillside as I climbed up, up, and up. If they were looking for spectacular waterfalls, however, they were out of luck.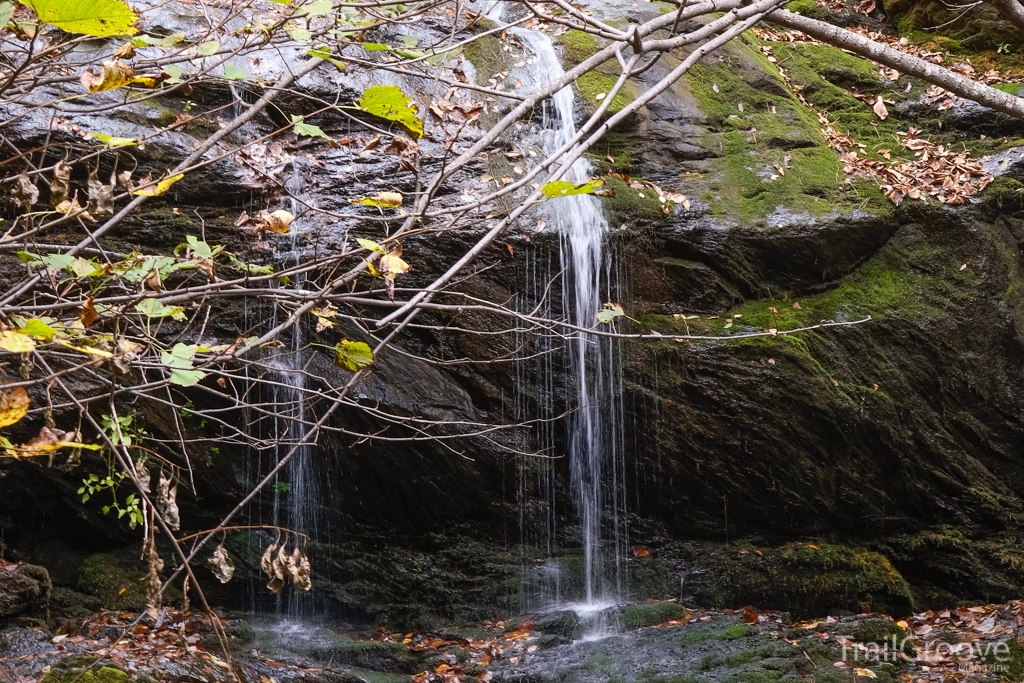 Soon I came to a spring surrounded by a wall of mossy stones. A sign there pointed to Doyles River Cabin. Curious, I followed the spur trail to find a woman and two young girls sitting on the front porch of a rustic house. "I didn't mean to intrude," I said. "I saw the sign and wondered what was up here."
"No worries," said the woman. "You're not the first hiker we've seen today."
"I accidentally locked us out," said one of the girls. "My daddy's gone to get the ranger so we can get back in." Probably more information than the mother would have liked her daughter to share with a total stranger, but then I also probably looked (and am) pretty harmless. I wished them luck and turned back, continuing my climb. It was a relief when I reached the top after the long ascent, and there I found the trail marker for the Appalachian Trail (AT), indicating a 3.4-mile walk back to Jones Run, my starting point. The AT was narrower than the trail I'd just been on, appearing less trafficked at this point. Right away, I saw bear spoor on the trail, and only seconds later another such deposit, renewing my alertness. I started walking more quickly and making a bit of noise, becoming nervous about a bear encounter.
Soon I began to meet other hikers on the trail and relaxed a bit. Then, lo and behold, I came across the first hiker I'd met, the guy who took the bear picture. I told him I hadn't seen the bear and he asked about my camera, a lightweight mirrorless I was carrying around my neck. He was carrying his big DSLR with its huge lens in a waist pack. Good for pictures, heavy for hiking.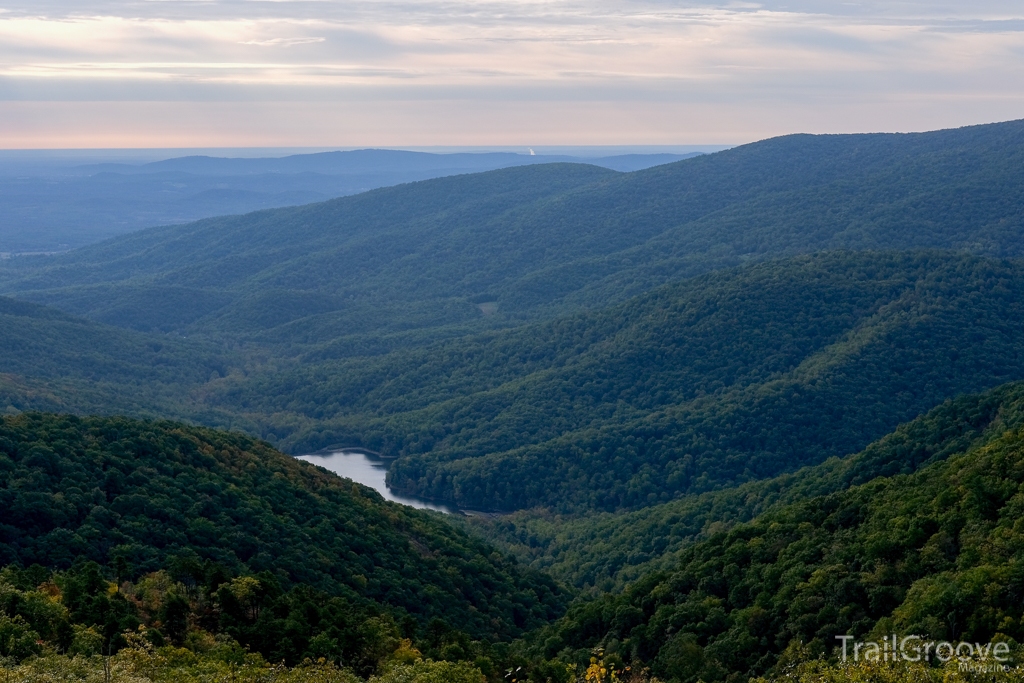 Bidding him adieu, I soon reached my car, well satisfied with the hike but hungry. I drove a little farther into the park to the Loft Mountain Wayside and grabbed a late lunch, then began my return trip. As I drove south, the sun broke through the clouds, lighting up the red leaves of the maples along the roadside, so much so that I was compelled to stop at a turn-out and admire the view. The wind freshened, and as I left, autumn leaves skittered across the road and onto my windshield. Fall, it seemed, had just decided to arrive.
Information: Shenandoah National Park lies along the Blue Ridge Mountains in north-central Virginia. Almost 40% of the land is designated as wilderness and protected as part of the National Wilderness Preservation System. The highest peak is Hawksbill Mountain at 4,051 feet.
Best Time to Go: As with most of the southeastern deciduous forest, spring and fall are generally the best times to go, avoiding humid summers and often snowy winters in the mountains.
Getting There: Shenandoah National Park is located about 70 miles west of Washington, D.C. The park has four entrance stations along its 105-mile length. The Jones Run Falls trailhead is located at mile 84.1 in the south district of the park.
Maps and Books: A map for the Jones Run Falls/Doyles River Falls loop is located here. Note, however, I connected the two trails with the Appalachian Trail rather than with Browns Gap Road. National Geographic also offers their Trails Illustrated Shenandoah National Park Map.
Several guidebooks are available on Amazon, including a Falcon Guide to Hiking Shenandoah National Park.
3