Desert Escape: Backpacking Arizona's Aravaipa Canyon
---
While not an unknown destination by any means, Aravaipa Canyon in southern Arizona is considerably less famous, even among backpackers, than many other destinations in the Grand Canyon State. One of the few perennial streams in the Sonoran Desert, Aravaipa Creek offers those who hike in the area a reliable source of water. This is a welcome treat in arid Arizona, since many backpacking trips in the state must be carefully planned around water sources. Not only does the year-round water in the canyon ease the anxiety about access to water, it also nourishes a lovely forest near the creek and provides for a delightful soundtrack at the campsites that are within earshot as the water flows through the canyon.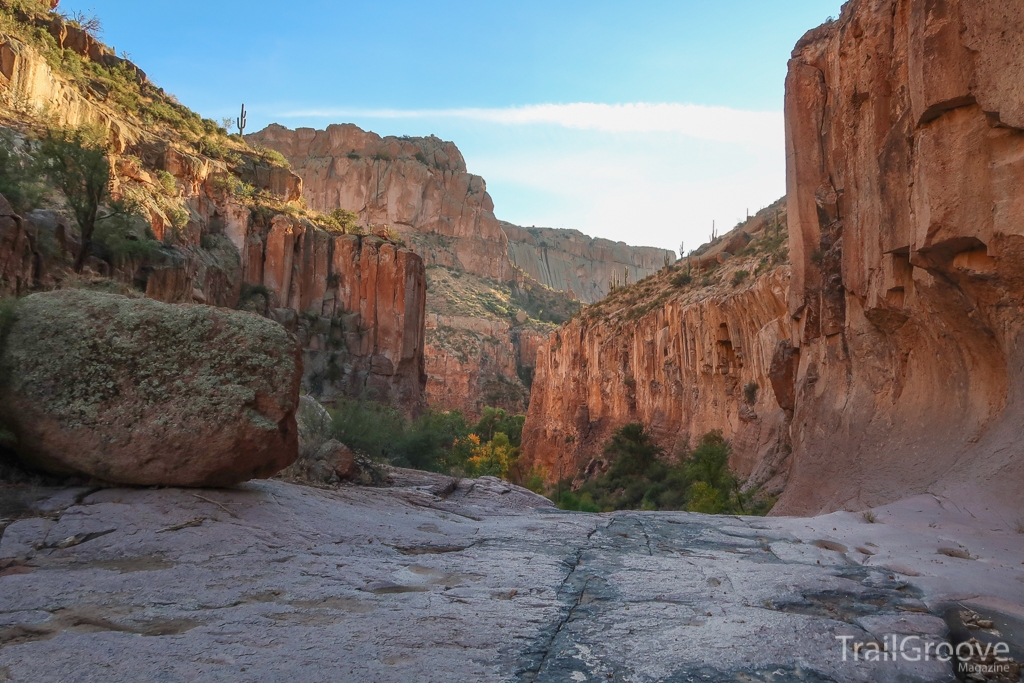 Since Aravaipa Canyon is such an enchanting and unusual destination, and is less than two hours from the major population centers of Tucson and Phoenix, access is limited by the Bureau of Land Management (the BLM oversees the 19,410 acre Aravaipa Canyon Wilderness) to 50 people per day and you cannot stay in the canyon for more than three days. This limits backpackers to a two-night, three-day trip – enough time to enjoy a sense of immersion in the canyon, but also brief enough to leave you wishing you could have stayed longer as you hike out. The permit system preserves a sense of solitude in the canyon and minimizes impact and, in my experience in fall 2019, it was not overly difficult to obtain a permit for Thursday-Saturday during the peak visitation time of mid-November. However, I did book the permits as soon as they became available (three months in advance) and they were all booked within a few weeks of opening. Weekday permits are easier to obtain, but if you are travelling any significant distance to visit Aravaipa Canyon you would want to prioritize the permits before making other travel arrangements. While there are plenty of other amazing spots to see in Arizona, there are few that come close to Aravaipa Canyon in regard to scenery and solitude.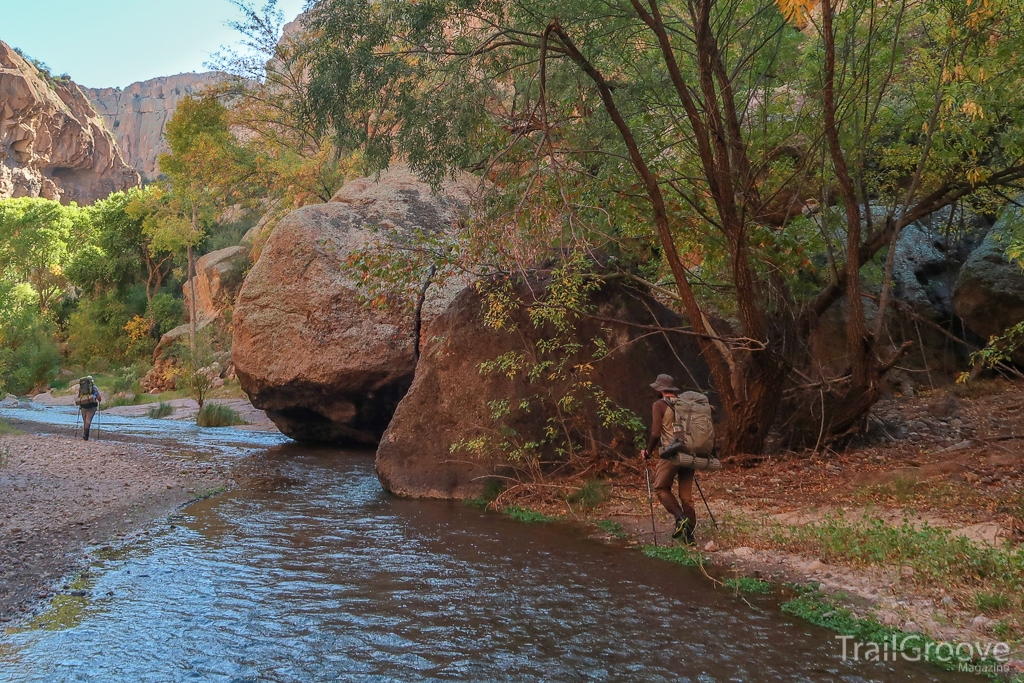 As already mentioned, water is without a doubt the defining feature of Aravaipa Canyon. And you must really like water to backpack in the canyon, because you will be walking in it for perhaps up to two-thirds of your hike. There are no official trails in the canyon and it becomes so narrow in many places that wading in the creek is the only option to continue your journey. You end up utilizing the path of least resistance more often than not and that path just so happens to be the creek. In mid-November, with air temperatures in the mid-70s and water temperatures in the mid-50s – with the water rarely much more than ankle deep – walking in the creek was not uncomfortable in the least. I found that wearing non-waterproof trail running shoes with wool socks and gaiters was the perfect combination to be comfortable while hiking in and out of the water for the approximately three hours it took myself and two friends to reach a superb campsite about five miles in the canyon, near the mouth of Horse Camp Canyon.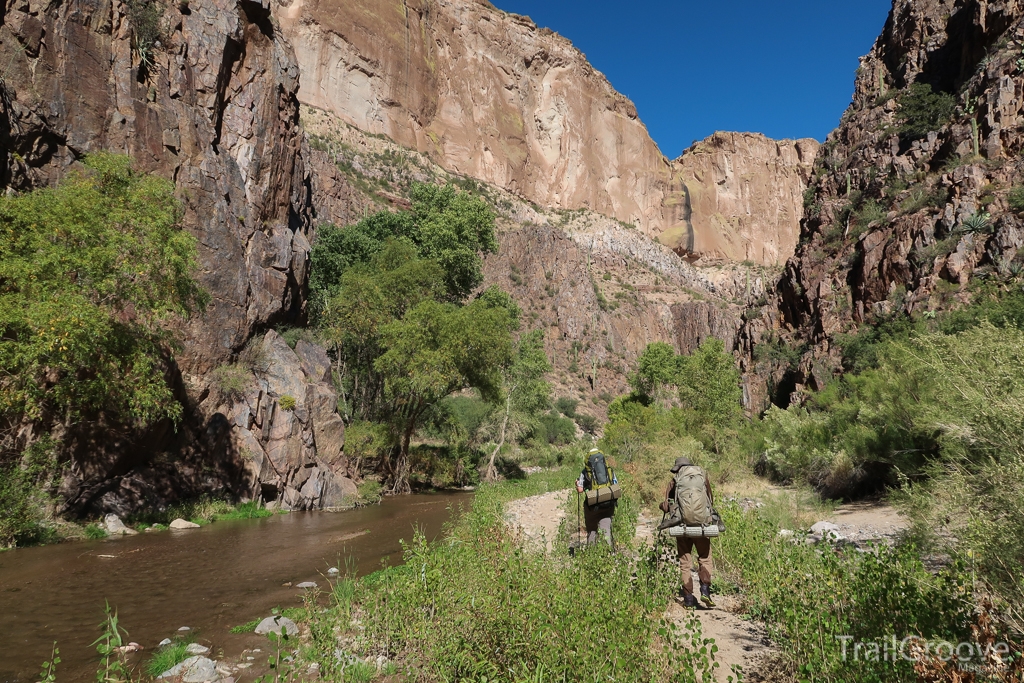 After setting up camp and enjoying some time airing out feet out in camp shoes, we crossed Aravaipa Creek and hiked up Horse Camp Canyon to explore the potholes, cliffs and boulders of this side-canyon. Edward Abbey, renowned author of fiction and non-fiction regarding Southwestern landscapes, describes his own visit to Horse Camp Creek in the essay "Aravaipa Canyon" (contained in the essay collection Down the River). Having previously read his essay, and being partially inspired to visit the canyon after reading it almost a decade ago, it was a neat experience to be looking at some of the same landmarks he described. On an exceedingly important but more somber note, Abbey notes in his essay that the original inhabitants of Aravaipa Canyon – the Apache, Pima, and Papago tribes – were massacred by American pioneers and the survivors forced on to reservations. It was the native inhabitants who gave the creek its name, which is translated to mean "laughing waters" in English. Further down the canyon, and out of the reach of my short but maximum-duration-allowed visit, is a Native American dwelling built into a cliffside. We enjoyed a nice sunset from our vantage point in Horse Camp Canyon, watching the fading sunlight subtly change the colors of the cliffs in Aravaipa Canyon below and illuminate the leaves on the sycamores and cottonwoods that were taking on their fall colors. After the short hike back to camp we enjoyed a filling dinner and fell asleep to the sound of the creek.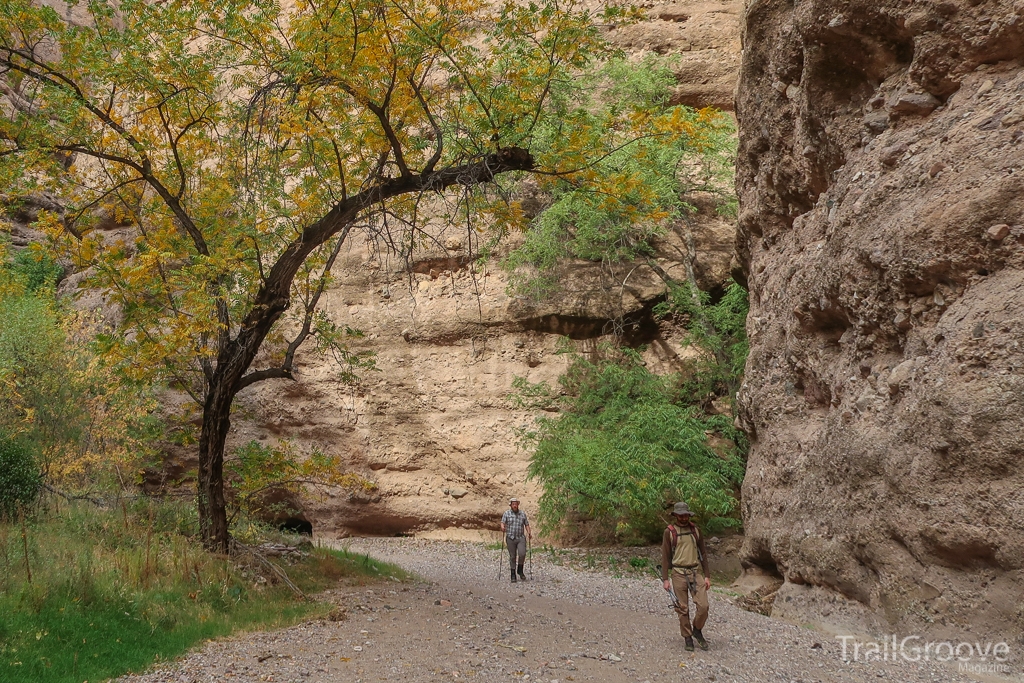 To make the most of our limited time in the canyon, we hit the "trail" shortly after sunrise with a dayhike from camp on the agenda. Although the creek was chillier than it had been the previous afternoon, the warmth generated by moving and the brief reprieves when a footpath presented itself next to the creek kept us all from becoming too chilled. It was much more pleasant to be navigating our way up the canyon without our backpacks. Although the footing is generally fairly good throughout the creek bed, no matter how well-balanced and secured your pack is it still throws you a bit off-kilter. Trekking poles were very helpful in the few circumstances where a misstep or slippery rock caused a momentary loss of traction and balance.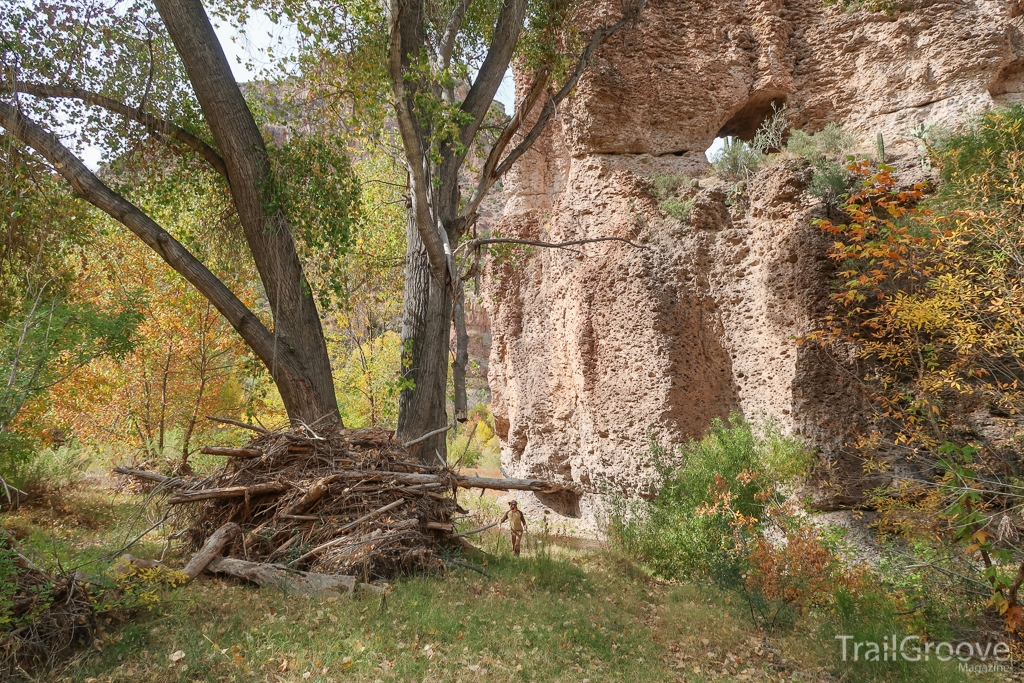 Our destination for the day was Deer Creek Canyon, roughly 3.5 miles upstream from our campsite. This canyon has towering sheer walls that aren't much farther apart than your average neighborhood street in some places. While not technically a slot canyon, Deer Creek Canyon provides similar amazement at the forces of geology. Its sandy, dry stream bottom made for easy hiking and we explored the canyon almost all the way to its terminus. While it was incredible every step of the way, a small spring and an arch high up on the cliff wall were particular highlights. Somewhat surprisingly, we had the entirety of Deer Creek Canyon to ourselves on a perfect autumn Friday. Although we did encounter a handful of hikers on our way to and from Deer Creek Canyon, a feeling of solitude was much more pervasive than I would have expected.
With the mid-November sun setting at about half-past five, and the canyon walls causing twilight to settle in even earlier than that, we arrived back at home just a few minutes before headlamps would have been necessary. We stretched out and relaxed with our boots off and our feet enjoying the fresh air and reprieve from dampness. While hanging our food, I caught a brief glimpse of a curious coatimundi before it darted into a mesquite thicket.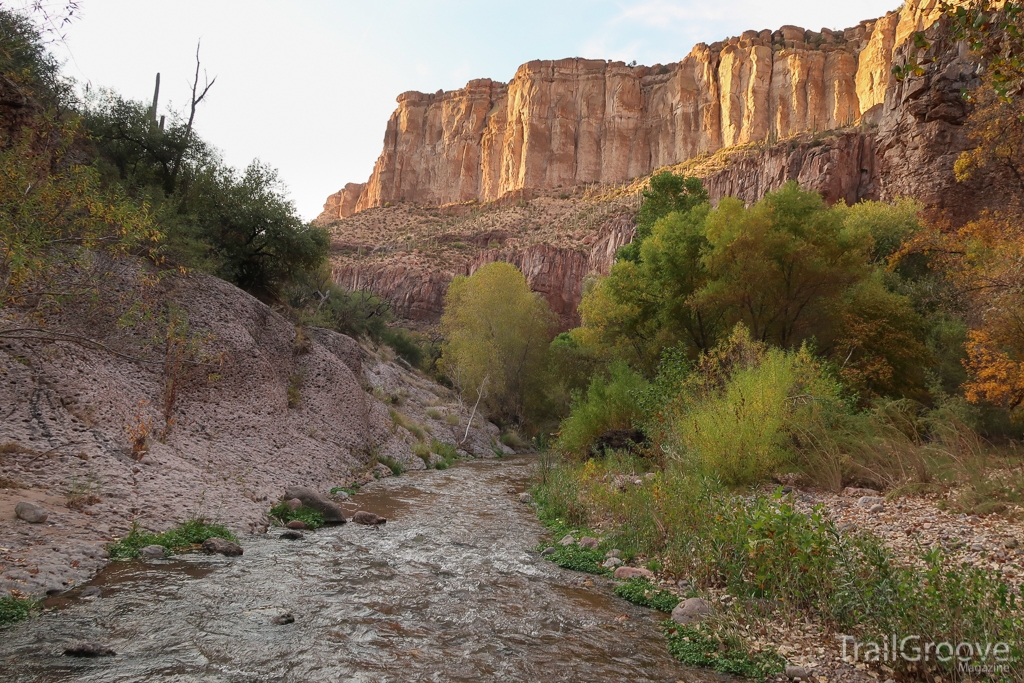 The next morning we found ourselves packed and on the trail fairly early and following the flow of the water downstream to the trailhead. Three days was enough time to get a good taste of the canyon, but left us all wanting a bit more time to bask in its riparian glory and its beautiful mix of desert and creekside oases. Hiking along and looking past sycamores to spot a Saguaro cactus only fifty feet or so from the creek, with soaring cliffs not far behind that, is a type of scenery that never loses its magic. Although there are many places to explore in Arizona, I doubt that this will be my last visit to Aravaipa Canyon.

Information: Permits are required for backpacking or dayhiking and are available up to 90 days prior to your trip. Reserve permits via recreation.gov. For backpacking, you must have a permit for each day you will be in the canyon. For example, for an overnight trip you would need to reserve permits for two consecutive days. You are not allowed to reserve more than three consecutive days.
Best Time to Go: Although it is feasible to access Aravaipa Canyon all year, the summer months can be miserably hot, even with the creek to cool down in. Possible flash floods from summer storms are also a major safety issue. The middle of winter can be uncomfortable as wading through the water is not pleasant in cold temperatures. The most popular months are March through May, and again from October through November.
Getting There: Aravaipa Canyon can be accessed from either an east or a west trailhead. The east trailhead involves lengthy travel on an unimproved road requiring high-clearance and good driving skills. The west trailhead, which is closer to Tucson and Phoenix, is easily accessed by turning onto Aravaipa Creek Road from Hwy. 77, north of Mammoth, AZ. You then follow this road for 12 miles to the dead-end trailhead, with the last nine miles being on a good conditioned gravel road.
Maps and Books: There is no standard map for Aravaipa Canyon; printing maps of the canyon off Caltopo is your best option, and you could also save USGS topos to your smartphone using an app like Gaia GPS to combine with a paper copy. I was able to fit the entirety of the section we planned to hike on two separate 8.5 x 11 inch pieces of paper and they were detailed enough for navigation. That said, you will be by the creek for the entirety of the hike. Benchmark offers a recreation map that can be useful for getting to and from Arizona destinations. Most guidebook descriptions of Aravaipa Canyon are limited, given that there isn't really a trail to describe. Hiking Arizona by Bruce Grubbs contains a description of the hike.
2