How to Use the Gaia GPS App and Trip Planning Guide
---
Among smartphone mapping and GPS apps, Gaia GPS is one of the most popular and one of my favorite smartphone applications for backpacking and hiking. The app is continually updated, and I've been using the app for the last 7 years to plan my backcountry trips at home and to plan out days while on the trail.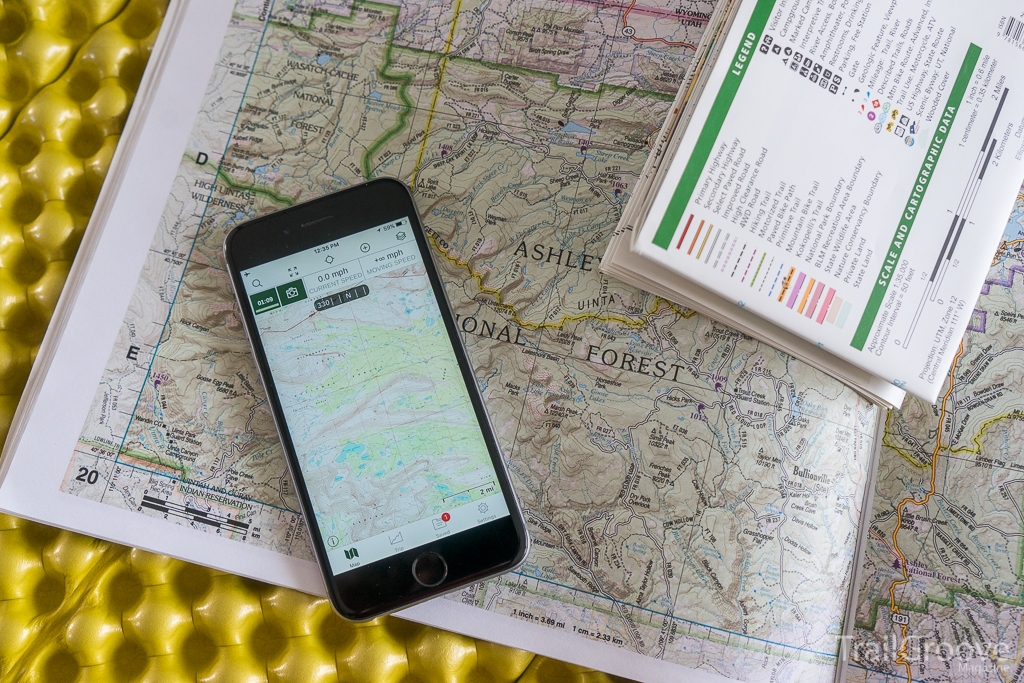 The app has the ability to store what would equate to a huge stack of USGS topos right to my phone for offline use, and is free to download for iOS here, or find it for Android here. Much like here at TrailGroove though, to utilize the app to its full potential you really need to upgrade to their Premium / Gaia GPS Pro level to get the most out of the app, for $39.99 a year. Note that a one year Gaia Premium Subscription is included with our own TrailGroove Premium Subscription – details on that here. What follows is a basic introduction and tutorial on using Gaia GPS (with a Gaia Premium Subscription) and a review on how I plan a hiking trip using the app, how to save maps to your phone for offline use, and tips and how to use the app while on the trail.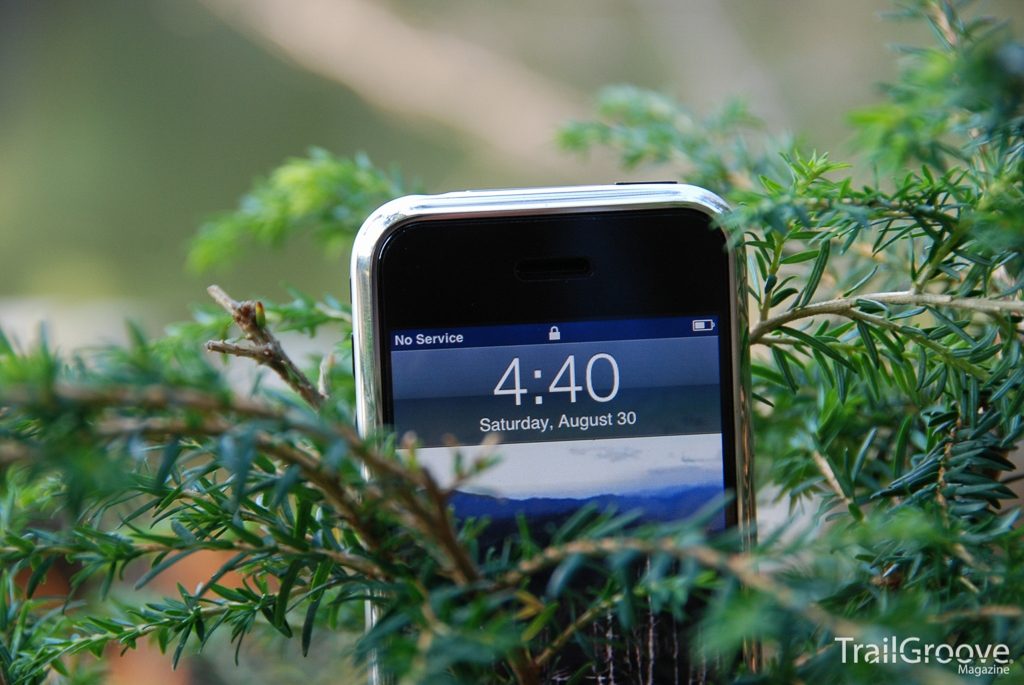 While there are many other ways to use the app, including the importing of gpx routes, saving maps for a pre-determined route, etc., most of my backpacking allows for much leeway in my route choice and often follows a "choose your own adventure" course as a trip develops. As a result my use is focused on a general area, not a specific route. This is how using the app has best worked for me.
 
Downloading Maps and Favorite Layers
After you've downloaded Gaia GPS and signed up for your premium subscription, it's time to plan a trip and download the appropriate maps using the app for offline use. First we need to navigate to the appropriate land management area. To begin, open the app and select the "Map" tab at the bottom of your screen. Next, select the layers icon in the upper right hand corner to select your base and additional maps (note that you can always utilize the search function in the upper left, however I prefer the zoom on the map method which works a bit better for me). To locate a general area, for example if we'd like to hike an on and offtrail route through Utah's Uinta Mountains, it helps to select a base map like MapBox Streets to start with. Much like driving to the trailhead (as seen in the first photo above, I prefer that state's Delorme Atlas for this purpose), a broad overview, street-based map that still offers a reasonable level of wilderness and backcountry detail is best to start with when planning a backcountry trip using Gaia GPS.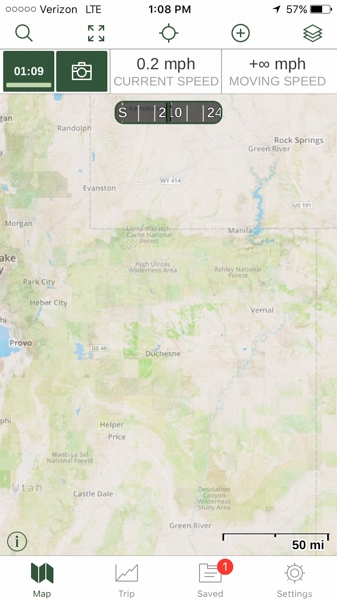 If MapBox Streets is not already in the "Visible" list of map sources, scroll down to the available layers and tap the green up arrow to move it there. Then, press and hold on the 3 horizontal lines to the right of "MapBox Streets" and drag your finger to move it to the first (lowest) position among your visible layers. This will make it the base map. Now tap "Done" and pinch or zoom to your state and then on to your trip destination. (Example browse to Utah--> High Uinta Wilderness Area) Now that we're centered and focused on the area of interest let's download the hiking maps to our device.
For hiking I've found a few layers are most useful. A good topo map layer is the first essential / base map, and I prefer the USGS topos or the National Geographic Trails Illustrated Maps if one is available for the location. In this example using the Uintas, let's go the USGS route. Now return to your map layer section (3 tiles in the upper right hand corner). Click the red "X" to the left of Map Box Streets – we can only select 5 layers and it's good to have all 5 available for more hiking related maps. The layers I've found most useful for hiking and backpacking over the years are USGS Topo, Shaded Relief, Slope, and Public Land.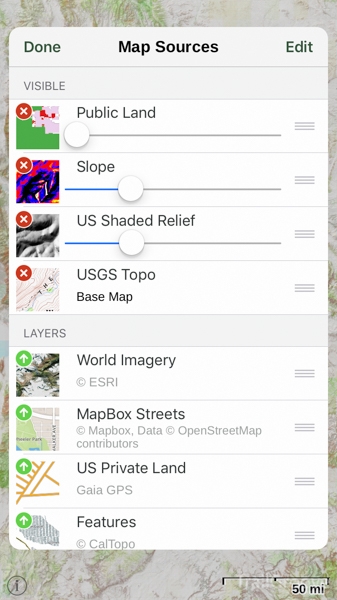 With these 4 layers, you'll be able to map out nearly any hiking scenario. Add them to the "Visible" list, again by pressing the green up arrow for each listed under "Layers". Make sure to set USGS Topo as your base map and click "Done". I like to download maps for the entire management unit prior to a trip, just so I know I have everything covered in case the plan changes, and especially since I like to wander a bit or change up plans on the fly.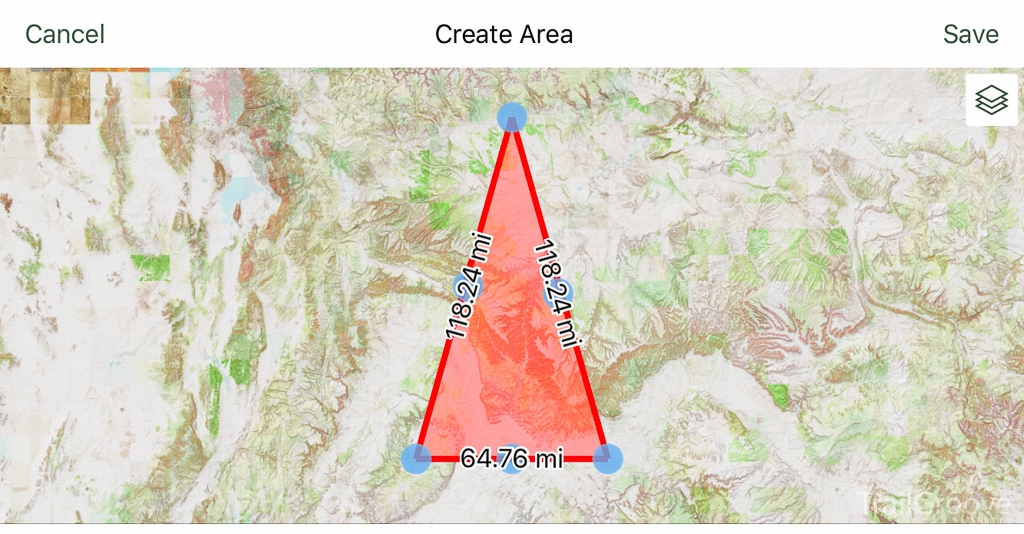 At this point in our example, we now have the entire Uinta Mountain Range visible. Now let's create an Area. Click the "+" icon at the top of your device and select "Create Area". A triangle with 3 blue points will appear. Drag each blue dot to cover the entire mountain range in this example, and adjust the additional blue dots that are created with each drag as needed. Allow a bit of overlap here; better to download too many maps than not enough and if space is an issue, we can always delete these maps after a trip.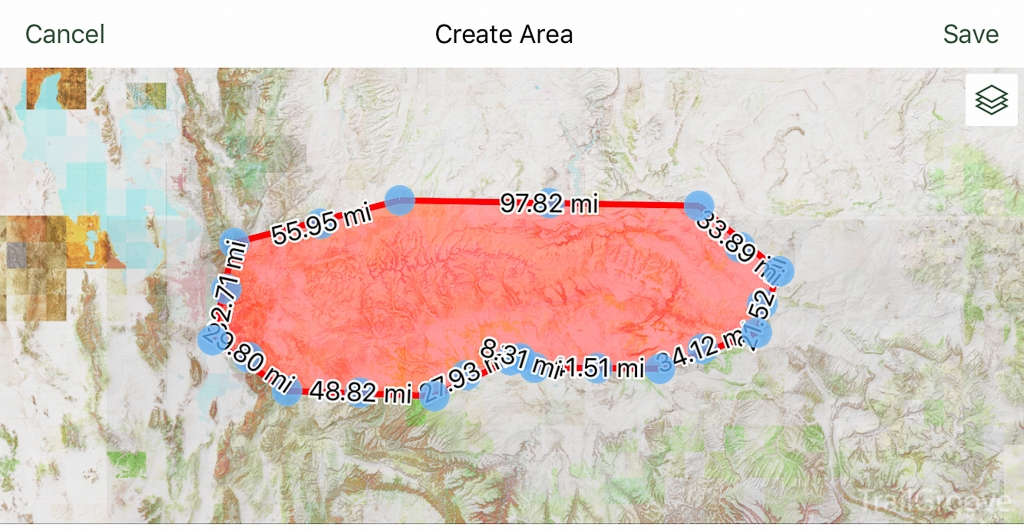 Now that we've created the area covering the mountain range, tap "Save" in the upper right. The download size will now be calculated and you can adjust resolution here to save space if you want…but I like maps…and you can never have too much detail when you're out there, so I always select "High" when I can. Our 4 favorite layers (or 5 if you go with a satellite option) should be pre-selected for download. At the top, give a custom name like "Uinta Trip" if desired and now click "Save". Your download will begin. Tap the spinning wheel towards the upper left of your screen to evaluate download status, and make sure all layers successfully download before your trip. As previously hinted at, another layer that should deserve honorable mention is one of the satellite imagery layers that are available. If you have the space on your device this can be a handy layer to use as well, just for additional information to interpret on top of the more standard mapping data.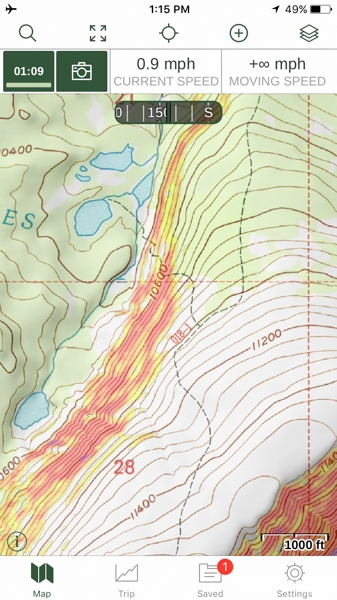 On the Trail
Once you get to the trail, you can now utilize all these layers and maps – even offline. From here it's simple. Open the app and click the location icon in the very center top of the app to locate your location on the map (if you just started your phone and opened the app, give it a minute to acquire GPS signal). Now not only will our nearly exact location be shown, but we can plan out our trip on the fly in fine detail. Instead of carrying a stack of USGS topos, they're all on your device, and by utilizing our layers we gain additional information, trip intelligence, and improve readability.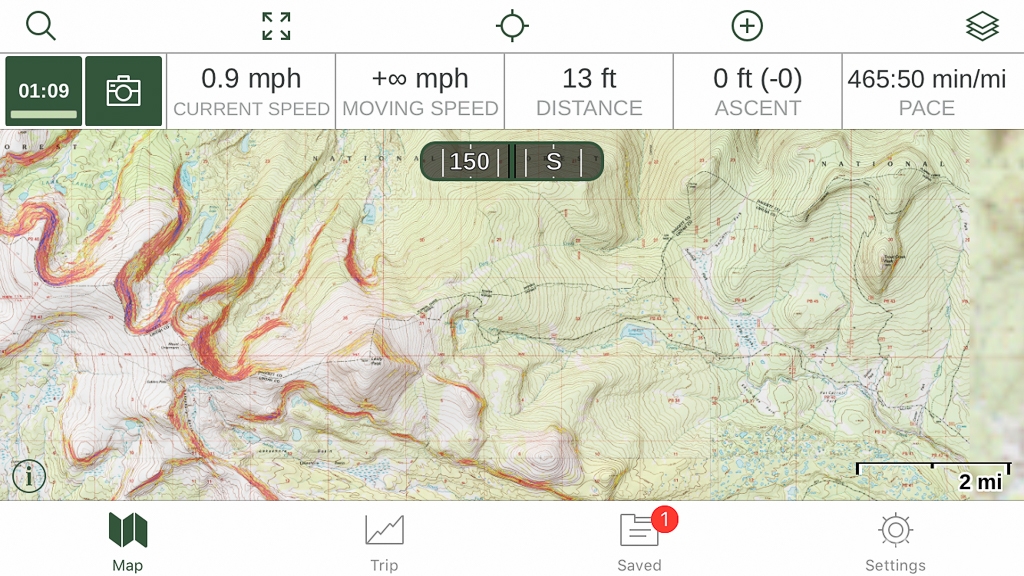 To use the layers, again tap the layers icon in the upper right, since we already set USGS Topo to our base map, let's adjust the opacity of the others using the sliders. Drag the round slider adjustment for each. I like to always set shaded relief at around 25% to the right, and the same for slope. Shaded relief will give you an enhancement of visual contours, and slope details just how steep our Uinta traverse will be. Just like a weather radar map detailing a thunderstorm, more intense colors mean more intense of a slope. For general class 1 and 2 hiking, it's generally a good idea to keep things in the yellow, possibly orange color range, or no color at all indicates the gentlest hiking slope wise. Purple is definitely getting pretty steep! When needed, use the public land layer to find a place to camp (useful at the start and end of trips where public land may start to be interspersed with private lands), or to make sure your hike stays on public land when you're travelling through areas where this is a concern. When public and private lands become interspersed, the boundaries can often become very confusing and the app will help eliminate this concern and keep you on track.
At any time press and hold on the map to enter "Route Mode". A blue dot will be created and will immediately tell you how many miles the selected location is from your current location. Press and hold again and another dot will be created with the app automatically connecting the dots and compiling the distance. Note that at home or if you have a cellular / wifi connection, you can also change the mode here to "Hiking", and in this mode the app will automatically adjust your route to follow mapped trails if desired. Additionally while online, elevation gain and loss will be calculated. Altogether, this is very handy for pre-trip planning on or offtrail routes, when you know your desired miles per day and elevation gain / loss.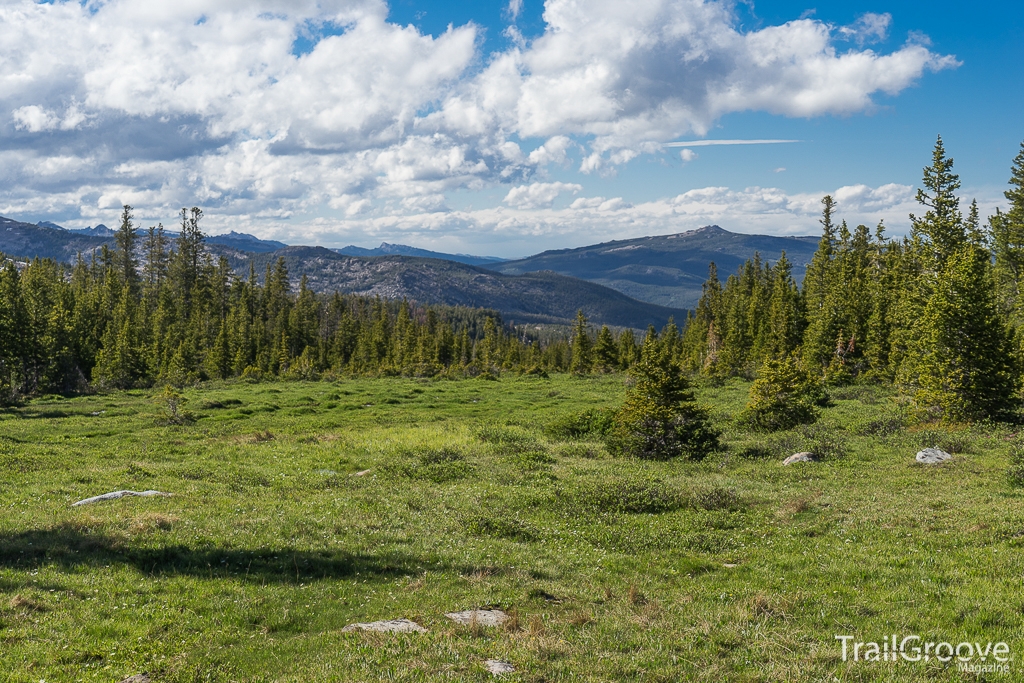 Closing Thoughts
Of course, this is just a basic introduction to the app, but this will get you started hiking with Gaia GPS. And a quick note on general mapping philosophy – I do not use Gaia GPS as my main map or primary navigation tool. Be sure to take a paper map that details the area, and frankly for primary navigation the paper map is just more convenient and keeps your mapping skills up to snuff. A somewhat detailed yet broad overview map like a Trails Illustrated map, combined with the fine detail of USGS topos saved to your phone when needed makes for a good combination. Be it a drop on a rock or a dunk in the river, or a low battery, smartphone accidents can happen.
One of the many portable power banks or solar chargers can help keep you charged (for a couple of our previous reviews on solar chargers take a look here and here), and a protective case can help protect your phone on the trail (I like a Ziploc bag for waterproofing). Regardless however, paper maps and an electronic devices both have their separate places. On average, I find that a fully charged (don't forget this step!) phone will last on even week long trips with judicious usage. To save on battery, make sure to only operate your phone on airplane mode (the GPS will still work with the app), and turn the phone completely off when not in use. Out on the trail, you'll now be able to pinpoint your location using Gaia GPS on a topo map, and combined with the additional layers you've downloaded, re-route on the move, or my favorite – just plan for the next day ahead in the tent at night.
You can find Gaia GPS here at the App Store. Check out details on their Premium Subscription here, or for the best of both worlds at least as we see it, a one year Gaia GPS Premium Subscription is also included for free with your TrailGroove Magazine Premium Subscription.