Lakes, Peaks, & Bugs: Hiking the Beaverhead Mountains
---
Although lacking wilderness status or the "brand name" recognition of Glacier National Park, the Beaverhead Mountains in western Montana are a remarkably scenic landscape with few crowds and plenty of lakes with trout in them. In other words, they contain all the prerequisites for a great backpacking trip. The Beaverhead Mountains, which are at the southern end of the Bitterroot Mountain Range, are also notorious for having millions of voracious mosquitoes which makes early season trips here a form of self-induced torture. Even on a trip in mid-August, there were noticeably more mosquitoes – which were irritating, but not trip-ruining – than on trips the same time of year in the Bitterroots, Glacier National Park, or areas of the North Cascades.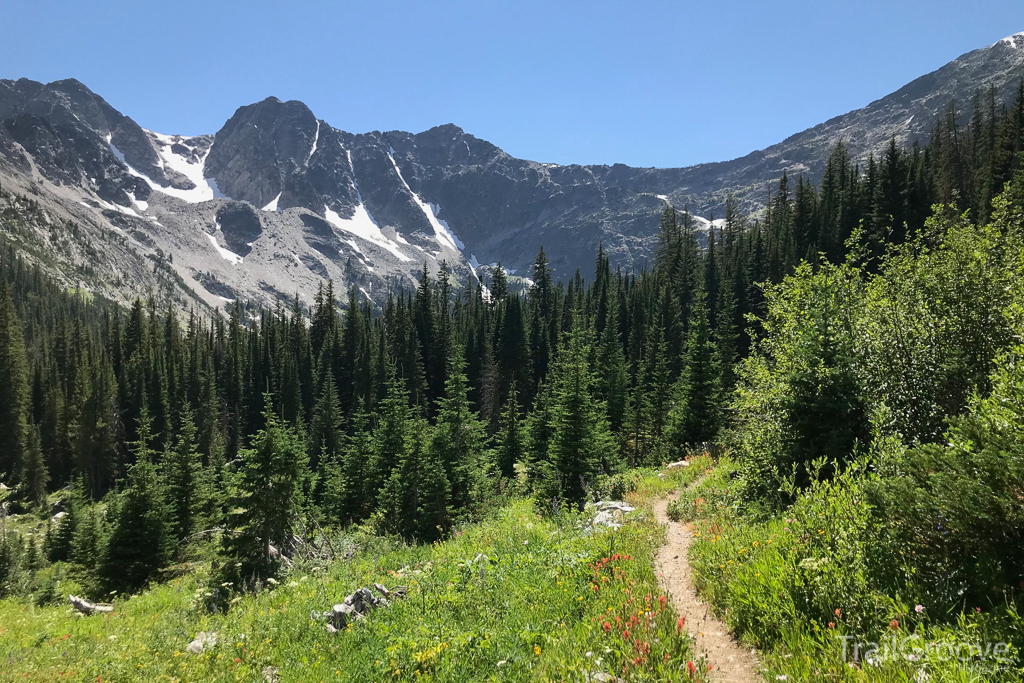 I've heard anecdotal reports from other hikers, and seen official statements by public land managers, that the trails this summer are more crowded than ever. Wishing to avoid the crowds, I headed to a trailhead in the Beaverheads that I'd visited once before as part of a three night out-and-back trip half a decade ago. On that trip, which was in early September, there were no mosquitoes to contend with but I did have about 5 inches of snow fall on the first night which complicated things just a bit. I'd always been eager to return and figured that a weekday in mid-August was as good a time as any. The trailhead is just over a dozen miles outside of Jackson, Montana – population estimated at just over 100 people – and the final three miles are rough and require a 4WD vehicle with decent clearance.
Lacking a vehicle capable of navigating the last few miles, I brought my mountain bike to ride to the trailhead since the road was fairly flat. Biking with a backpack is no fun, but I made it to the trailhead in about the same time it would've taken me to crawl along in a vehicle. On the way back I'm sure I made better time than most vehicles as the front suspension of the bike smoothed out the bumps and the downhill grade amplified each pedal stroke. The lack of an oil pan or other expensive undercarriage equipment to damage let me be a bit cavalier about avoiding obstacles that would have me white-knuckled if behind a wheel, plus the miniscule width of a bike compared to a truck allowed me to more easily choose the path of least resistance. The trailhead was as uncrowded as I'd expected, just a handful of trucks. Although the Continental Divide Trail runs through the Beaverheads, it sees surprisingly few other hikers. Distance from major population centers and somewhat limited access for passenger vehicles are major contributing factors. Some trails in the Beaverheads are also open to dirt bikes, which discourages hikers looking for a more pristine experience.
The trail that I was taking for my overnight trip led to a stunning mountain lake just four miles from the trailhead with only around 800 feet of elevation gain. From that lake, which has brook trout, I would ascend cross-country another 500 feet to an unnamed upper lake which has a self-sustaining population of rainbow trout. I made it to the lower lake with plenty of time to fish before plodding uphill to where I planned to camp. While the fishing wasn't record setting, it was a great way to take a somewhat active break and wading around in the cool water was refreshing after the biking and hiking. Once a few fish were caught, water consumed, and snacks eaten I cinched down my pack straps, grabbed my trekking poles, and began the zig-zag ascent to the upper lake.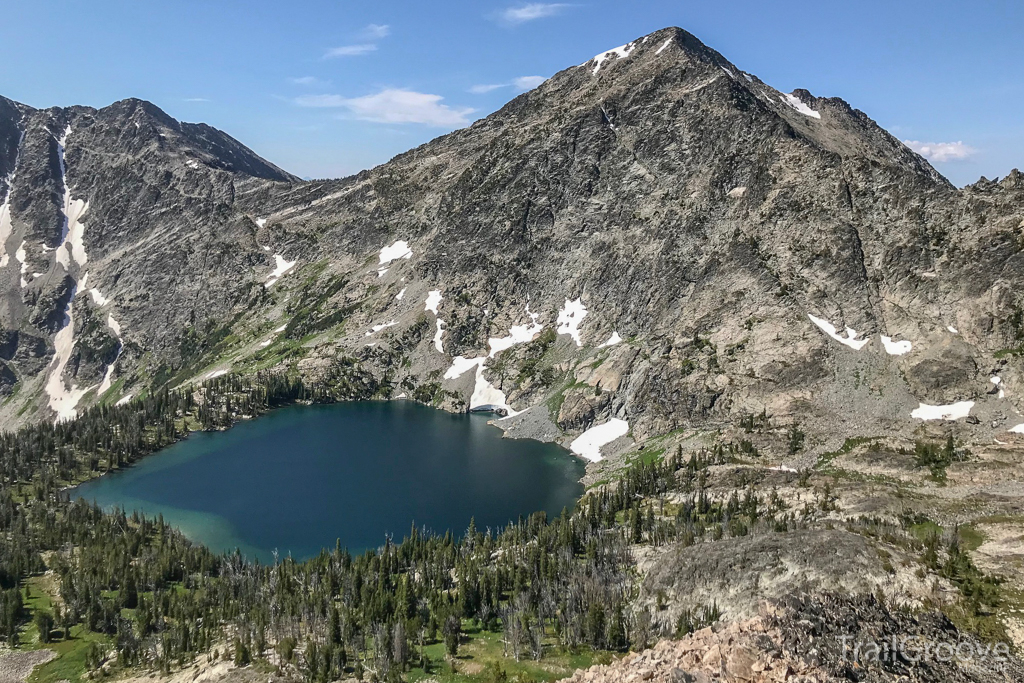 The views from the upper lake are nothing short of magical. The craggy mountains that hem in the lower lake seem to rise at eye level from a perfect low-impact tent site. Cliffs go down to the shore of the upper lake and two prominent peaks, one named and the other unnamed, rise above it. Several slabs of granite provide great places to cast into the waters and to stretch out and eat, read and relax. After some fishing, I worked up the courage to jump in from a small ledge five feet above the water despite the rapidly setting sun the chilly water of the lake, which sits at around 8,500 feet. I brewed a cup of tea before taking the plunge and appreciated the warm fluids to sip while I dried off.
A mild thunderstorm rolled through during the night, but cleared out just before the sun came up. I'd studied up on the map before going to bed and had my sights set up on the unnamed summit above the lake. The path was relatively straightforward and, at least from the lake, no technical climbing seemed to be necessary to gain the summit. I fished my way around the lake with a few catches here and there before stashing my gear and heading for the top.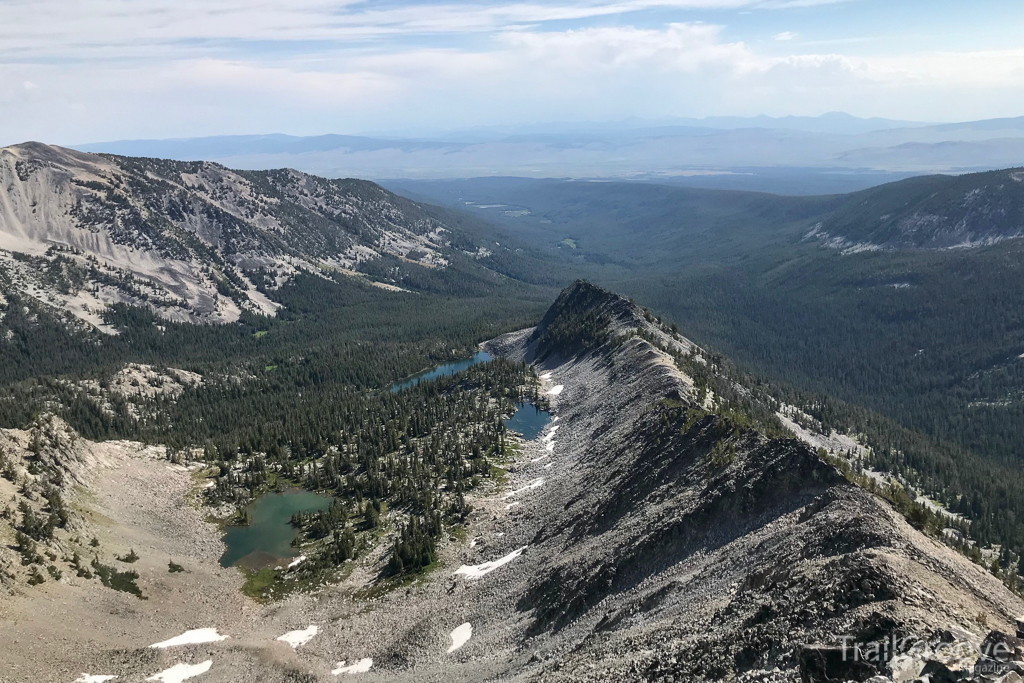 I'd expected a mellow hike, and the actual route was even less demanding than I thought with views more incredible than I'd anticipated – always a good combination. Being able to see both lakes from one vantage point was particularly rewarding. After a break at the summit to soak up the scenery, I headed back down to the upper lake, then to the lower and out to the trailhead. I stopped to gather huckleberries and grouse whortleberries, which were still ripening up high while in the Bitterroots they were almost past their prime due to the lower elevation. The bike ride back to my car capped off yet another trip that featured solitude in the Montana wilderness. Riding downhill made for a faster trip out than the ride in and, as expected, there was no traffic to contend with.

Information: Trails into the Beaverhead Mountains from Montana are accessed from the southwestern part of the state, with Jackson and Wisdom being the closest "towns" to the trailhead (only Wisdom has a gas station; Jackson has a commercial hot springs with lodging and a restaurant). Trail access is also available from Idaho, with those trails being in the Salmon-Challis National Forest.
Hiking a section Continental Divide Trail is a great option if you can arrange a shuttle or don't mind backtracking. Otherwise, just looking at a map and picking out a lake or lakes to hike to is a good way to explore the area. Cross-country travel in the Beaverheads is not prohibitively difficult for the most part, but as with any backcountry travel appropriate caution and research are necessary. This does allow for "shortcutting" from lake to lake or over ridges to create a route that connects trails that otherwise dead-end in adjacent drainages.
There is no guidebook for the Beaverheads, but several great hikes are detailed in 100 Classic Hikes: Montana by Douglas Lorain and published by Mountaineers Books. For driving to trailheads, the Montana Benchmark Recreation Atlas can be utilized. Printing maps from Caltopo or similar is a great option as the map provided by the Beaverhead-Deerlodge National Forest does not contain enough detail to be sufficient for backpacking.
1