Mountain House Yellow Curry with Chicken & Rice Review
---
One thing I've been focusing on recently for my backcountry meals is adding variety. When it comes to prepackaged backpacking meals this variety is often found in what is essentially the same meal but just in different flavors – for example flavor and cultural variations on rice or pasta based meals. Finding something that is truly different however can be difficult to find unless you're making your own dinners from scratch. For an off the shelf pre-made meal however, the Mountain House Yellow Curry with Chicken & Rice Meal breaks out of the different flavored rice and pasta dishes and offers a meal that is quite unique.
The Yellow Curry option from Mountain House offers 510 calories in a 2 serving pouch and is ready to eat in 9 minutes after adding 1.5 cups of water, with a stir about half way into rehydration time. The resulting product rehydrates perfectly. Chicken and coconut cream are at the top of the ingredient list, after which you'll find an abundance of spices and flavorings to make this into a yellow curry, all the way to fish sauce and shrimp paste plus rice. For those who might be looking for gluten free options in the backcountry, this is one option from Mountain House that is certified to be gluten free. The unopened pouches are good for 30 years from the manufacture date.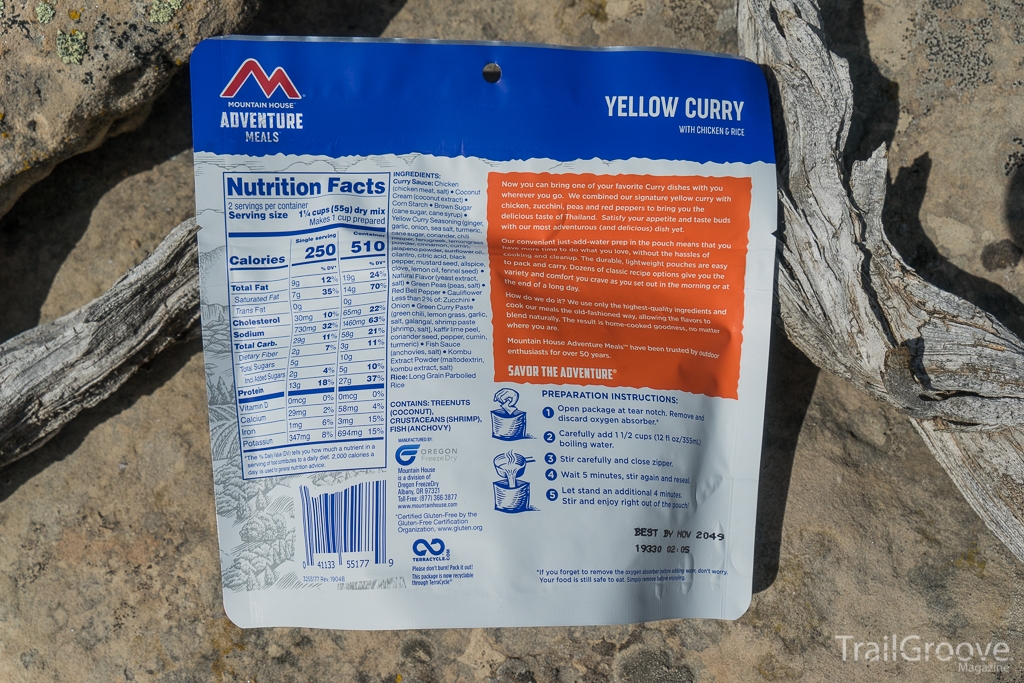 The meal however is not yellow curry flavored rice, it's definitely a yellow curry with rice, as in the rice does not dominate the dish. In fact, the rice is very much an equal to side player to the curry in this case. Overall taste appeals across the board, the meal is sweet, savory, and spicy all at the same time. While the rice doesn't come across as the main attraction, the chicken is included in large enough chunks that you'll notice it. While the meal is great as is, it begs for some traditional naan bread to be included and for soaking up any sauce in the bottom of the bag. Unfortunately, naan bread is not an item I typically stumble across in my food bag, but I've found tortillas make a good substitute while boosting your calories for dinner up to more reasonable figures.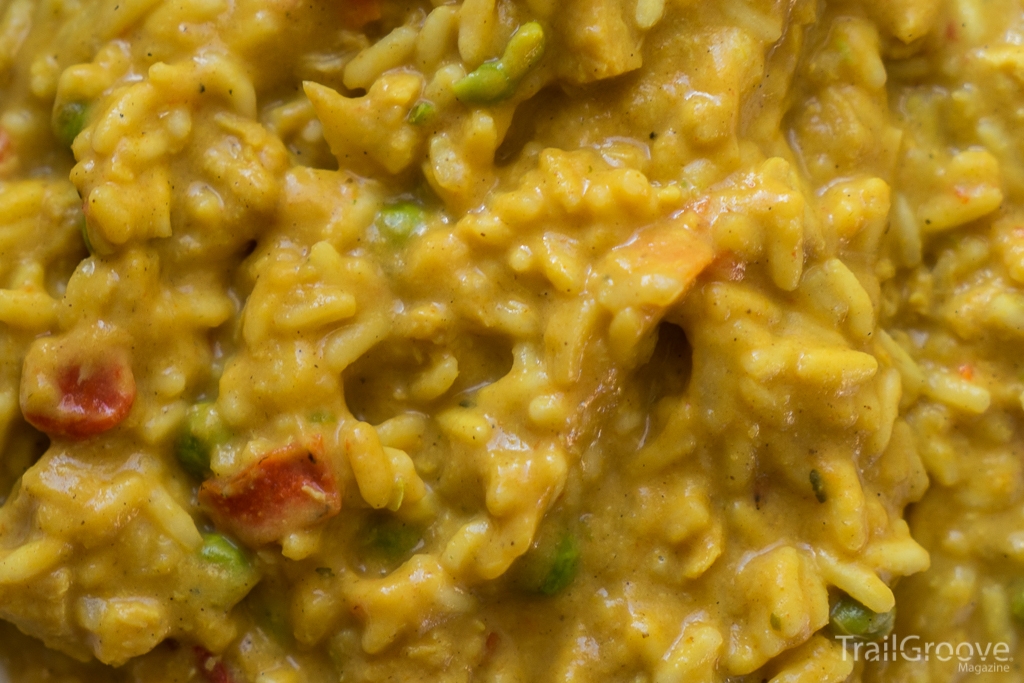 Despite the fish sauce and shrimp paste ingredients, the meal is not fishy and is not quite as odiferous as another new meal from Mountain House – their Pad Thai. On account of the empty pouch and smells however this is one I'll save for overnights or save for the last day or two of trips, along with using an OPSak. Overall, this is one of my favorite meals from Mountain House and I wouldn't say a word if I got this in a bowl at a restaurant or from take out. Throw in some tortillas or bread of your choice and you're set with a backcountry meal you can truly look forward to.
The Mountain House Yellow Curry with Chicken & Rice Meal retails for about $10. You can find it here at Amazon.com.