GooseFeet Gear Down Socks Review
---
The down socks offered by GooseFeet Gear are essentially a max warmth at a minimum weight solution for keeping your feet warm at night – or in and around your campsite with optional overboots. Each pair of the socks / booties are made to order with your choice of lightweight fabrics and colors both inside and out, choice on the amount of down fill (850 fill power water-resistant down is used), and of course the size. Zpacks also offers the socks without a fabric or color choice. Simple elastic secures the socks and seals in the heat around your ankles. I normally wear around a size 12.5 men's shoe when backpacking, and found the GooseFeet size large socks to be perfect; loose enough so that they seem to fully loft and they stay on just fine, and the socks are available in 6 sizes. Various fabric weights are available, and my pair ordered with +50% down and made with Pertex Quantum weigh just 2.6 ounces for both (the grey pair shown in this review). A small stuff sack is included, but I just throw them inside my sleeping bag and pack it away all as one.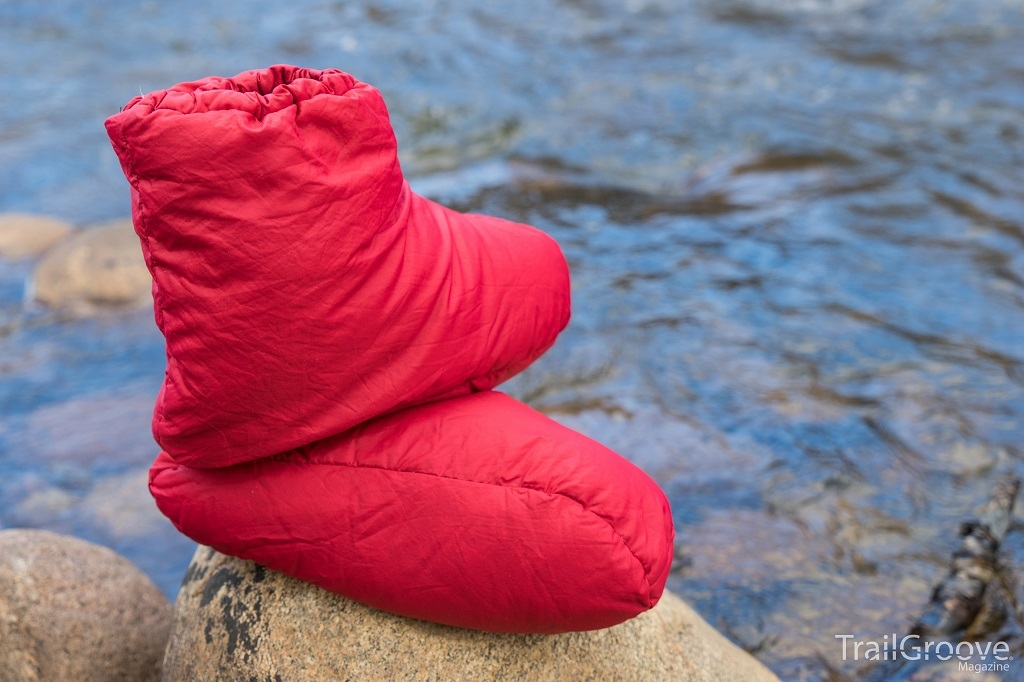 The GooseFeet socks don't have any type of durable sole, so if you're looking to walk around camp GooseFeet also offers a pair of waterproof Dyneema X overboots, complete with a removable foam insert to cushion your feet and with an optional Toughtek sole, all of course at incremental weight penalties. As such, my preference is to only use these socks by themselves in a tent and while I sleep, with my loosely laced trail running shoes in the vestibule making for great camp shoes in the case that I need to run to my Ursack to return that overlooked energy bar forgotten in an unchecked pocket before turning in for the night. (Combine with plastic bags if said shoes are wet)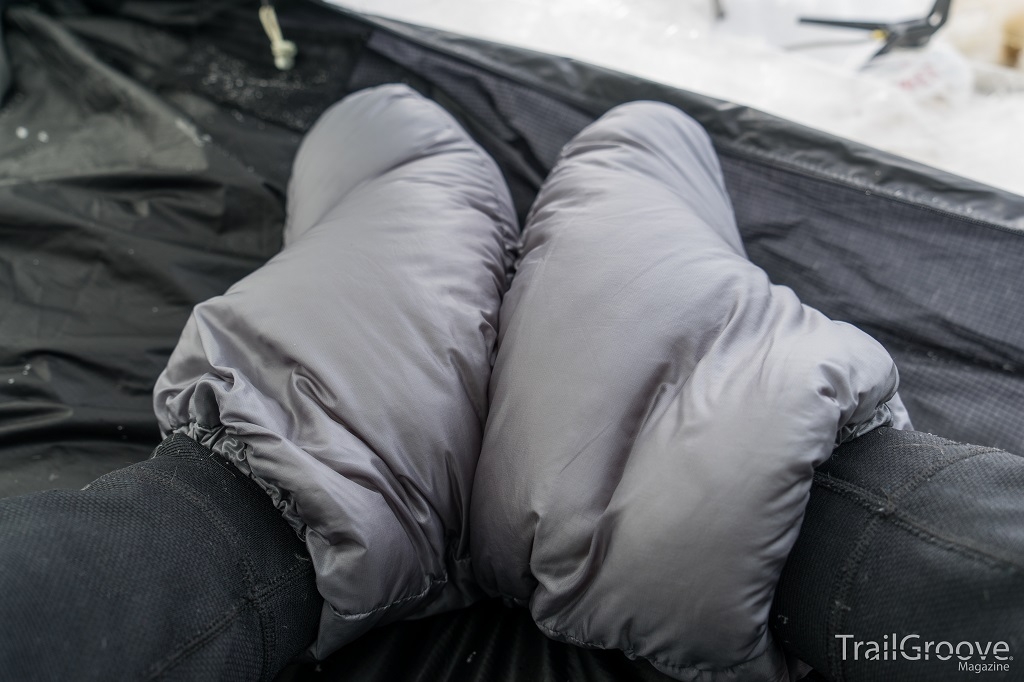 The socks are a simple solution that's perfect if you're looking to boost the warmth of your sleeping system or if you want to essentially scratch cold feet off the list of things that might keep you up at night…while adding a dose of luxury to any trip. (They also make a great gift for that cold-natured hiking partner that's always keeping you up at night, I've found as well!) I've most appreciated the GooseFeet solution on those particularly rough trail days – perhaps a chilly day trekking through mud and rain in cold, borderline freezing weather that puts your rain gear through its paces and may test not only your physical, but your mental resolve. Arriving at camp running warm from effort – warmth that quickly fades as the hiking stops – nothing beats taking off your soaked rain gear and switching from those muddy, soggy, cold shoes to a dry tent, a warm sleeping bag, and dry socks. For 3 season hiking and backpacking I'm usually wearing Darn Tough Light Hiker socks – excellent socks but not overly warm by design…at least when compared to something like down. Adding a pair of GooseFeet socks to the equation just takes it one step farther. And of course, they're great for winter and really cold trips.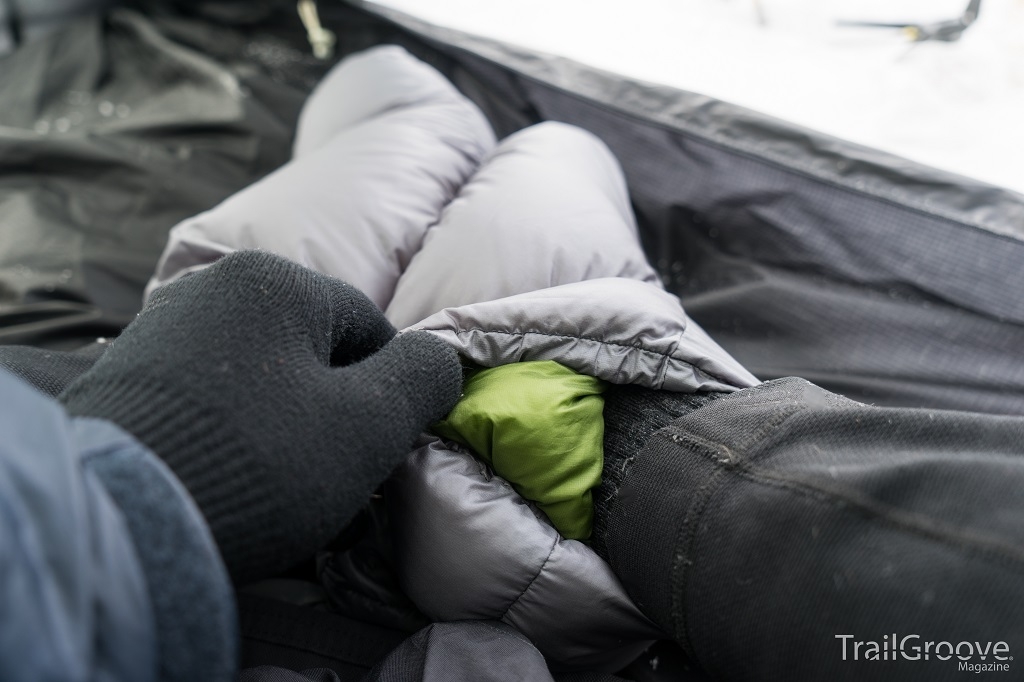 With these down socks / booties from GooseFeet I've essentially been able to eliminate cold feet from my backcountry sleep system equation (hopefully you can tell by the photos that the loft of these with some overfill is basically off the charts), and add versatility almost in the form of down overfill in the footbox of my sleeping bag – but that I can remove. Just like a warmer down jacket, warmer baselayer, or an extra foam pad, I can still leave the down socks behind if I so choose for those warmer forecasts. Combined with a few other choice items, I've found the GooseFeet Gear down socks to be a nice component in a group of items that I can add to my pack to add warmth or leave behind depending on the trip at hand.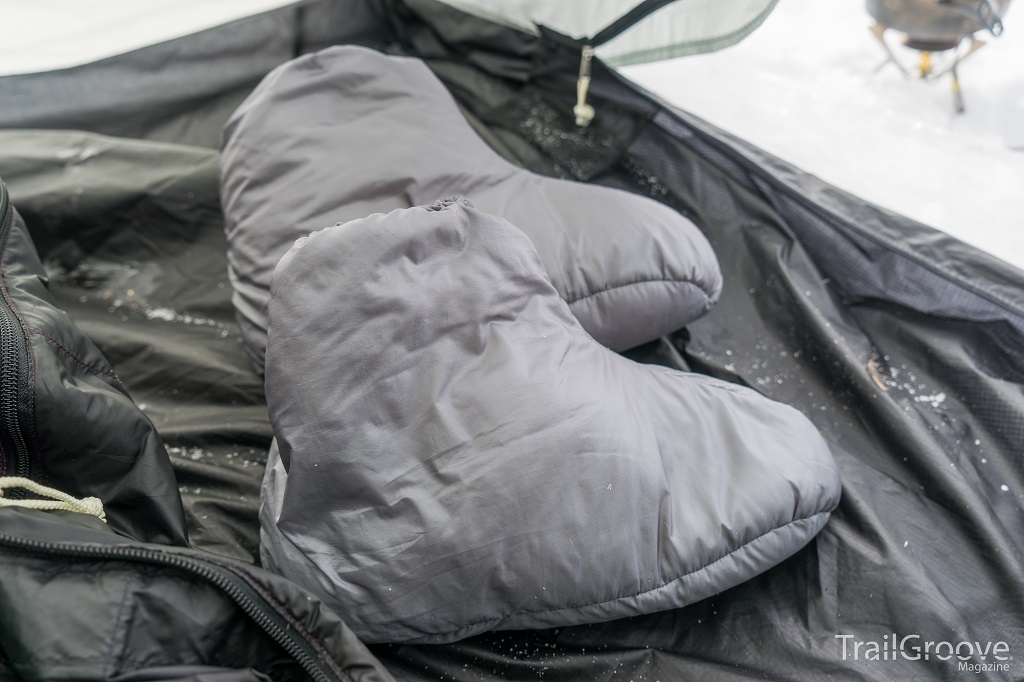 A pair of GooseFeet Gear down socks start at $65 before any options. Take a look here at GooseFeet Gear.
1