Backpacking and Tenkara: Ultralight Fishing on the Trail
---
When I became intrigued by the trout swimming in mountain lakes in the Northern Rockies, I realized the tenkara rod gathering dust in my gear room would be a great way to test the waters before outfitting myself with a full fly rod and reel set up. Tenkara is a Japanese method of fly fishing that focuses on simplicity and forgoes a reel in favor of a longer rod length, fixed amount of line, and uses as few fly patterns as possible. Presentation, mindful casting, and technique are emphasized more than trying to "equip" your way into catching more fish.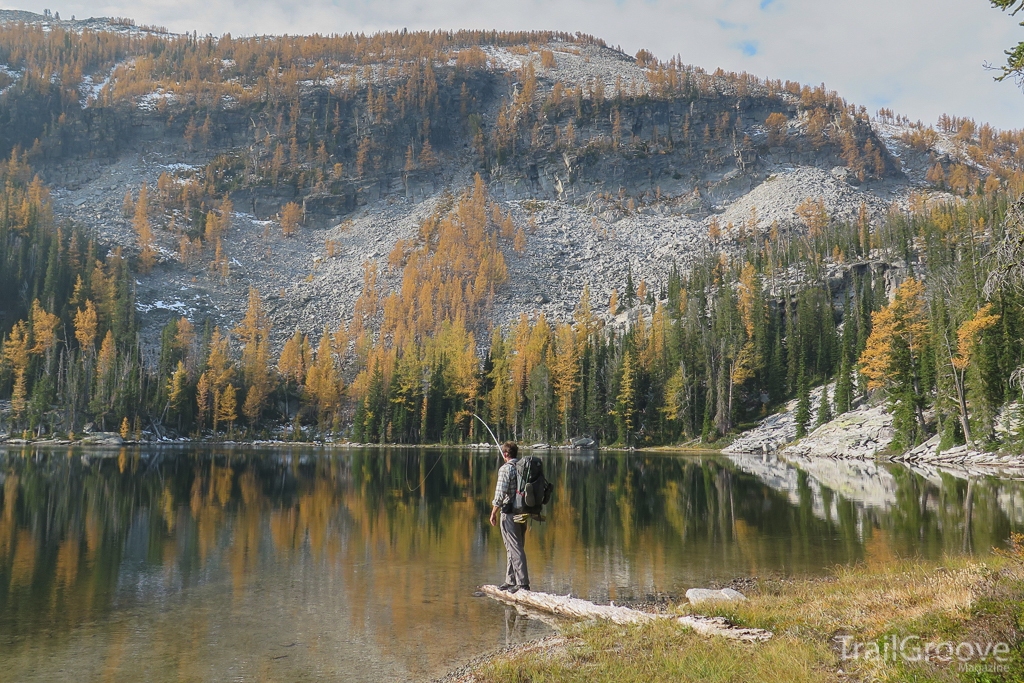 I'd used a tenkara rod in Kentucky with limited success, but it wasn't until my second summer in Montana that I took it out onto the rivers, streams, and lakes in the Bitterroot Mountains and other ranges. I enjoy fly fishing, but almost exclusively as a supplementary activity to backpacking and not as my main motivation for getting outdoors. Fortunately, there is an incredible amount of overlap between amazing mountain scenery and fishable bodies of water. I've even noticed myself getting less interested in visiting lakes without fish and prioritizing camping at lakes with rumors of large trout.
At first, I just used the tenkara set up that I had because it was what I had on hand and there was no additional investment required. Plus, since I'd used it in Kentucky, I was familiar with basic casting so I didn't need to learn any new skills – I just brushed up on my knots and bought the flies appropriate for the season and places I'd be fishing. I thought that after learning more about fishing the lakes (I almost exclusively fish lakes) I'd likely acquire a traditional fly rod with a reel and transition to using that.
However, after several short summers – fishing season in the high country is all too brief in Montana, with many lakes only ice-free from late June to early October – of catching a variety of trout on dozens of lakes, it seems that tenkara is all I need to have a great time. Its minimal weight (even with extra tippet, box of flies, clippers, and extra line my set up is less than 6 oz) and compact size (the rod I use collapses to 15 inches) are in a class of their own and absolutely perfect for weight-conscious backpackers.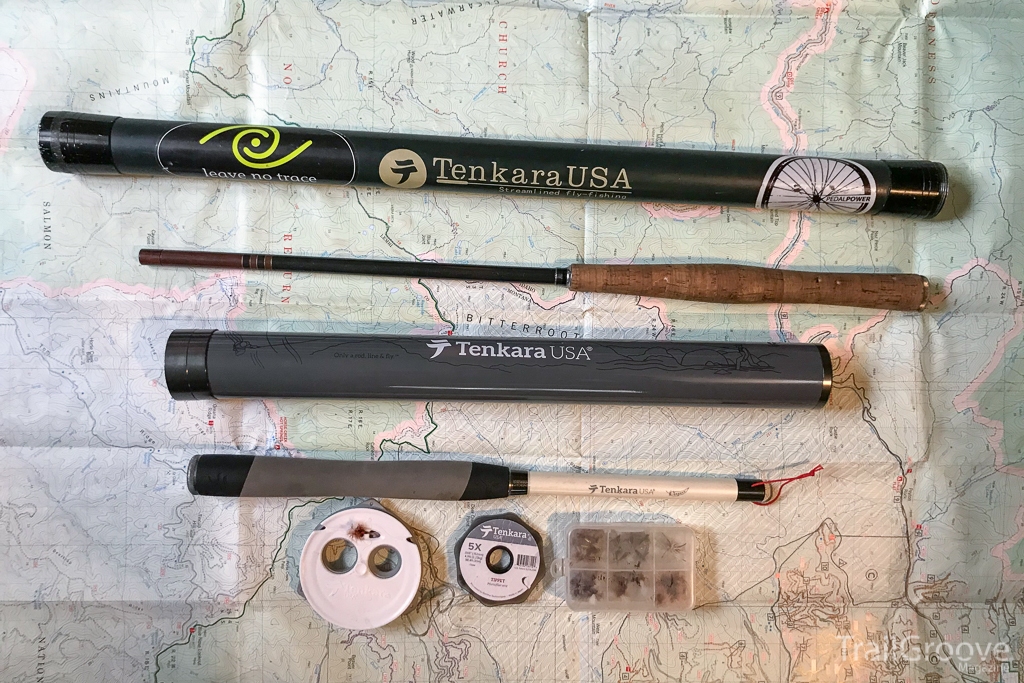 The ability to quickly get a fly on the water is also something that cannot be emphasized enough, as I'm able to be casting within less than a minute of getting to a lake. When fishing with friends using traditional fly rods, I've often caught two or three fish by the time they're making their first cast. The ability to efficiently pack up and move on is also a benefit, especially when fishing multiple lakes in the same day.
There are trade-offs when using a tenkara rod, like limited casting distance and inefficiency in fishing subsurface. Tenkara rods are designed to fish dry flies, but friends of mine have had some success using nymphs. For lakes where the fish are not actively feeding on the surface, this can be a point of frustration. However, in friendly "rod to rod" competitions with friends where I've used a tenkara rod and they've used a traditional fly fishing setup the results have been so similar that it appears that any advantage lies solely with the fly chosen and the skills of the angler.
On the topic of angling skills, I must admit that mine are certainly in the novice-to-intermediate range. With so many outdoor hobbies, I've never dedicated the time to becoming a technically proficient angler. Fortunately, because of the intuitive nature of tenkara and minimal gear to manage, that hasn't stopped me from catching some impressive trout or dozens in a single afternoon during prime conditions. Tenkara is also a less-intimidating way of fishing when sharing it with others. I've had friends who never cast a rod in their life catch small trout within a few minutes.
Even if the fish aren't biting, there is some solace that you're not hauling around an extra pound or two of gear for no reason. Although they're light, I've found the tenkrara rods to be rather durable. I typically don't bring the rod case and instead just tuck them into a side pocket of my pack and cinch them tight with the straps. Even when in some thick bushwhacking, I haven't lost or damaged a rod yet. My original rod is a decade old at this point and still casts great. I purchased a second rod last summer to have on hand for guests and to share some of the wear with my other rod. I'm hoping it should last at least a decade as well.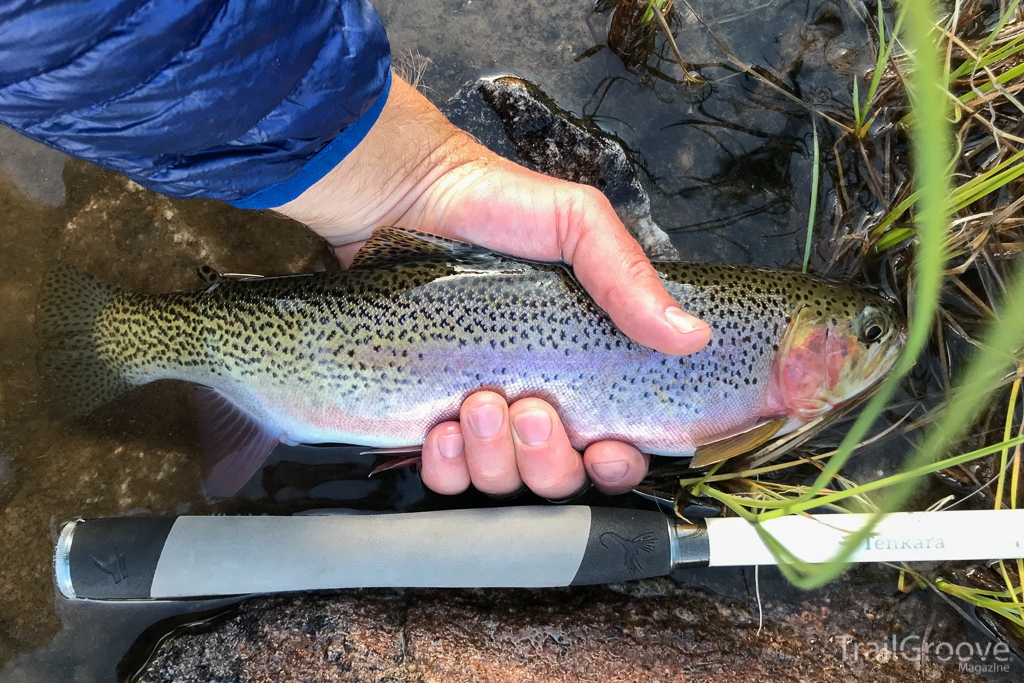 If you're interested at all in fishing mountain lakes, tenkara is a great way to ease into the activity. A complete set up can generally be had for under $200, and much less than that if you're willing to shop around. When compared to the other expenses related to getting equipped for backpacking, it's not a bad deal for something that can bring you hours of entertainment on each trip and quite possibly provide you with a meal as well.
If you're ready to try tenkara, you'll want to get a rod that is appropriate for the types of waters you fish and the size of the fish you'll typically be catching. I've found rods in the 10 to 11 foot range to be ideal for the mountain lakes I fish and still reasonably maneuverable for streams and small rivers. Others might advise longer rods, especially if the lakes you're fishing tend to have larger trout (lucky you!). The topics of rod length, line length, tippet strength, and fly choices are much too broad for the scope of this article which is intended to serve more as inspiration than as a shopping list. That said, I've had success on mountain lakes in the Northern Rockies and Pacific Northwest using a 10 ft. 10in. rod, 11 or 13 feet of line, and 5-7 feet of 5X tippet. There are several different "beginner" kits by a variety of manufacturers selling tenkara-style rods that contain similar equipment and are a great place to start – you can find plenty of tenkara gear online and Amazon has a wide selection. But perhaps one of the most important things to remember when fly fishing in the tenkara style is that it is less about the gear and much more about the experience, the technique, and the interaction with the landscape.
1