7 Ways to Make Freeze Dried Backpacking Meals Better
---
Even the best freeze dried backpacking meals that are out there tend to have some common drawbacks. The most common issue with ready to eat commercial meals is their lack of calories – with meals commonly containing calorie counts in the 400-500 range (or sometimes, even worse at 200-300 calories). Typically these meals will claim to feed 2 – when in fact they're pretty light on calories even for one person after a long hiking day, leaving us to dig through our food bag for anything we can find after dinner. Additionally, meal manufacturers tend to play it safe in an attempt to please palates across the board; meals can't be too spicy for example, and other times a recipe will try to meet every dietary need all in one meal, resulting in meals that check a lot of boxes, but don't really excel at anything in particular. Luckily, with a little extra thought at home, and with a few food bag additions we can still use even the average freeze dried meal as a convenient base, but boost calories to an acceptable level while tailoring tastes to our own preferences. Here are 7 easy ideas to help you take freeze dried meals to the next level.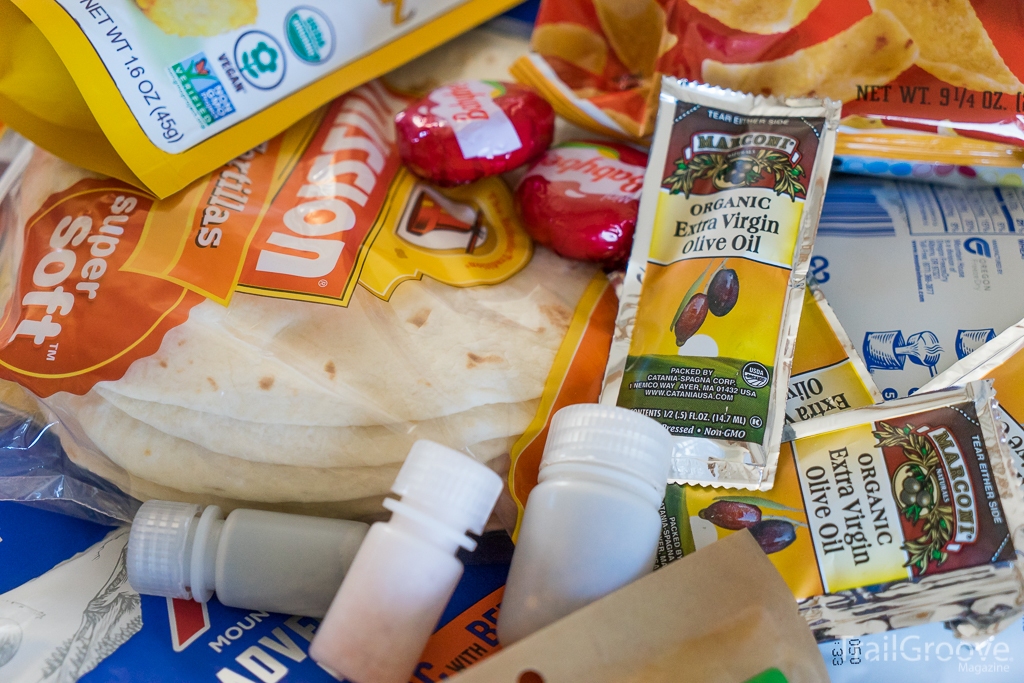 Olive Oil: An easy way to significantly raise calories and add a little flavor as well, olive oil is an ideal way to boost calories up in low calorie freeze dried meals. The best part is that olive oil goes with any meal. Packing olive oil along is only a little tricky – while packets are available, I prefer to pack along an ounce or two or few (depending on trip length) in small, screw top Nalgene bottles that I know will not leak. For shorter trips I like the 2 ounce bottle. For longer treks the 4 ounce Nalgene is a good size or you can take multiple smaller bottles. Either way you basically have calories in a bottle.
Tortillas: Wrap any meal in a tortilla, instantly boost calories. It's about as simple as that, with tortillas being easy to pack, calorie dense, and for the most part (with only a little care), they'll last in an acceptable manner on a trip of nearly any length. Alternatively you can also tear up a tortilla and add it right into your meal, but I find that scooping a freeze dried meal into a tortilla helps make things more of a meal rather than being relegated to eating from a bag.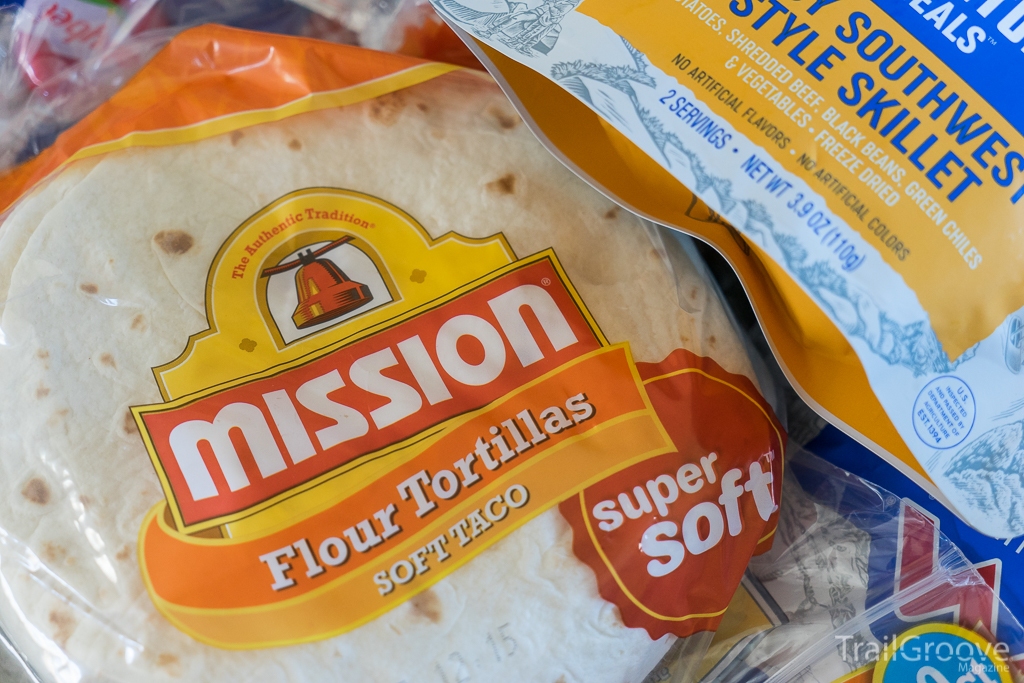 Spices: An obvious one, packing spices along is a lightweight, easy way to spruce up an otherwise bland meal and to tailor any meal to your specific tastes. Unfortunately, this won't help much in the calorie department, so I don't like to go overboard when packing spices for a trip. I prefer to keep things simple: salt, pepper, and some sort of spicy component. Loving spicy food and looking for the most punch for my weight carried, I prefer to add habanero flakes to meals in moderation. As with olive oil, I've found spices (in even smaller) screw top Nalgene bottles to work best. More info on packing spices can be found in this Issue 38 article.
Cheese: Working equally well for lunch and breakfast as it does for dinner additions, cheese packs calories and flavor and adds an element of perceived freshness to any meal. While powdered cheeses exist, this doesn't work so well for dual use purposes like snacks or lunches. Many types of hard cheeses work well on the trail and cooler non-summer weather helps keeps things fresh. I like to go with wax covered, individual cheese rounds which keep well on the trail in my experience (outside of summer heat), and I will add these right into many freeze dried meals as they are rehydrating to melt them right into the meal. Combine with tortillas for the optimal meal experience.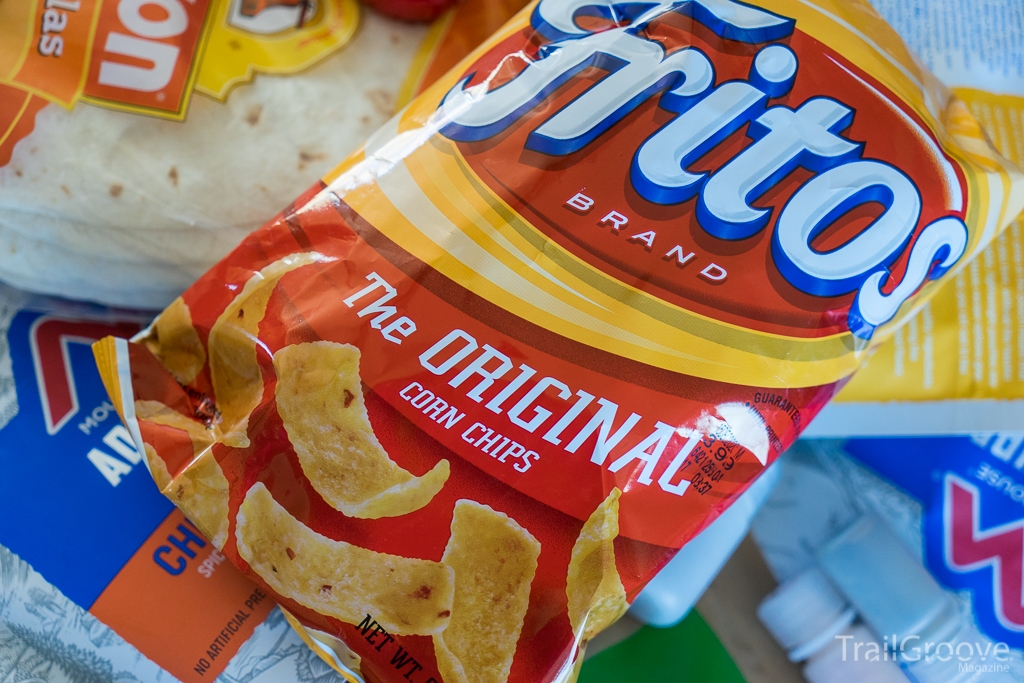 Chips: This provides a convenient opportunity to boost the calories in a meal through both the carbohydrates of the chips you add along with the fat content of the various oils that the chips were cooked in, while adding the opportunity to modify the flavor of your meal with various flavor combinations. My current favorite is a bag of Fritos, which I'll crumble and add to meals like the Chili Mac with Beef Meal from Mountain House. However, in the past I've packed along potato chips of various flavors as well – like cheddar and sour cream varieties which pair particularly well with Mexican dishes, for example. And of course, packing along a bag of chips has benefits for lunches and snacking as well. As an added bonus here – adding chips after rehydration of the meal adds crunch, which is nearly always lacking with freeze dried backpacking food.
Dehydrated Vegetables: An easy way to add flavor, a few calories, and nutrition to any meal is to boost up the vegetables that are likely already included in the meal, but may be on the sparse side. This is one category that you can make as complicated or as simple as you want. Dehydrated and dried vegetables can be found (or made yourself with a dehydrator). This obviously means you can pack along, if desired, any specific vegetable you'd like to go with various meals. I like to keep it simple however, and go with a blend of vegetables that do the job and that go with nearly any meal – and I'll often throw in a 4 ounce, resealable bag of Karen's Just Veggies blend that I can add to any meal. Make sure to add these in while rehydrating the meal or you'll add some (unintended) crunch to your meal.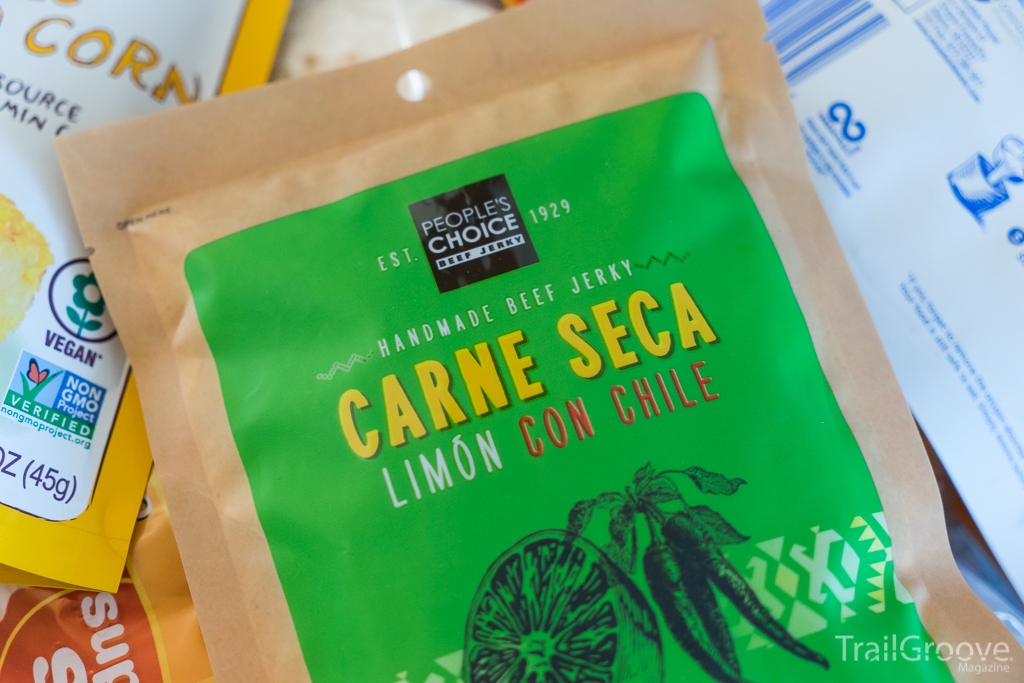 Beef Jerky / Freeze Dried: There are a lot of good freeze dried meals that are out there that are vegetarian, but for me, I like a chicken or beef component to dinners. Obviously if you're a vegetarian skip this section as you're already all set, but for others taking along some beef jerky is one way to add a meat component to otherwise vegetarian freeze dried meals. On other meals, meat is often included but at near undetectable levels so adding jerky can help here while adding protein to the meal. Various flavors of beef jerky can also be used to add additional flavor to meals – I like to tear jerky into small pieces, and as with additional vegetables add to the meal during rehydration. For a splurge, Backpacker's Pantry also has freeze dried chicken in single serving pouches that can be added to any meal or you can buy cans of freeze dried beef / chicken and repackage, but you'll then have the rest of the can of freeze dried meat that you'll need to use in a couple weeks once opened.
While many freeze dried meals play it safe and end up a little on the bland side and / or low in the calorie count department, packing some of the freeze dried meal staples detailed in this article along will help take average meals to good, and good meals to great, even if you're packing along a meal on our 10 Best Backpacking Meals List. Freeze dried meals make for a great (and especially convenient) base for your backcountry meals, and by taking along a few extra items in the food bag, we can keep things convenient and have the right items in our backcountry kitchen to add a boost in the calorie department, a flavor boost, or both.