10 Best Freeze Dried and Dehydrated Backpacking Meals
---
Let's be honest; not every backpacking trip provides the time for us to prepare a nightly gourmet meal, and not all of us are ready to embrace, or perhaps we have yet to have a discussion with, our inner hidden chef. While I like to create backpacking meals from scratch at times and when I can, if you're like me, after a long day on the trail I simply often find myself wanting a sufficient amount of calories that taste great, and I want that meal as quickly and as easily as possible with minimal cleanup afterwards.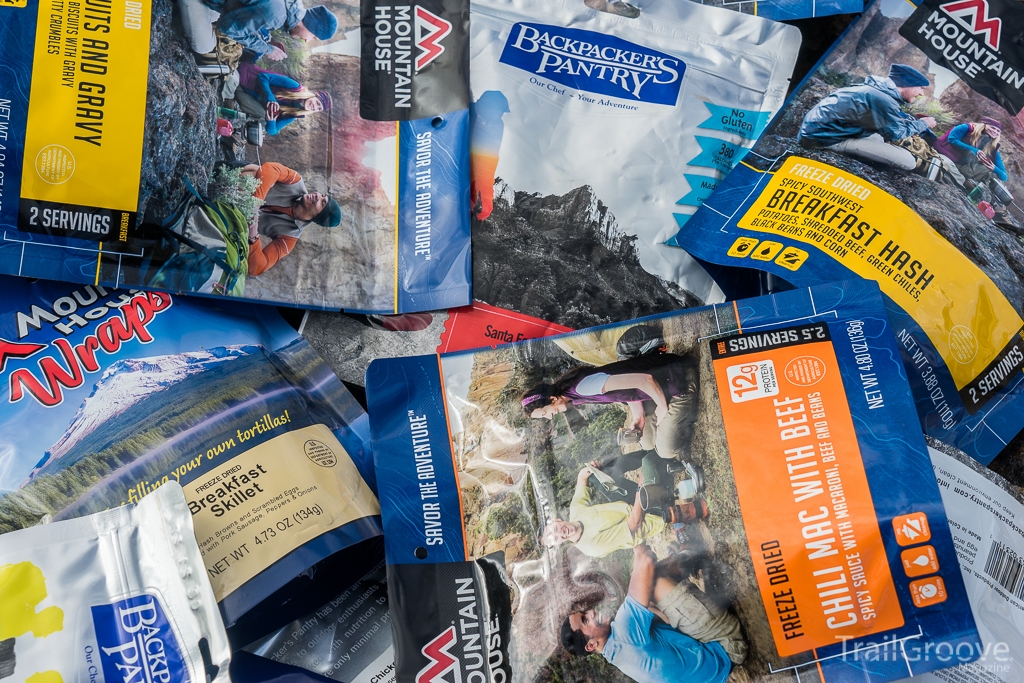 Freeze-dried and dehydrated, ready-made backpacking meals usually fit the above criteria – but if you've tried your share of these types of meals, you've surely had your share of experiences that don't exactly hit the spot in the taste department, and not much is worse than having to force down such a meal when it's all you have in the wilderness. As such, here's a review of the 10 best add water and eat freeze-dried / dehydrated backpacking meals that I've eaten over the years that do hit the spot, taste great, and are easy to prepare. These are the meals I keep stocked in the gear room, and that find a place inside the Ursack or food bag on backpacking trip after trip.
The Criteria
Meals to make this list and review are weighted on a few factors that are important to my approach and palate, including ease of preparation, great taste, calories, lack of artificial colors and flavors, and the inclusion of meat, or another protein that's tough to carry while backpacking like eggs. While I'm by no means a carnivore on the trail, a vegetarian I also am not – and although I'll eat a meal that is specifically aimed at other dietary considerations, I don't abide by gluten-free, vegan, paleo, standards etc. and for the most part have a pretty standard and eclectic food bag.
Things like chicken and beef that go well in meals are tough to carry in the backcountry; and I've found for dinner applications, meat of the freeze dried variety works best on multi-day backpacking trips for the light weight, taste, quick rehydration, and texture. This would go for something like eggs as well – in my experience taste is definitely not a high point of powdered eggs. On the flipside, I've found vegetarian meals are the easiest to replicate through freezer bag cooking or one pot meals in the backcountry. For example, while a simple mac and cheese or ramen meal from many popular brands that make freeze-dried meals may taste great, it's pretty easy to make this on your own from the grocery store either in the pot or freezer bag style, and thus meals of this variety are ones I usually just make on my own.
This top ten list of backpacking meals all meet the above criteria and considerations; and all are coincidentally from two popular brands, Backpacker's Pantry of Boulder Colorado, and Mountain House, a division of Oregon Freeze Dry.
Mountain House Biscuits and Gravy
$7, 620 calories per pouch. Ready to eat in: 8 minutes. 4.9 ounce net weight.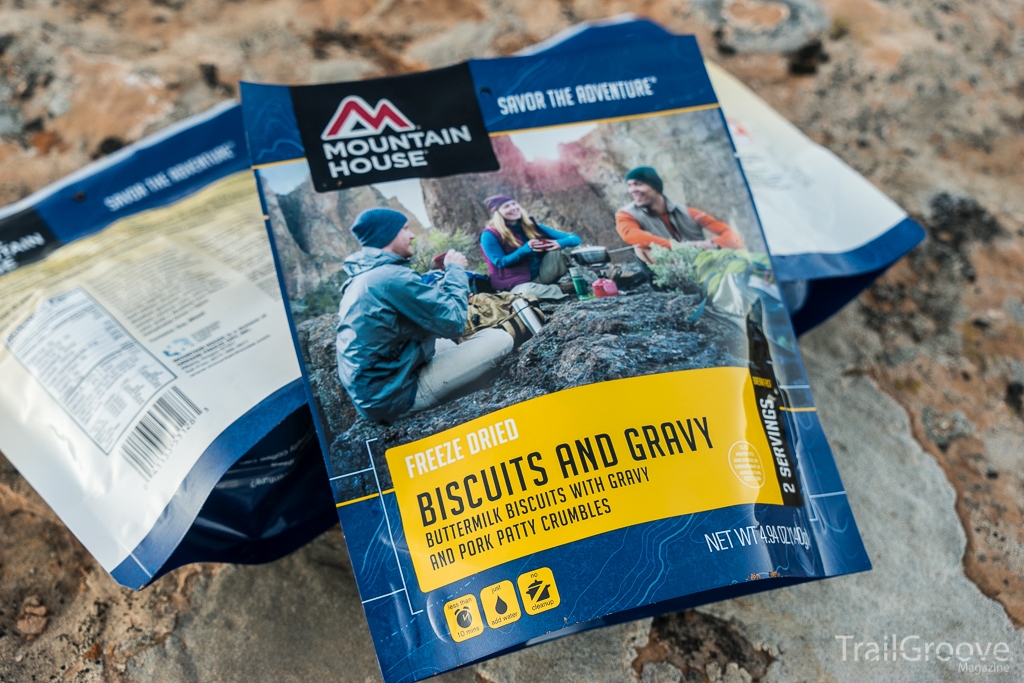 A meal I originally bought for breakfasts, Mountain House Biscuits and Gravy now also works its way into my dinner menus. Buttermilk biscuits were something I used to think were only to be had from a refrigerated can (yes I have taken those backpacking), or from a favorite local diner, but Mountain House has done a great job of bringing these to the freeze-dried backpacking meal world. Combined with crumbled sausage and gravy with an ample amount of pepper seasoning, when this one occupies some space in my food bag I'm always looking forward to it during the hiking day.
Like all Mountain House meals, this one is now officially rated to stay fresh for 30 years – no more expired meals hidden in the dark corners of your gear stash, and 30 years is even enough time to fall in love with a meal, get burned out on it, and then repeat the process a couple more times.

Mountain House Breakfast Skillet
$9, 800 calories per pouch. Ready to eat in: 8 minutes. 4.7 ounce net weight.
A breakfast meal from their "wraps" line, Mountain House Breakfast Skillet works equally well for breakfast or dinner in my experience, and at a solid 800 calories per package is high in the calorie department for ready to eat meals. This eclectic mix of hash browns, eggs, sausage, and peppers is definitely reminiscent of getting the works plate off your local diner's griddle. For even more calories, bring a couple tortillas to go along with this one, and if you're on the pro ketchup and eggs side of the fence, a packet of ketchup is an excellent addition to take along as well. Hot sauce packets of course, would also work for those looking for a bit more kick.

Mountain House Italian Style Pepper Steak with Rice
$10, 450 calories per pouch. Ready to eat in: 8 minutes. 4.6 ounce net weight.
Another newer offering, Mountain House Pepper Steak with Rice features chunks of beef with rice and peppers in a tomato base; and even though we're talking rice and not wheat noodles in a circle here, this meal tastes very similar to a can of SpaghettiOs and meatballs. In other words; comfort food. While this meal is pretty darn good on its own, a little black pepper, and as I prefer a dash of cayenne – takes this one to a new level. While a bit of a light meal for two I've found, a packet of olive oil and planning for some dessert to go along with this meal is a great idea.

Backpacker's Pantry Santa Fe Chicken and Rice
$11, 760 calories per pouch. Ready to eat in: 15 minutes. 7.5 ounce net weight.
The Backpacker's Pantry Santa Fe Chicken and Rice Meal combines chicken and rice, with beans, cheese, green chili and vegetables. This is a great dinner for one or two, and adding an olive oil packet works very well for boosting the calories on this one. Although the rice is usually a little al dente in my experience following the specified directions, only slightly so and that's fine in my book. For a burrito approach, this goes very well with tortillas, and bring a hot sauce packet or two if you're so inclined. It's not quite your favorite Mexican restaurant or a burrito from Chipotle, but for the backcountry it's getting close enough to the latter.

Mountain House Spicy Southwest Breakfast Hash
$9, 500 calories per pouch. Ready to eat in: 9 minutes. 3.9 ounce net weight.
A newer offering, Mountain House Spicy Southwest Breakfast Hash is in my opinion another that's served up equally well for breakfast or for dinner. With a green chile and hash brown base, and oddly for freeze-dried meals actual hearty chunks of beef combined with other southwest themed vegetables and ingredients, this meal is a bit of a diamond in the freeze dried meal rough. Although this recipe did have a recall to be aware of – those with pouch code 3253174 and best by date of Dec. 2046 were affected, this is a new favorite of mine on the trail...with the right pouch code of course.

Mountain House Chicken and Dumplings with Vegetables
$8, 620 calories per pouch. Ready to eat in: 8 minutes. 4.7 ounce net weight.
If you like chicken pot pie, this is the freeze-dried meal for you. Mountain House Chicken with Dumplings features chicken, and a heavy dose of vegetables along with buttermilk biscuits and gravy at least reminding one of grandma's secret recipe....or perhaps just your favorite microwavable chicken pot pie from your local super market's freezer section. Either way, this one hits the spot while backpacking and especially if temperatures are a little on the chilly side.

Mountain House Chicken Breast and Mashed Potatoes
$11, 420 calories per pouch. Ready to eat in: 4 minutes. 3.7 ounce net weight.
I know I know, we can all head to our local grocery store and grab any one of a number of mashed potato packages that are easy to cook, quick, and taste great after a long day of hiking. As such, the key with this one isn't the potatoes, it's the chicken – Chicken Breast with Mashed Potatoes from Mountain House, believe it or not, comes with two whole, grilled freeze dried chicken breasts included in the pouch. The price to calorie ratio on this is a bit steep, so this is one meal where I always add an olive oil packet to boost the calories, and I keep this on hand for a splurge occasion.

Backpacker's Pantry Pad See You
$11.50, 720 calories per pouch. Ready to eat in: 15 minutes. 6.6 ounce net weight.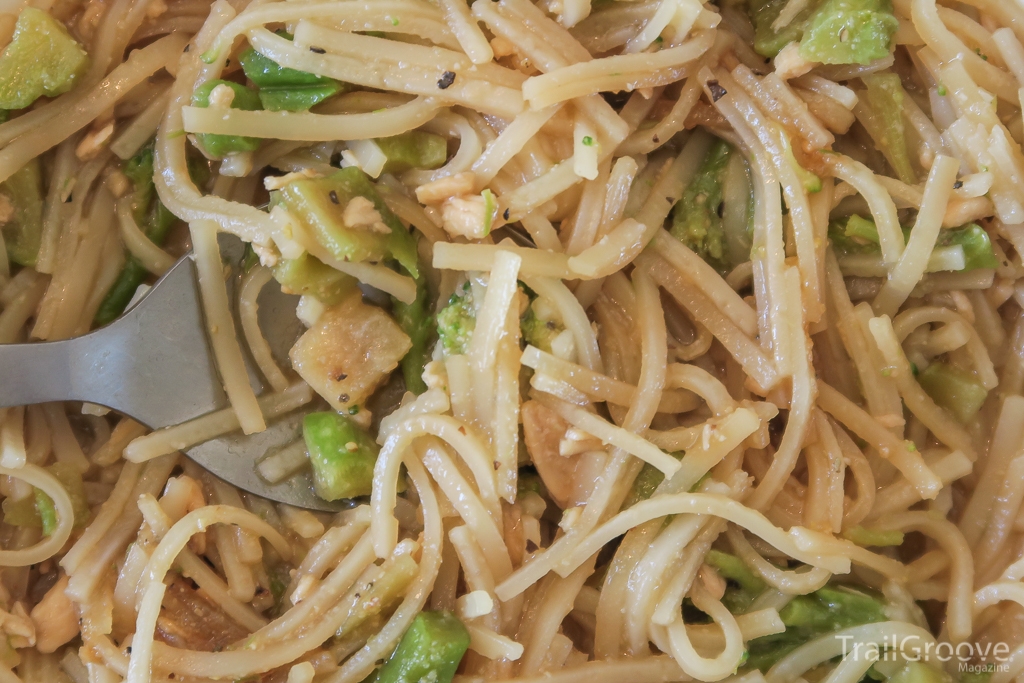 With rice noodles and chunky broccoli in a tasty sauce with an adequate amount of chicken mixed in, Pad See You from Backpacker's Pantry is about as close to take out as we'll get on the trail. No need to bring along an extra olive oil packet – Backpacker's Pantry has already included one inside the pouch for you to mix in before you add hot water – and unlike a lot of freeze-dried meals, this one actually packs some punch in the flavor department without extra doctoring. (make sure you stir this one well; the spices may be at the bottom) If you like a little extra spice like me though, don't forget a little cayenne or a packet of Sriracha.

Mountain House Chili Mac with Beef
$9, 575 calories per pouch. Ready to eat in: 8 minutes. 4.8 ounce net weight.
A classic Mountain House meal, and just classic meal all around, Chili Mac with Beef from Mountain House takes mac and cheese to an entirely higher level with beef, beans, and spices. One memorable experience came with this meal on an especially wet, snowy, and chilly hiking day – after setting up camp tired, a bit chilled, and with darkness having fallen this meal definitely raised both sprits and warmth before hitting the sleeping bag. The calories are bit low on this one; I suggest adding a packet of olive oil and for long hiking days, shredding some beef jerky from your lunch stash (throw it in before adding hot water) is a welcome addition.

Mountain House Beef Stew
$10, 475 calories per pouch. Ready to eat in: 8 minutes. 4.3 ounce net weight.
While even the best of freeze-dried meals can usually use a bit of customizing to suit your taste or add some kick, Beef Stew from Mountain House is one of those that's nearly reached perfection all by itself and stands on its own. A chunky, meaty mix of cubed potatoes and beef with vegetables, this one really hits the spot after a long hiking day and tastes great, especially on a chilly evening. While this one is great without any additions, this isn't one that you'll be boosting the calorie count with tortillas, for example (perhaps for dipping in the broth). Olive oil and a little spice if you're so inclined both work together well for taking the calorie count, and experience here to the next level.


Note that all the prices above are full price; any time of the year REI offers 10% off 8+ meals here with free shipping available, and cost can also be mitigated through careful shopping, as it's not too difficult to grab these meals 20% off from time to time and / or with free shipping if you keep an eye out for sales at retailers like REI and Backcountry.com. Although all of our palates vary and a lot of these meals seem to come and go on the manufacturer side, the above list is a great start, and are the ones that have stuck around in my food bag. One tip I can add is to always throw in a new meal or two on long trips; it helps prevent burnout on any individual meal and is a great way to find the next one you'll go back to time and time again. I like to keep a simple spreadsheet at home for each meal, and update it after a trip any time a new meal is tried. I give each a meal a quick rating (poor, fair, and good) in my system, and also note next to this any thoughts on the taste, what might need to be added next time (example: needs black pepper and a packet of olive oil). Of all the meals I've tried the 10 listed above are the highest rated on my particular spreadsheet.
While a pre-packaged meal can be more costly than making your own meals from scratch, if you have a focus on convenience, having some of these meals on hand can make packing your food bag before a trip that much easier, and freeze-dried meals bring that same convenience to mealtime on the trail as well. Either way, whether you like to throw a couple in to take care of a meal or two on a long trip, or if you take one for dinner each night, having a few go-to freeze dried backpacking meals on hand for your next trip can go a long way towards helping out with your backcountry meal planning.
For a list of nearly every freeze dried meal made (over 100 different options) that you can sort by brand, category, meal type, etc., check out this page at REI.