Backpacking Pillow Selection Guide and Overview
---
A good night of sleep is always important – but with the physical activity that goes along with backpacking, it becomes even more important on the trail. Getting a good rest after a long hiking day will only help things the next day – whether it's the physical challenge of a high mileage day, or even a day that tests other things like your sharpness with navigational ability. Not to mention just our general mental outlook – being tired makes everything harder. With our at home pillow system (at least, in most every case) off limits due to size and weight, many different types of backpacking pillows are on the market for a hiker to choose from. Here are things to consider when it comes to choosing the best backpacking pillow.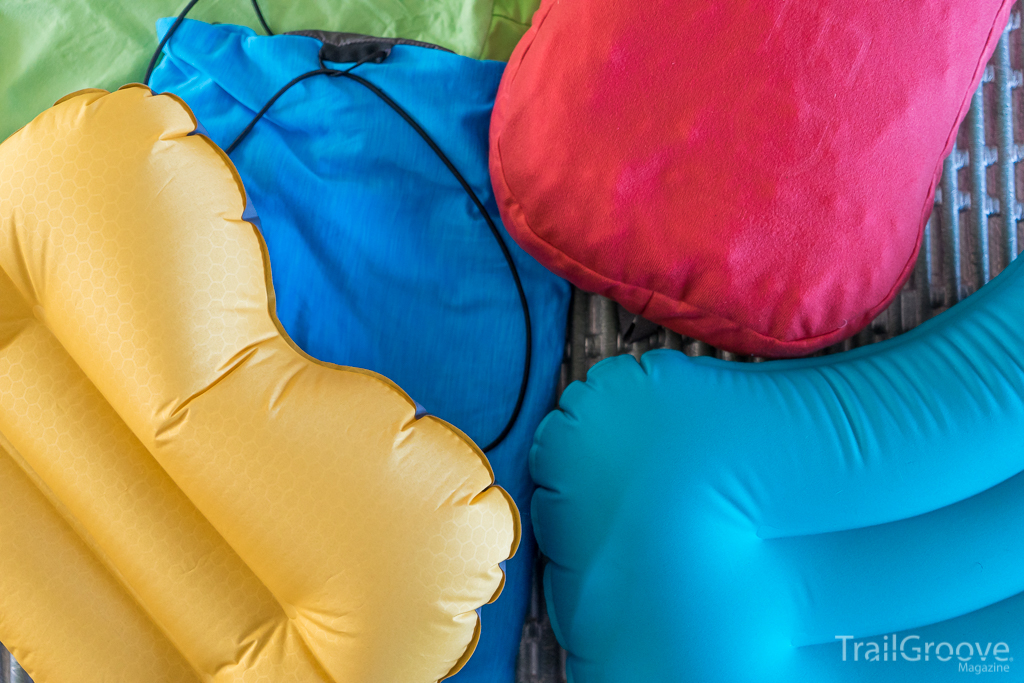 No Pillow / Stuff Sacks: The ultralight option is to not pack a pillow at all of course, using spare clothing or gear – from extra stuff sacks to spare clothes to anything else you can find rolled up and possibly within a stuff sack to contain it all. This works well provided you have these types of things on hand when you hit the sack for the night, but if you're like me and wear most of that spare clothing along with your jacket in your sleeping bag to boost warmth at night, pickings will be on the slim side. Some manufacturers even make stuff sacks designed for this purpose, with a fleece covering for comfort. While this is not the most comfortable option when compared to a pillow that is dedicated to the purpose, if you do have spare clothing on hand this can be worth a try to see if it's comfortable enough for you since this would be the lightest option out there.
Filled Pillows: Most similar to a real pillow but in a smaller version, these pillows are usually filled with synthetic insulation, down, or foam and are likely the most comfortable option out there. However, being unavoidably heavy and bulky, at least when enough fill is included to actually provide a sufficient level of support, this option in not the best option for any type of backpacking other than perhaps in a basecamp type scenario. Unless of course, this is the only option in your own case that allows you to get a good night of sleep. These types of pillows typically weigh in over half a pound and don't pack up small. As such if you're moving day after day and covering any type of mileage, the added bulk and weight to your pack will be significant.
Air Pillows: A popular option on the market today, most backpacking pillows are inflatable in some manner. This greatly helps in the bulk and weight department, still allowing you to inflate the pillow to a high enough height for comfort, but deflating to pack very small. With air taking the place of fill, these pillows are often quite light – as little as 2-3 ounces like the Therm-a-Rest Airhead Lite. Many options in this category exist. I prefer inflatable pillows that have a one way inflation valve – so that I can fine tune the inflation level and so that all the air doesn't escape if I don't close the valve immediately during the inflation process. Many inflatable pillows that have a one way inflation valve will also allow you to fine tune with small deflation adjustments, like the Sea to Summit Aeros Ultralight. Since finding the inflation level that is most comfortable will be somewhere less than max and of course more than zero, this can be very convenient. Most inflatable pillows are also baffled, which helps keep your head centered and offers more comfort.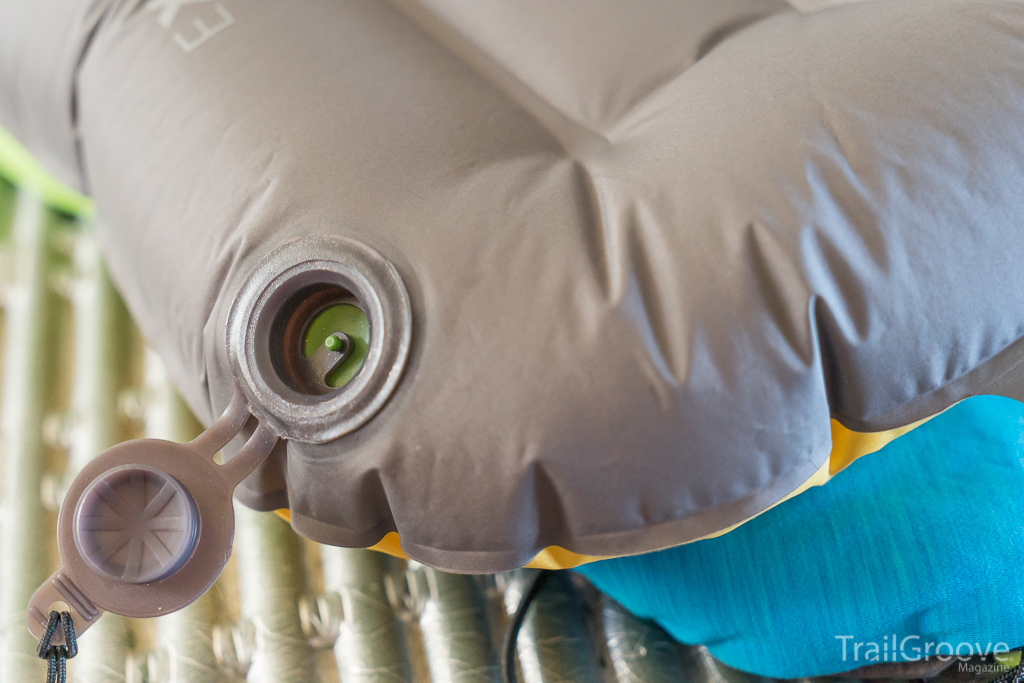 Hybrid Pillows: Over the years I've tried just about every approach – from no pillow at all to the most ultralight inflatable pillows available and all the way up to near luxury options – and as you might expect what works best tends to fall somewhere in the middle. As such my current choice is usually one of the pillows that takes a hybrid approach: that is an inflatable pillow that features an internal air chamber for height, but also has a cover of some type with at least a thin layer of cushioning – foam, down, or synthetic insulation. This additional layer will add an ounce or two, but helps offset any balloon type impression you can get for air chamber only solutions. Since the outer cover and layer is thin, these types of pillows are light enough – usually 3-5 ounces, and still pack small. As a bonus, some warmth is to be had with the addition of the synthetic, down, or foam layer. Examples in the category include the NEMO Fillo Elite and the Sea to Summit Aeros Premium. For any inflatable backpacking pillow, one bonus to look for (if you also use an inflatable sleeping pad) is a valve that is also compatible with the inflation stuff sack for your sleeping pad (Exped Schnozzel for example). This keeps moisture from your breath from building up inside the inner air compartment of both your pillow as well as your sleeping pad.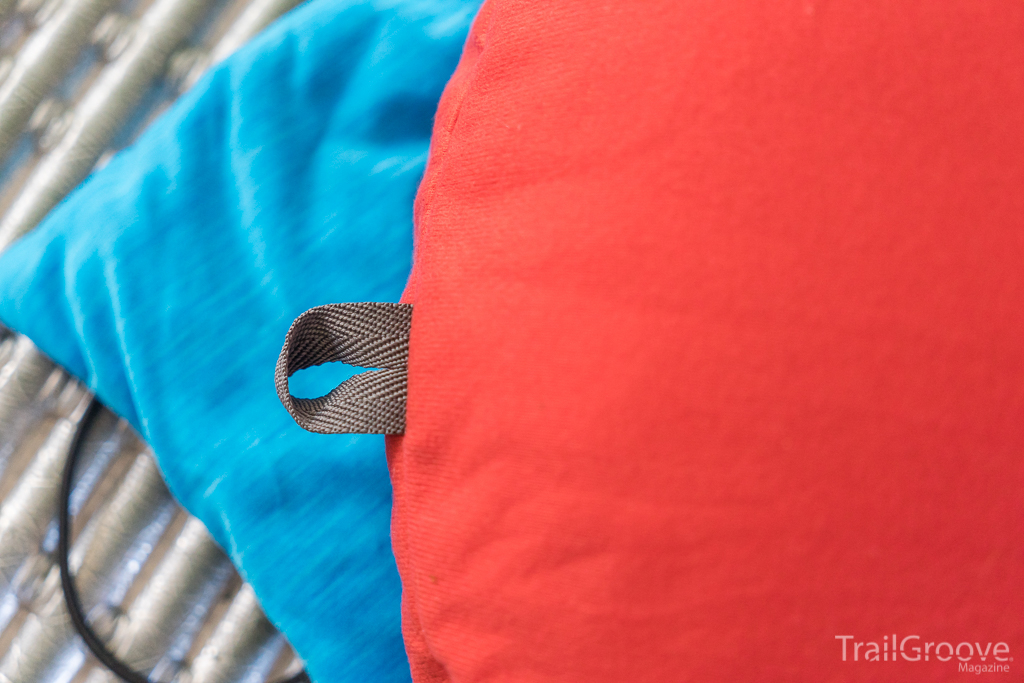 No matter the solution you end up choosing, shape is also worth considering – I like a rectangular shaped option instead of a curved shape so that my shoulders aren't bumping the pillow out of place during the night, but this is very much personal preference. Additionally, keeping any of these pillows on your sleeping pad at night can be a challenge (and if your pillow is falling off your pad all night, no pillow will be comfortable). This can however be solved by keeping the pillow inside your mummy bag's hood – but if you pack a hoodless sleeping bag (or quilt) as I do, a pillow that has loops on both sides aids greatly in keeping it in place – check out our Issue 34 trail tip for our solution on how to keep your pillow on your sleeping pad during the night. Even when using a mummy bag with a hood, I prefer to keep the pillow on the outside of my sleeping bag to allow for a better seal against cold air.
For an extensive list of outdoor and backpacking ready pillows that you can sort and filter by many of the points we've discussed in this article, check out this page at REI.