NEMO Fillo Elite Backpacking Pillow Review
---
After setting up the tent on a recent trip and after a long day, I heard an unwelcome sound the moment I laid my head on the pillow – the sound of air leaking from the previously trusty pillow I'd been packing along on trips for years. Luckily, this trip was quite warm for the mountains – lows in the high 40s plus having a double walled tent along meant I had a down jacket that I wasn't wearing at night, and could roll up in a stuff sack to get me through the trip. However, for more normal temps when you're wearing that jacket and any extra clothing in your sleeping bag at night, you'll have slim pickings for a makeshift pillow and a backpacking pillow is (for most of us) needed to get us through the night in comfort. With the pillow I had been using having been discontinued, this opened things up and I decided to give another solution a try as a replacement – the Fillo Elite from NEMO.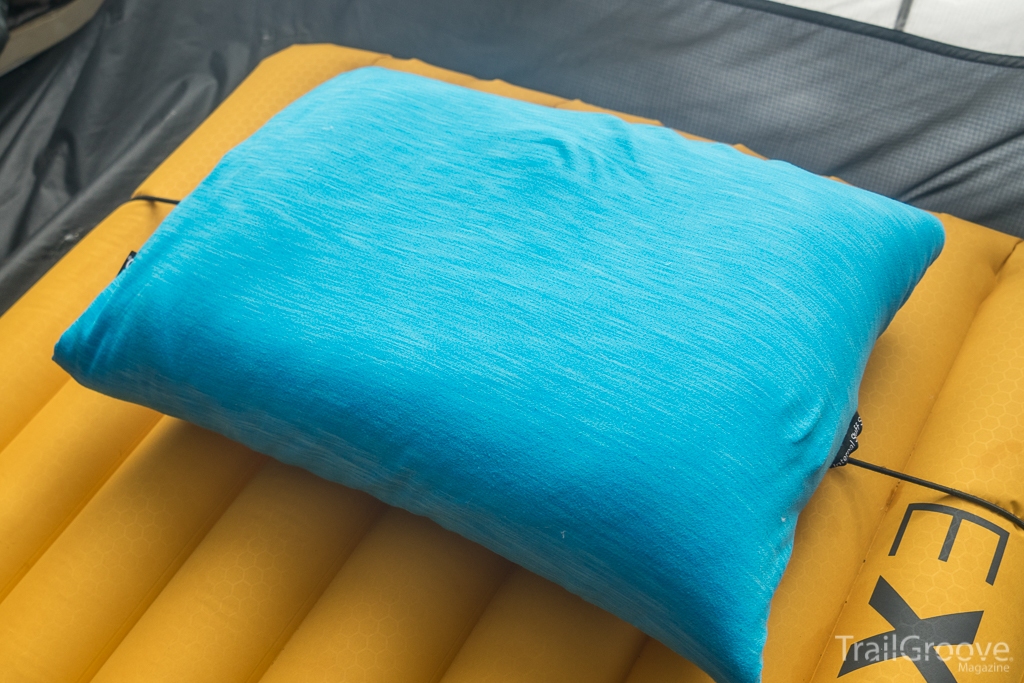 The NEMO Fillo Elite is a compact backpacking pillow – measuring 15x11x3 inches and packing to – as described by the manufacturer – the size of a lemon (although in practice, I just throw it in with my sleeping bag). The pillow is listed at 3 ounces, and weighed in at 2.9 ounces on my scale. The pillow features a baffled internal air bladder that you inflate by mouth with a twist lock valve, and then a fabric cover over that with a thin layer of PrimaLoft insulation for comfort and a little warmth. The pillow also packs right into its own stuff sack integrated into the pillow. If you'd like a similar design but with a little more room, the Fillo Elite Luxury Version of this pillow is the same size in width and height but is 21" long compared to the 15" of the normal Elite. You can keep moving up the chain as well if you need to – and if weight is of no concern all the way to the Fillo King Pillow.
Immediately what I liked about the Fillo Elite was its light weight and compactness. What I immediately didn't like was that there is no way to attach this pillow to your sleeping pad. Although you could use this inside of your sleeping bag hood – I use a hoodless Zpacks Sleeping Bag so this is not possible. With a pillow simply on top of my sleeping pad, I am chasing it around all night and this leads to interrupted sleep no matter how comfortable the pillow itself actually is. Oddly, NEMO includes a sewn-in loop on only one side of the pillow, presumably for hanging the pillow in storage. If a loop on the opposite side was included attaching the pillow would be easy, but no such luck. However, on the side opposite of the sewn in loop is a tag, which is sewn back upon itself to form something I could use – and by attaching a separately sourced small piece of cordage (something like a shoe lace is perfect, cut down), tying this into a small loop, then tucking the knot back into the NEMO label I was able to create loops on both sides. This way, I can attach the pillow to my pad using this system that weighs very little, but works very well.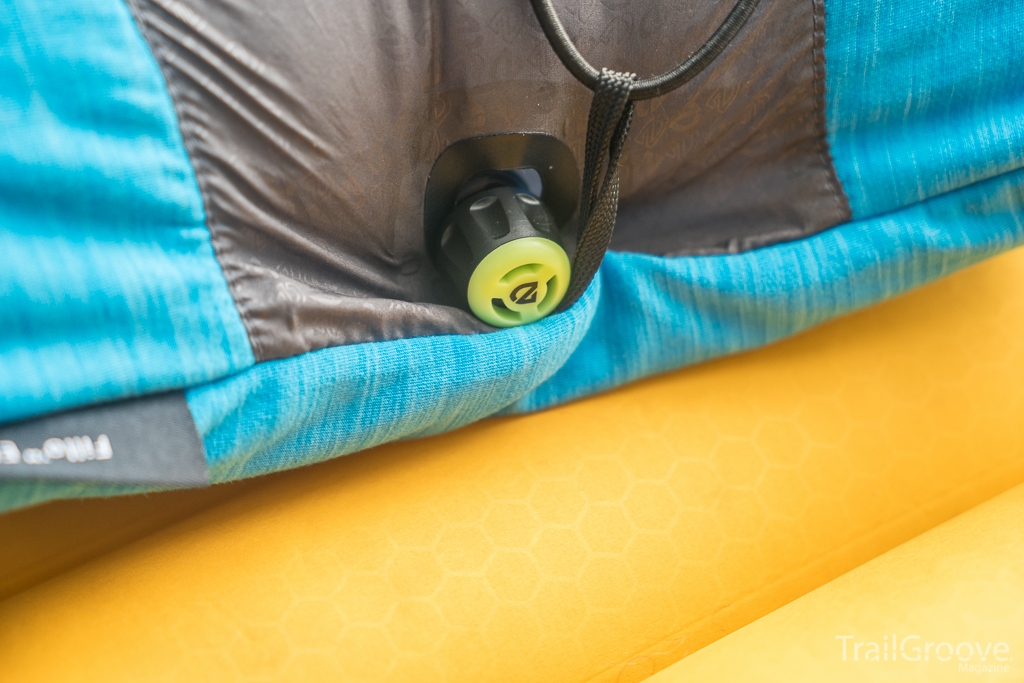 Filling the pillow is via a twist lock valve: twist to the left, pull outwards, and this opens the valve to inflate or deflate. This is a little tricky, as the valve will immediately release all the air you just blew up the pillow with before you can close it unless you use two hands and twist it closed while inflating. Despite not being a flat valve, it does stay out of the way on your pad and in use. However, I definitely prefer flat valves that are one-way and don't let air escape as you're inflating. It makes the inflation process and fine tuning the inflation level much easier. Additionally, I've found that many pump sacks like the Exped Schnozzel are cross compatible with other manufacturer's flat valves, and this is the best way to inflate anything be it a sleeping pad or pillow – so that your warm moisture laden breath isn't being used to inflate. No such luck with the NEMO, so be sure to leave it unstuffed and with the valve open in storage. That said, even after using the pillow on a 5 day trip I noticed no moisture build up in the inner air chamber and inflation does become easier with practice, however it is definitely an inconvenience when, once the air inside the pillow begins to cool and becomes denser after inflation and you've probably already fallen asleep and the pillow needs a top off, that air begins to escape as soon as you open the valve. One way valves make things much easier.
Once inflated however, the NEMO Fillo Elite does offer comfort. As a side sleeper I found the height of the pillow adequate and the normal, non-luxury version seen here to be ample as far as size is concerned. The internal air bladder is baffled, slightly stretchy, and cradles your head to some extent (in fact, I think the smaller pillow will do better here). The cover and the thin insulation layer just add to this and give it more of a pillow feel, and add some warmth against your face. While the comfort wasn't off the charts – it is sufficient for a good night of sleep and at 2.9 ounces, it's hard to complain, but if you like a pillow with extra height and don't have anything to put on top of the NEMO, look elsewhere. Noise can be an issue with the Fillo Elite – when moving around the noise the pillow makes against your ear reminded me being downstairs when someone is walking around on a creaky wood floor upstairs. For some this may be an issue, however in my case it didn't interfere with getting a good night of rest. When new or after some use, you can remove the inner air chamber and wash the outer cover. Just make sure you do so by pushing the valve in instead of trying to pull the air chamber out.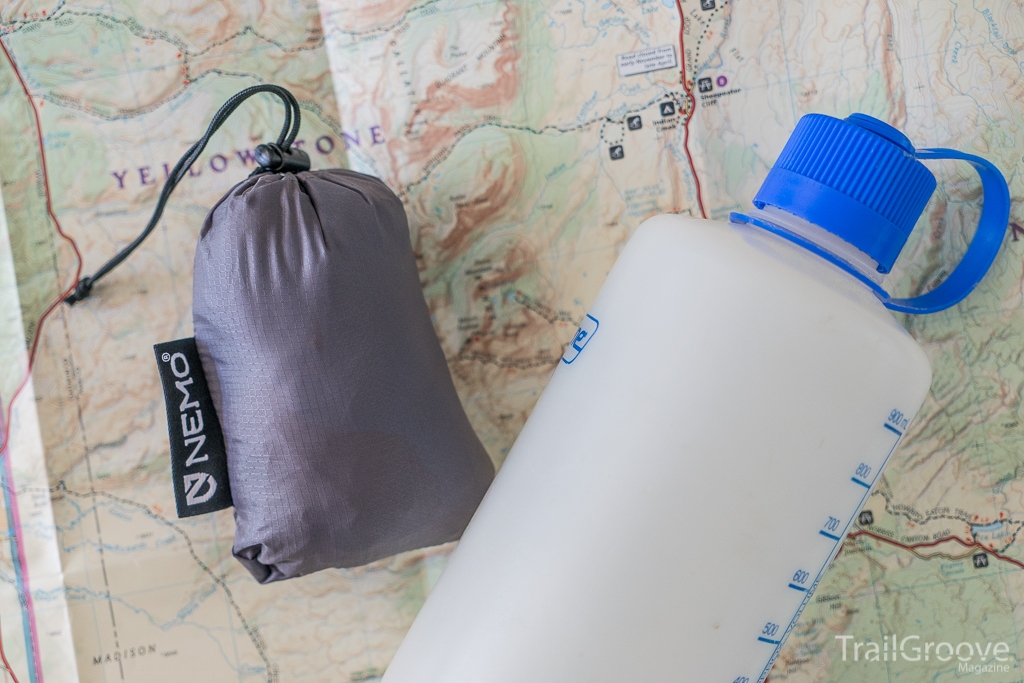 When it comes to backpacking pillows, there is no magic solution – more comfort simply means carrying more weight. For each one of us it comes down to a balance, and as far as I'm concerned I like to carry the minimum amount of weight (and however much that might be) to get a good night of sleep in the backcountry, but no more than that. The NEMO Fillo Elite strikes a nice balance; at less than 3 ounces I wouldn't consider it weighing any pack down, and in fact it just may lighten a lot of packs for those who make the switch. The Fillo Elite is definitely not what I'd describe as luxurious, but it's (much) better than nothing, and better comfort wise than lighter alternatives as well, for a very small weight penalty. If you're looking for fast and light, but with a little bit of comfort at night, the NEMO Fillo Elite is certainly worth a look.
The NEMO Fillo Elite retails for $45. You can find it here at REI, at Backcountry.com, and here at Amazon.com.