Feathered Friends Down Booties Review
---
Few items provide as much comfort for the weight during frigid backpacking trips as dedicated down booties. Cold feet can quickly sap out any enjoyment of wonderful winter scenery and can easily discourage someone from ever attempting winter backpacking or cross-country ski touring. While down jackets can easily keep your core warm, having a full-body strategy for keeping in heat is crucial for winter trips where you're spending a significant amount of time in camp. Down booties provide a solution for keeping your feet warm and when combined with down or synthetic insulated pants can allow you to be comfortable sitting outside in sub-freezing temperatures.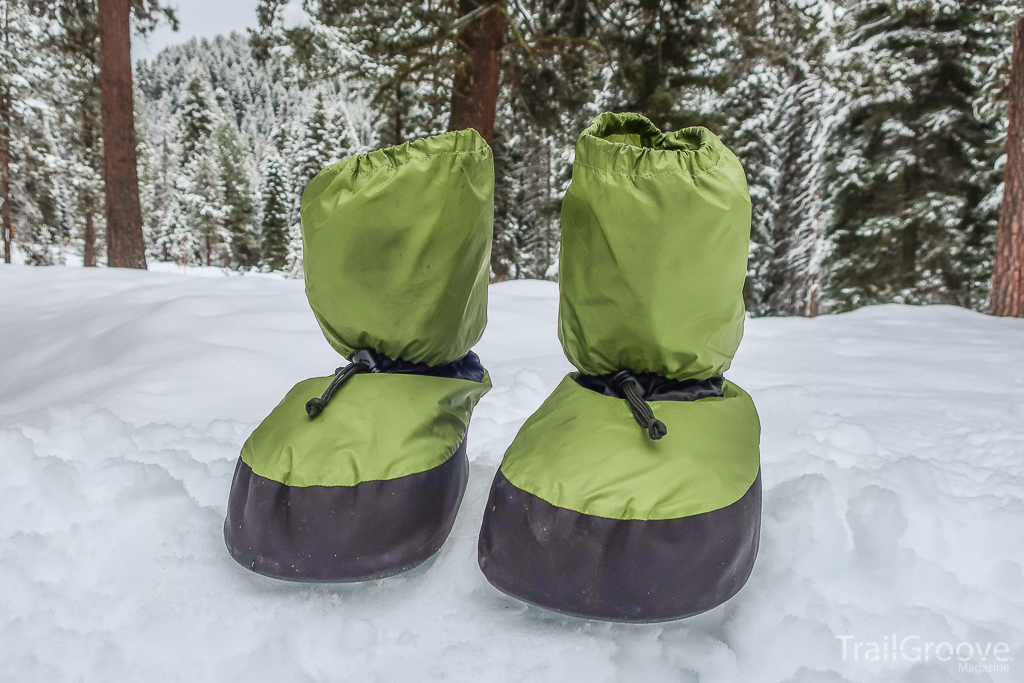 I've used Feathered Friends down booties on dozens of backpacking trips in the last seven years – everything from cross-country skiing, to snowshoeing, to backcountry cabin trips, to just plain hiking in cold temperatures. Although not cheap (at $109 they're almost as much as some on-sale trail runners), they've proved to be durable and comfortable in a variety of conditions and I'm sure I've got at least another seven years, and probably more, of use left in them.
One of the most user-friendly aspects of the Feathered Friends down booties is that they're actually a down sock with a separate overboot that has a thin foam sole. Not only does this make them durable enough to wear around camp, but it allows you to keep the down socks on for extra warmth when you're in your sleeping bag or in you tent and don't need the protection of the shell. I've worn these on bare forest ground in the Southeast and they only show minimal wear; since using them almost exclusively on snow in the Northern Rockies for the last few winters they don't seem to have gained any discernible signs of use.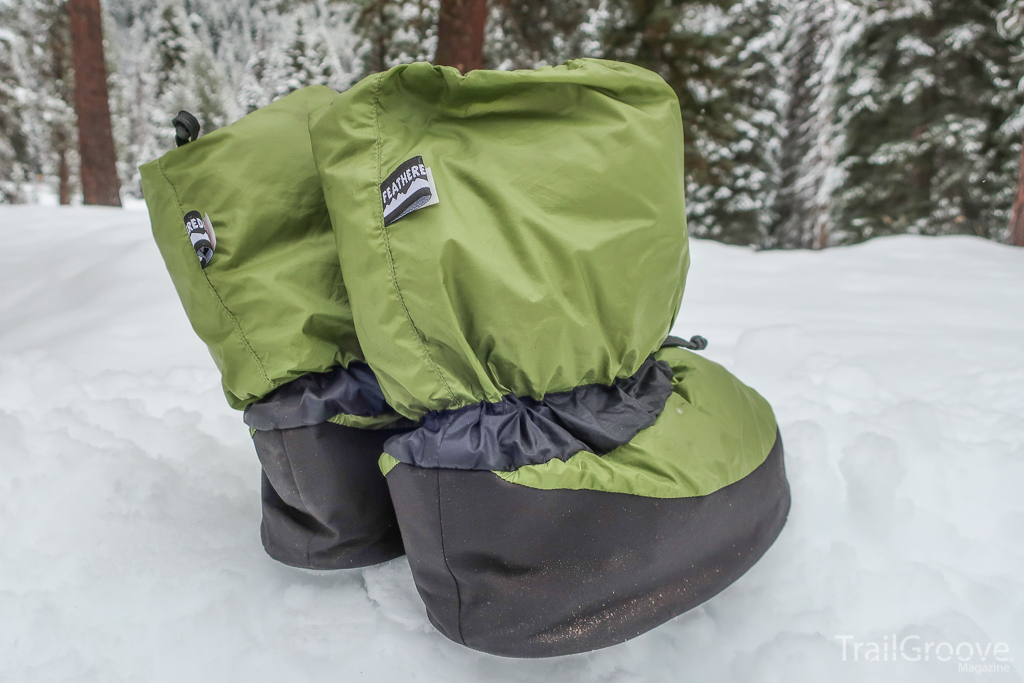 The comfort of these simply can't be understated. Getting into camp in the winter and putting on a fresh pair of dry socks and these booties makes going about the most mundane camp chores downright pleasant. The ability to pull off the shells and get into the sleeping bag while still wearing the down socks is also a huge morale and warmth booster, although I always end up getting a bit too warm in my feet (a nice problem to have in winter) and removing the down socks during the night. I haven't used these booties in extreme temperatures, but when wearing appropriate upper and lower body insulation these have kept my feet warm when walking around on snow (or sitting on a foam pad) in the single digits (F).
While winter backpacking is a gear-heavy activity and watching every ounce brought is important, these down booties are 9.3 oz (total) for a pair in size medium. Given the warmth they provide and their utility around camp, I have never regretted bringing them on winter trips or considered them a "luxury item" whose weight might not justify bringing them along.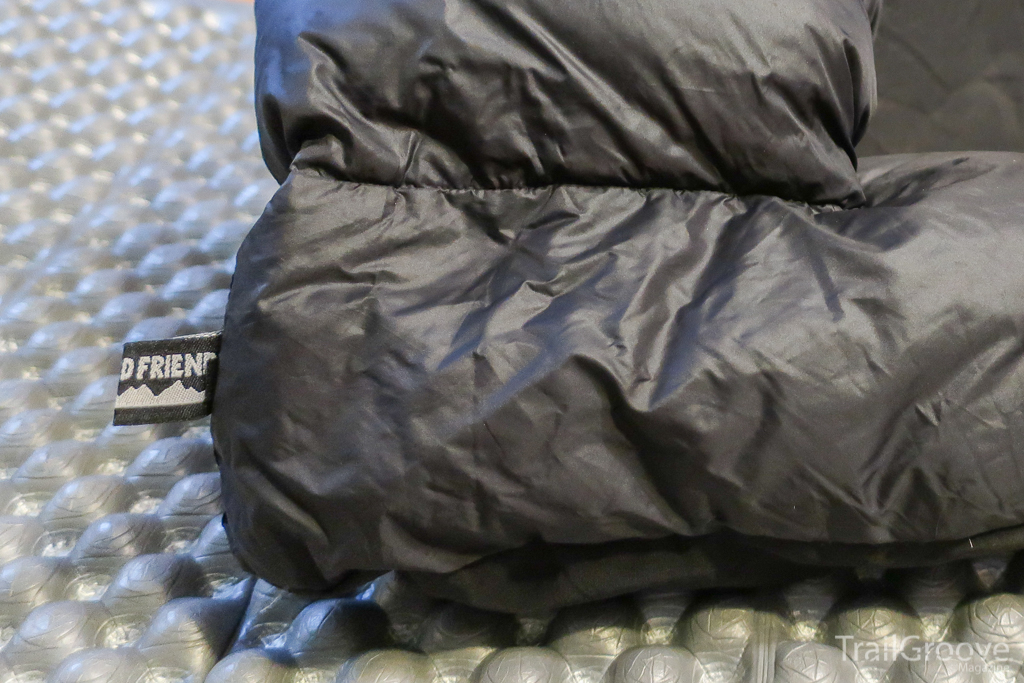 Although these boots are exceptionally comfortable, they can be a bit awkward to move around in. If the snow is hard-packed or icy and there is a slant to it, there can definitely be some slipping and sliding. This mostly just makes for comical movements, but if in more exposed terrain it could prove to be a liability. And given how much more comfortable these booties are than mountaineering or ski touring boots, the temptation to wear them is rather strong, even if it might be a better idea to put on your actual boots before going to try and fetch water from a small spring that is somehow defying the freezing temperatures and feeding a small creek. The shells have two adjustments points, at the top collar and at the ankle, which help these feel a little less like moon boots and keep snow from going inside if you accidentally posthole and find yourself in over the top of the boot (this happens to me on nearly every trip while doing a camp chore). The shells are Pertex Endurance and do a good job of keeping off dry snow, but they can wet-out after extended contact with wet snow.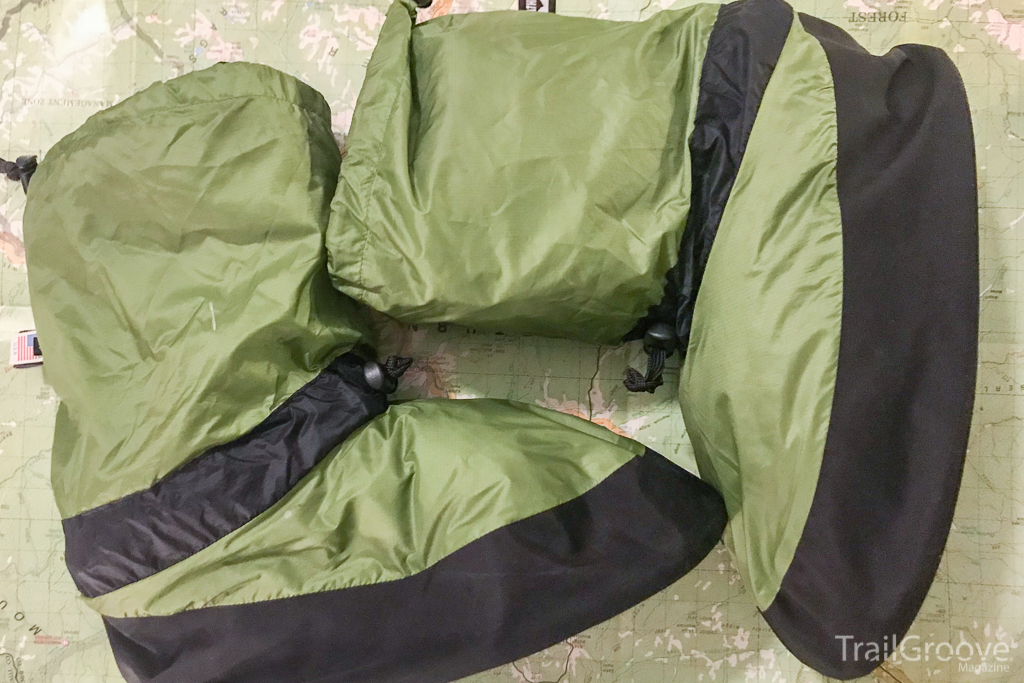 In addition to their use when backpacking, mine have also been useful around the house on chilly winter mornings as well. I've even worn then in my hammock in the backyard on cool fall evenings and mornings. If you're considering them as a gift – for yourself or someone else – you can be confident that they'll be a gift that keeps on giving and provide years of use. The shells come in different colors, so you can pick the color to make the gift that much more personal or to color-coordinate with your down jacket to make sure you are competitive for the Best Dressed in the Backcountry Award. All in all, unless you solely backpack in the summer (you're missing out!), or live somewhere that never sees below freezing temperatures, it's hard to go wrong with buying these down booties.
The FF down booties are available in 7 different sizes and 6 colors – you can find them here at Feathered Friends.
1