Kahtoola EXOspikes Traction System Review
---
The EXOspikes Traction System is a product from Kahtoola designed to enhance traction in wintry terrain, and is suited both for hiking and trail running. Sharing some similarities with the popular Kahtoola MICROSpikes, the product is available in multiple sizes, each fitting a range of footwear sizes. A stretchy elastomer harness fits over your footwear, and underneath you'll find a grid of trekking pole-like metal carbide tips on the forefoot and heel – 12 on each foot to be exact. My size XL pair weighed 8.2 ounces.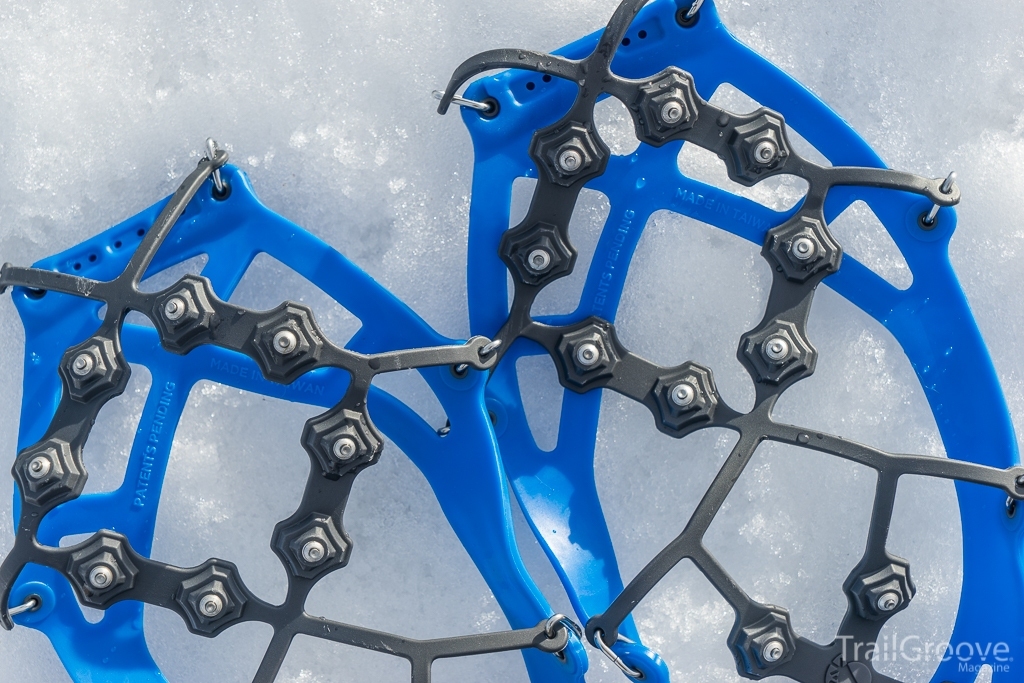 I ordered the XL size as someone who usually wears a size 12.5 men's trail runner or maybe a 13 boot. And I'm certainly glad I didn't size down – the Kahtoola EXOspikes are pretty tough to get over my lightweight, mid-height boots (a couple times I have felt like I was going to rip the harness trying to get them over the heel), but are secure once on. If you wear a bulkier or winter boot in a men's size 13 or above you might just be out of luck, as XL is the largest size offered. Without a doubt, while the EXOspikes will work on boots, the sizing guide is for trail runners.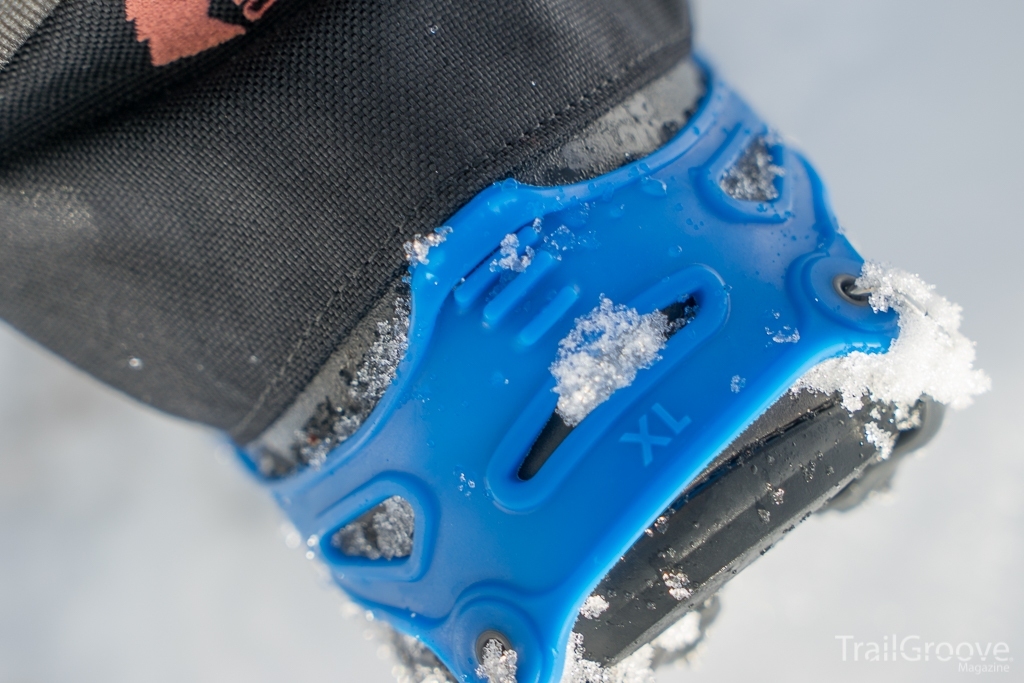 Traction-wise the EXOspikes offer just about what you might expect. These are not aggressive spikes like the MICROSpikes and definitely are no Kahtoola K10s, so I found myself less connected to the surface beneath my feet than with those alternative and more aggressive products. But for me, the EXOspikes are a very nice to have item for non-steep mixed terrain and especially where there might be a little front country and backcountry mixed in together on your hike. Where I found the EXOspikes to perform best was in cold conditions where the snow / and or ice is firm and packed, and while the product does serve to add something of a lugged grip to the bottom of your shoe, traction is only slightly improved in loose snow, as there's just not much bite.
Once conditions warm up and get slushy, the EXOs are not as effective. On ice, the spikes do add traction, but it feels more like added traction – kind of like having sandpaper on your feet, rather than a connection to the surface as with MICROSpikes, and I still very much appreciate trekking poles in addition to the EXOs. Additionally as you might expect from looking at the design, there isn't much mid-foot traction.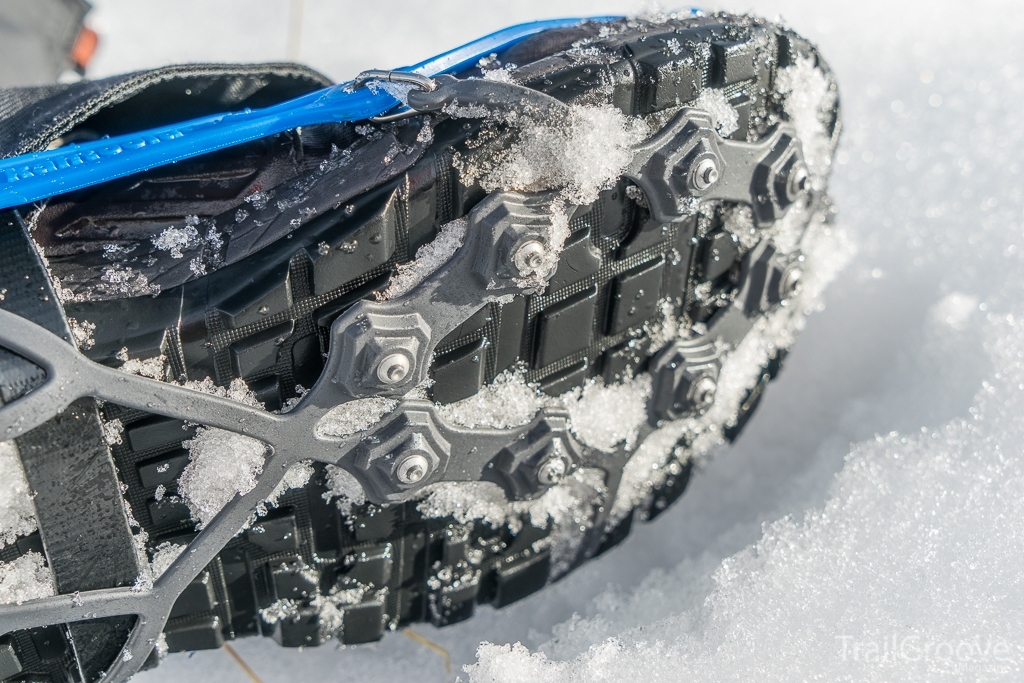 Underfoot, the EXOspikes are very comfortable and even in trail runners, you can't really tell anything extra is on the bottom of your shoes. While I didn't notice this with boots, when wearing a trail running shoe there is enough compression in the toe area to cause some minor annoyance. Additionally when trail running on cambered trails, the EXOspikes did tend to drift out of place which isn't the most comfortable thing for your toes. You can quickly readjust, but the next time you hit a section of trail that's slanted side to side, it will happen again.
One thing to note is that just like the way trekking poles (without rubber tips) will mar rock and leave holes alongside the trail, you will want to either take the EXOspikes off when the trail clears up or be careful not to walk on rock that's free of ice and snow. Not only will this increase the life of your EXOspikes, but more importantly it will help preserve the trail. I was impressed when reading the instructions that Kahtoola included this warning, in bold.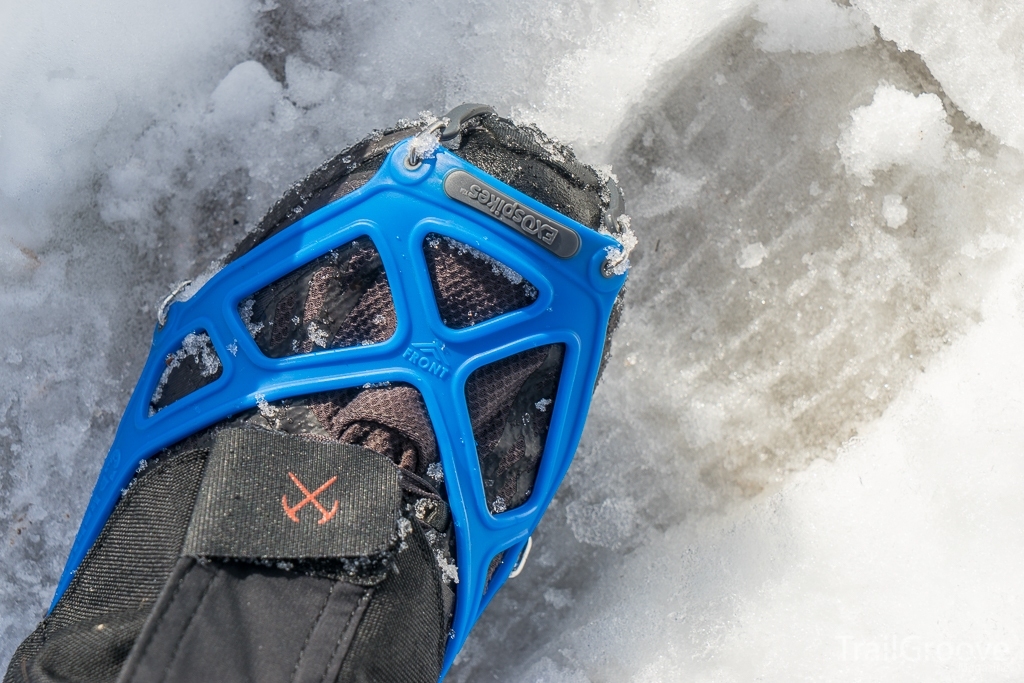 Overall the EXOspikes fill a niche for conditions where you would be taking your MICROSpikes off and putting them back on too often due to the terrain being mixed, and when you do opt for the EXOspikes they also have the side benefit of being about half the weight. Another larger, XXL size might be beneficial to the lineup for sizing. All said, I'm definitely keeping my MICROSpikes, but the EXOs are nice to have on hand for everything from wintry walks and runs in the neighborhood (or yes, even shoveling the driveway), to trail runs, or on day hikes where you might go from icy to snowy to dirt (or even pavement) and back again.
A pair of Kahtoola EXOspikes retail for around $60. You can find them at Backcountry, at Amazon.com, and here at REI.