Exped Air Pillow UL Review
---
I've always wished I could use the spare clothes in a stuff sack method to create a pillow while backpacking, but like a lot of other lightweight backpackers out there I'm usually wearing the majority of my clothes in my sleeping bag at night to increase warmth. There might be a rain jacket and pants still packed away, (Though sometimes I wear those for warmth too) but they just don't have enough bulk to really offer much support, and I might be utilizing those in an attempt to keep my dog warm at night during a cold trip. I've tried a few times without, but always go back to adding a piece of gear to my list – a dedicated inflatable pillow.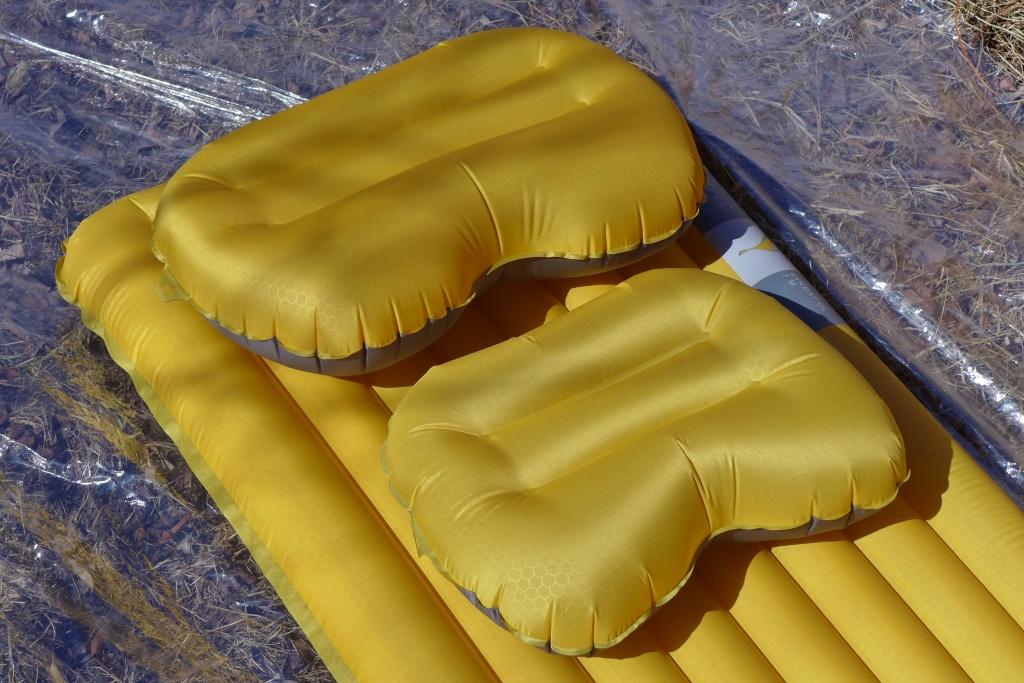 There's nothing like waking up well rested on a backpacking trip instead of waking up tired and with a sore neck. For the past several years I've been a big fan of the Montbell U.L. Comfort System Inflatable Pillow. At 2.4 ounces it's a pretty light solution that still offers great side-sleeper support. Jen's been a big fan of the Exped Air Pillow in a size medium (2.7 ounces) which is a bit lower profile, but has a softer exterior fabric and inflates / deflates really quickly with the Exped valve system. Though they didn't have it available when we first checked out the normal Exped Air Pillow, Exped subsequently released a lighter "UL" version of the pillow – Same shape, different fabric and a single inflation / deflation valve instead of two dedicated valves as before. Since the medium Exped Air Pillow UL is listed at 1.6 ounces and the large at 2 ounces, Jen thought she might be able to save a bit of weight (Using either size) without sacrificing comfort. I thought I might be able to finally find a lighter solution than my Montbell Pillow by trying out the Exped UL Pillow in a size large.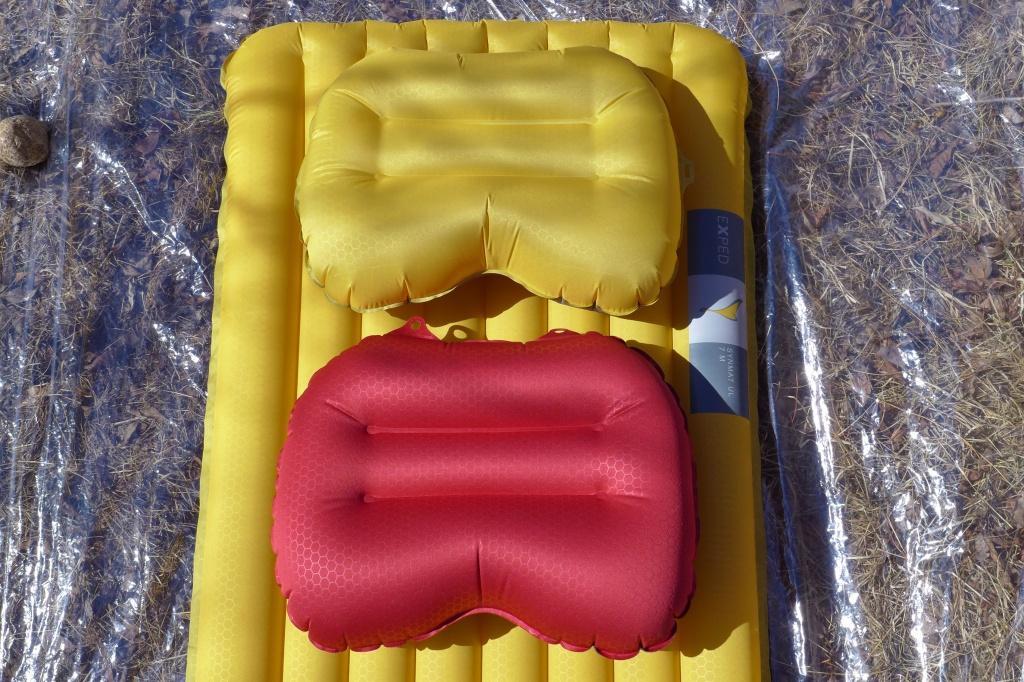 Exped Air Pillow UL & Original
Though I wasn't able to tell from the shots I saw online, upon receipt I realized the fabric on the UL pillows was the same as my Exped Synmat UL 7 sleeping pad. I haven't had any durability issues with the pad, so this definitely gave me some confidence regarding the new UL model pillow. With the single valve, inflation is still really fast and easy – I was able to inflate both sizes with 2 breaths. Using a finger to depress the valve makes deflation almost as easy as the 2 separate valves that were previously used.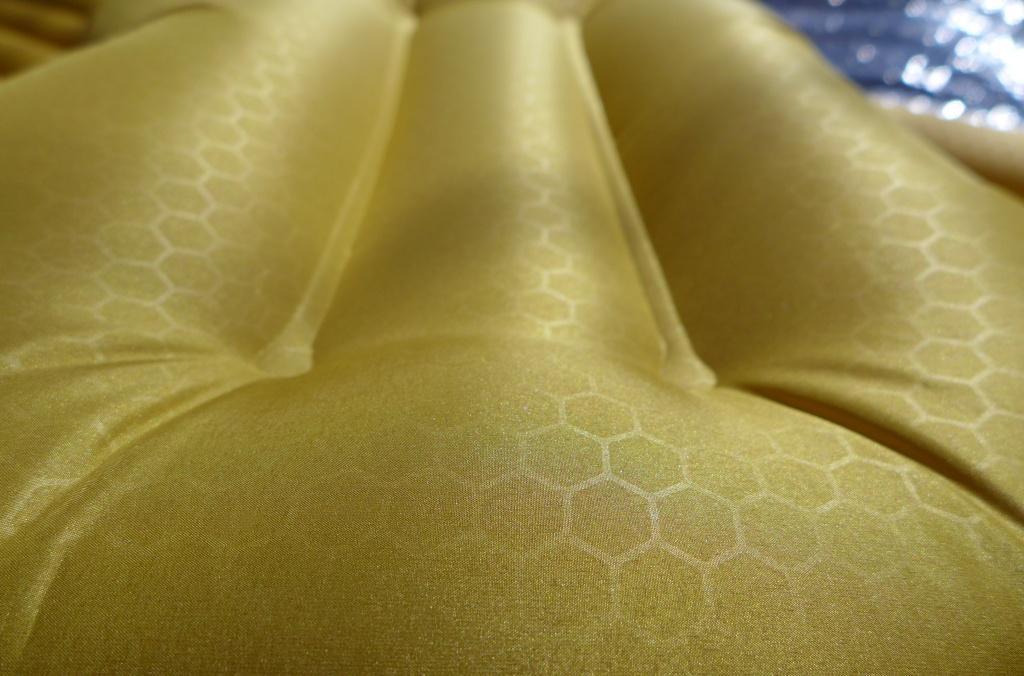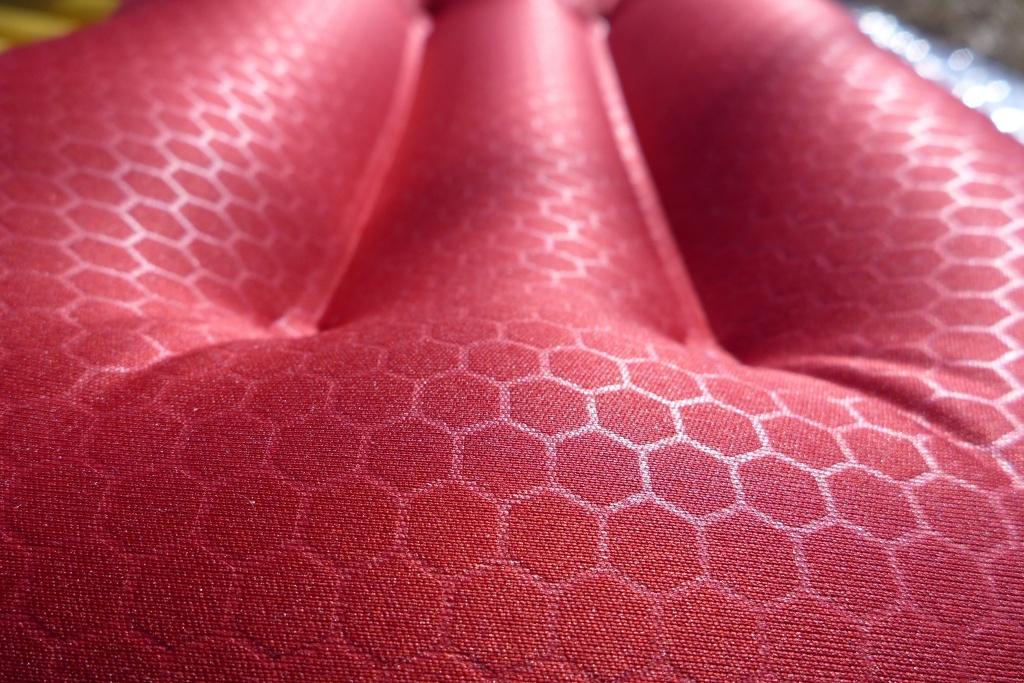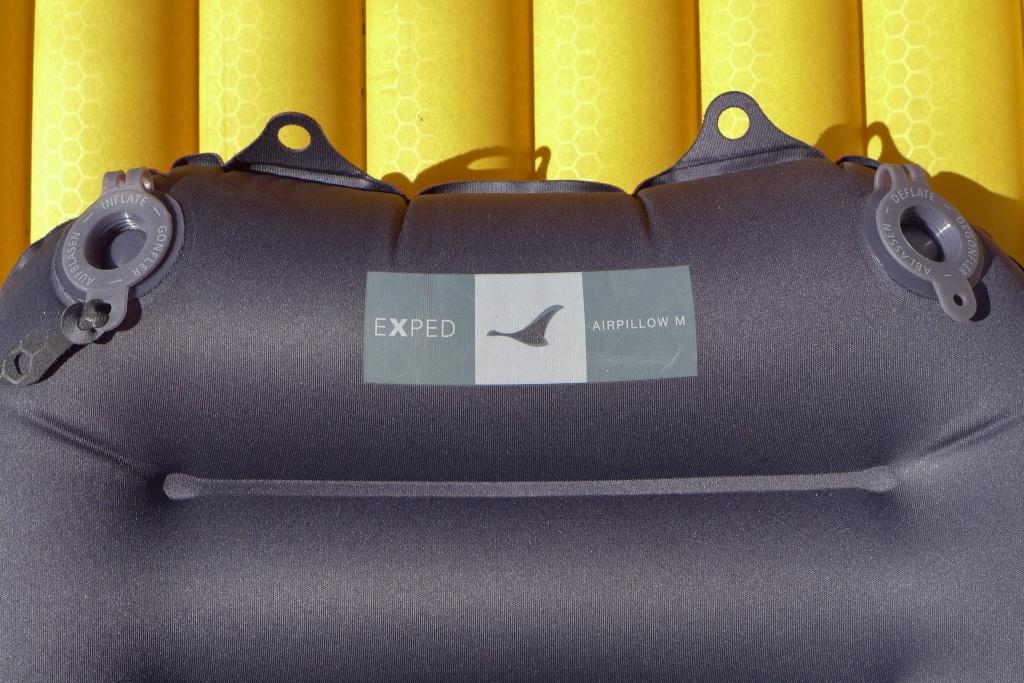 Original Air Pillow Separate Valves
Two tabs on each side allow for attachment options to your sleeping pad if you wish, and a stuff sack and repair kit are included. The outer fabric is nowhere close to the velvet-like softness of the original pillow. This doesn't bother me, but Jen decided that if used outside of a pillow case, it probably wouldn't work for her – Not soft enough and too crinkly. The medium size is adequate, and the large size generous – Though I was hoping for a bit more height. Even though my Montbell Pillow is listed as having less height, it's actually a taller pillow than the Exped UL in a size large.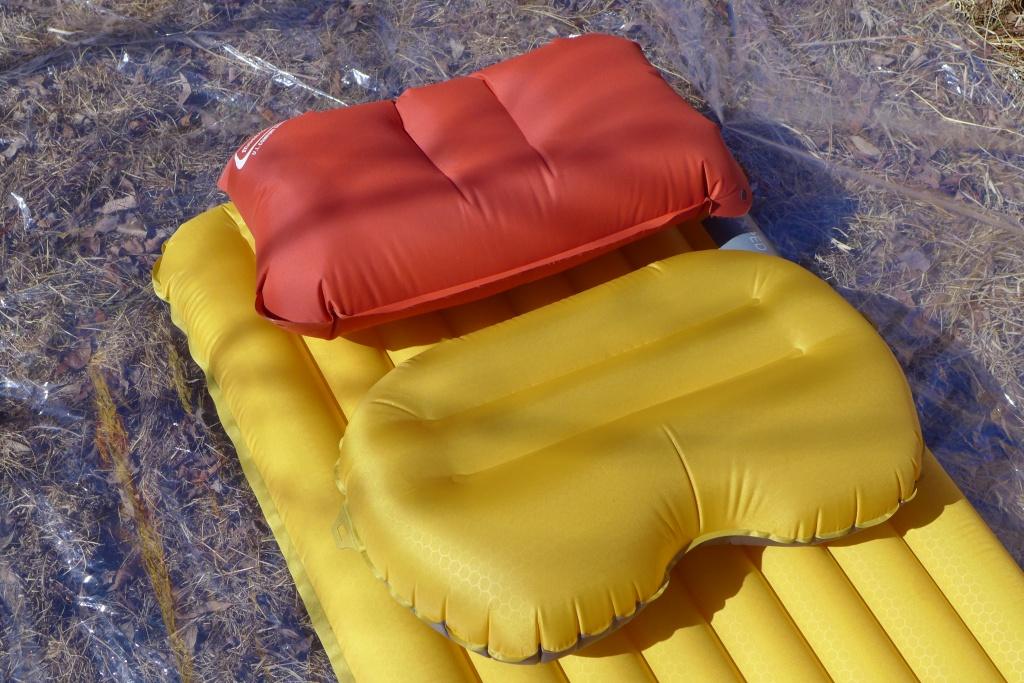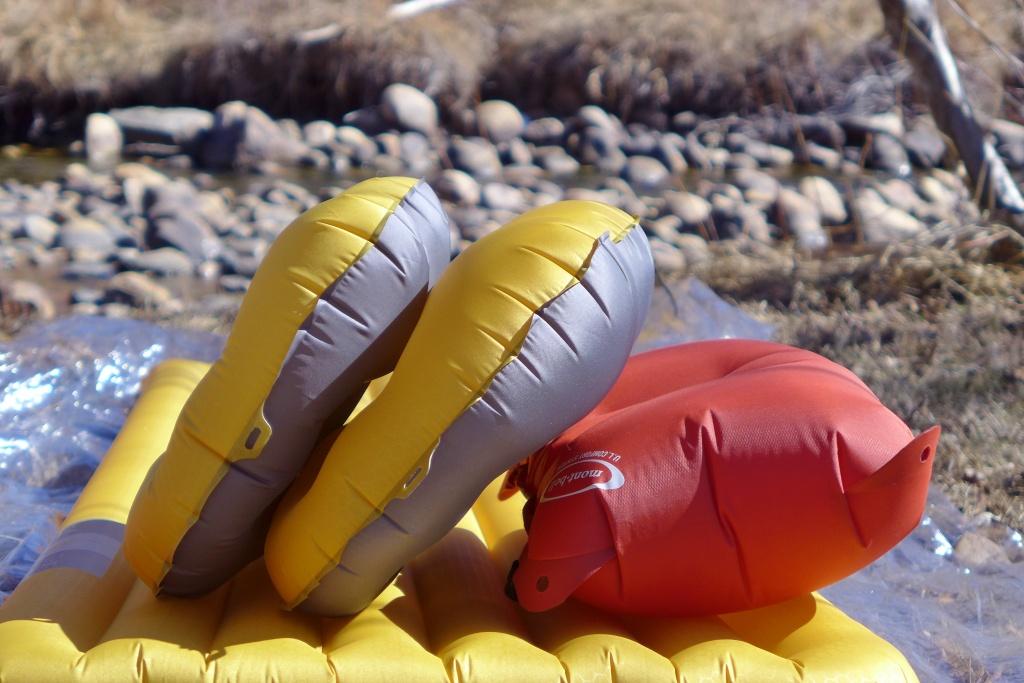 The verdict? As a sidesleeper who normally sleeps using as many pillows as I can find at home… I think I'll stay with the slightly heavier Montbell Pillow. Even though I prefer the fabric of both Exped pillows, the lighter weight of the UL, and the inflation / deflation design compared to the Montbell, the height and support that the Montbell Pillow offers compared to both sizes of the Exped UL Pillow were personally enough to keep me from making a switch. Jen on the other hand, who was enamored with the original Exped Pillow and is sold on the new Monkey Pillowcase from HikeBikeDale – is keeping the new medium Exped UL Pillow which will save weight and offer the same support as the original Exped Pillow. The only drawback for her was the new fabric, (Which didn't bother me) but with the pillowcase the fabric of the pillow itself isn't really a concern.
Without the stuff sack or repair kit, I measured the Exped Air Pillow UL at 1.6 ounces for the medium and 2.1 ounces for the large. The Exped Air Pillow UL retails for about $50. Check it out by following the links below:
Exped Air Pillow UL at Campsaver
Or if you're interested in the alternatives discussed here, check out the slightly cheaper Original Exped Air Pillow, or the Montbell U.L. Comfort System Pillow which comes in around $25.