Biking the Burr Trail, Utah
---
The last two winters I've spent living in the American southwest, and before I left I planned to take a long bike ride. I wasn't quite sure where I wanted to go, but I was leaning towards somewhere way out in the desert. I changed my mind many times in the months before the trip, but eventually decided to leave sunny California, and drive further inland, to Utah.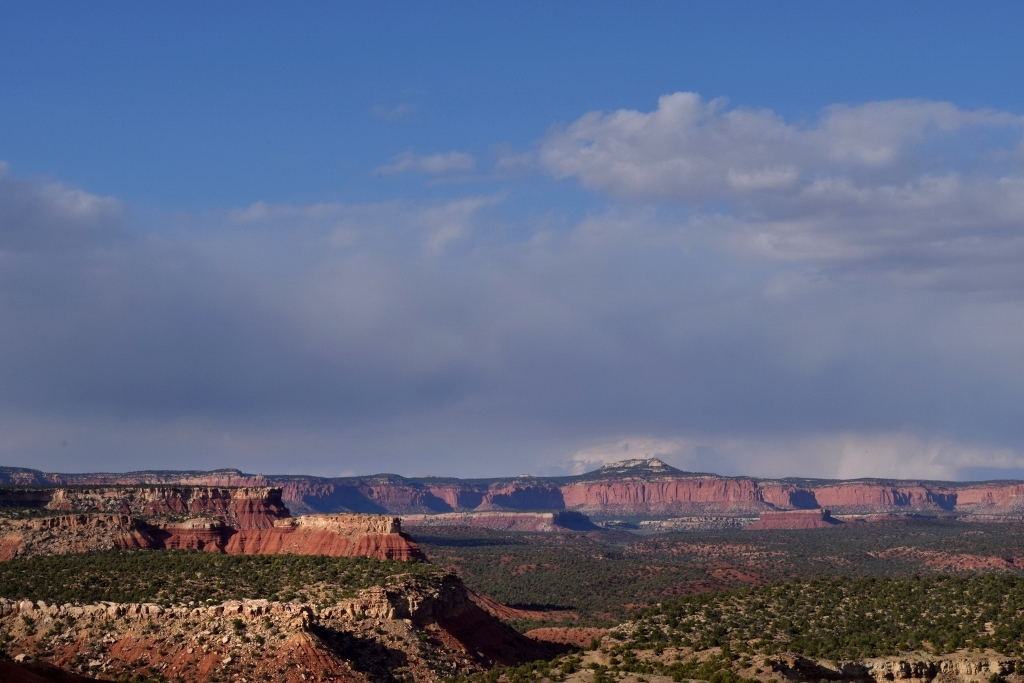 I had driven this highway once before, a scenic route through the southern part of Utah. Highway 12, "The All American Road." I knew there was a route. I could bike out to this highway, turn right in the town of Boulder onto "Burr Trail Road" and bike it to the end. Then head north on the dirt Notom Road from there, turn left onto the pavement to pass through Capitol Reef National Park, and finally, reconnect to Highway 12 in the town of Torrey making a giant loop ride. It might've seemed ambitious; I wasn't totally sure how far it was. I was going foolishly ahead with no map and only a basic knowledge of the simple country highways.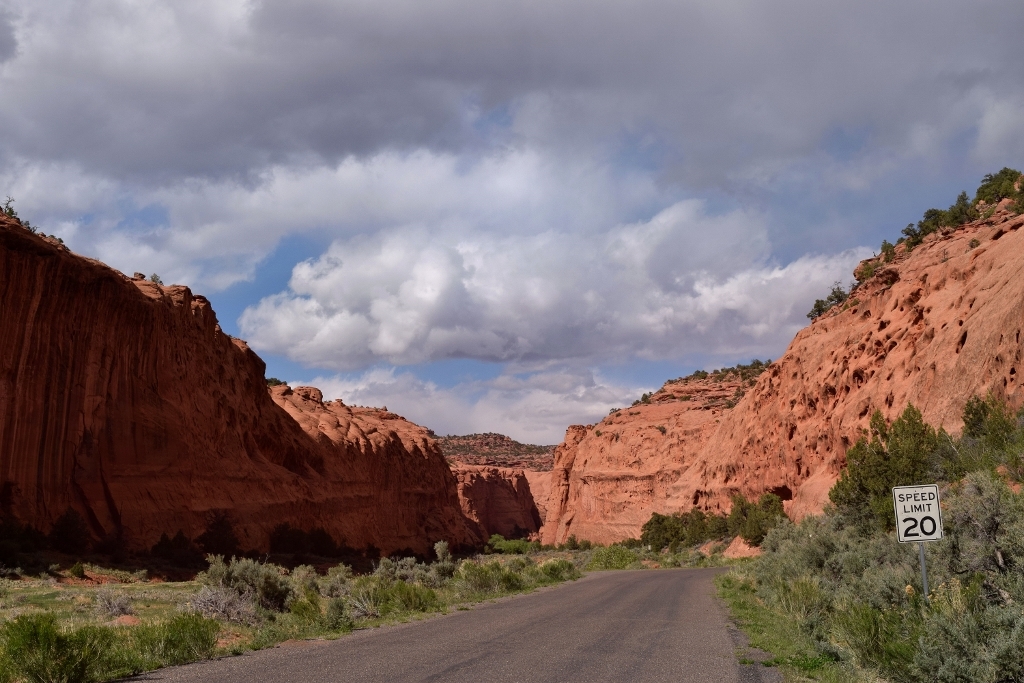 The day finally came when I drove the careening road, leaving a high plateau and descending through an orange and cream colored slick-rock badland. I parked at the trailhead for the Escalante River, near the Calf Creek Falls Recreation Area. My bike wheels bit the road in this red, dry country, and I began to climb steeply away from the sparkling green cottonwood choked river where I parked. I put all my effort forth to climb the mountain, twenty grueling miles of uphill. I was thoroughly enjoying the climb, still being fresh in the crisp, spring morning. Huge monoliths of rock towered around me, the desert landscape was much more intimidating by bike than by car. My backpack was heavy, carrying my supplies and enough water to dry camp that night, hopefully being able to finish the loop ride the following day.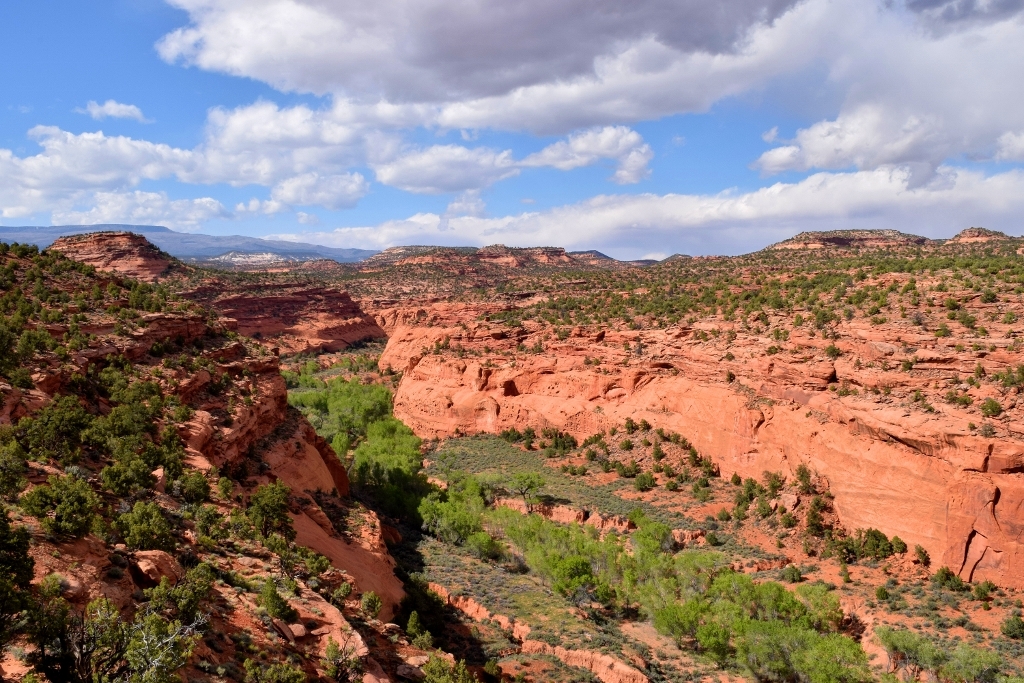 I knew one thing, it was 75 miles of no services, no water. Hopefully I could do all that today, I thought, even though I had gotten a late start. For some reason, I tend to grossly over-estimate what I am capable of, and today was a day like that. The highway, as I climbed, dropped away on both sides of me to rugged canyons dissecting the earth in all directions. After passing through beautiful Boulder, Utah I turned left on the Burr Trail to find a thrilling roller coaster ride. The legendary route winded rough and rarely traveled across the white slick-rock. I knew next I'd I entered the final frontier desert. Soon I was flying downhill fast through a brilliant red canyon with walls of pockmarked and intensely carved stone. This amazing and enormous canyon, known as Long Canyon, became a claustrophobic cathedral all around me. This descent was taking the plunge, I knew now I was biking into the remote, desert backcountry. Mile after mile I biked the Burr Trail, growing bumpier the deeper in I went. I snaked around countless corners through the red canyon maze. Needless to say I had become ridiculously haggard and fatigued. The sun was low now and cast the towering spires in a malicious light, and anxiety was growing inside me from this place so epic, far away, and unknown. The anxiety was growing stronger around each corner as I realized what a poor plan I had made for this trip.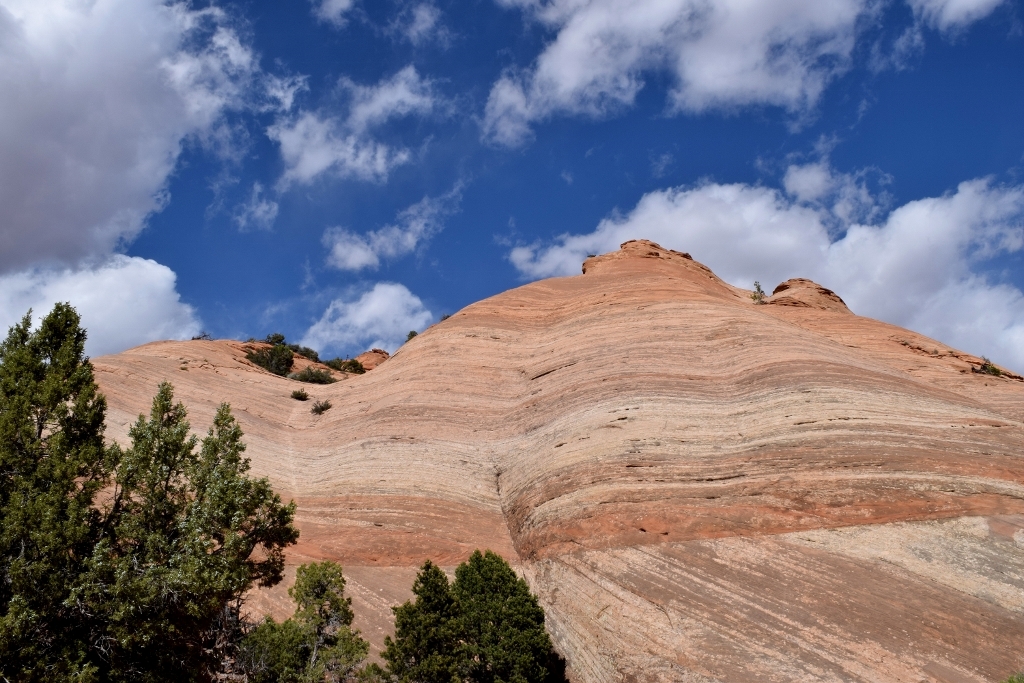 I came finally at long last to the end of the canyon around sunset and stopped where the road viciously switchbacked down. The view showed that the landscape was unequivocally vast. The effort it took to get to this spot had me traumatized and in great pain as I looked out to the Henry Mountains, still so distant. In fact the distance, exposed to me all at once from this overlook towards the Circle Cliffs, terrified and humbled me. I had come forty intense miles and still had thirty-five to go to arrive at town, then who knows how far the next day to make the loop! No, I said, this is crazy, I'm not doing it. I knew if I biked down this next mountain, it would be unappealing to return, so I simply chose to camp on the BLM-managed land close by.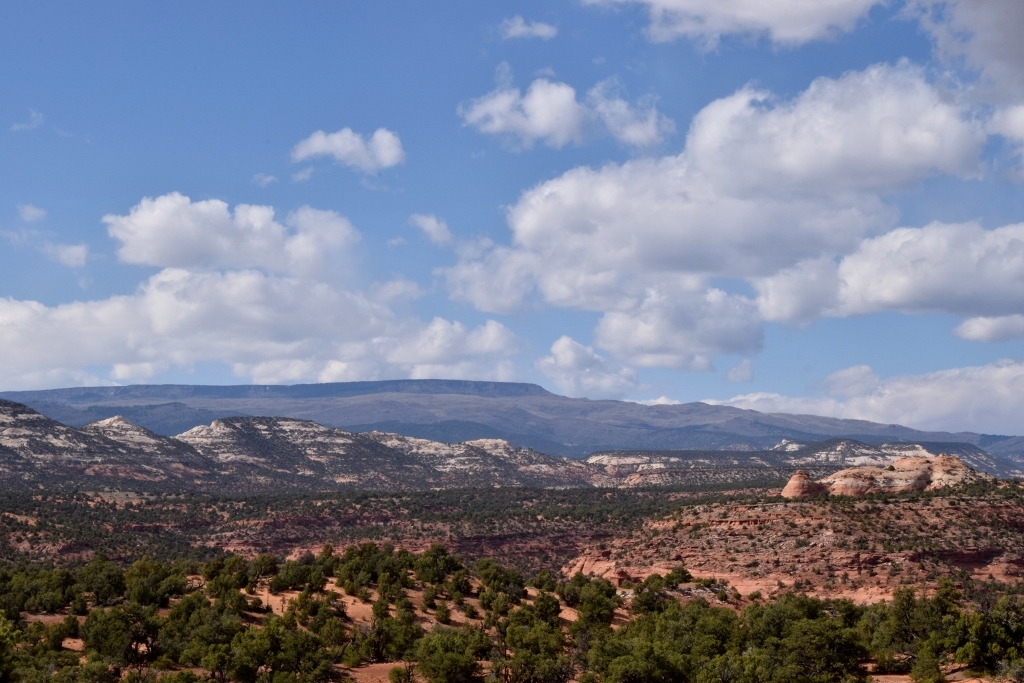 In the morning I retreated, abort the mission! Biking back through the colorful undulating desert filled me with such joy, that I decided to go ahead and bike Boulder Mountain, the road rising to nearly 10,000 feet. By the time I was halfway up I realized I had bit off more than I could chew...again. I was so exhausted that I made it to within a mere hundred feet of the summit before collapsing and giving up. From there it was thirty miles of flying downhill to get back to the truck and I was so wrecked by the time I arrived back I couldn't think straight. I didn't complete my loop, but I had more fun letting my plans be flexible. What a wonderful memory it was and a trip of a lifetime. The moral is, don't let anyone tell you not to do something simply because you won't be able to do it. Get out there, give it a shot, (always be ready to reevaluate your decision) and see what happens.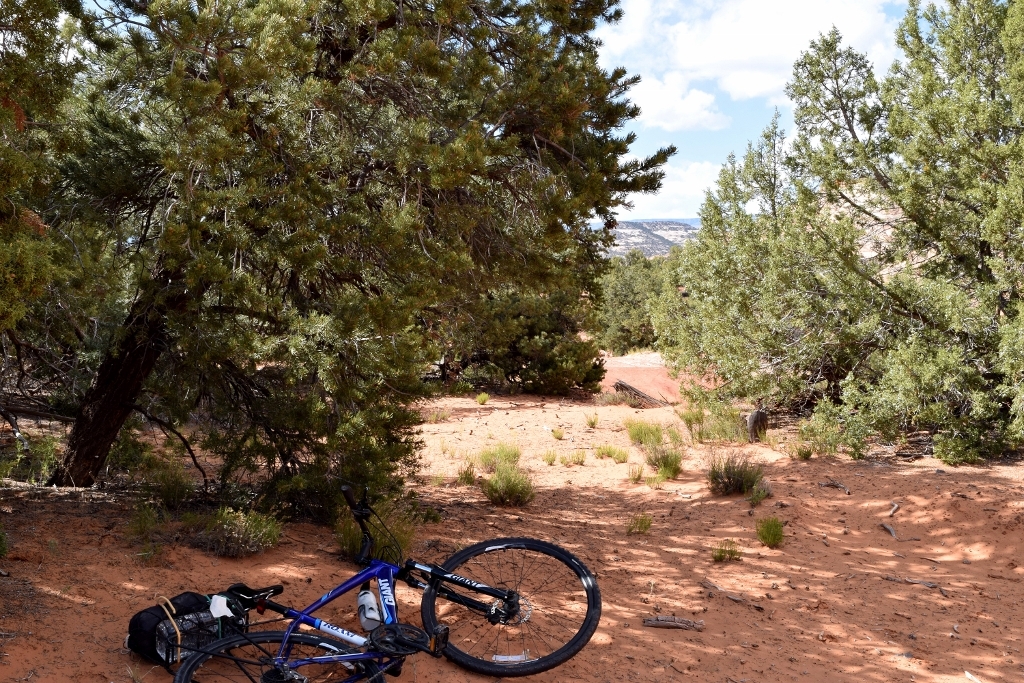 Information: No permits are required to ride the Burr Trail or to camp on BLM land, and there is a campground you can stay at for 7$ per night called Deer Creek. If you choose to do the entire loop ride, then camping within the Capitol Reef National Park requires a free permit picked up at the ranger's station. Bring enough water to expect a 75 mile dry stretch on the Burr Trail and Notom Road, so as much as possible but not less than 9 liters. 

Getting There: The Burr Trail passes through central Utah, the heart of the state. If coming from Colorado or from Salt Lake City, find your way to interstate 70. Green River, Utah will be the nearest town to the road junction of highway 24. Take 24 and follow it to Hanksville where you turn right to stay on 24, and eventually it will pass through Capitol Reef National Park. Keep going straight and you'll pick up highway 12 in the town of Torrey, head south and when you get to the town of Boulder, the Burr Trail is on your left. If coming from the south take interstate 15 to Cedar City where you turn right on Highway 14. Take a left on Highway 89 and soon you will see the junction with 12 on your right.     

Best Time to Go: Fall is the best time to experience Utah, dry with comfortable days and chilly nights. Spring is second best but could be rainy. Winter can be possible if the road if free of snow, but not ideal, and summer is not advisable because it becomes very hot.   

Books & Maps: Beyond Capitol Reef: South-central Utah: A Guide to the Area Surrounding Capitol Reef National Park is an excellent guide book to the area. The Geology of Capitol Reef National Park is a fascinating book telling how the Waterpocket Fold formation shaped the beautiful structures within Capitol Reef. The National Geographic Capitol Reef National Park Map should contain all the information you will need for this route.       
     
The Author: Michael Swanbeck is an adventure seeker and aspiring author. He learned culinary arts in school, and has been using his trade to work seasonal jobs in America's fantastic national parks. In Glacier National Park, Montana, he found that his true passion was hiking. During the off-season from restaurant work, he is free to explore the world, and focuses on seeing the beauty of our diverse natural environment. He spends his time in the wilderness when possible, having hiked southbound on the Pacific Crest Trail for 100 days in 2014. He finds his inspiration in nature, and draws his writing from that inspiration. 
4