Walking in Circles - Hiking the Tahoe Rim Trail
---
"Looks like you're going in circles" is a way to tell someone that they're wasting their time. Talking in circles generally isn't a compliment either. However, walking in a circle can be a good thing for backpackers, provided they're walking around something interesting. Think about it. Logistics become pretty easy. No ride back to the start is required. In the case of the Tahoe Rim Trail (TRT), walking in a circle is a great experience.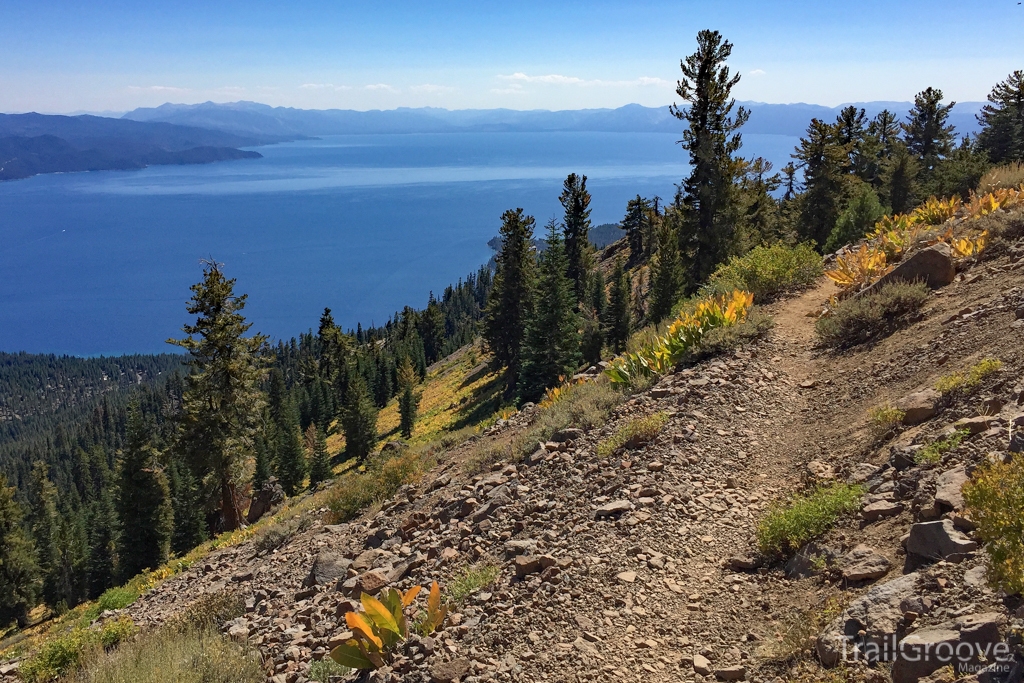 As you may have guessed from the trail's name, the TRT involves walking around Lake Tahoe. The largest alpine lake in North America, Tahoe is 22 miles long and 12 miles wide, sitting on the border of California and Nevada and nestled against the Sierra Nevada. The trail itself is approximately 170 miles, so there is more to it than just keeping the lake to your right. In fact, much of the route is in National Forest with other parks and wilderness areas thrown in for good measure. Quite often, the lake itself is out of sight.
The TRT is a great choice for the first-time distance hiker; or anyone that wants a beautiful hike with a minimum of logistical issues to deal with. If you've left your car at the start, it should be handy when you finish. As far as resupply, stops in South Lake Tahoe and Tahoe City are well spaced and convenient to the trail. If you're flying to the trail, shuttles are established to either town from the Reno airport. Summer and early fall feature consistently dry weather. A permit is required for the Desolation Wilderness, but there are no quotas for thru-hikers. Plus, it can be had with a phone call and $5 or $10, depending upon your hiking speed. You'll also need a California Campfire Permit. That one is free for passing an Internet quiz.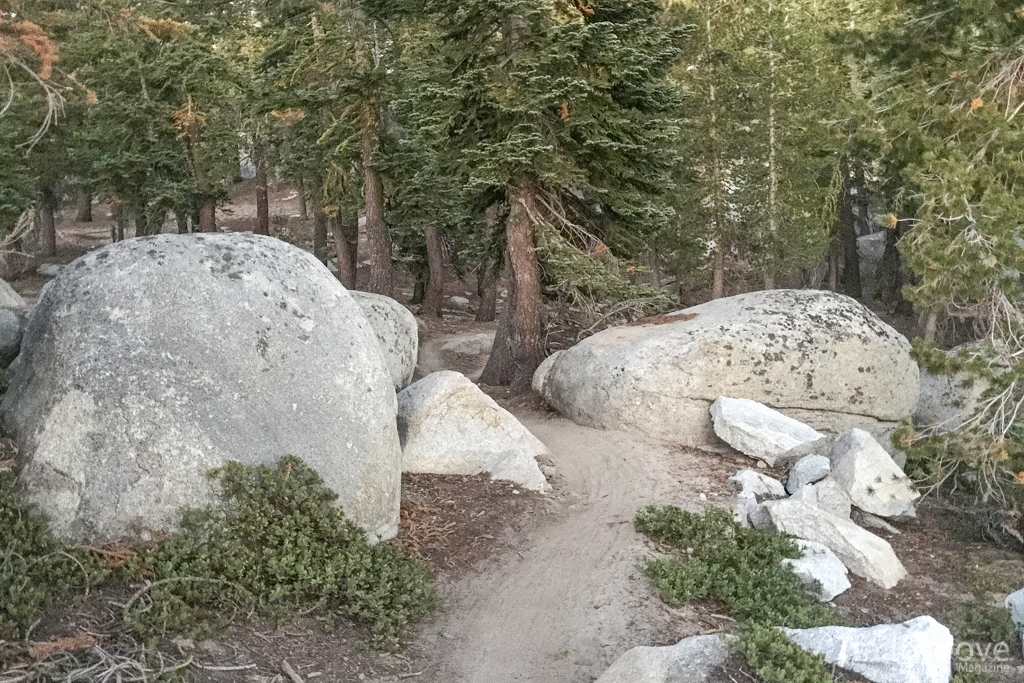 For my spin around the lake I flew into Reno early last September and caught a shuttle to Tahoe City, which was to be my starting point. After checking into a local hotel, my first stop was Alpenglow outdoor store, right down the street. There I got a fuel canister, friendly service, and a big load of concern. The guy at the counter said he heard the trail was dry for 50 miles past Watson Lake (my first night stop). Crap! Fifty miles is a helluva long way to carry water. That much weight in my pack would be a backbreaker for me. (As I mentioned, long sections of the TRT are nowhere near Lake Tahoe. It's not like I would be able to dip a cup in the lake whenever I got thirsty.) I made a phone call to the Tahoe Rim Trail Association and the helpful folks there confirmed that their website was correct; the trail was dry, but not that dry. Despite the ongoing drought there would be water where I was planning on it with the longest dry stretch around 13 miles. Whew. It was definitely time to head to the Tahoe Mountain Brewing Company to settle my nerves.
In the morning it was a short walk through town to the trail. It immediately started climbing from the 6,225 foot elevation of the lake, but nothing terribly steep. Soon I was already getting occasional views of Lake Tahoe as the trail bounced between 7,000 and 8,000 feet for the first 20+ miles. This, and all sections of the trail, was well marked and fairly easy to follow. For planning water and camp stops I carried the Blackwoods Press Pocket Atlas of the trail and also downloaded Guthook's TRT Guide onto my phone. Though not an exact match, they were close in terms of mileage.
Once the Mt. Rose Wilderness Area was reached, the next 7 miles was a climb through open terrain to reach the summit of Relay Peak. At 10,330 feet, the peak is the highest point on the trail with some great nearby views of the lake. Another area highlight across the north shore was Galena Falls, a 60 foot cascade that was still flowing well in spite of the drought. The spot is popular with day hikers and was busy as I passed through. Traveling down the east side of Lake Tahoe was scenic and relatively easy with no major climbs or drops, but water was definitely a concern. Side hikes to water hydrants added to the mileage. I had access to water each day, but there were dry camps.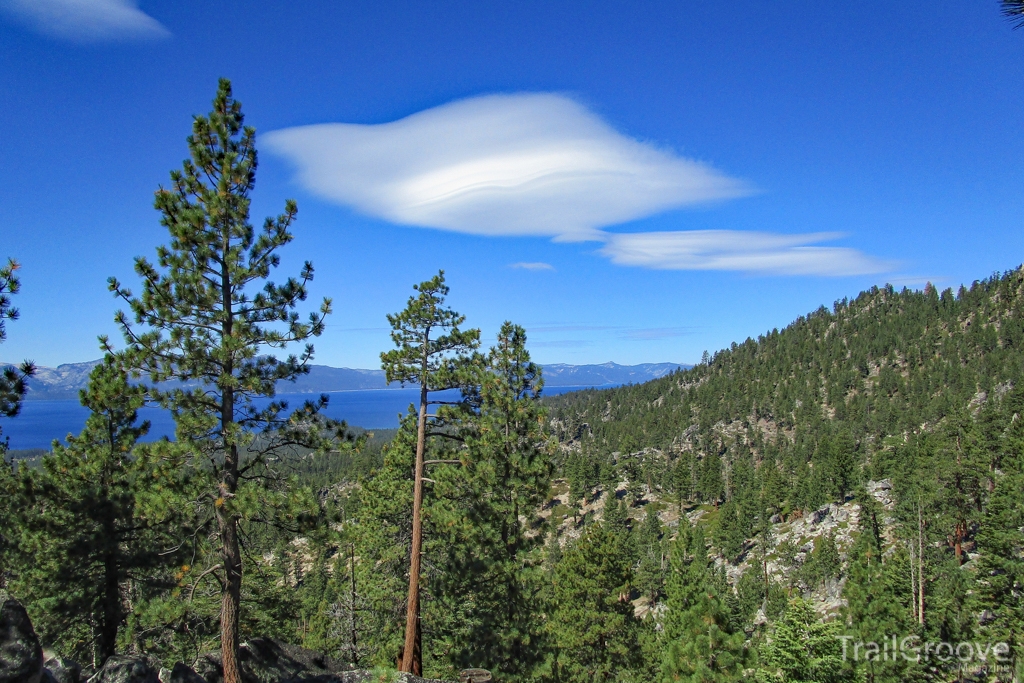 After 80 miles and five days of hiking I reached South Lake Tahoe. The town can be accessed by walking a couple miles down a steep road or catching a $2 bus located at a stop a short side hike off the TRT. Take the bus. South Tahoe is a great town to resupply with hotels at any price point, Sports LTD for fuel and other equipment, a grocery and plenty of restaurants. And, they are all within easy walking distance of the transit center. There's even casinos across the street in Stateline, Nevada if you're so inclined. I stayed at the Lake Tahoe Resort Hotel. It was a tad pricey for a hiker stop, but very nice. In addition, it was next door to the transit center, had a laundry on site, held a resupply box for me and had a $2 happy hour. Hard to beat. With rain scheduled for the next day I took a zero. It rained for 15 minutes and was cloudy much of the day. It would have been a great day to hike, but my legs weren't complaining about the day off. It turned out that my zero day had the only significant cloud cover of the entire trip. Bring sunscreen.
After catching the first bus of the morning it was back to the trail. Although I was at the southern end of the lake, I continued walking south. This is where the TRT picked up some mileage by continuing past the lake for another 25 miles or so. Through the area, the views were not the lake but mountains, impressively still holding snow in mid-September. From there on out, lakes and snowmelt streams were abundant enough that running dry was no longer a concern.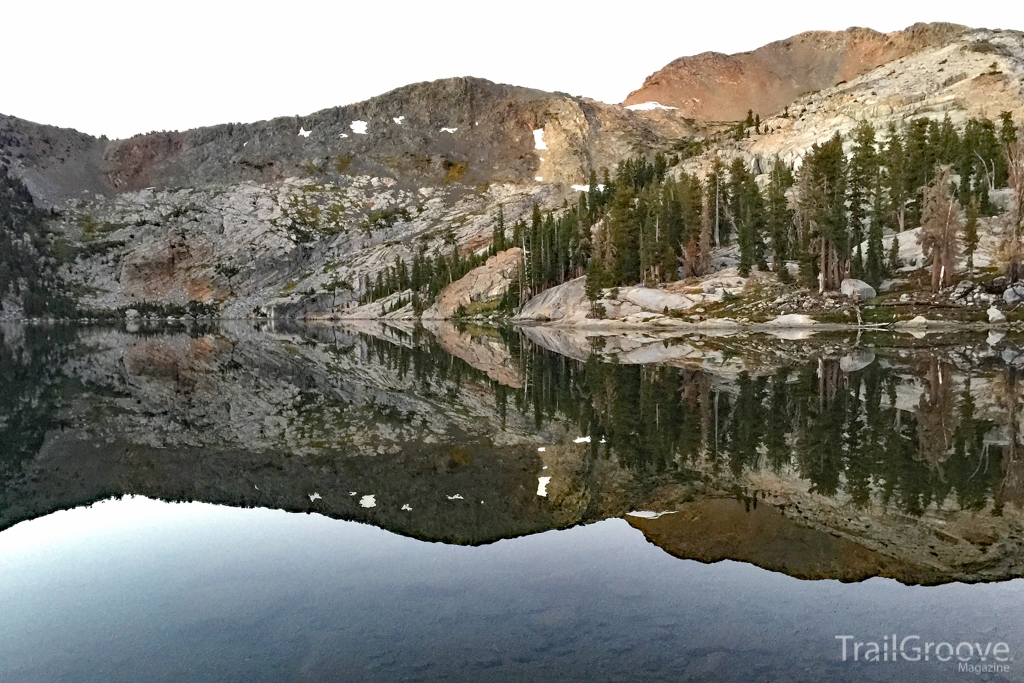 At mile 109, the trail turned back north, and also joined with the Pacific Crest Trail (PCT). The two trails shared the tread for the next 50 miles. I met a few southbound PCT hikers on that stretch; all noticeably faster and younger than myself. Mile 121 provides another opportunity to resupply and get ice cream at Echo Lake, if you arrive before Labor Day. All I could do was stare through the window before shuffling on into the Desolation Wilderness. Here was the section that required the permit and it was worth the price of admission. The mountains and valleys had been scoured by glaciers that emptied the area of topsoil. The most dramatic spot was Aloha Lake surrounded by stark granite shorelines and snowy surrounding mountains.
The great views continued as I headed north. Several beautiful lakes beckoned me to slow down, but I kept moving. There was more great scenery ahead. I did take a long break at Dicks Pass where I dined with marmots. At 9,400 feet, there were remarkable views in every direction. Shortly after Desolation Wilderness, there's Granite Chief Wilderness with tremendous views of its own including Twin Peaks. It was near there that I made my last camp. It was a cool, clear night followed by a sunny day; the same weather I had on every day of the trip. The main difference was the start of fall color as I began the final drop into Tahoe City, where I had begun hiking eleven days and 170 miles before. At that point I was only a half mile from my hotel which was holding a change of clothes for me from my earlier stay. In the morning, a shuttle arrived right in front to carry me back to the Reno Airport. Logistically, this was one of the easiest hikes ever; just go in a circle. However, with a trail and scenery that rivaled any I've seen, it was no waste of time.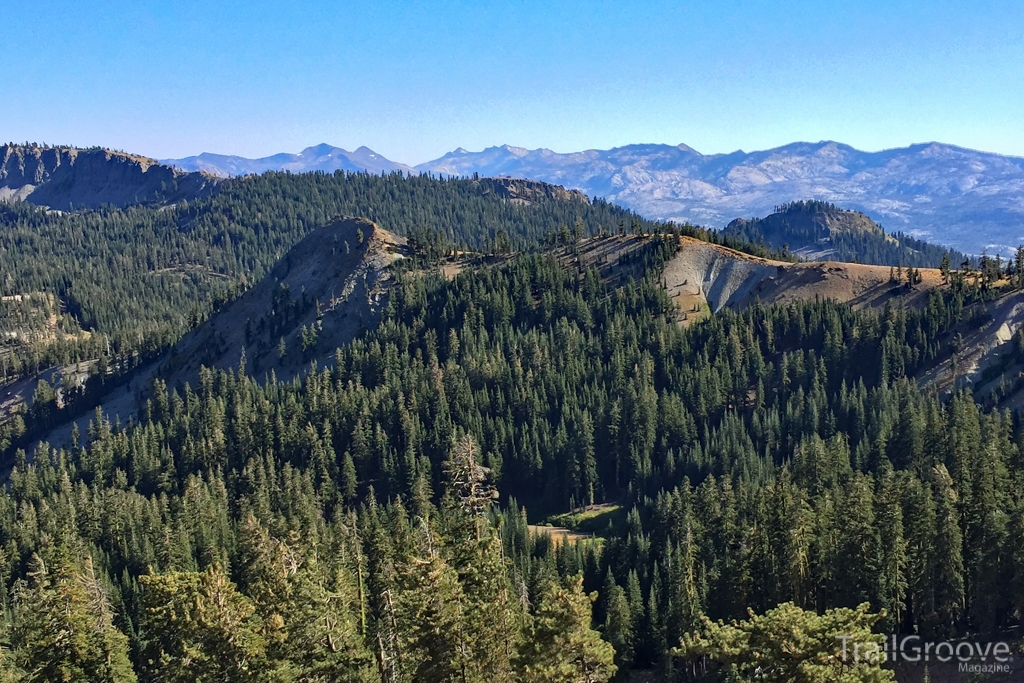 Information: A great source of information to start planning is the trail's support organization website.
Two permits are required to hike the entire trail. A California Campfire Permit can be had for free by passing a short test. This is required even to use a camp stove. (Campfires themselves are prohibited through most of the Tahoe Basin.) A Desolation Wilderness Permit can be obtained at recreation.gov. However, there are quotas in place during the busy season. Thru-hikers can avoid any limit by calling the Forest Service directly at (530) 543-2694 no more than two weeks before the date they plan to enter the area. My permit for two nights cost $10.
Best Time to Go: Generally the trail is snow free from Mid-July to Mid-September. However, with the large snowpack this year, it would be a good idea to contact the Tahoe Rim Trail Association closer to your planned hike to get an idea of how the "melt" is progressing. Water and mosquitoes both become more scarce as the season progresses.
Getting There: From Reno, NV to Tahoe City take I-80 West to CA-89 South. From Reno to South Lake Tahoe take US-395 South to US-50 West. Both cities are served by regularly scheduled shuttles from the Reno airport. More information on shuttles is available here and here.
Books: Tahoe Rim Trail by Tim Hauseman is a complete guide and endorsed by the TRT Association.
Maps: Maps are available to download here. On the trail I carried the Tahoe Rim Trail Pocket Atlas by Blackwoods Press, and a Tom Harrison map is also available. In addition, I downloaded Guthook's TRT Guide onto my iPhone.
3