Backpacking Tent Guide: Choices and Best Applications
---
Of all the things we carry while backpacking, a tent or our backpacking shelter of choice is among the most important for a safe and enjoyable wilderness excursion. A shelter provides refuge from rain and snow, cuts down on wind exposure, and often will protect us from biting insects as well. While other shelter options are popular from hammocks to tarps to bivy sacks, the traditional backpacking tent, or perhaps some not so traditional modern offerings, remain the most popular shelter option with their balance of protection from the elements, ease of setup, and reasonable weight. Even with that reasonable weight though, any way you spin it, a tent will be one of the heaviest things we carry, and as a result many pros and cons must be…weighed, before making a choice. Here we'll look at the main categories and types of backpacking tents, and the best applications and design choices to consider.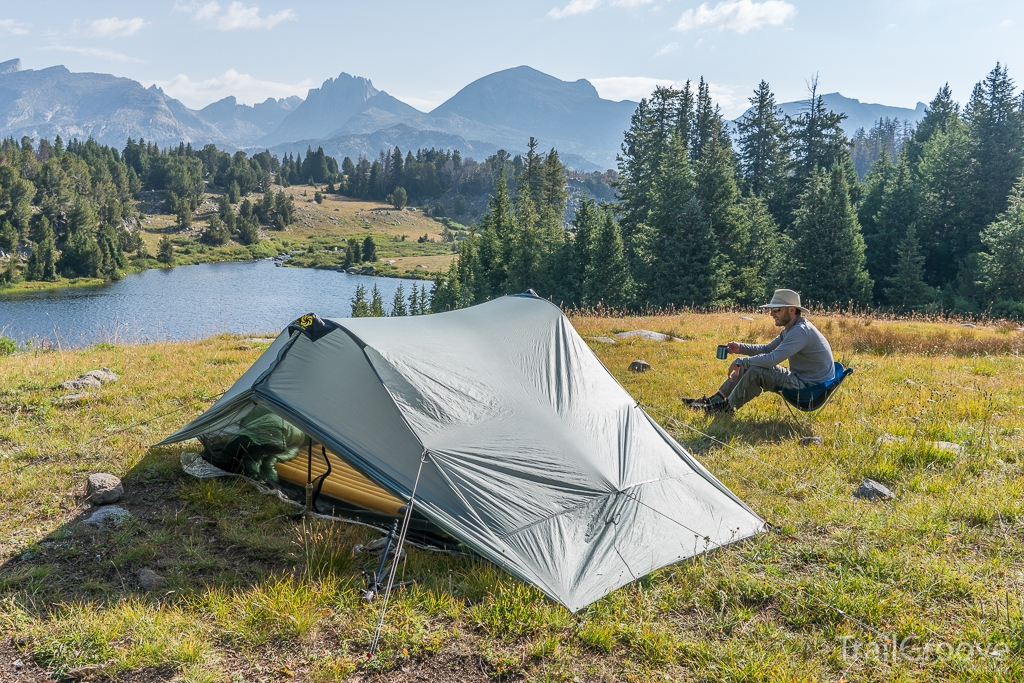 A single wall, trekking pole supported 2 person backpacking tent.

Single Wall and Double Wall Tents
Among these pros and cons perhaps none is debated more often than single wall and double wall tent designs. Single wall tents, as you might expect, feature just one simple layer of fabric or material between you and the elements; an example can be found in our review of the Six Moon Designs Lunar Duo. This offers a substantial advantage in saving weight, while not being as warm as a double wall design, and condensation can be more of an issue. Unlike double wall tents, you are also not able to setup a mesh inner tent alone for star gazing in good weather. Double wall tents feature a similar outer weatherproof fly fabric as single wall tents, but another layer will be inside of this outer layer, usually made from bugproof mesh, lightweight fabric, or a combination of the two. If you experience condensation in a double wall tent, you will bump into the inner, dryer layer first as you move about the tent instead of directly into a wet wall. In a single wall tent you may need to be a bit more careful, or in severe conditions, periodically wipe down the interior walls with something like a multi-use packtowel or bandana.  Many well-designed, single wall tents will feature fly angles however where any condensation will simply follow those angles downwards and out of the tent if there is a mesh screen between the fly and the floor – definitely a feature to look for in single wall designs. Additionally, since single wall tents feature less fabric the shelter can either be made lighter, or larger at the same weight – it pays to make sure you'll have enough room so that your sleeping bag will not be touching the canopy (while on top of a thick inflatable sleeping pad if applicable) at the head and foot ends, and that you can sit up and enter and exit the tent without too much contact with the fly.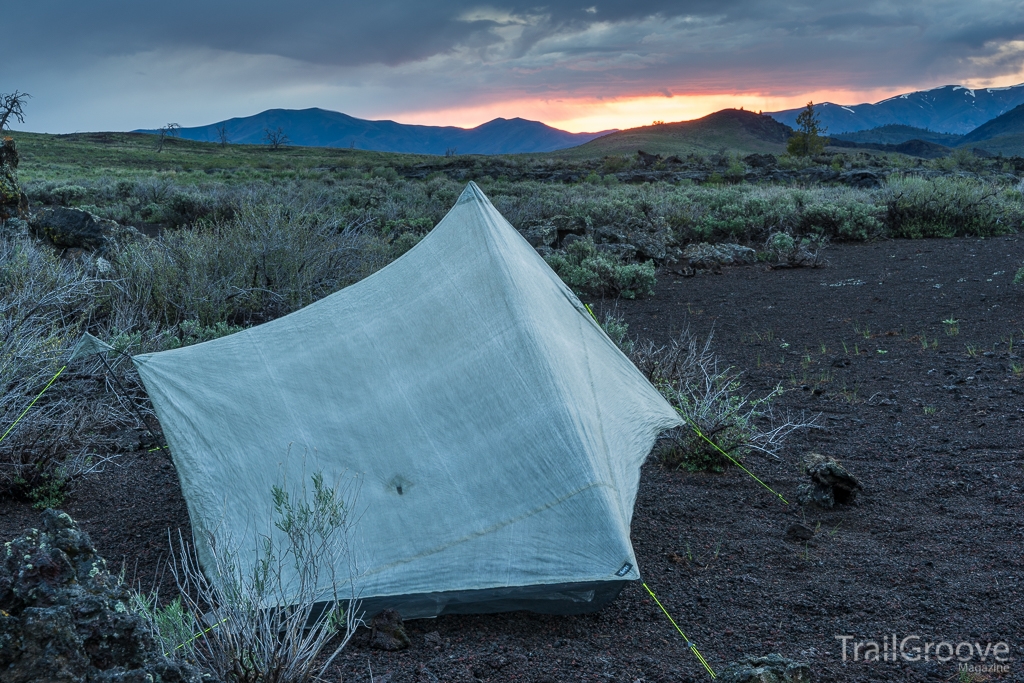 Dyneema Composite Fabric Tent

Choosing a good campsite is a key to avoiding condensation no matter which configuration you go with however, as both single wall and double wall designs will experience condensation. Forested campsites are often an advantage here, and chilly wet meadows would be among the worst offenders. If possible, ventilate the tent in good weather by leaving a door or vent open. If you do get condensation, you can wipe it down in the morning, and pack your tent last, then set it up first at the next campsite for maximum dry times. Single wall tents are often designed with a focus on integrated ventilation to assist, and can have less interior condensation as a result, although you may feel the breeze. With double wall tents you will be more protected from any condensation that may form, and double wall tents will be warmer on chilly nights.

Do I Need a Freestanding Tent?
Some tents are supported by a series of lines and stakes to hold them up, while others are dubbed freestanding. Note that freestanding is a loosely used term; some of these freestanding tents still require stakes to be usable, while others like the Black Diamond Firstlight, are truly freestanding. Either way, it still pays to stake these tents out to secure them in the wind. Non-freestanding tents are lighter as there are fewer poles that you have to bring along. While freestanding tents require a larger network of poles, their ability to be pitched with fewer stakes or anchors does come in handy if you need to setup in rocky areas and in winter on snow; simplifying pitching in all cases, but they are heavier and bulkier to carry. For my 3-season use, I haven't found much of a need for a freestanding tent, although one would have been convenient in a couple situations where staking was difficult. For winter on top of snow however, I appreciate a tent with freestanding features like my Tarptent Scarp 2.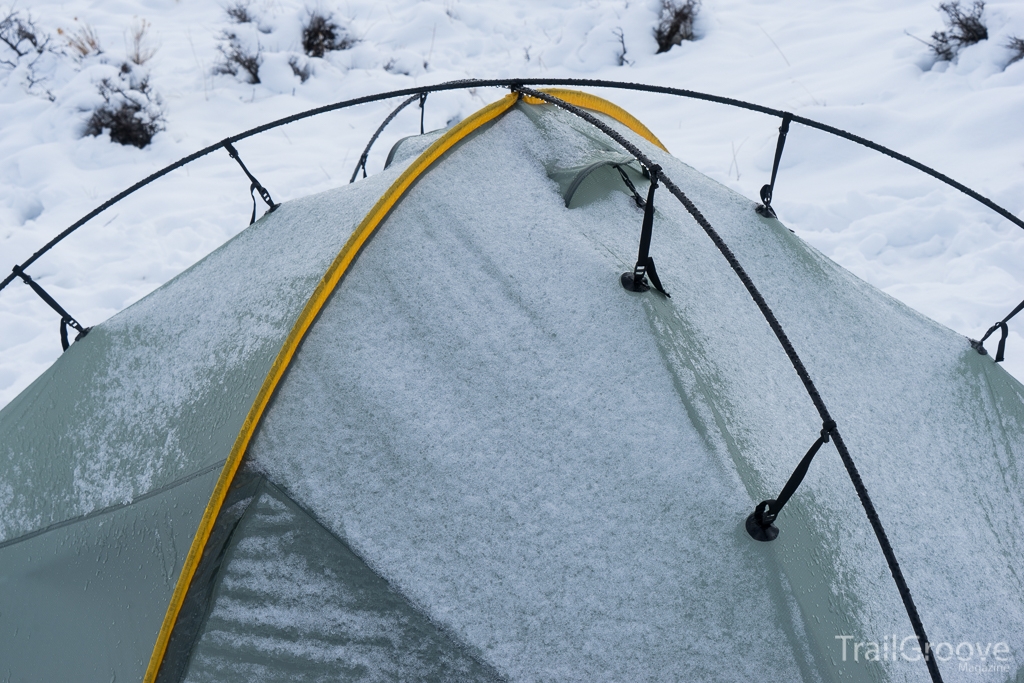 A 4 season, freestanding option

Space and Capacity
Often generous with capacity listings, manufacturers almost always base capacity off a standard 20" wide sleeping pad. For solo use it's personal; just choose a one person tent with as much space as you like, making sure that it will fit your sleeping pad of choice and your height, but it's always a space to weight game and especially as you move up in capacity. In regards to 2 person tents, while technically we only need a 40" wide floor to fit two standard pads, both people would be directly up against both side walls with no space in between. This may be too close for comfort even for the sanity of the closest of hiking partners; and if one person (not to mention both) were to bring a wide pad we'd be out of luck. I have found that the golden floor width dimensions are about 26-27" per person. This may sound like a lot, but even with 2 standard pads directly again each other that's just about 6" on either side for wall clearance and incidentals. Larger tents, such as the Tarptent Hogback, are useful for families and larger groups that desire only 1 tent. Note that however, as the number of people increases it may become more hassle than it's worth for all involved when it comes to getting in and out of the tent and it may just be a better call to take multiple tents.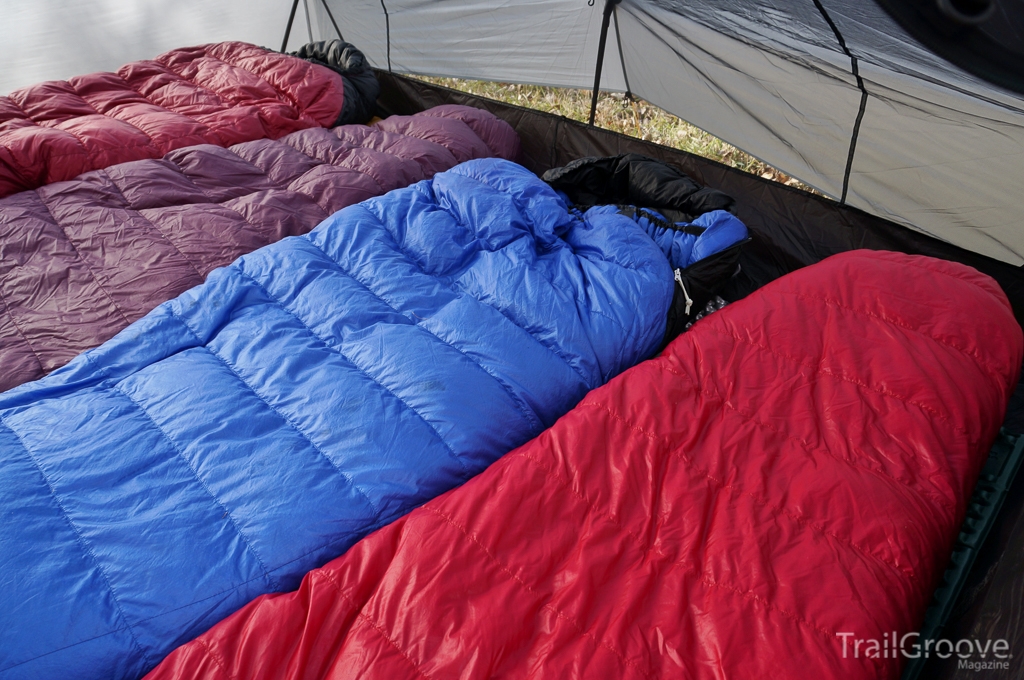 Sleeping head to toe can help create more space if one tent is shared.

Some tents feature a floorplan that tapers towards the feet to save weight, a good match if you utilize a mummy shaped sleeping pad. Interior height of the tent is all about user height. At 6'2", I look for tents that have around a 45"+ peak height. Also important is where this peak height is found on the tent. Some tents have a canopy that slopes downward as you move towards the sides and the best height is only in the middle of the tent. Others are flat across the top, offering more generous sit up room for all occupants. Length is again, user specific. Enough room for a bit of a buffer at the head and foot end is very nice to have – 84-90" long floorplans have worked well in my case. Tents that feature a vertical wall section at the head and foot can be on the shorter side, while more length is needed with tents where the canopy slopes to the ground at the head and foot; it's all about clearance for the foot of your sleeping bag and your head. Again however, there is a weight to space tradeoff to evaluate with these decisions. And, if you hike with a dog, you'll need extra space somewhere. Plan accordingly. While extra space is almost always nice, keep in mind however that the larger the tent, the larger spot you'll need to find to pitch it.

Doors, Floors, and Vestibules
Tents will either feature doors on the sides or at the front of the tent; side entry tents are generally easier to get in and out of and for two, a tent with two side entry doors will be the most livable in the field. Front entry tents can also work well, but often combine the door with the vestibule so you'll be crawling over your gear to get in or out. Either way be sure that the pole configuration for trekking pole supported tents won't get in your way too much, and doors that are vertical, not sloped, are preferred so that rain and snow doesn't fall into the tent interior when you're getting in and out. 

As we've detailed, a little space for some incidentals inside the tent is something I'm keen on. For our pack itself, dirty shoes, and camp gear that we want to keep out of the elements a vestibule will provide the necessary space while keeping rain splashback and snow farther away from the inside doors. While no vestibule is truly needed, at least 1, or 1 per person, is very nice to have. 

A tent floor should be made of a durable material, and should feature a "bathtub" type arrangement (where the floor raises above the ground for at least a few inches, to further waterproof the inside from running water or splashback under the fly), but in all cases you should still locate a campsite where pooling or running water will not be an issue. To protect the bottom of the tent manufacturers will frequently offer a separate, and usually heavy, groundsheet, but this is optional with care in site selection. I still like the peace of mind, so I go with a not as heavy duty, but lightweight window insulation film groundsheet on my shelters.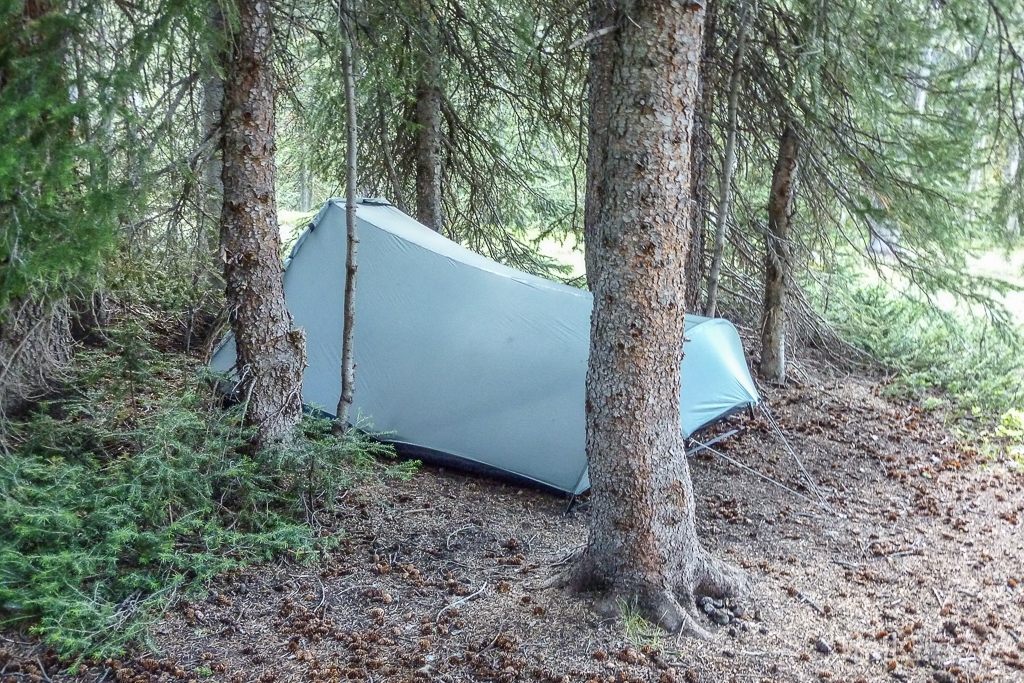 Larger tents are nice for the space, but sometimes there is only so much space available for the "footprint" of your tent.

Support Methods
The standard tent has collapsible poles that form a structure for setup, these poles can be made from aluminum (the most common) or carbon fiber. Carbon fiber is lighter, but will break if it fails whereas aluminum poles are more likely to bend in a failure mode. These shock-corded poles have only one purpose however, so when you're carrying them around during the day they just weigh you down. Many lightweight focused tents on the market are designed to save weight in this regard by using your trekking poles – which you may already be carrying anyway – for setup instead of dedicated poles. Most of the time, manufacturers of these tents will also offer alterative aluminum or carbon poles for those that don't carry trekking poles, and these usually end up being lighter than most traditional tent pole sets as well. If you go the trekking pole route, make sure your trekking poles will extend to the required length specified by the tent manufacturer.

Materials and Construction
Lightweight, silicone impregnated (silnylon), or tents that utilize a PU coated nylon like the Big Agnes Copper Spur HV, are the most popular waterproof shelter materials. Coated polyester (which has less stretch than nylon) can also be found, as seen with the MSR Elixr Series. Another fabric, Dyneema Composite Fabric / DCF – previously known as cuben fiber, is another option that's very light, but on the pricier side. All materials should be sufficiently durable and weatherproof, although with any type of construction as we move into lighter materials some basic care will be required with your gear. Silnylon is relatively affordable in the cost department while still being quite light, and any fabric's waterproofness will be rated by a hydrostatic head rating; or the pressure of water it can withstand from water before it leaks.

Most fabrics should be waterproof even in heavy rains, but some may for example, seep through if there's water under the floor from the pressure of your body like a knee or elbow. Nylon's main disadvantage is its stretch; on many nylon shelters you may need to perform an initial taut setup, and then readjust an hour later as the fabric relaxes or when it gets wet. Dyneema Composite Fabric on the other hand, has extremely low stretch and will hold its pitch from the get go. It is however more expensive (while being lighter in most cases) than silnylon, and is about as durable, save for abrasion which can usually be avoided. Some specialty tents may also make use of waterproof / breathable material like the eVent RAB Latok Summit and eVent Latok Mountain tents,  with the intention of reducing condensation. No matter which way you go, high quality fabric and materials is a good way to go with such an important item, and lighter denier, or lighter weight materials will save the most weight, while heavier options will take more abuse. Evaluate the seams as well – some tent makers do not waterproof the seams of their tents, which will require you to do so yourself at home with something like Sil-Net seam sealer.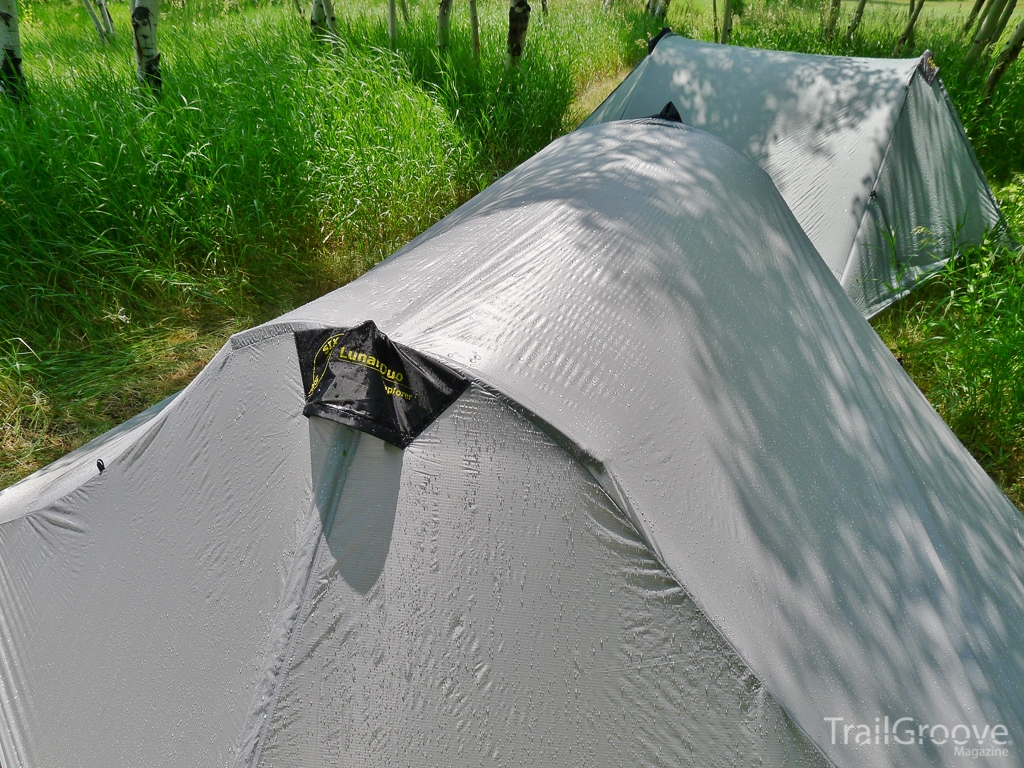 Silnylon tents utilize a nylon fabric impregnated (as opposed to coated) with silicone to provide waterproofing.

3 Season and 4 Season Tents
Tents will often be rated by 3 or 4 season ratings. For most of us, 3-season tents will be adequate for most spring, summer, and fall conditions while a 4 season tent will be rated to sustain a snow load and all around form a stronger structure. If you need one tent to do it all, a 4 season tent, like the MSR Access will certainly do the job, but will generally be heavier as you carry it around on those potential ultralight summer trips. Thus a 3-season tent combined with a winter-specific option can be the best of both worlds if you backpack across all seasons in locales that experience more traditional winter conditions, or if you hike in more temperate areas a 3-season tent can do the job just fine in any season. 
 
Weight Ranges
These days, you can find a full featured tent and still keep things very light in the weight department, but usually at a price. For a solo tent, you should be able to find something very adequate under 2 pounds, and for two people under 3. There are lighter options of course, but you'll probably have to make a sacrifice either in the space or wallet department. For group tents, keep in mind as well that you can all "pitch" in and one person can carry the tent body, another the poles and stakes, etc. if needed. But remember that if your gear is separated, members of the group have to stay together.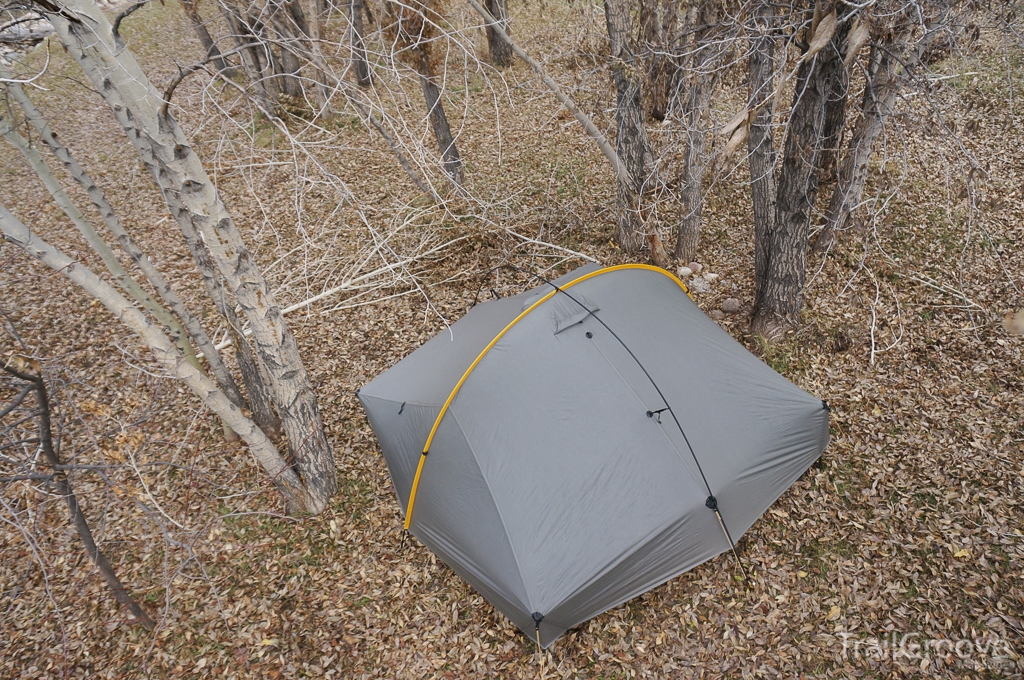 At around 1lb per person, this 4lb, 4 person tent is a lightweight group or family option.

Without a doubt a wide range of pros and cons to be weighed, and selecting the backpacking tent that is ideal for your application and preference is one of the most important gear considerations that is to be had – and if you're like me, it may take more than just one tent choice to get the job done. But with an array of options from an array of manufacturers available, from cutting edge ultralight Dyneema Composite Fabric tents to mountaineering and expedition-ready classics, there is a tent out there that will suit the weight, space, packability, price, and weather protection balance for us all.

For a list of around 150 backpacking tents that you can narrow down and filter by the topics that we've discussed above, take a look at this page at REI.