Dyneema Composite Fabric / Cuben Fiber and Backpacking
---
Dyneema Composite Fabric, often shortened to DCF and previously referred to as Cuben Fiber, is a fabric made from Dyneema fibers that are embedded in a polyester film to form a single material or fabric. Due to the high strength to weight ratio of the Dyneema fibers and its low stretch combined with inherit waterproofness, DCF and Cuben Fiber has proven to be a popular option for lightweight and ultralight backpacking gear over the past several years, and usage continues to grow in popularity for use in tents, tarps, backpacks, stuff sacks, and other accessory items. What follows is an introduction and review of the material across the different options and applications that are available.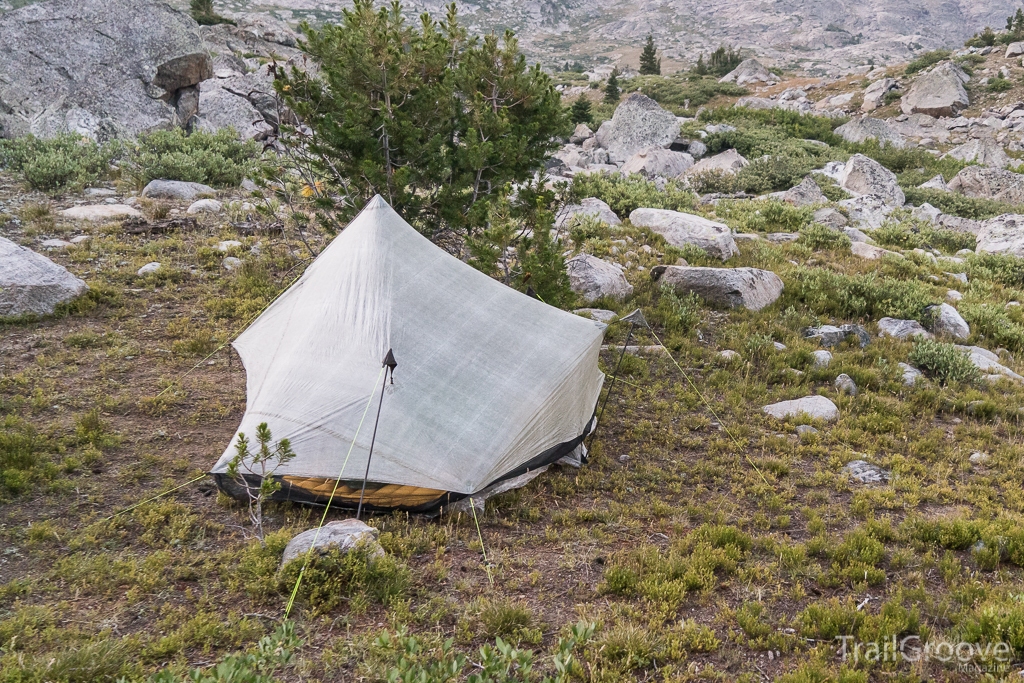 DCF vs. Silnylon
Most of the time, DCF / Cuben Fiber will compete directly with waterpoof silnylon due to the similarities in weight, but the materials are very different. Typically, the silnylon utilized for shelter applications weighs around 1.1 ounces per square yard+. DCF utilized for the same applications usually weighs between .51 ounces and .74 ounces / square yard. With the amount of material that's utilized for something like a tent or shelter, this can offer significant weight savings. Additionally, Dyneema Composite Fabric has extremely low stretch; with a silnylon shelter you most likely need to re-tension guylines after initial setup and once the material relaxes, or when it gets wet from rain or condensation – DCF just stays taut, and in my experiences DCF shelters also simply accumulate less condensation to begin with. When it's time to pack up in the morning, DCF holds on to less moisture after it gets wet, resulting in less of a soggy (and heavy) shelter to carry along on wet trips. However, DCF is significantly more expensive (culminating in the antiquated $1800 Sierra Designs Mojo UFO) and while it's durable, it is not very abrasion resistant – the main caveat in the DCF durability department.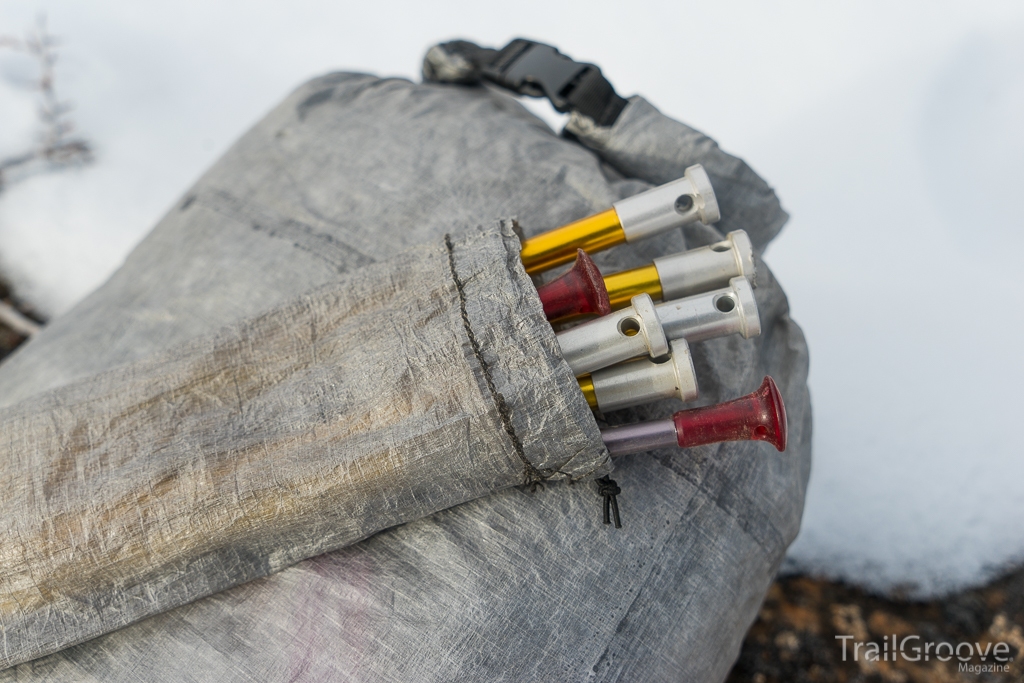 Dyneema Composite Fabric Stuff Sack and Tent Stake Bag

Common DCF Variants and Types
Many variants of DCF are offered with two factors at hand: the density of the Dyneema fibers and the thickness of the polyester film. Increasing either boosts the strength and durability, while increasing weight. Very thin and light versions are made as well – getting so lightweight that durability will be a significant concern, but here we'll look at the most popular weights that feature a good blend of durability while still saving weight.
.51 oz. DCF
Weighing about half of what typical silnylon weighs, .51 oz. / sq. yd DCF is a very lightweight material that is still quite strong. This is the material I've used in two different shelters (both from Zpacks) over the years, and durability has been good. Even though this material is so thin it's slightly transparent (you can see the stars through your tent at night), it's surprisingly strong and I've had shelters made from .51 hold up very well in strong winds. One of my shelters did develop a small pinhole in the canopy over time, from abrasion I would guess – which was easily and quickly sealed with a dab of Sil-Net Seam Sealer. I've used .51 stuff sacks as well over the years, which taking more abuse and abrasion have eventually self-destructed. However, I've had an equal amount of silnylon stuff sacks suffer this fate as well, and additionally have had to perform the exact same pinhole repair to a Lunar Duo silnylon tent. In my experience .51 offers similar durability to typical silnylons.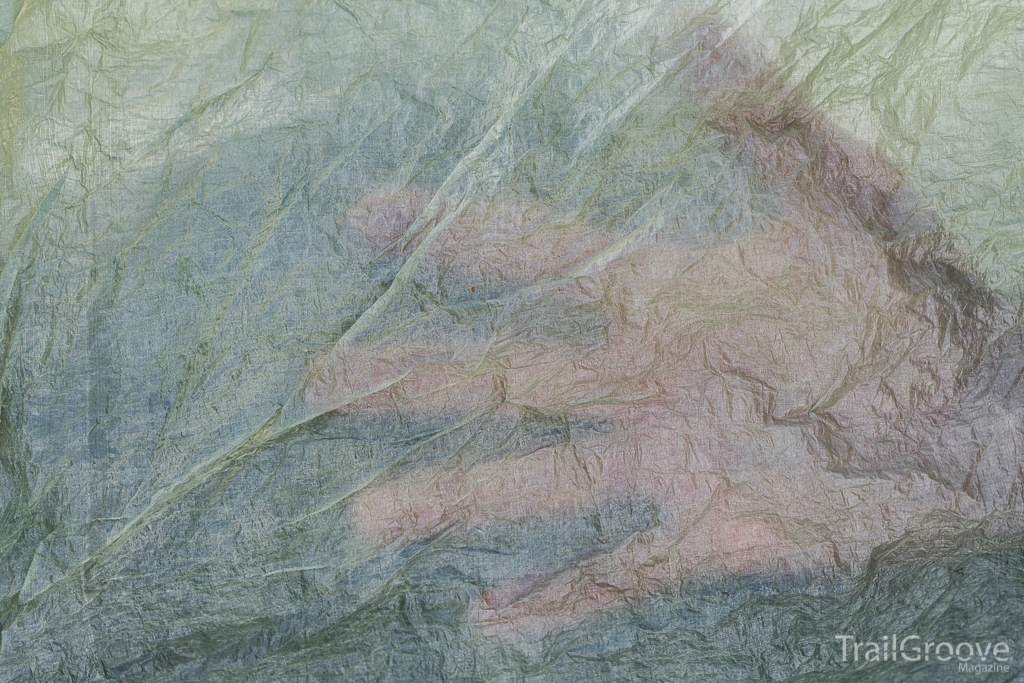 .51 Dyneema Composite Fabric

.74 oz. DCF
This variation has the same polyester film thickness as .51 above, but features a higher density of Dyneema fibers bringing the weight up to .74 oz. / sq. yd. This additional strength and durability adds some peace of mind and as such, some manufacturers default to this weight for shelter usage, and it's still lighter than silnylon. While still considered a bit thin for something like a backpack or for shelter floor usage, I have many nights in a shelter that utilizes a .74 DCF floor, and it's holding up very well, albeit when used with a lightweight and cut to size window insulation film groundsheet. .74 vs. .51 DCF is a pretty common decision to make, and it's all about application and how important saving an ounce or two is to you along with the application.
1 oz. to 1.5 oz. DCF
Of the pure DCF options (those not combined with another material) these weights, usually seen in either 1 or 1.43 oz weights are the heavy duty offerings. Featuring both a thicker film as well as a higher density of Dyneema fibers, these will be the strongest and most durable of offerings that we've discussed so far, and are useful for applications that may be under higher stress or subject to possible abrasion scenarios from time to time, like shelter floors, or for ultralight backpacks. We are moving into a weight range where we're not really saving any weight over silnylon at this point however, even though this heavy weight DCF can still offer some advantages, but not in regards to price.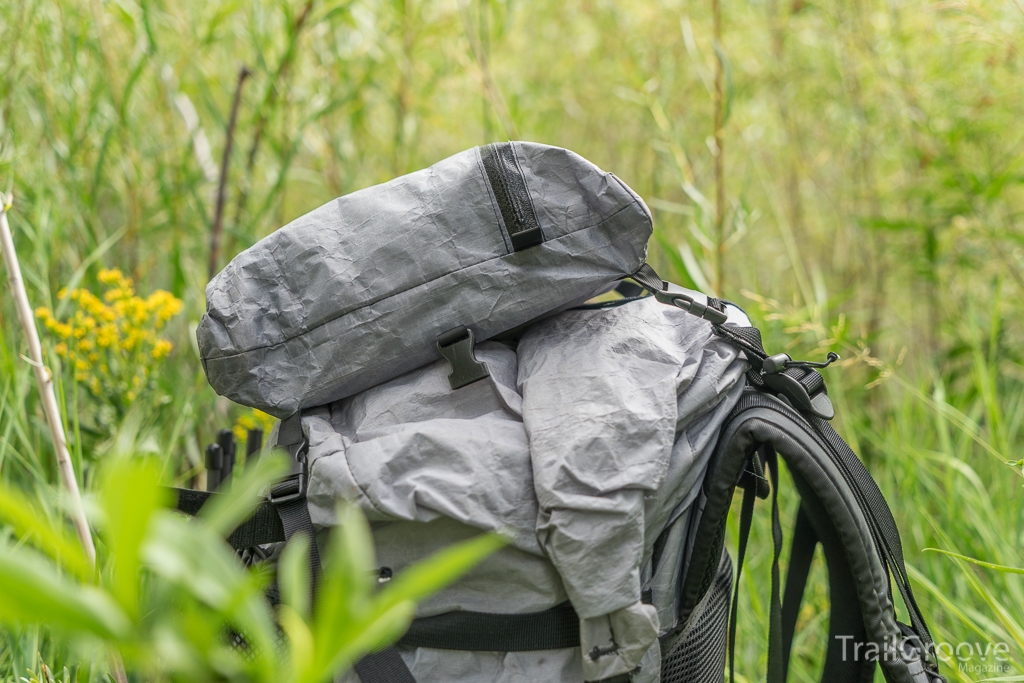 Hybrid DCF Material Showing Outer Polyester Layer

Hybrid DCF
This is a heavier DCF fabric, that has an outer laminated polyester fabric for more strength and durability, with the inner side being the exposed DCF / Cuben Fiber. This is a heavier duty fabric mostly used for backpacks and accessories – not shelters. This fabric has some appeal for high strength and extra durability with the extra polyester outer layer that offers more abrasion resistance. The fabric also absorbs very little water, and with the DCF inner layer it is very waterproof by nature (no PU coating needed here), making this a popular choice for backpacks that also comes in an array of attractive colors. I've found hybrid DCF / Cuben offers a good balance of weight and durability – it's a very appropriate choice for situations where abrasion may be encountered and strength is needed, like in a backpack. It will require a little more care than (the heavier) Nylon / Dyneema Gridstop fabrics that are also used by many backpack manufacturers like ULA Equipment, while being more waterproof. As with anything, tradeoffs are to be considered and as we move into the heavier DCF and hybrid DCF weights, you'll notice the comparison is no longer vs. silnylon, but is to be had with heavier duty and stronger fabric options like Dyneema Gridstop and X-Pac.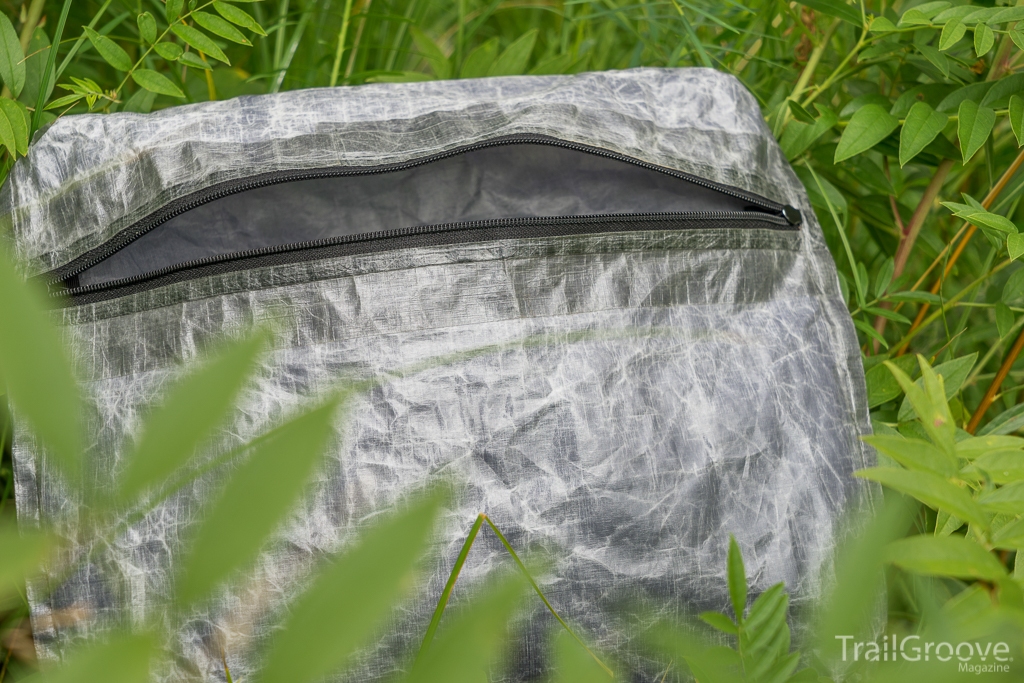 The Hybrid DCF / Cuben Fiber pack lid shown above turned inside out, revealing the DCF inner layer.

Specialty DCF
Just as soon as you seem to get a handle on all the different types of DCF out there, new weights are released and new innovations hit the market, including Dyneema Composite Fabric featuring a waterproof / breathable eVent membrane that's being used in some rain gear applications and even a tent. For shelter usage, it's also common to see an option that adds a camoflauge outer layer to existing weights, and the camo layer gives the shelter a little more strength and more privacy. Other, more standard DCF offerings hit the market from time to time as well offering varying levels of film thickness and Dyneema density, and often it will come down to the preference of the gear manufacturer as to the options that are available. In all cases though, with a starting point to go off of all of these options can be evaluated based on weight, thickness, and Dyneema fiber density for an idea of how the field performance will pan out.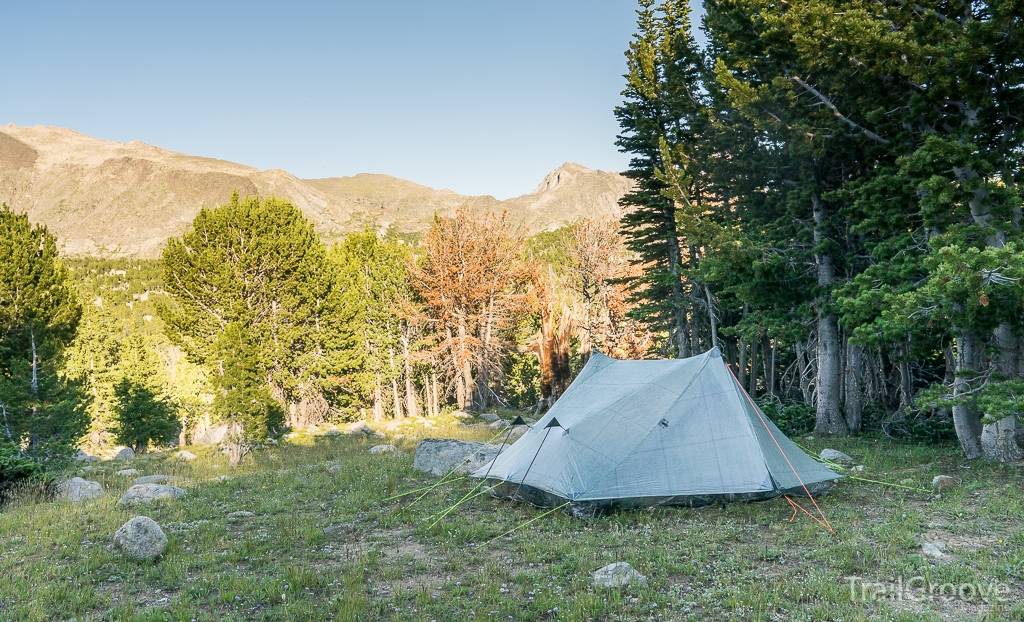 Whether it's a Granite Gear Uberlight Stuff Sack, a lightweight and spacious shelter from Zpacks, or a hybrid DCF backpack offering, Dyneema Composite Fabric or Cuben Fiber is an intriguing option where high strength and waterproofness is desired at a low weight. As with any other backpacking fabric many tradeoffs are to be had, and with the advantages of DCF come some durability concerns, that can often be comparable to an existing popular fabric like silnylon, or mitigated with a little care. High price is the other tradeoff that's always attached to DCF, and in the end it's up to each one of us to decide if the advantages are worth the cost. One thing is for sure: DCF is here to stay and has been proven to perform very well in the outdoors and in typical lightweight backpacking scenarios.