Toaks 550ml Titanium Pot Review
---
When it comes to backpacking cookware, most of us can keep things simple with a pot combined with a mug of choice. Especially when solo backpacking however, using the same vessel for both purposes is one option to save weight, save pack space, and is a great way to keep the camp kitchen even simpler. The Toaks 550 is about the smallest option you can go with that will still perform well across the board as an all in one solution.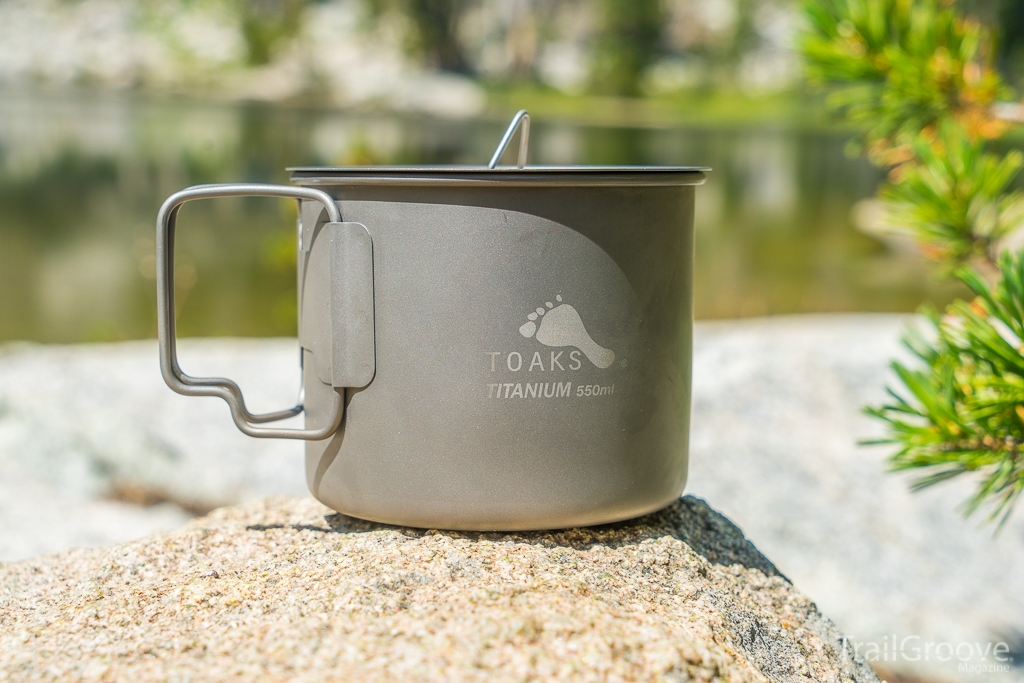 The Toaks 550ml Pot is a lightweight titanium mug/pot with collapsible handles and an included lid. The handles, complete with a finger rest, make for a comfortable hold when enjoying morning coffee and the lid improves fuel efficiency. A small handle and venting is included in the lid. Very convenient measuring marks are stamped into the mug in both ounces and milliliters. True to its name, the 550 holds 550 milliliters / about 18.5 ounces of fluid to the brim, so when you factor in a little room, at max capacity it's workable for the 2 cups many freeze dried meals will call for and about right for a big cup of morning coffee.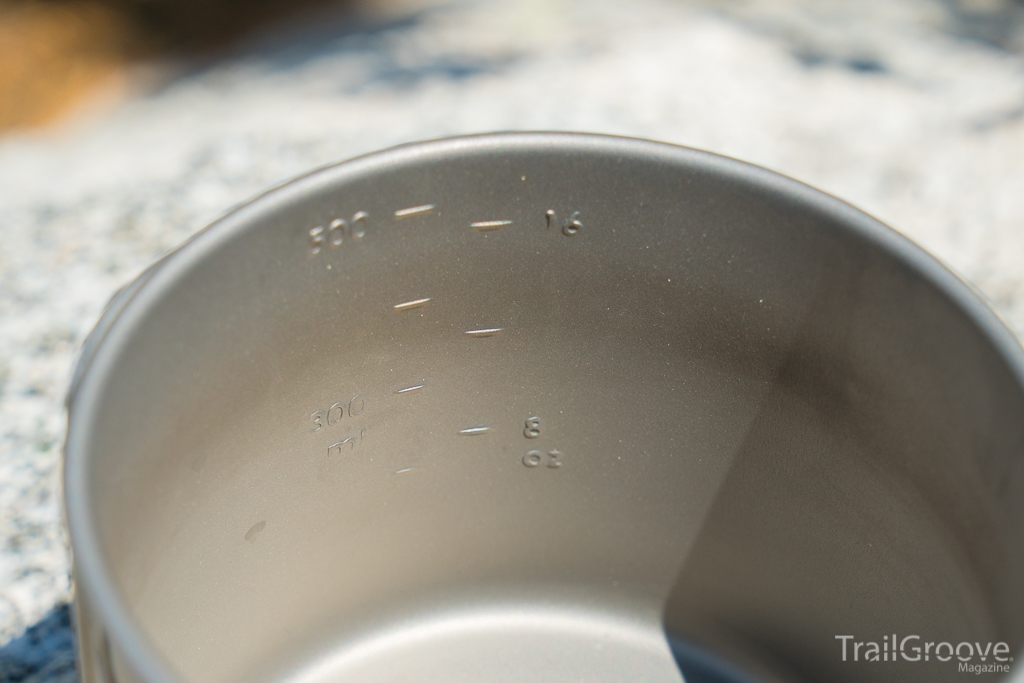 2 versions of the 550 (with handles) are offered – the standard version seen here is made from a thicker gauge of titanium weighing 3.5 ounces (3.65 measured), and the ultralight, light version is also offered that uses a thinner gauge to get the weight down to 2.6 ounces, saving .9 ounces. A stuff sack, adding half an ounce, is included. Both options have their pros and cons. For cookware that uses a lid, as with the 550, thinner versions are nice for the slightly lighter weight, but life on the trail for a mug / pot can be a little rough. In my case, a pot is often shoved into a a pocket of my pack or perhaps into a full Ursack early on during a trip, or carried on the outside of my pack where it will be leaned against the occasional tree or rock with the weight of a full pack pressing against it. With the light gauge titanium pots and mugs I've used they will all usually at some point get bent out shape. No big deal with a mug; but for pots that have a lid it can be a bit frustrating to repeatedly bend the pot back into shape to get the lid to fit right, only to have it get bent out of shape the next day again. While it's about an ounce heavier, the standard 550 is quite tough and has held up to the above scenarios well without getting wonky on the shape, something I do appreciate at meal time. The standard version is also about $10 cheaper. So without a doubt, there's an upside to both versions of this mug.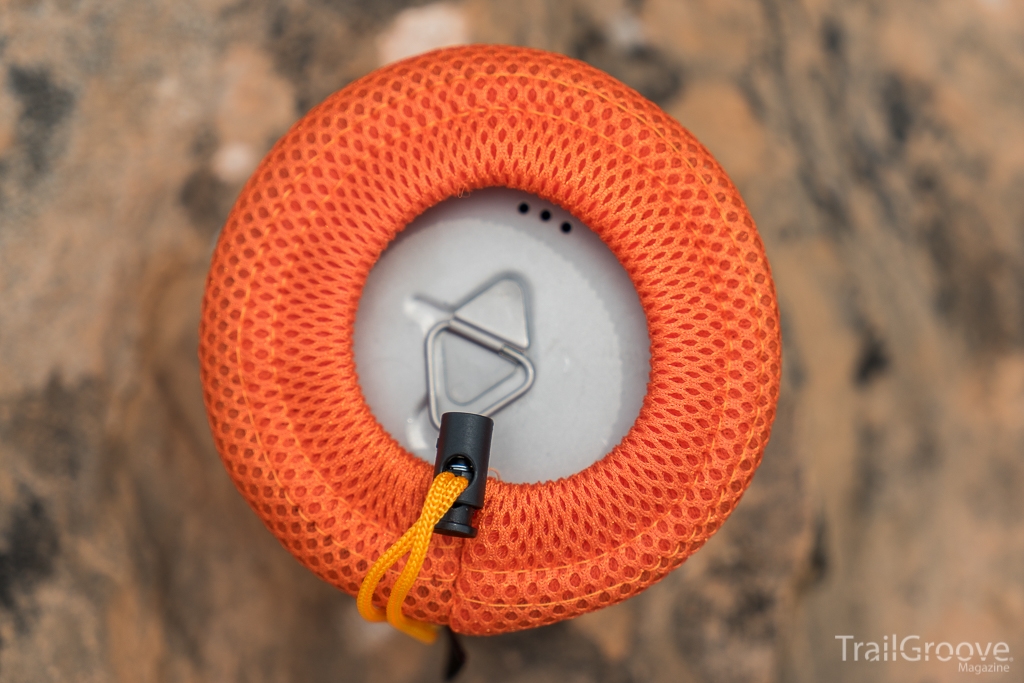 Either way for solo use, toss in a utensil and you can be all set with either version of the Toaks 550. It's a workable size if you'll be focusing on freeze dried or freezer bag meals, but it's still tight – this isn't the pot you'll want for cooking more complex meals in the pot, or if you like to boil enough water for a meal plus coffee or tea all at once. In these cases going with a larger pot / mug combo or using a smaller mug combined with a dedicated pot (I use the Evernew 900 or 1.3 depending on the trip) to prevent a double boil scenario would be best....and that's just fine, as this Toaks makes for an excellent coffee mug for those that like a big brew. Beware also that if you bring a full 2 cups to a rolling boil, some water will jump over the sides, so boil with caution.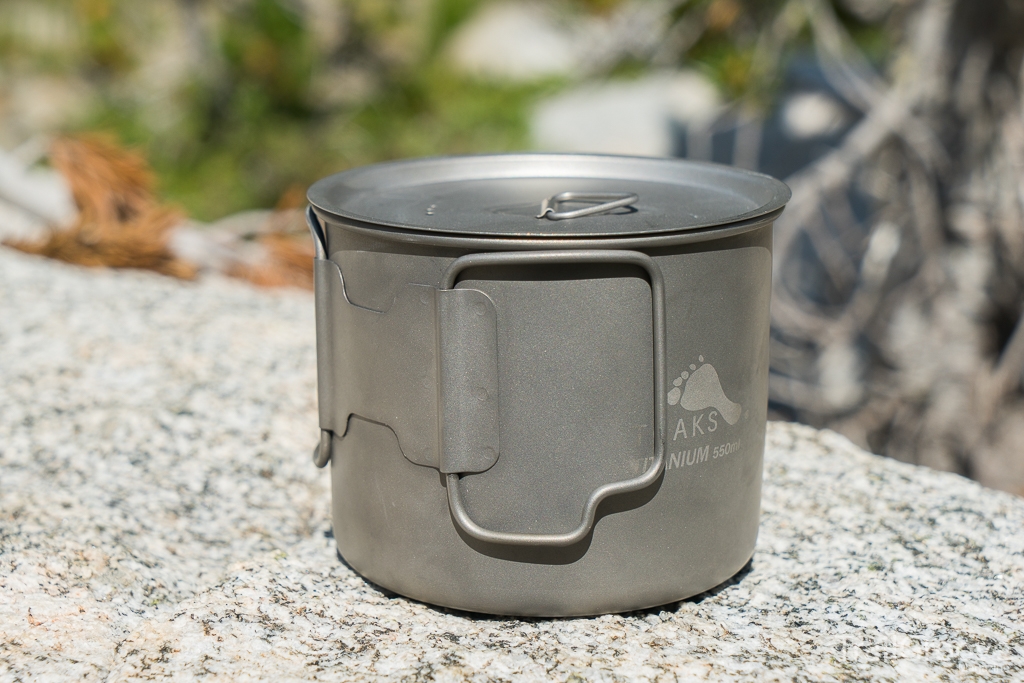 Toaks 550 with handles folded
The 550 will fit a 110 gram fuel canister or a stove, and I prefer to just keep my fuel canister separate on this one as my Soto Windmaster doesn't quite fit when a fuel canister is also inside the pot. If you use a smaller upright canister stove using the stuff sack, and/or turning the lid upside down, can help keep everything together in a single package if that's desired. A Nalgene bottle will also fit inside if that helps you save packing space.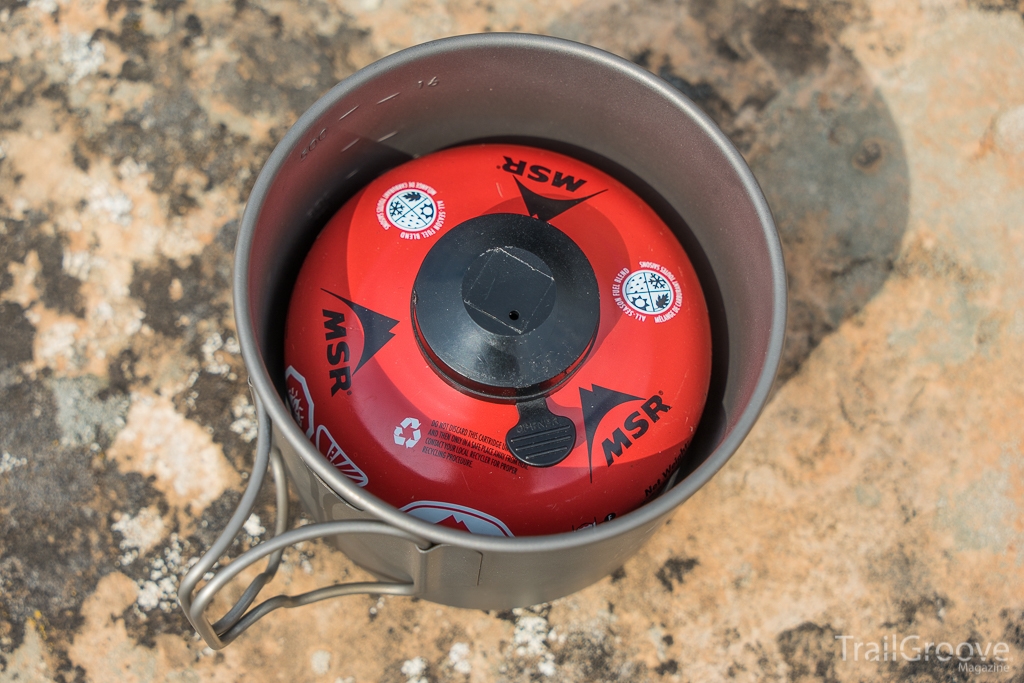 If you're looking for a large backpacking mug, or a small pot...and ideally both of those in the same package, the Toaks 550ml titanium pot makes for a very nice option. The 550 goes for around $25 for the normal 3.5 ounce version, and $35 for the thinner gauge, 2.6 ounce light / ultralight offering. You can find the standard version here on Amazon, and take a look at the ultralight version here at REI.