Solitude in the Sapphire Mountains of Montana
---
I've always placed a premium on solitude when planning my outdoor activities and, with some planning and luck, have never found it to be particularly difficult to obtain. However, with trails across the country being more crowded than ever this past summer, it's taken a bit more effort even in sparsely populated western Montana to have that lake, peak, or meadow all to yourself. Fortunately, with a bit of flexibility and research I was able to turn a short-notice opportunity for an overnight trip during a perfect summer weekend into a well-balanced outing that left the crowds behind.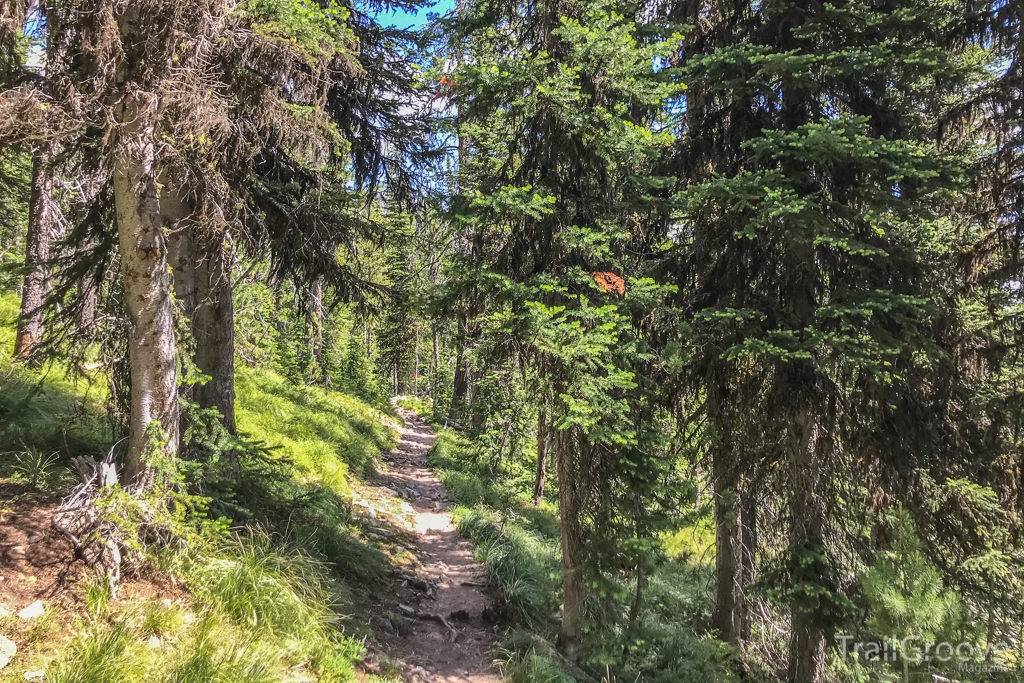 As an avid reader of guidebooks and map nerd, I have both a paper list and a mental list of trips that fit into various categories. Cross-country multi-day trips, easy weekend loops, out-and-back overnights, weeklong "life list" treks, and everything in between. I typically plan my trips weeks in advance, but I've also learned to become adaptable when a weather window opens up or a friend has a gap in their schedule and wants to go backpacking at the last minute. Because of this pre-planning, when my girlfriend, Andrea, let me know on a Friday that her work schedule had shifted and she'd be able to join me on an overnight trip the following day I was able to quickly put together an itinerary.
Wishing to maximize our time on the trail, minimize our contact with crowds, and not physically push ourselves too much due to recent injuries that we were still recovering from, we drove an hour to a trailhead in the Sapphire Mountains. I usually get a bit flustered when I pull into a parking lot that is near capacity, which was what happened when we arrived around noon at the trailhead. We pulled into one of the last available spaces and shouldered our packs as two other vehicles pulled in only to have to turn around and park at pull-offs further down the road. It was no surprise at all that the trailhead for a 2.5 mile hike to a subalpine lake with only 500 feet of elevation gain was crowded. Summer is short in Montana and hikes that provide such easy access to such stunning scenery are not exactly rare, but they're also not terribly common either.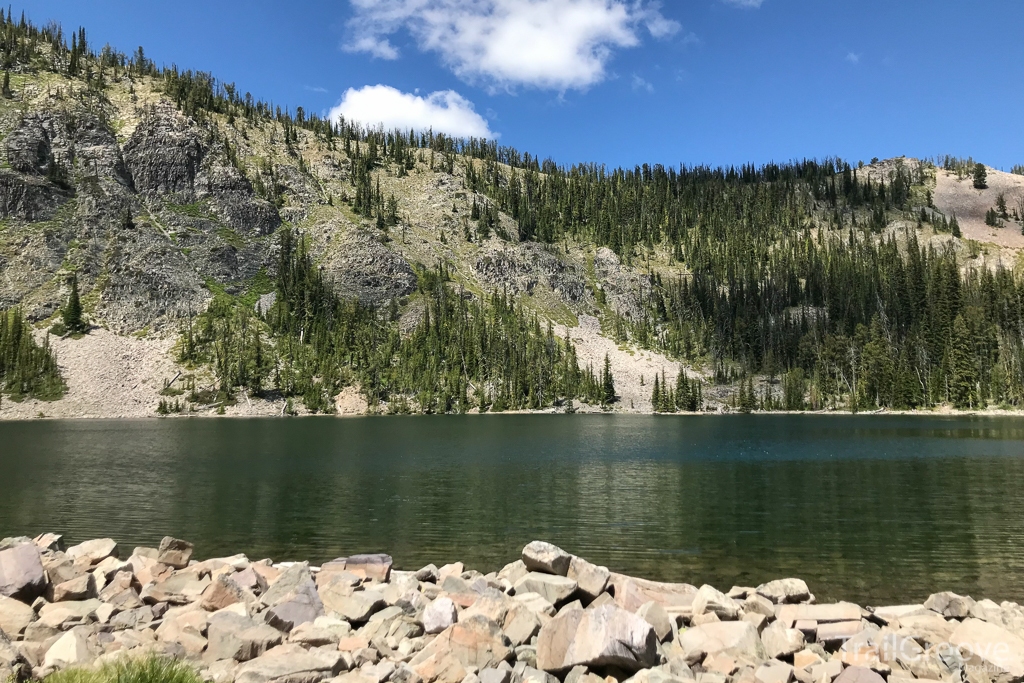 However, unlike the other hikers and backpackers on the trail the lake was not our final destination. Instead, we would stop there for lunch, fish for the native Arctic grayling that inhabited the lake, summit a nearby peak, then continue on to a meadow just over a mile away that a guidebook description described as "a very scenic and photogenic location where solitude is virtually guaranteed."
As expected, the lake was crowded with anglers, families taking children on an easy backpacking trip, and other hikers and campers. There was fortunately plenty of room to spread out for our stay and Andrea spotted a perfect rocky nook on the far shore for us to have lunch and fish from. After enjoying a pleasant lunch and catching a few small grayling, we stashed our gear and made the steep ascent up the mountainside to a ridge that led to two separate highpoints. From the first highpoint, we had a spectacular view down to the meadow where we would spend the night. We also had a spectacular view west to the snow capped Bitterroot Mountains. Not only did the view excite us for our next destination, but it also helped us plan ahead as the small pond that we were considering for a water source appeared to be totally dried up or so muddy as to be unappealing.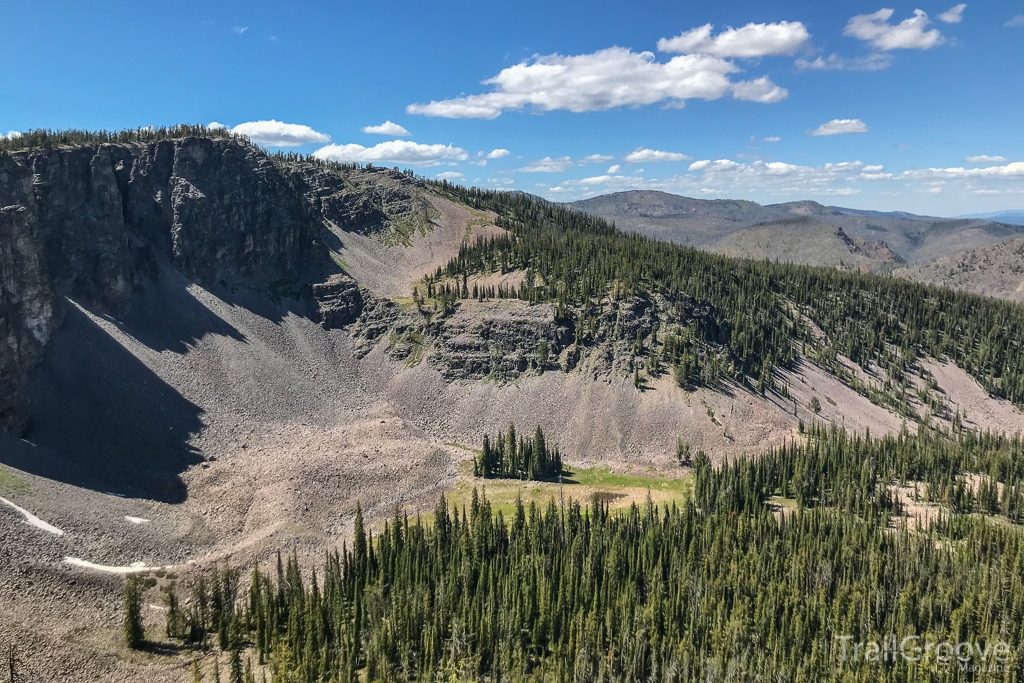 From the northern end of the ridge, we walked through beautiful whitebark pine forest to the southern highpoint, which had a great view of the lake. After admiring the vista, we descended to the lake, took a quick swim to wash off the sweat from our effort, and loaded up our packs with water to take to our dry camp. Once we left the lake, we didn't see any other hikers until we returned to the trail to the lake the following day. Our journey to the meadow was not overly arduous – we took a maintained trail for a half-mile to a saddle where an elk path led down a hillside and through a forested area to the meadow. I regretted the water weight I was carrying when we crossed a small but lively stream in the forest, but better to have been safe than sorry. And on the bright side, at least one camp chore was out of the way for the evening.
The meadow was even more incredible than it had looked from above. Stark cliffs with talus slopes ringed it in and the grassy expanse before us was huge. We picked a spot near the treeline to set up camp and then stretched out a hammock to enjoy a pre-dinner snack, take in the view, and scan for wildlife. There were lots of elk signs in the meadow and nearby, but we didn't see any of the enchanting ungulates during our stay. We did see lots of mosquitoes, but fortunately the net over the hammock kept them from being more than a minor nuisance.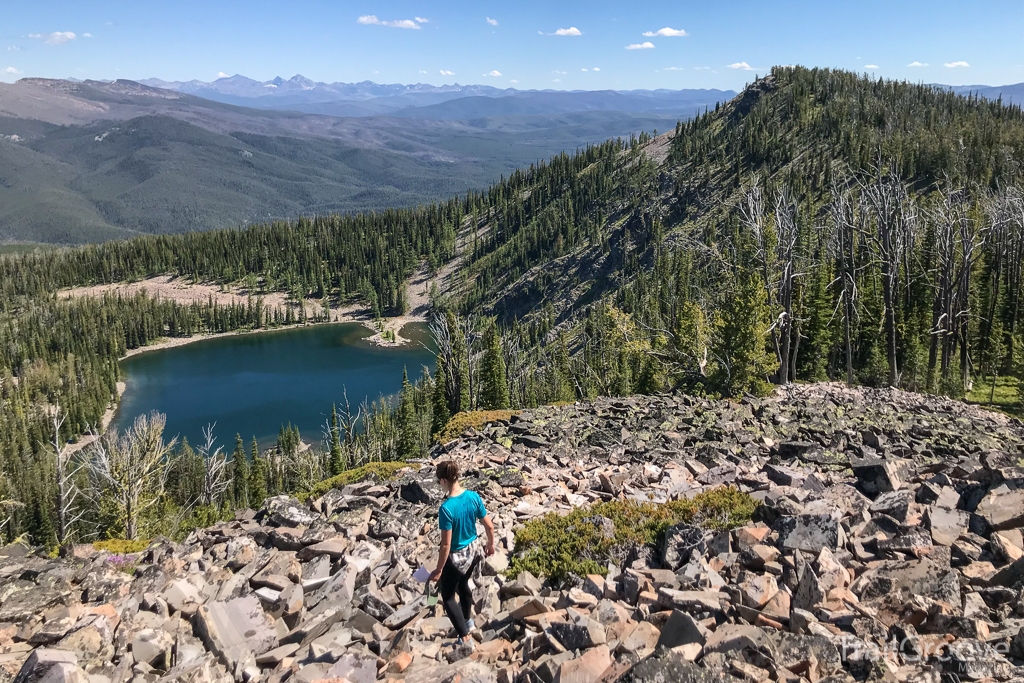 The view of the night sky from the meadow was nothing short of phenomenal and the soft glow of sunrise on the cliffs was one of the most beautiful mornings I had all summer. After a relaxing breakfast, we packed up and headed back to the trailhead. Although we didn't have everything to ourselves on this trip, which can often be the case in Montana and tends to have a spoiling effect when you have to share the landscape with others, we certainly had it where it counted. And when visiting a lake, peaks, and a meadow and to have solitude at two out of three when the parking lot was full is definitely not something to complain about.
Information: The Sapphire Mountains are in western Montana and, aside from a few popular destinations, typically see far fewer crowds – especially hikers and backpackers – than the nearby Bitterroot Mountains. The Lolo, Bitterroot, and Beaverhead-Deerlodge National Forests all have jurisdictions over different parts of the range. Using the maps for these forests, or online software like Caltopo, is the best way to plan a trip in this range.
In the northern part, the rugged Welcome Creek Wilderness provides early season hiking opportunities and blue ribbon trout fishing in Rock Creek. The southern tip of the range fades into the Anaconda-Pintler Wilderness. In the middle are plenty of trails and roads to keep outdoor enthusiasts busy for a lifetime of summers, but relatively little information is available about specific trails or routes (likely factoring into the low number of visitors). Due to a lack of wilderness designation, the area sees more OHV and mountain bike use than other nearby areas which helps keep trails in decent condition, but of course things vary greatly from year to year. A few trails in the Sapphire Mountains are described in 100 Classic Hikes: Montana by Douglas Lorain, Best Hikes Near Missoula by Josh Mahan, and Hiking Montana by Bill Schneider.
1